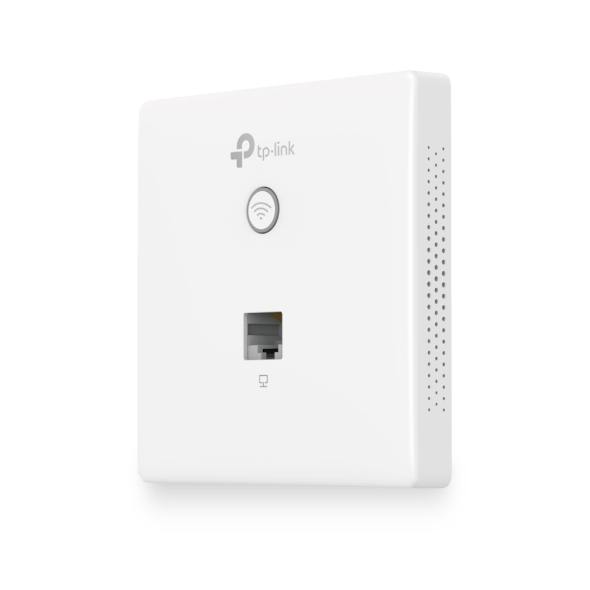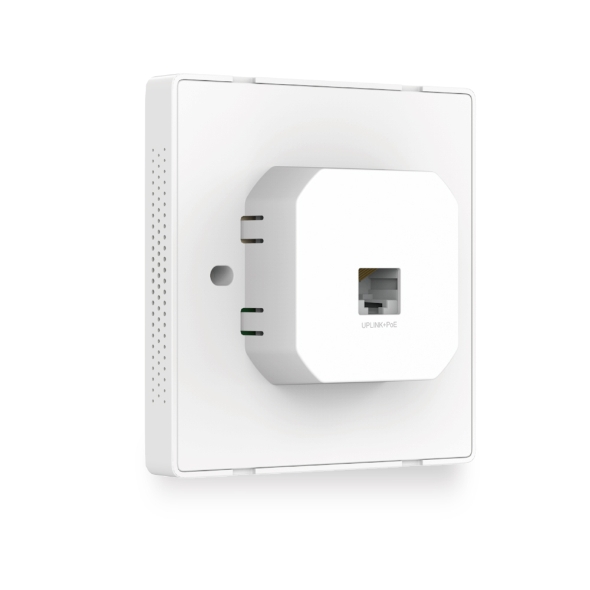 Punto de acceso inalámbrico de pared Gigabit inalámbrico MU-MIMO Omada AC1200
Wi-Fi rápido de doble banda: 300 Mbps simultáneos en 2.4 GHz y 867 Mbps en 5 GHz suman 1.167 Mbps de velocidad de Wi-Fi con MU-MIMO. †
Puertos Gigabit: 2 puertos Gigabit Ethernet para puentear (1 × enlace ascendente + 1 × enlace descendente).
Integrado en Omada SDN: Zero-Touch Provisioning (ZTP) ‡, Administración centralizada de la nube y monitorización inteligente.
Administración centralizada: acceso a la nube y aplicación Omada para una comodidad y administración fáciles.
Conexión privada para cada habitación: diseñada para satisfacer todas las necesidades de la red en entornos con numerosas habitaciones separadas, como hoteles, oficinas y dormitorios.
Apariencia elegante: diseño delgado sin precedentes con solo 11 mm, el mismo tamaño y forma que un interruptor de luz o placa frontal de salida de corriente para adaptarse perfectamente a cualquier habitación.
Instalación fácil y soporte PoE: construcción de montaje fácil, compatible con la caja de conexiones estándar de la UE de 86 mm, y soporte 802.3af / at PoE.
Red de invitados segura: junto con múltiples opciones de autenticación (SMS / Facebook Wi-Fi / Voucher, etc.) y abundantes tecnologías de seguridad inalámbrica
Diseño delgado sin precedentes con 11 mm
Punto de Acceso AC
MIMO multiusuario de doble banda simultánea

Compatible con PoE 802.3af/802.3at
Conexión privada para cada habitación.
EAP230-Wall está diseñado para satisfacer todas las necesidades de la red en entornos con numerosas habitaciones separadas, como hoteles, oficinas y dormitorios. Un dispositivo en cada habitación garantiza una conexión Wi-Fi exclusiva y de alta velocidad para cada usuario.
MU-MIMO + Banda Dua: Conexiones más rápidas para Más Dispositivos
La tecnología 802.11ac wave 2 permite que múltiples usuarios accedan a internet al mismo tiempo. Las velocidades de hasta 1200 Mbps y las bandas inalámbricas de 2.4 GHz y 5 GHz brindan acceso simultáneo a Internet de alta velocidad a varios dispositivos.†
Combina perfectamente con cualquier decoración
El mismo tamaño y forma que un interruptor de luz o placa frontal de toma de corriente para encajar perfectamente en cualquier habitación.
Puerto de alta velocidad Gigabit
Equipado con un puerto Gigabit para entregar la transmisión por cable más rápida posible..
Implementación sin esfuerzo con Energía sobre Ethernet
El soporte 802.3af / 802.3at PoE significa que no hay necesidad de cableado adicional. Conectar los cables Ethernet existentes para transmitir energía y datos a los AP.
Instalación rápida, sencilla
1. Separar y retirar la placa frontal de la caja de conexiones.

2. Conectar un cable Ethernet al puerto.

3. Asegurar el punto de acceso a la pared con los tornillos provistos.

4. Presionar la placa frontal de nuevo a su posición.
*Se adapta a dos tipos de cajas de conexiones
Caja de conexiones de pared de 86 mm

Caja de conexiones de pared estándar de la UE
Omada SDN—solución de nube más inteligente para redes comerciales
La plataforma de redes definidas por software (SDN) de Omada integra dispositivos de red que incluyen puntos de acceso, conmutadores y puertas de enlace, garantizando una poderosa red comercial con mayor eficiencia, mayor seguridad y mayor confiabilidad.
Punto de acceso Wi-Fi 6 AP ambientes alta densidad
PA Techo
PA EAP230-Wall
PA Exterior
Switches PoE JetStream
Router Seguridad SafeStream
Acceso Nube
Controlador
Omada en Nube
Gestión de la nube centralizada sin problemas:
Gestión de la nube 100% centralizada de toda la red desde diferentes sitios, todo controlado desde una única interfaz en cualquier lugar, en cualquier momento.
Administración fácil con la aplicación Omada
Seguir las instrucciones de configuración en la aplicación gratuita Omada para configurarlo en minutos. Omada permite configurar ajustes, monitorizar el estado de la red y administrar clientes, todo desde la comodidad de un teléfono inteligente o tableta.
Más >
Soluciones relacionadas
Hospitality

TP-Link Omada allows hotels to build reliable WiFi networks. Hotel WiFi network solutions including network topology, design, features, installation, and products are introduced.

Full WiFi coverage and wired connections
Flexible guest control
Seamless roaming
Easy Management

Education

Due to its reliable, scalable, and secure network solution, TP-Link has been widely acknowledged by global customers in the Education market ranging from infant schools with a few APs up to colleges and universities with hundreds of APs.

Easy management
High-density WiFi
Full WiFi coverage and wired connections
VPN and security

WiFi Marketing

Here you will have the opportunity to show them your products, services, offers, promotions, or simply information related to your business. With TP-Link captive portal functions, boost your online business through guest Wi-Fi with Vouchers and other flexible authentication options.

Boost Business with a Customized Page
Secure Guest Network
Easy Configuration
Supported by all Omada APs
CARACTERÍSTICAS DE HARDWARE
Interfaz
• Enlace ascendente: 1 × 10/100/1000 Mbps Puerto Ethernet
• Enlace descendente: puerto Ethernet 1 × 10/100/1000 Mbps

Bloqueo de Seguridad Físico
No
Botones
LED/Wi-Fi Button, RESET
Fuente de Alimentación
802.3af/802.3at PoE
Consumo de Potencia
7 W
Dimensions
86.8 × 86.8 × 30.2 mm (3.4 × 3.4 × 1.2 in)
Antenas
2 Antenas Banda Dual
• 2.4 GHz: 2× 4 dBi
• 5 GHz: 2× 3.6 dBi
Montaje
Montaje en placa de pared
Hardware Watch Dog
Si
CARACTERÍSTICAS INALÁMBRICAS
Estándares Inalámbricos
IEEE 802.11n/g/b/ac
Frecuencia
2.4 GHz y 5 GHz
Tasa de Señal
• 5 GHz: Hasta 867 Mbps
• 2.4 GHz: Hasta 300 Mbps
Funciones Inalámbricas
• 16 SSID (hasta 8 SSID en cada banda)
• Activar / Desactivar radio inalámbrica
• Asignación automática de canales
• Control de potencia de transmisión (ajuste la potencia de transmisión en dBm)
• QoS (WMM)
• Equilibrio de carga
• Límite de tarifa
• Programa de reinicio
• Horario inalámbrico
• Estadísticas inalámbricas basadas en SSID / AP / Cliente
• MU-MIMO
• Dirección de banda
• Beamforming
Seguridad Inalámbrica
• Autenticación de portal cautivo
• Control de acceso
• Filtrado de Direcciones MAC Inalámbricas
• Aislamiento inalámbrico entre clientes
• Asignación de SSID a VLAN
• Puerto LAN local basado en VLAN
• Detección Rogue AP
• Soporte 802.1X
• 64/128/152-bit WEP / WPA / WPA2-Enterprise, WPA-PSK / WPA2-PSK
Potencia de Transmisión
CE:• ≤20 dBm (2.4 GHz, EIRP)• ≤23 dBm (5 GHz, EIRP)
GESTIÓN
Omada App
Si
Centralized Management
• Omada Cloud-Based Controller• Omada Hardware Controller (OC300)• Omada Hardware Controller (OC200)• Omada Software Controller
Cloud Access
Sí (a través de OC300, OC200, Omada Cloud-Based Controller o Omada Software Controller)
Alertas por Correo Electrónico
Si
LED de control ON / OFF
Si
Control de Gestión de Acceso MAC
Si
SNMP
v1,v2c
Acceso al Registro de Sistema Local/ Registro del Sistema Remoto
Local/Remote Syslog
SSH
Si
Gestión basada en Web
HTTP/HTTPS
Gestión L3
Si
Gestión Multi-sitio
Si
VLAN de Gestión
Si
Otros
Certificaciones
CE, RoHS
Contenido del Paquete
• Punto de acceso inalámbrico de placa de pared Gigabit inalámbrico MU-MIMO Omada AC1200 EAP230-Wall
• Guía de instalación
• Tornillo de fijación
Requisitos del sistema
Microsoft Windows XP, Vista, Windows 7, Windows 8, Windows10
Factores Ambientales
Temperatura de Funcionamiento: 0℃~40℃ (32℉~104℉)
Temperatura de Almacenamiento: -40℃~70℃ (-40℉~158℉)
Humedad de Funcionamiento: 10%~90% sin condensación
Humedad de Almacenamiento: 5%~90% sin condensación
†Las velocidades máximas de señal inalámbrica son las velocidades físicas derivadas de las especificaciones IEEE Standard 802.11. El rendimiento real de datos inalámbricos y la cobertura inalámbrica no están garantizados y variarán como resultado de 1) factores ambientales, incluidos materiales de construcción, objetos físicos y obstáculos, 2) condiciones de red, incluidas interferencias locales, volumen y densidad de tráfico, ubicación del producto, complejidad de la red y sobrecarga de la red, y 3) limitaciones del cliente, incluido el rendimiento, la ubicación, la conexión, la calidad y la condición del cliente.
‡ El aprovisionamiento Zero-Touch requiere el uso del controlador basado en la nube de Omada.
De United States?
Obtener productos, eventos y servicios para su región.