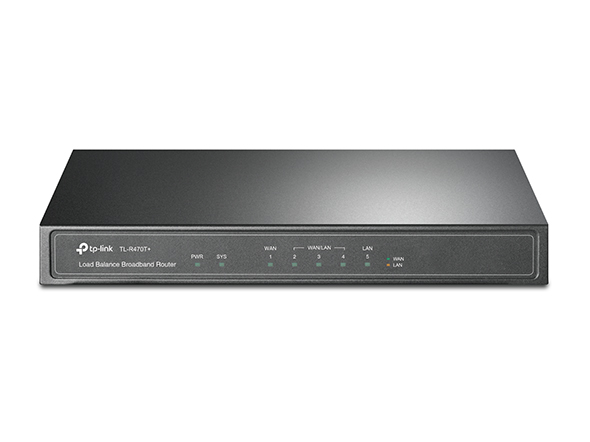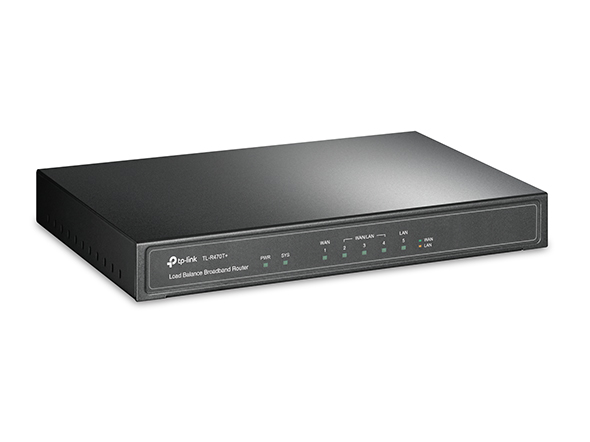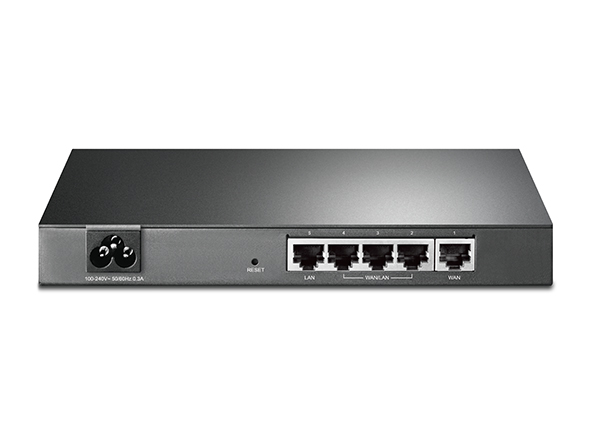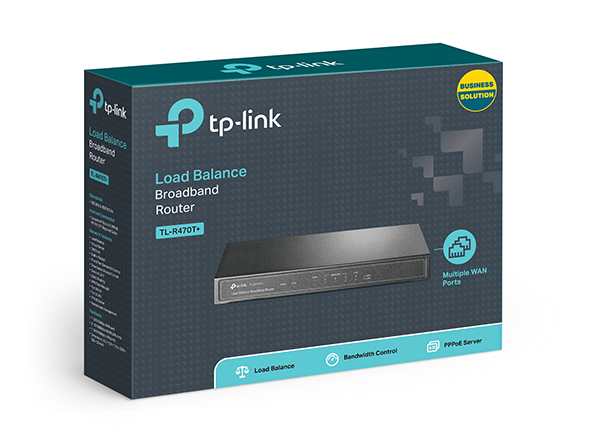 TL-R470T+
Load Balance Broadband Router
Up to 4 WAN ports equipped with advanced load balance to guarantee maximum bandwidth and backup capabilities
Provides extensive client account and network management for administrators with supported PPPoE Server
Marshals bandwidth resource to specific clients based on their unique application environments
Smaller case for cost-effective solution in the small office or Internet cafes network
What This Product Does
The TL-R470T+ load balance broadband router is a wise choice for small business. It brings you high return on investment with low overhead. Featuring three changeable WAN/LAN ports, TL-R470T+ supports up to 4 WAN ports, which can satisfy various Internet access requirements through one device. TL-R470T+ integrates multiple load balancing strategies, advanced QoS and strong firewall to provide you with consistent network uptime and reliable Ethernet connectivity. Moreover, it is easy to manage the TL-R470T+ via a web-based utility, which makes building and managing your network more convenient.
Three Changeable WAN/LAN Ports
The TL-R470T+ features three changeable ports that can be set to either LAN or WAN, allowing the router to support up to four WAN ports to satisfy various Internet access requirements through one device. The router also has an integrated smart load balancing function which automatically selects the most efficient line according to load and bandwidth requirements, providing users with consistent network uptime and reliable Ethernet connectivity.
Abundant Security Features
For defense against external threats, TL-R470T+ can automatically detect and block Denial of service (DoS) attacks such as TCP/UDP/ICMP Flooding, Ping of Death and other related threats. Moreover, this router provides IP/MAC/URL/WEB ­filtering functions, which forcefully prevent attacks from intruders and viruses. For applications such as FTP, H.323, SIP, IPsec and PPTP which are not well compatible with NAT, TL-R470T+ offers administrators one-click enable of ALG choices corresponding to the above five applications.
Efficient Access Management
By setting a PPPoE Server to allocate PPPoE accounts to private network users, the router only allows users with legal accounts that have passed authentication to access the Internet. Cooperating with IP-based Bandwidth Control, it is capable of confining bandwidth usage of certain PPPoE accounts. Moreover, the E-Bulletin function is able to release a bulletin in the form of webpage to certain user groups periodically, which notifies the users about the expiration date of the PPPoE account. With the above features, the router will prioritize different users in surfer jurisdictions for more efficient management.
Safety Minded Enterprise Investments
Professional lightning protection technology is designed to prevent electrical surges from penetrating the interior of the device, to be discharged harmlessly into the Earth. This router is designed to prevent lightning damage of up to 4KV in the well-grounded connection conditions. This feature ensures that networking infrastructure investments remain as safe as possible from one of Mother Nature's more violent elements.
CARACTERÍSTICAS DE HARDWARE
Estándares y Protocolos
IEEE 802.3, 802.3u, 802.3x
TCP/IP, DHCP, ICMP, NAT, PPPoE, SNTP, HTTP, DDNS
Interfaz
1 puerto fijo WAN Ethernet
1 puerto fijo LAN Ethernet
3 Puertos cambiables Ethernet WAN / LAN
Medios de Red
10BASE-T: UTP categoría 3, 4, 5 cable (máximo 100m)
EIA/TIA-568 100Ω STP (máximo 100m)
100BASE-TX: Cable 5, 5e categoría UTP (máximo 100m)
EIA/TIA-568 100Ω STP (máximo 100m)
Botones
Botón Reset
Fuente de Alimentación
Adaptadaor Externo 9V/0.6A DC
Flash
16MB
DRAM
128MB
LED
PWR, SYS, WAN, LAN, WAN/LAN
Dimensiones
158*101*25mm. (6.2*4.0*1.0in.)
FUNCIONES BÁSICAS
Tipo de conexión WAN
IP dinámica / estática IP / PPPoE /
PPTP/L2TP/BigPond
Clonado MAC
Modificación Dirección WAN/LAN MAC
DHCP
DHCP Servidor/Cliente, Reserva de Dirección DHCP
Configuración del Switch
Puerto Mirror, Control de Velocidad, Configuración de Puerto, Puerto VLAN

FUNCIONES AVANZADAS
ACL
Filtrado IP/MAC/URL/WEB
IGMP
IGMP Proxy/IGMP Snooping
Forwarding
Virtual Server, Port Triggering, DMZ
Balanceo de Carga
Política de Enrutamiento, Link Backup
Routing
Ruta estática
Securidad
FTP/SIP/PPTP/IPsec/H.323 ALG, DoS Defence, Ping of Death, IP/MAC Binding
Control de Tráfico
Control Ancho de Banda, Límite Sesión
GESTIÓN
Servicio
DNS Dinámico, UPnP
Mantenimiento
Configuración de Hora, Diagnósis, Upgrade Firmware, Reboot/Configuracióln de Fábrica, Restauración/Backup, System Log, Gestión Remota, Estadísticas
Otros
Certificaciones
CE, FCC, RoHS
Contenido del Paquete
Router de balanceo de carga de banda ancha TL-R470T+
Cable de alimentación
Cable Ethernet RJ-45
Guía de Instalación Rápida
Requisitos del sistema
Microsoft® Windows® 8, 7,Vista™, XP o MAC® OS, NetWare®, UNIX® o Linux.
Factores Ambientales
Temperatura de Operación: 0℃~40℃ (32℉~104℉)
Temperatura de Almacenamiento: -40℃~70℃ (-40℉~158℉)
Humedad de Funcionamiento: 10%~90% sin condensación
Humedad de Almacenamiento: 5%~90% sin condensación
De United States?
Obtener productos, eventos y servicios para su región.