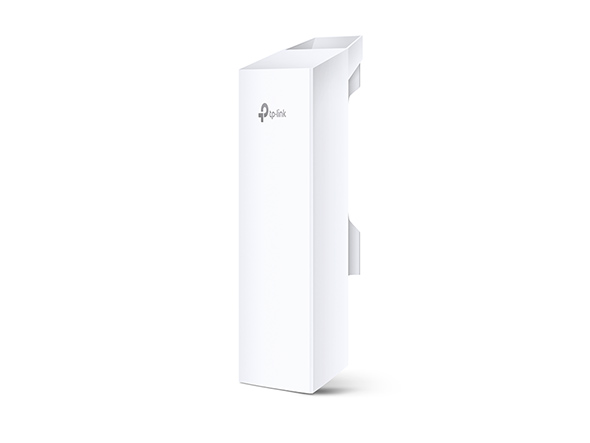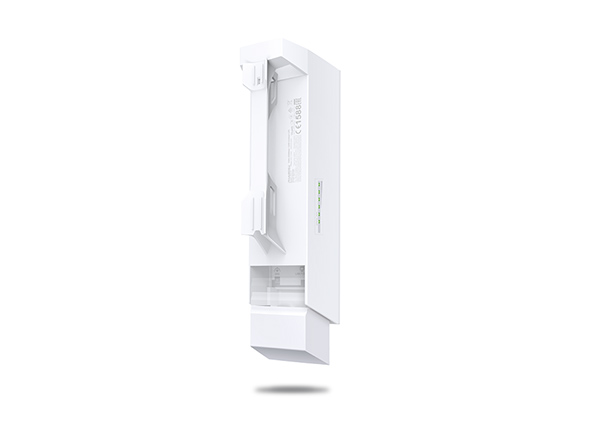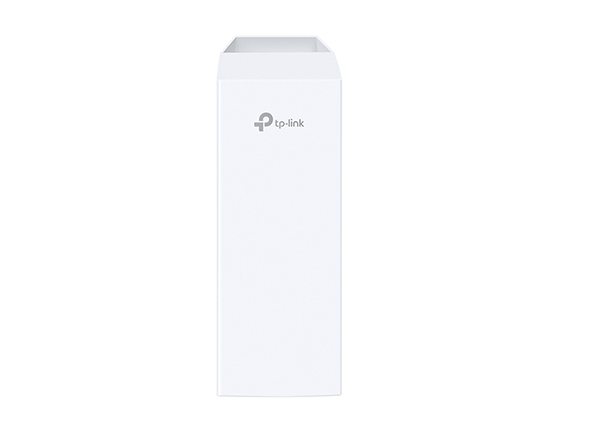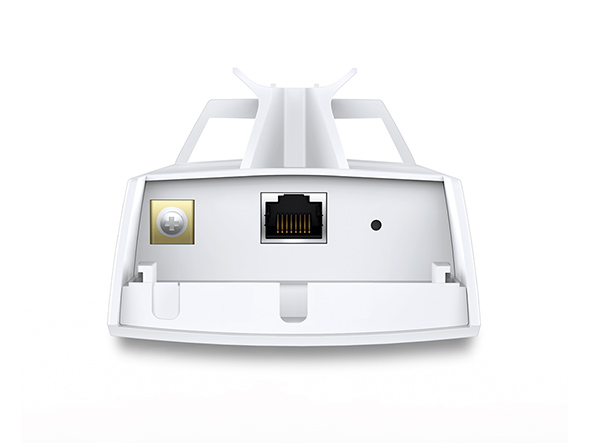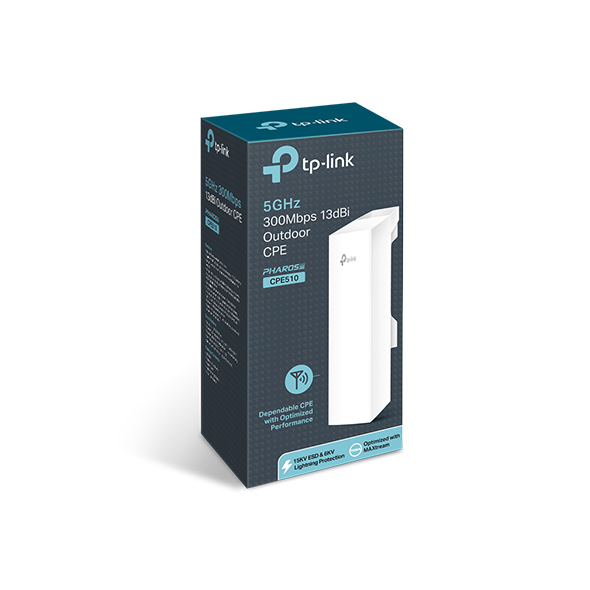 CPE510
5GHz 300Mbps 13dBi Outdoor CPE
Built-in 13dBi 2x2 dual-polarized directional MIMO antenna
Adjustable transmission power from 0 to 23dBm/200mw
System-level optimizations for more than 15km long range wireless transmission
TP-LINK Pharos MAXtream TDMA (Time-Division-Multiple-Access) technology improves product performance in throughput, capacity and latency performance, ideal for PTMP applications
Centralized Management System – Pharos Control
AP / Client / Bridge / Repeater / AP Router / AP Client Router (WISP) operation modes
Passive PoE Adapter supports up to 60 meter (200 feet) Power over Ethernet deployment and allows the device to be reset remotely
Point-to-Multi-Point Connections
TP-LINK's 5GHz 300Mbps 13dBi Outdoor CPE, the CPE510 is dedicated to cost effective solutions for outdoor wireless networking applications. With its centralized management application, it is flexible and ideal for point-to-point, point-to-multipoint and outdoor Wi-Fi coverage applications. Professional performance, coupled with user-friendly design, makes CPE510 an ideal choice for both business and home users.
Enterprise Hardware
With Qualcomm Atheros enterprise level chipsets, high gain antennas and high quality material, specially designed enclosure, and PoE power supply, CPE510 is specially designed for outdoor use and can operate flawlessly in almost any climate, with operating temperatures ranging from -40℃ (-40℉) to +70 ℃ (158℉).
Qualcomm Atheros enterprise 560MHz CPU
High power Tx and high sensitivity Rx radio front-end design
Advanced Antenna System
Built-in High Gain Dual-Polarized Antenna
Dedicated metal reflector ensures higher gain
and lower noise interference
V-Pol Co-polarization Pattern
H-Pol Co-polarization Pattern
15km+ Wireless Data Transmission
Specially designed for outdoor uses, ideal for long distance wireless data transmission, covering a range of 15km+ , tested in the field.
15km+
TP-LINK MAXtream TDMA Technology
As network scale increases, wireless competition and collisions among CPEs and base stations will be
so enormous that the real throughput of the network will drop, resulting in a serious impact on end-user
experience. To mitigate these effects, the CPE510 uses MAXtream TDMA Technology.
Pharos Control – Centralized Management System
CPE510 also comes equipped with centralized management software that helps users easily
manage all the devices in their network from a single PC - Pharos Control. Functions like device discovery,
status monitoring, firmware upgrading, and network maintenance can be managed using Pharos Control.
PharOS
User-friendly web-based management system allows professionals to do more specific configurations.
5GHz 300Mbps 13dBi Outdoor CPE
CPE510
Built-in 13dBi Dual-polarized
Directional Antenna
AP / Client / Repeater / AP Router /
AP Client Router (WISP) operation modes
6KV Lightning Protection
Weather Proof Enclosure
15KV ESD Protection
Passive PoE Adapter
CPE520
CPE510
CPE220
CPE210
TL-WA7210N

Wireless Performance

Wireless Speed

5GHz 300Mbps

5GHz 300Mbps

2.4GHz 300Mbps

2.4GHz 300Mbps

2.4GHz 150Mbps

Transmit Power

27dBm

23dBm

30dBm

27dBm

27dBm

Antenna

16dBi

13dBi

12dBi

9dBi

12dBi

MIMO

√

√

√

√

-

Coverage Range

20km+

15km+

13km+

5km+

5km+

Hardware

Compatibility

802.11a/n

802.11a/n

802.11b/g/n

802.11b/g/n

802.11b/g/n

External Antenna Interface

-

-

-

-

1 * RP-SMA

Weatherproof Enclosure

√(IPX5)

√(IPX5)

√(IPX5)

√(IPX5)

√

Dual Ethernet Ports

√

√

√

√

-

PoE Passthrough

√

√

√

√

-

Grounding Terminal

√

√

√

√

√

Lightning Protection over
Ethernet Cable

√

√

√

√

-

ESD Protection

15kV

15kV

15kV

15kV

15kV

Lightning Protection

6kV

6kV

6kV

6kV

4kV

Power Supply

24V Passive PoE
Adapter
24V Passive PoE
Adapter
24V Passive PoE
Adapter
24V Passive PoE
Adapter

12V Power Adapter + Passive PoE Injector

Software

Operation Modes

AP / Client / Bridge / Repeater / AP Client Router (WISP Client) / AP Router Mode

Channel Bandwidth

5/10/20/40MHz

5/10/20/40MHz

5/10/20/40MHz

5/10/20/40MHz

20/40MHz

Transmit Power Control

Stepping 1dBm

Stepping 1dBm

Stepping 1dBm

Stepping 1dBm

Stepping 3dBm

MAXtream TDMA Mode

√

√

√

√

-

Throughtput Monitors

√

√

√

√

-

Spectrum Analyzer

√

√

√

√

-

Iperf Speed Test Tool

√

√

√

√

-

Pharos Control Supported
(Central Network Management Application)

√

√

√

√

-
Más >
Soluciones relacionadas
Wireless Networking for Elevators

TP-Link Omada offers a wireless solution for elevators: a wireless point-to-point link delivering a throughput of up to 867 Mbps. Wireless coverage extends to the entire shaft to connect surveillance cameras or digital signage directly to your network. Record real-time video to an NVR with virtually no hard wiring required—so there are no cables to wear out.

Easy Installation and Auto-Paring
Stable Connections at High-Speeds
Ideal for Elevator Camera
No Complex Cabling
Multi-Customer and Multi-Site Management
Peru WISP

TP-Link Helps WISP to Provide Reliable Wireless Connectivity in Peru

Peru WISP

TP-Link Helps WISP to Provide Reliable Wireless Connectivity in Peru

"The performance of CPE was better than expected, working stable even with -85 dBm of received power." —David Grillo, Engineer, Kroton

ADINET WISP in Indonesia

TP-Link Helps Local WISP Provide Long Distance Wireless Connectivity in Indonesia

ADINET WISP in Indonesia

TP-Link Helps Local WISP Provide Long Distance Wireless Connectivity in Indonesia

"Amazing! The performance of the Pharos Wireless Broadband Solution has exceeded even our wildest expectations." —Bagus Prakoso, Owner of ADINET
CARACTERÍSTICAS DE HARDWARE
Procesador
CPU Qualcomm Atheros Enterprise AR9350B 560MHz, MIPS 74Kc
Memoria
RAM DDR2 64MB, Flash 8MB
Interfaz
1 puerto Ethernet blindado de 10/100 Mbps (LAN0, entrada PoE pasiva)
1 puerto Ethernet blindado de 10/100 Mbps (LAN1, paso a través de PoE pasivo)
1 terminal de puesta a tierra
1 botón de reinicio

Fuente de Alimentación
Adaptador PoE Pasivo vía LAN0 (+4,5pins; -7,8pins)
Rango de Voltaje: 16-27VDC

Consumo de Potencia
Máximo de 10,5 W
Nota: Cuando está configurado usando el adaptador de POE pasivo, la energía obtenida de la fuente de alimentación variará dependiendo de la longitud del cable de conexión.

Dimensiones
224 x 79 x 60 mm
Tipo de Antena
Antena Direccional Doblemente Polarizada 2x2 de 13dBi
Ancho de Haz: 45° (Plano-H) / 30° (Plano-E)
Nota: Para más detalles, por favor consulte la hoja de datos

Protección
Protección ESD de 15KV
Protección contra rayos de 6000V

Carcasa
Material plástico estabilizado ASA para exterior
Certificación contra agua IPX5

CARACTERÍSTICAS INALÁMBRICAS
Estándares Inalámbricos
IEEE 802.11a/n (con Pharos MAXtream desactivado)
Protocolo Propietario
Modo TDMA (con Pharos MAXtream activado)
Velocidad Inalámbrica
Hasta 300Mbps (40MHz, Dinámico)
Hasta 144.4Mbps (20MHz, Dinámico)
Hasta 72.2Mbps (10MHz, Dinámico)
Hasta 36.1Mbps (5MHz, Dinámico)
Frecuencia
5.15~5.85GHz
Nota: La frecuencia de trabajo disponible puede variar dependiendo de las limitaciones de los países o regiones donde se encuentre en uso el dispositivo.
Potencia de Transmisión
27dBm/500mw (Potencia Ajustable hasta 1dBm)
Nota: la potencia de transmisión máxima puede variar a través de diferentes canales en función de las limitaciones de los países o regiones en los que se utiliza el dispositivo.
CARACTERÍSTICAS DE SOFTWARE
Configuraciones Inalámbricas
Tecnología TDMA MAXTream Pharos
Modos 802.11a/n
Ancho de Canal Seleccionable: 5/10/20/40MHz
Selección de Canal Automático
Control de Transmisión de Energía
Selección de Frecuencia Dinámica (DFS)
WDS Activado/Desactivado
Seguridad: Encriptación WPA/WPA2, WPA-PSK/WPA2-PSK (AES/TKIP) y Encriptación WEP 64/128/152-bit
SSID Broadcast Activado/Desactivado
Multi-SSID con VLAN tagging (solo en modo AP)
Ajustes de timeout en Distancia/ACK
Filtrado Inalámbrico de Direcciones MAC
Opciones Inalámbricas Avanzadas:
> Intervalo Beacon /RTS Threshold/Fragmentación
>Threshold/ Intervalo DTIM/ AP Isolation/Short GI/Wi-Fi Multimedia

Gestión
Detección y gestión remota a través mediante la aplicación Pharos Control
Administración basada en Web HTTP/HTTPS
Registro del Sistema
Agente SNMP(v2c)
Ping Watch Dog
DNS Dinámico
Servidor SSH

Herramientas Del Sistema
Indicadores de calidad de señal inalámbrica:
Intensidad de la señal / ruido / Transmit CCQ / CPU / Memoria
Monitorización: Throughput / Estaciones / Interfaces / ARP / Rutas / WAN / DHCP
Analizador de Espectros
Test de Velocidad
Ping
Traceroute
Optimizaciones Nivel de Sistema
Optimizado IGMP Snooping / Proxy para aplicaciones de multidifusión
Hardware watch dog
CARACTERÍSTICAS ADAPTADOR POE
Dimensiones(W*D*H)
110*57*33.5mm
Interfaces
1 Jack AC con toma de tierra
1 Puerto Ethernet Blindado 10/100Mbps (Corriente + Datos)
1 Puerto Ethernet Blindado 10/100Mbps (Datos)

Botón
Botón de Reset Remoto
LEDs de Estado Power
Verde
Entrada
100-240VAC, 50/60Hz
Salida
24VDC, 1.0A Max
+4, 5pins; -7, 8pins. (Soporta hasta 60m de Power over Ethernet)
Eficiencia
>80%
Certificaciones
CE/FCC/UL/IC/GS/PSB/C-tick/SAA/S-Mark/KC-mark
Otros
Certificaciones
CE, FCC, RoHS, IPX5
Contenido del Paquete
CPE Inalámbrico Exterior
Adaptador PoE Pasivo de 24V 0.5A
Correas de Montaje
Cable de Corriente AC
Guía de Instalación

Requisitos del sistema
Microsoft Windows 98SE, NT, 2000, XP, Vista™ o Windows 8, Windows 7, MAC OS, NetWare, UNIX o Linux.
Nota: Le recomendamos que utilice uno de los siguientes navegadores de Internet para una experiencia de usuario mejorada: Google Chrome, Safari y Firefox. No se recomienda el navegador Internet Explorer.
Factores Ambientales
Temperatura de Funcionamiento: -30°C~70°C (-22℉~158℉)
Temperatura de Almacenamiento: -40℃~70℃ (-40℉~158℉)
Humedad de Funcionamiento: 10%~90% sin condensación
Humedad de Almacenamiento: 5%~95% sin condensación
De United States?
Obtener productos, eventos y servicios para su región.