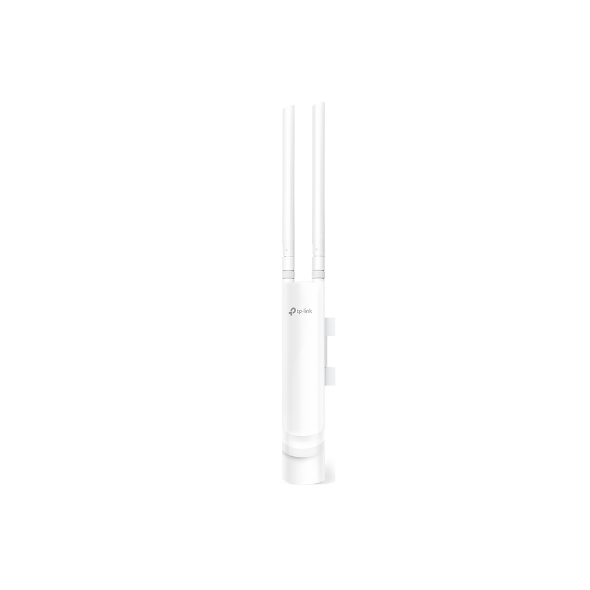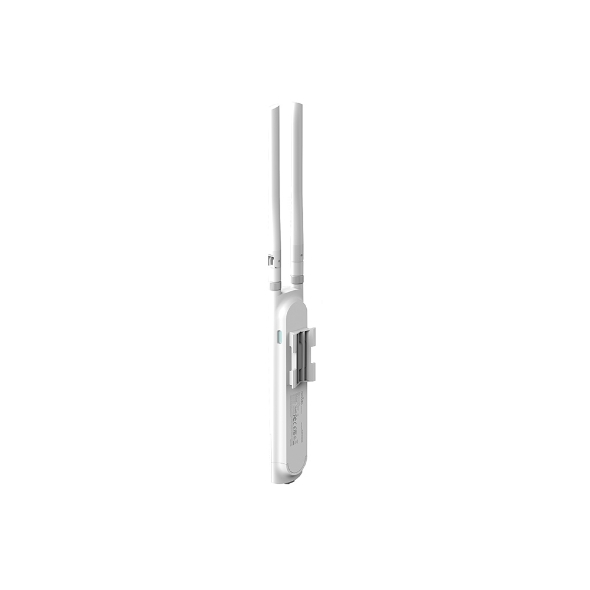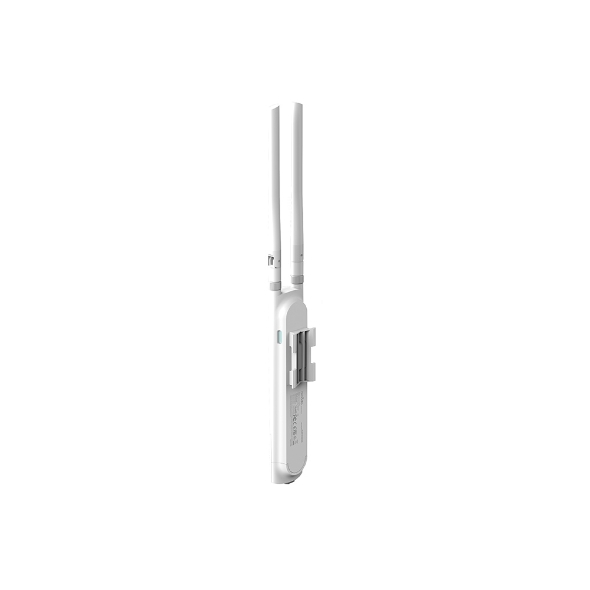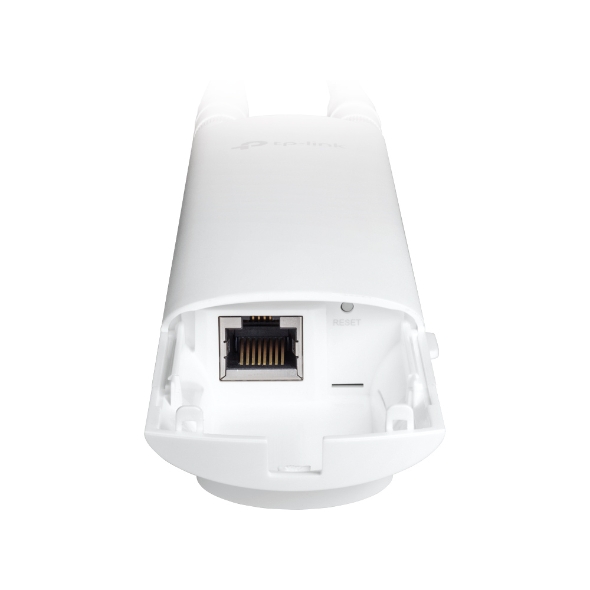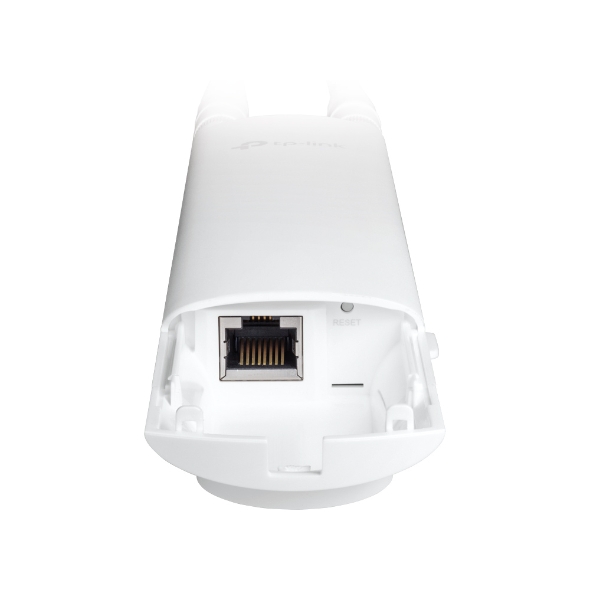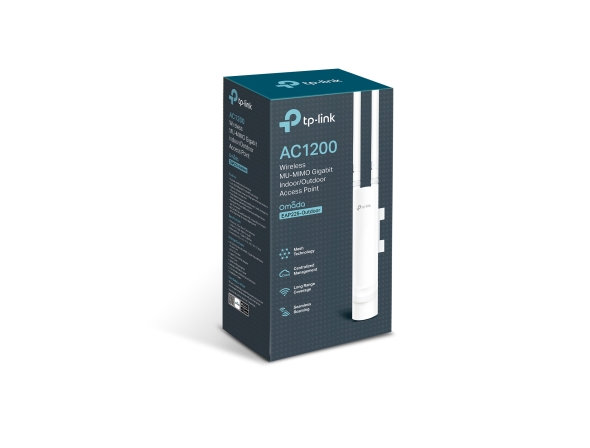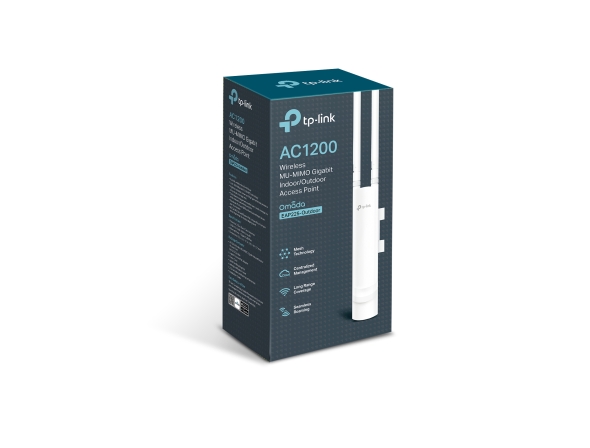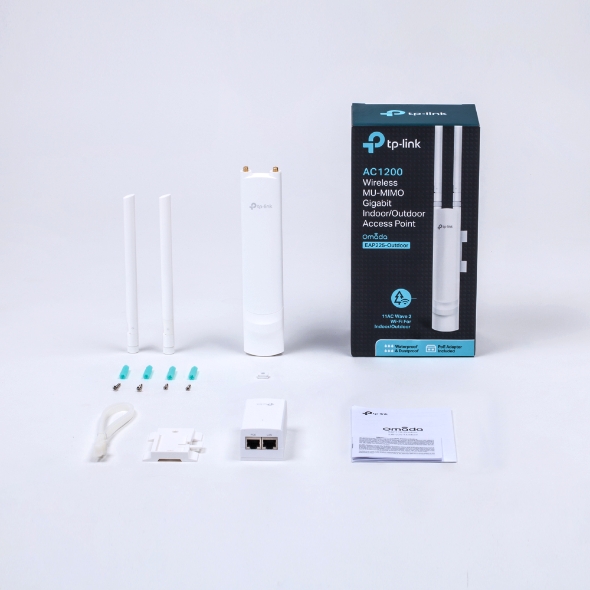 EAP225-Outdoor
AC1200 Wireless MU-MIMO Gigabit Indoor/Outdoor Access Point
Carcasa resistente a la intemperie para aplicaciones de Wi-Fi para exteriores.
Hasta 1200 Mbps con tecnología 2 × 2 MIMO.
La alta potencia de transmisión y las antenas de alta ganancia proporcionan un área de cobertura de largo alcance.
El software gratuito Omada Controller permite a los administradores gestionar fácilmente cientos de EAP.
El portal cautivo proporciona un método conveniente para la autenticación de invitados.
La autenticación de Wi-Fi y SMS de Facebook ayuda a impulsar su negocio.
El diseño de montaje simple y compatible con 802.3af / PoE pasivo (adaptador PoE incluido) permite una implementación flexible y una instalación conveniente.
11AC Wave 2 hace que el Wi-Fi vaya más allá
Omada
EAP225-Outdoor
Velocidades de Wi-Fi Gigabit con tecnología MU-MIMO
EAP225-Outdoor admite velocidades de banda dual simultáneas de hasta 1200 Mbps. Equipado con la última tecnología 802.11ac Wave 2 MU-MIMO, el EAP225-Outdoor puede comunicarse con múltiples clientes al mismo tiempo, lo que lo hace ideal para entornos de alta densidad.
EAP225-Outdoor
con MU-MIMO
Excelentes diseños de hardware
Con un diseño especial de antena, apariencia, opciones de potencia y métodos de instalación, el EAP225-Outdoor puede adaptarse perfectamente a diferentes escenarios tanto en interiores como en exteriores.
Antenas desmontables
EAP225-Outdoor está diseñado con 2 antenas desmontables omnidireccionales, lo que significa que también se pueden conectar otras antenas para sus necesidades específicas.
Omni MIMO Antennas
Apariencia delicada incluso mejor para aplicaciones interiores
EAP225-Outdoor es simplemente similar a un teléfono celular, con dimensiones: 8.5 × 1.8 × 1.1in. (215 × 46 × 27mm)
215mm
138mm
Múltiples opciones de PoE para una instalación fácil
EAP225-Outdoor admite 802.3af PoE y la fuente de alimentación Pasiva PoE, puede alimentarse con un conmutador PoE o el adaptador PoE suministrado.
PoE Gigabit Ethernet Puerto 802.3af PoE / 24V pasivo
Despliegue flexible
EAP225-Outdoor se puede instalar fácilmente en una pared o en un poste con los kits de montaje provistos.
Wi-Fi que va la distancia
Con alta potencia de transmisión y antenas omnidireccionales de alta ganancia, el EAP225-Outdoor ofrece cobertura inalámbrica estable en un rango de hasta 200 m + * a 2,4 GHz y 300 m + * a 5 GHz en entornos exteriores.
* Basado en pruebas de campo. El rango real de transmisión puede variar según el entorno, el dispositivo receptor, etc.
Carcasa a prueba de mal tiempo especialmente diseñado para
Ambiente al aire libre
Valorado como IP65 durante la prueba de protección de entrada, una carcasa resistente a la intemperie protege los puntos de acceso contra las duras condiciones exteriores.
4KV Lightning Protection y 15KV ESD Protection
Eficiente gestión de red centralizada
Con el software Omada Controller, las pequeñas y medianas empresas pueden tomar el control de cientos de puntos de acceso interiores y exteriores, todo desde una sola ubicación. Es la gestión de la red como debería ser: eficiente e intuitiva.
Software de Control OMADA
Más >
Soluciones relacionadas
Hospitality

TP-Link Omada allows hotels to build reliable WiFi networks. Hotel WiFi network solutions including network topology, design, features, installation, and products are introduced.

Full WiFi coverage and wired connections
Flexible guest control
Seamless roaming
Easy Management

Education

Due to its reliable, scalable, and secure network solution, TP-Link has been widely acknowledged by global customers in the Education market ranging from infant schools with a few APs up to colleges and universities with hundreds of APs.

Easy management
High-density WiFi
Full WiFi coverage and wired connections
VPN and security

Outdoor WiFi

TP-Link Omada outdoor WiFi access points offer smooth outdoor WiFi experience for outdoor events, WiFi outside home, or in the garden, yard, outdoor swimming pool, outdoor café, outdoor barns and shed. With Omada outdoor WiFi extenders, the outdoor wifi system is ideal for wirelessly connecting outdoor camera and outdoor speakers.

Long Outdoor WiFi Range
Outdoor WiFi for Camera and Outdoor Events, and WiFi Outside Home
Ideal for Outdoor WiFi in Garden, Outdoor Swimming Pool, and Outdoor Café.
Outdoor WiFi Extender with IP67 or IP65 Weatherproof Enclosure
CARACTERÍSTICAS DE HARDWARE
Interfaz
Gigabit Ethernet (RJ-45)Port*1(Support 802.3af PoE and Passive PoE)
Botones
Reset
Fuente de Alimentación
802.3af/A PoE
24V Passive PoE (+4,5pins; -7,8pins. PoE Adapter Included)
Consumo de Potencia
10.5W
Dimensiones
8.5 × 1.8 × 1.1in. (215 × 46 × 27 mm)
Antenas
2.4GHz: 2 * 3dBi, 5GHz: 2 * 4dBi
Weatherproof Enclosure
IP65
Montaje
Pole/Wall Mounting (Kits included)
Hardware Watch Dog
Yes
CARACTERÍSTICAS INALÁMBRICAS
Estándares Inalámbricos
IEEE 802.11a/b/g/n/ac
Frecuencia
2.4GHz, 5GHz
Tasa de Señal
802.11ac: 5G:6.5 Mbps to 867Mbps(MCS0-MCS9,NSS = 1 to 2 VHT20/40/80) 2.4G:78Mbps to 300Mbps (MCS8-MCS9 VHT20/40, NSS=1 to 3)802.11n: 6.5 Mbps to 300 Mbps (MCS0-MCS15, VHT 20/40)802.11g: 6, 9, 12, 18, 24, 36, 48, 54 Mbps802.11b: 1, 5.5, 11Mbps802.11a: 6, 9, 12, 18, 24, 36, 48, 54 Mbps
Funciones Inalámbricas
Multiple SSIDs(Up to 16 SSIDs, 8 for each band)Enable/Disable Wireless RadioAutomatic Channel AssignmentTransmit Power Control (Adjust Transmit Power on dBm)QoS(WMM)MU-MIMOAirtime FairnessBeamformingBand SteeringLoad BalanceRate LimitReboot ScheduleWireless ScheduleWireless Statistics based on SSID/AP/Client
Seguridad Inalámbrica
Captive Portal AuthenticationAccess ControlWireless Mac Address FilteringWireless Isolation Between ClientsSSID to VLAN MappingRogue AP Detection802.1X Support
Potencia de Transmisión
• CE: <20 dBm (2.4 GHz, EIRP), <27 dBm(5 GHz, EIRP)• FCC: <23 dBm (2.4 GHz), <22 dBm(5 GHz)
GESTIÓN
Omada App
Sí
Centralized Management
• Controlador basado en la nube Omada
• Controlador de hardware Omada (OC300)
• Controlador de hardware Omada (OC200)
• Controlador de software Omada
Omada Controller Software
Yes
Cloud Access
(A través de OC300, OC200, controlador basado en la nube Omada o controlador de software Omada)
Alertas por Correo Electrónico
Yes
Control de Gestión de Acceso MAC
Yes
SNMP
v1, v2c
Acceso al Registro de Sistema Local/ Registro del Sistema Remoto
Yes
SSH
Sí
Gestión basada en Web
Yes
Gestión L3
Yes
Gestión Multi-sitio
Yes
VLAN de Gestión
Yes
Otros
Certificaciones
CE、FCC、RoHS
Contenido del Paquete
AC1200 Wireless MU-MIMO Gigabit Indoor/Outdoor Access PointEAP225-OutdoorPower AdapterMounting KitsInstallation Guide
Factores Ambientales
Operating Temperature: -30℃~70℃ (-22℉~158℉)Storage Temperature: -40℃~70℃ (-40℉~158℉)Operating Humidity: 10%~90% non-condensingStorage Humidity: 5%~90% non-condensing
De United States?
Obtener productos, eventos y servicios para su región.