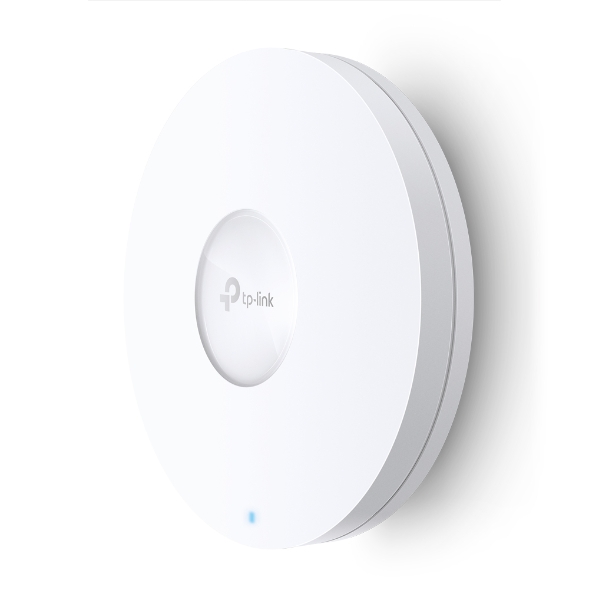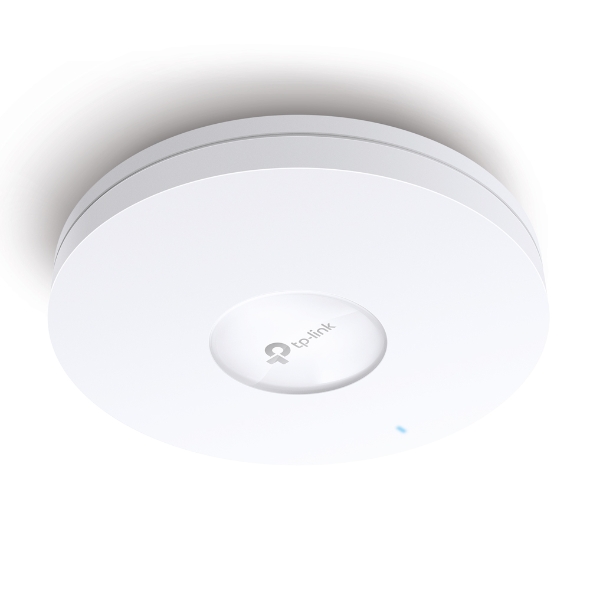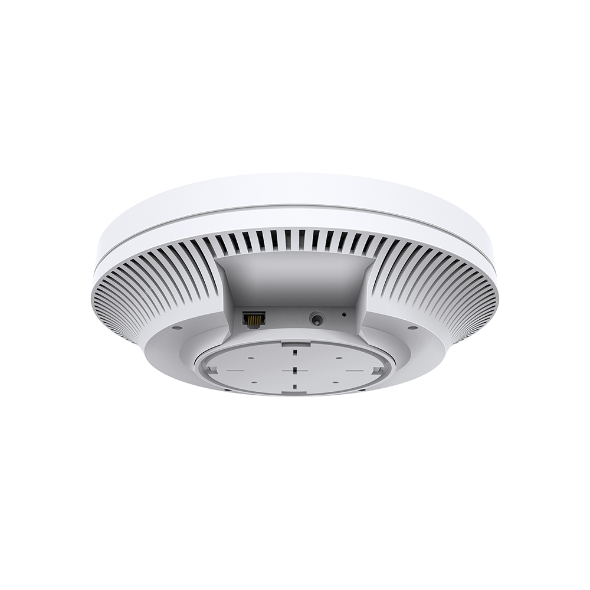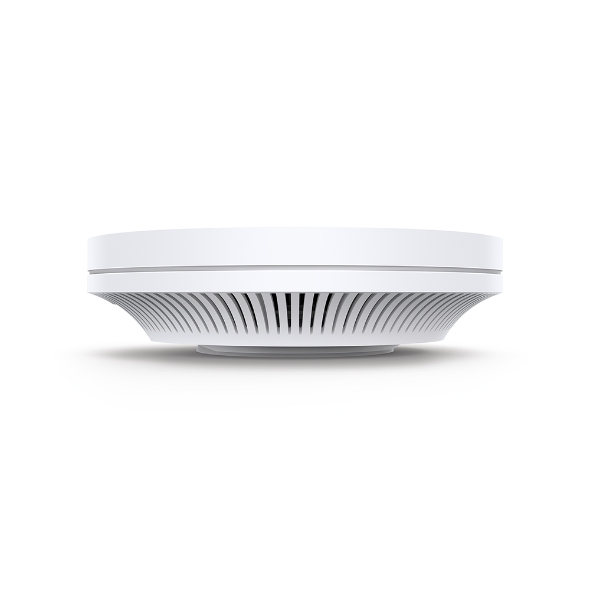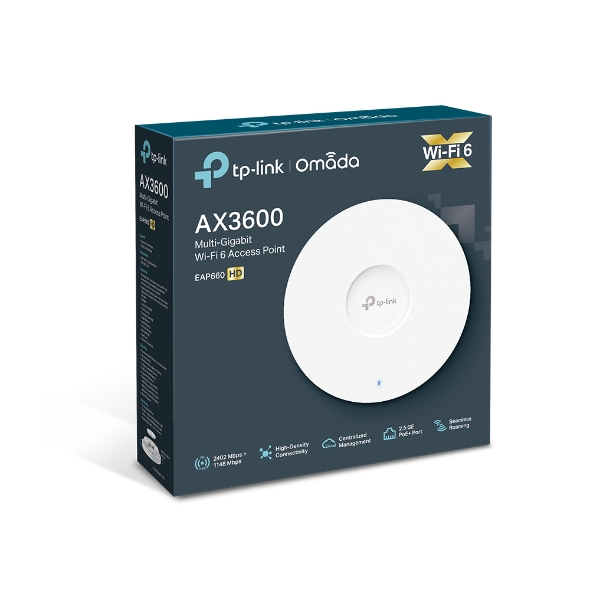 Punto de acceso de montaje en techo inalámbrico multi-gigabit AX3600 de banda dual
Wi-Fi ultrarrápido 6 velocidades: 1148 Mbps simultáneos en 2.4 GHz y 2402 Mbps en 5 GHz totalizan velocidades de Wi-Fi de 3550 Mbps. †
Conectividad de alta densidad: 4 veces mayor capacidad para conectar más dispositivos simultáneamente. ‡
Integrado en Omada SDN: Zero-Touch Provisioning (ZTP) (provisionamiento sin intervención)§, Administración centralizada de la nube y Monitoreo inteligente.
Administración centralizada: acceso a la nube y aplicación Omada para una administración fácil y cómoda.
Puerto 2.5G: un puerto Ethernet de 2.5 Gbps aumenta el rendimiento total de Internet.
Roaming sin interrupciones: incluso las transmisiones de video y las llamadas de voz no se ven afectadas a medida que los usuarios se mueven entre ubicaciones.
Soporte PoE +: admite alimentación por Ethernet (802.3at) para una implementación e instalación conveniente.
Red de invitados segura: junto con múltiples opciones de autenticación (SMS / Facebook Wi-Fi / Voucher, etc.) y abundantes tecnologías de seguridad inalámbrica.
Ultra alto rendimiento
Wi-Fi Empresarial AX3600 para
Ambientes de alta densidad
EAP660 HD
Conectividad de alta densidad con 4 veces mayor capacidad
OFDMA y Subida y Descarga MU-MIMO aumentan la capacidad de la red hasta 4 veces frente a Wi-Fi 5 (802.11ac) en entornos de alta densidad para conectar más dispositivos simultáneamente. Aprovecha las capacidades multiusuario y actualiza tu negocio como nunca antes.
Hospitalidad

Wi-Fi de alta calidad y cobertura total

Restaurante

Cobertura total Wi-Fi
en ambiente de
alta densidad

Centro comercial

Marketing social
para O2O

Sala reunión

Conexiones
inalámbricas y cableadas
para uso denso

Estación de trenes

Wi-Fi de alta densidad
Velocidad increíblemente rápida con 8 transmisiones espaciales
El punto de acceso Wi-Fi 6 Omada presenta las últimas tecnologías 802.11ax como 1024 QAM y Long OFDM Symbol, lo que permite que el EAP aumente las velocidades generales hasta 3550 Mbps (2402 Mbps en una banda de 5 GHz y 1148 Mbps en una banda de 2.4 GHz ) Con 8 transmisiones espaciales, el rendimiento multiusuario aumenta increíblemente para impulsar más aplicaciones.
1024 QAM
25% de más datos
codificados a la vez
Símbolo OFDM largo
11% más de velocidad
5GHz
4 Stream 802.11ac
1733Mbps
4 Stream 802.11ax
2402Mbps
2.4GHz
4 Stream 802.11ac
600Mbps
4 Stream 802.11ac
1148Mbps
Omada SDN—solución de nube más inteligente para redes comerciales
La plataforma de redes definidas por software (SDN) de Omada integra dispositivos de red que incluyen puntos de acceso, switches y puertas de enlace, garantizando una poderosa red comercial con mayor eficiencia, mayor seguridad y mayor confiabilidad.
Wi-Fi 6 AP para entornos de alta densidad
EAP660 HD
AP de pared
AP de exterior
AP montaje en techo
Switches PoE JetStream
Puerta de enlace SafeStream Security
Acceso vía Nube
Omada
Controlador en la Nube
Gestión centralizada de la nube sin complicaciones:
Gestión de la nube 100% centralizada de toda la red desde diferentes sitios, todo controlado desde una única interfaz en cualquier lugar y en cualquier momento.
Rendimiento optimizado con cable con puerto 2.5 GE PoE +
Armado con un puerto Ethernet de 2.5 Gigabits, el EAP660 HD ofrece un rendimiento excepcional de varios gigabits para soportar la demanda insaciable de Wi-Fi mejor y más rápido. La compatibilidad con el estándar 802.3at PoE + es ideal para una implementación flexible.
2.5 GE PoE+ Puerto
Roaming sin cortes
El roaming 802.11k / v cambia automáticamente a los clientes al AP con la señal óptima con una transición perfecta cuando se mueve. Esto permite que aplicaciones confidenciales como VoIP y videoconferencias pasen ininterrumpidamente.
Aumentar la eficiencia de la red en todos los aspectos
Con características avanzadas ricas
Band Steering

Mueve automáticamente los dispositivos de doble banda a la banda más amplia de 5 GHz para conexiones más rápidas.

Balanceo de carga

Garantiza que un gran número de usuarios tengan experiencias de red fluidas en redes comerciales de alta densidad.

Airtime Fairness

Aumenta el rendimiento promedio de la red en entornos muy congestionados
Fácil de montar con diseño industrial refinado
1 empujar hacia arriba 2 simplemente girar para bloquear
Red segura de invitados con conexión Wi-Fi de Facebook e inicio de sesión por SMS
Red de invitado proporciona un acceso seguro elevado a los invitados que comparten su red Wi-Fi, con un portal cautivo que ayuda a mantener solo a los invitados autorizados a usar la red. La incorporación de autenticación por SMS y Facebook simplifica aún más el portal cautivo para simplificar la conectividad y potenciar su negocio.
Más >
Soluciones relacionadas
Hospitality

TP-Link Omada allows hotels to build reliable WiFi networks. Hotel WiFi network solutions including network topology, design, features, installation, and products are introduced.

Full WiFi coverage and wired connections
Flexible guest control
Seamless roaming
Easy Management

Education

Due to its reliable, scalable, and secure network solution, TP-Link has been widely acknowledged by global customers in the Education market ranging from infant schools with a few APs up to colleges and universities with hundreds of APs.

Easy management
High-density WiFi
Full WiFi coverage and wired connections
VPN and security

High-Density Environment

Equipped with enterprise chipsets, dedicated antennas, advanced RF functions, and auto channel selection and power adjustment, Omada Wi-Fi 6 and Wi-Fi 5 APs have high concurrency capacity for high-density environments.

Enhanced Multi-User Capability
Improved Dense WiFi Experience
Full WiFi Coverage
Sim Lim Square

Singapore's largest IT and electronics shopping mall, Sim Lim Square, deploys TP-Link Auranet Indoor Wi-Fi solution

Sim Lim Square

Singapore's largest IT and electronics shopping mall, Sim Lim Square, deploys TP-Link Auranet Indoor Wi-Fi solution

"Our customer satisfaction levels have been greatly improved since we started offering free public Wi-Fi throughout the entire mall. For that alone, the solution TP-Link provided was the best choice." —Sean Chia, Head of Advertising & Promotions, Sim Lim Square.

East European Comic Con

TP-Link Provides Internet Access for East European Comic Con for the Fourth Year Running

East European Comic Con

TP-Link Provides Internet Access for East European Comic Con for the Fourth Year Running

"TP-Link Romania have provided a high-quality service and the right equipment to meet our requirements in each of the projects we have worked on together. EECC2017 was their toughest challenge so far and they passed with flying colors." —Marius Radu, EECC Gaming Director
CARACTERÍSTICAS DE HARDWARE
Interfaz
1 puerto × Gigabit Ethernet (RJ-45) (soporta PoE IEEE802.3af)
Botones
Reset
Fuente de Alimentación
• 802.3at PoE
• 12 V DC

Consumo de Potencia
• EU: 18.5 W
• US: 21.5 W
Dimensiones
243 × 243 × 64 mm (9.6 × 9.6 × 2.5 in)
Tipo de Antena
Internal Omni• 2.4 GHz: 4× 4 dBi• 5 GHz: 4× 5 dBi
Montaje
Montaje en techo/pared (Kit incluido)
CARACTERÍSTICAS INALÁMBRICAS
Estándares Inalámbricos
IEEE 802.11ac/n/g/b/a
Frecuencia
2.4GHz y 5GHz
Tasa de Señal
5GHz:Hasta 1300Mbps
2.4GHz:Hasta 450Mbps

Funciones Inalámbricas
• 1024-QAM
• 4× Símbolo OFDM largo
• OFDMA
• Multiple SSIDs (Hasta16 SSIDs, 8 por banda)
• Radio Wi-Fi on/off
• Control potencia transmisión(Ajuste en dBm)
• QoS(WMM)
• MU-MIMO
• Roaming sin cortes
• Band Steering
• Balanceo de carga
• Airtime Fairness
• Beamforming
• Rate Limit
• Reboot Schedule
• Wireless Schedule
• Wireless Statistics based on SSID/AP/Client
Seguridad Inalámbrica
• Autenticación Portal Cautivo
• Control de acceso
• Filtrado de Direcciones MAC Inalámbricas
• Aislamiento inalámbrico entre clientes
• Asignación de SSID a VLAN
• Detección AP Clandestino
• Soporte 802.1X
• WEP, WPA-Personal / Enterprise, WPA2-Personal / Enterprise, WPA3-Personal / Enterprise

Potencia de Transmisión
• CE:
<20 dBm(2.4 GHz, EIRP)
<23 dBm(5 GHz, EIRP)

• FCC:
<26 dBm (2.4 GHz)
<26 dBm (5 GHz)
GESTIÓN
Omada App
Si
Centralized Management
• Omada Cloud-Based Controller
• Omada Hardware Controller (OC300)
• Omada Hardware Controller (OC200)
• Omada Software Controller
Cloud Access
Si (Vía controlador Omada Software o OC200)
Alertas por Correo Electrónico
Si
LED de control ON / OFF
Si
Control de Gestión de Acceso MAC
Si
SNMP
v1, v2c, v3
Acceso al Registro de Sistema Local/ Registro del Sistema Remoto
Local/Remoto Syslog
SSH
Si
Gestión basada en Web
HTTP/HTTPS
Gestión L3
Si
Gestión Multi-sitio
Si
VLAN de Gestión
Si
Otros
Certificaciones
CE, FCC, RoHS
Contenido del Paquete
• EAP660 HD
• Adaptador de energía
• Kit montaje en techo/pared
• Guía de instalación


Requisitos del sistema
Microsoft Windows XP, Vista, Windows 7, Windows 8, Windows10, Linux
Factores Ambientales
Temperatura de Funcionamiento: 0℃~40℃ (32℉~104℉)
Temperatura de Almacenamiento: -40℃~70℃ (-40℉~158℉)
Humedad de Funcionamiento: 10%~90% sin condensación
Humedad de Almacenamiento: 5%~90% sin condensación


† Las velocidades máximas de señal inalámbrica son las velocidades físicas derivadas de las especificaciones IEEE Standard 802.11. El rendimiento real de datos inalámbricos y la cobertura inalámbrica no están garantizados y variarán como resultado de 1) factores ambientales, incluidos materiales de construcción, objetos físicos y obstáculos, 2) condiciones de red, incluidas interferencias locales, volumen y densidad de tráfico, ubicación del producto, complejidad de la red y sobrecarga de la red, y 3) limitaciones del cliente, incluido el rendimiento, la ubicación, la conexión, la calidad y la condición del cliente.
‡ La capacidad aumentada 4 × se refiere al aumento en el rendimiento medio en un entorno denso en comparación con el punto de acceso estándar 4 × 4 11ac.
§ El aprovisionamiento Zero-Touch requiere el uso del controlador basado en la nube de Omada.
△ El roaming continuo requiere que los clientes necesiten soportar 802.11k / v y puede requerir una configuración adicional. El rendimiento puede variar según el dispositivo del cliente.
* El uso de OFDMA requiere que los clientes también admitan OFDMA.
** Las funciones de UL MU-MIMO se pueden habilitar mediante actualizaciones de software.
De United States?
Obtener productos, eventos y servicios para su región.