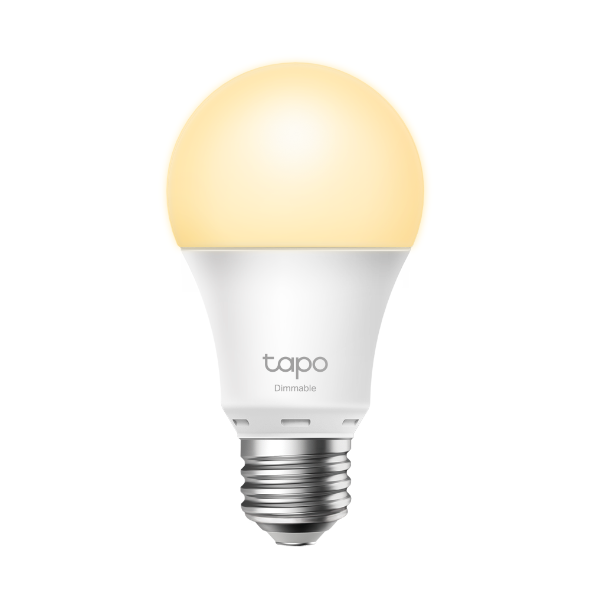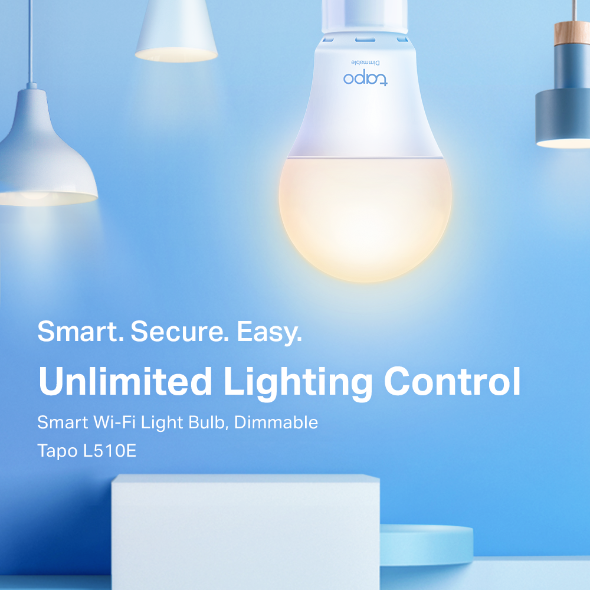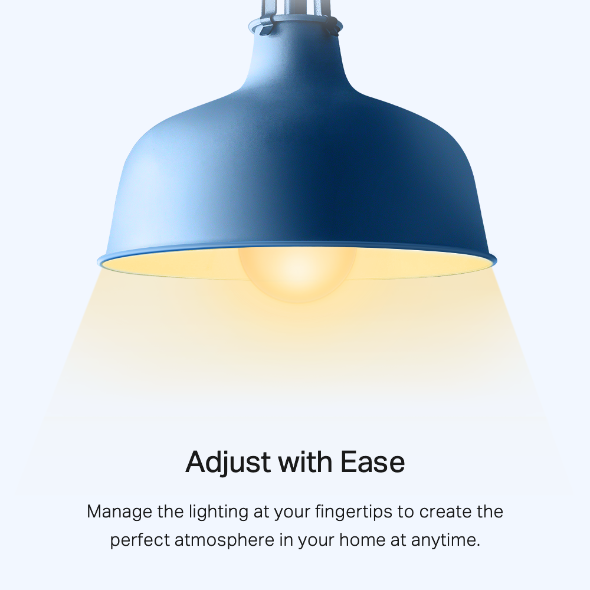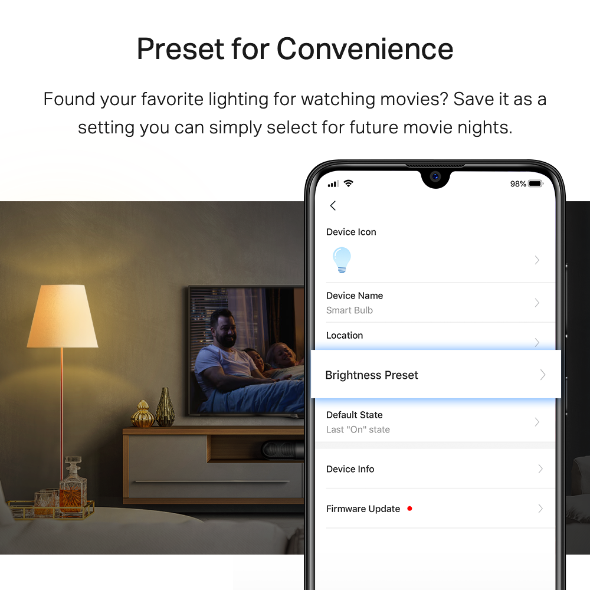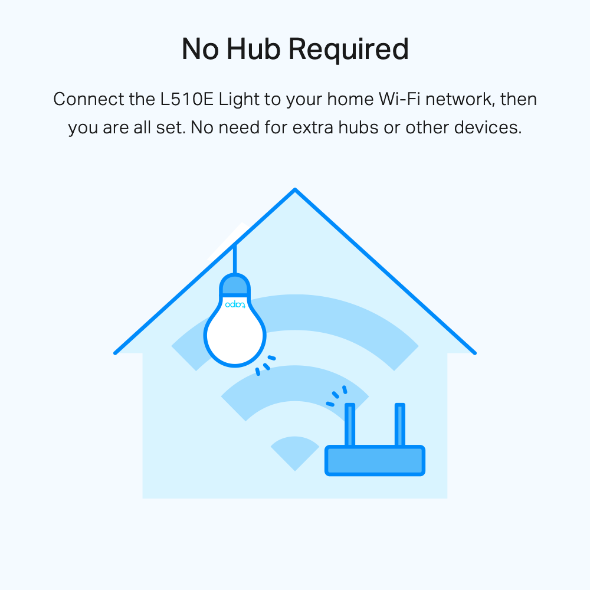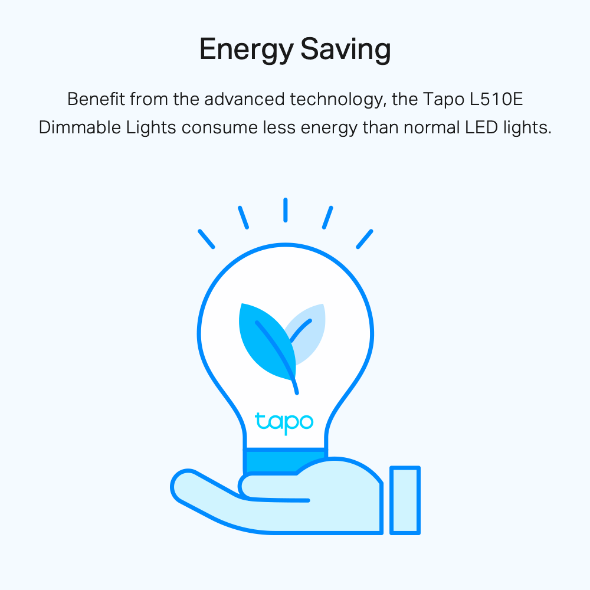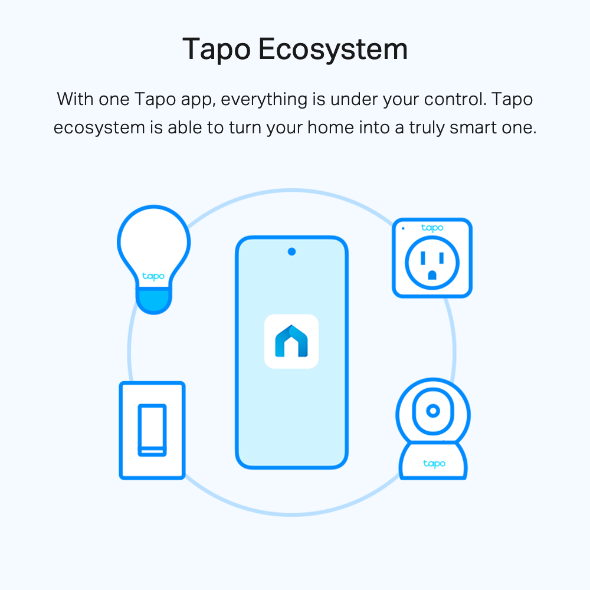 Smart Wi-Fi Light Bulb, Dimmable
Dimmable (Adjust with Ease)

–

ปรับความสว่างตามต้องการด้วยปลายนิ้วของคุณ เพื่อสร้างบรรยากาศที่สมบูรณ์แบบในบ้านของคุณได้ตลอดเวลา

Dimmable (Preset for Convenience)

–

จดจำระดับแสงที่คุณชื่นชอบเพื่อค่ำคืนของการดูหนังเรื่องโปรด

Schedule (Set Your Times)

–

ตั้งเวลาเปิด-ปิดเป็นประจำ ในช่วงเวลาที่คุณตั้งไว้

Schedule (Sunrise and Sunset Modes) – เปิดใช้งานหลอดไฟโดยอัตโนมัติตามเขตเวลาของคุณ
Voice Control – รองรับการควบคุมด้วยเสียงของ Alexa และ Google Home
Remote Control – เพียงหยิบโทรศัพท์ออกจากกระเป๋า เปิดแอพ Tapo ก็สามารถควบคุมหลอดไฟอัจฉริยะได้ตามต้องการ

Away Mode

–

สามารถตั้งเวลาเปิด-ปิดอุปกรณ์อัตโนมัติเสมือนว่ามีคนอยู่ที่บ้าน
Smart. Secure. Easy.
Unlimited Lighting Control
Smart Wi-Fi Light Bulb, Dimmable
Tapo L510E
Dimmable
Adjust with Ease
ปรับความสว่างตามต้องการด้วยปลายนิ้วของคุณ เพื่อสร้างบรรยากาศที่สมบูรณ์แบบในบ้านของคุณได้ตลอดเวล
Preset for Convenience
จดจำระดับแสงที่คุณชื่นชอบเพื่อค่ำคืนของการดูหนังเรื่องโปรด
Schedule Your Life
ตั้งเวลาเปิด-ปิดด้วยความสว่างที่คุณตั้งไว้ ปรับแสงไฟให้สว่างในตอนค่ำ หรือปิดตอนพระอาทิตย์ขึ้น ตามเวลาไทม์โซน
Voice Control
รองรับการควบคุมด้วยเสียงของ Alexa และ Google Home "สวัสดี, อเล็กซา, เปิดไฟ" หรือ "ฮัลโหล กูเกิ้ล, หรี่ไฟในห้องนอน".
Remote Control
for Convenient Living
ทั้งห้องมืดลงเมื่อคุณออกจากงานในตอนค่ำและคุณต้องคลำเพื่อหาหลอดไฟเพื่อปิดสวิซ ด้วยความสามารถของหลอดไฟอัจฉริยะ L510E และ แอพ Tapo, คุณเพียงแค่หยิบสมาร์ทโฟออกจากกระเป๋า เปิดแอพ Tapo เท่านี้ก็สามารถเปิดไฟได้แบบง่ายๆ
Away Mode
ไม่ต้องกังวลเมื่อไม่มีคนอยู่บ้านเวลาออกไปทริป เพียงแค่มีหลอดไฟอัจฉริยะ L510E ก็สามารถตั้งเปิด-ปิด เสมือนมีคนอยู่ที่บ้าน
No Hub Required

เชื่อมต่อหลอดไฟ L510E กับ Wi-Fi ในบ้านคุณ, เท่านี้ทุกอย่างก็ถูกติดตั้ง ไม่จำเป็นต้องเพิ่มฮับหรืออุปกรณ์อื่นใดๆ

Energy Saving

ประโยชน์จากเทคโนลยีสุดฉลาดนี้, หลอดไฟอัจฉริยะ Tapo L510E ใช้พลังงานน้อยกว่าหลอดไฟ LED ปกติ

Tapo Ecosystem

เพียงแค่หนึ่งแอพ, ทุกอย่างก็อยู่ใต้การควบคุมของคุณ ด้วยระบบ Tapo สามารถเปลี่ยนบ้านของคุณให้กลายเป็น Smart Home อย่างแท้จริง
Easy Setup with Streamline Configuration
ตั้งค่าง่ายไม่กี่เสต็ป
ดาวน์โหลดแอพ Tapo
เลือกหลอดไฟ
ทำตามคำแนะนำของแอพ
GENERAL
Package Contents
1. Tapo L510E2. Quick Start Guide
Certification
CE, RoHS
Lamp Base
E27
Dimensions( H X W X D )
115 × 60 mm
Lifetime
15,000 Hrs
Communication
Wi-Fi Protocol
IEEE 802.11b/g/n
Wi-Fi Frequency
2.4 GHz Wi-Fi
Working Status
Input
220–240 V, 50/60 Hz, 73 mA
Typical Lumen Output
806 lumens
Input Power (Actual power draw in Watts)
8.7 W
Color Temperature
2,700 K
Beam Angle
220 degrees
Dimmable
Yes
CAUTION: The increased weight may reduce the mechanical stability of certain luminaires and lamp holders and may impair contact-making and lamp retention
From United States?
Get products, events and services for your region.