Jul.2021

26
The New AX1800 Wi-Fi 6 Router Archer AX23 Opens Up Wi-Fi 6 for More People
Shenzhen, China – TP-Link® today announced Archer AX23— the new AX1800 dual-band Wi-Fi 6 router designed for everyone, providing super-fast dual-band wireless connections with speeds up to 1.8 Gbps — perfect for 4K streaming and short download times. Thanks to our advanced semiconductor design and software optimization, Archer AX23 is TP-Link's most budget-friendly dual-band Wi-Fi 6 router ever.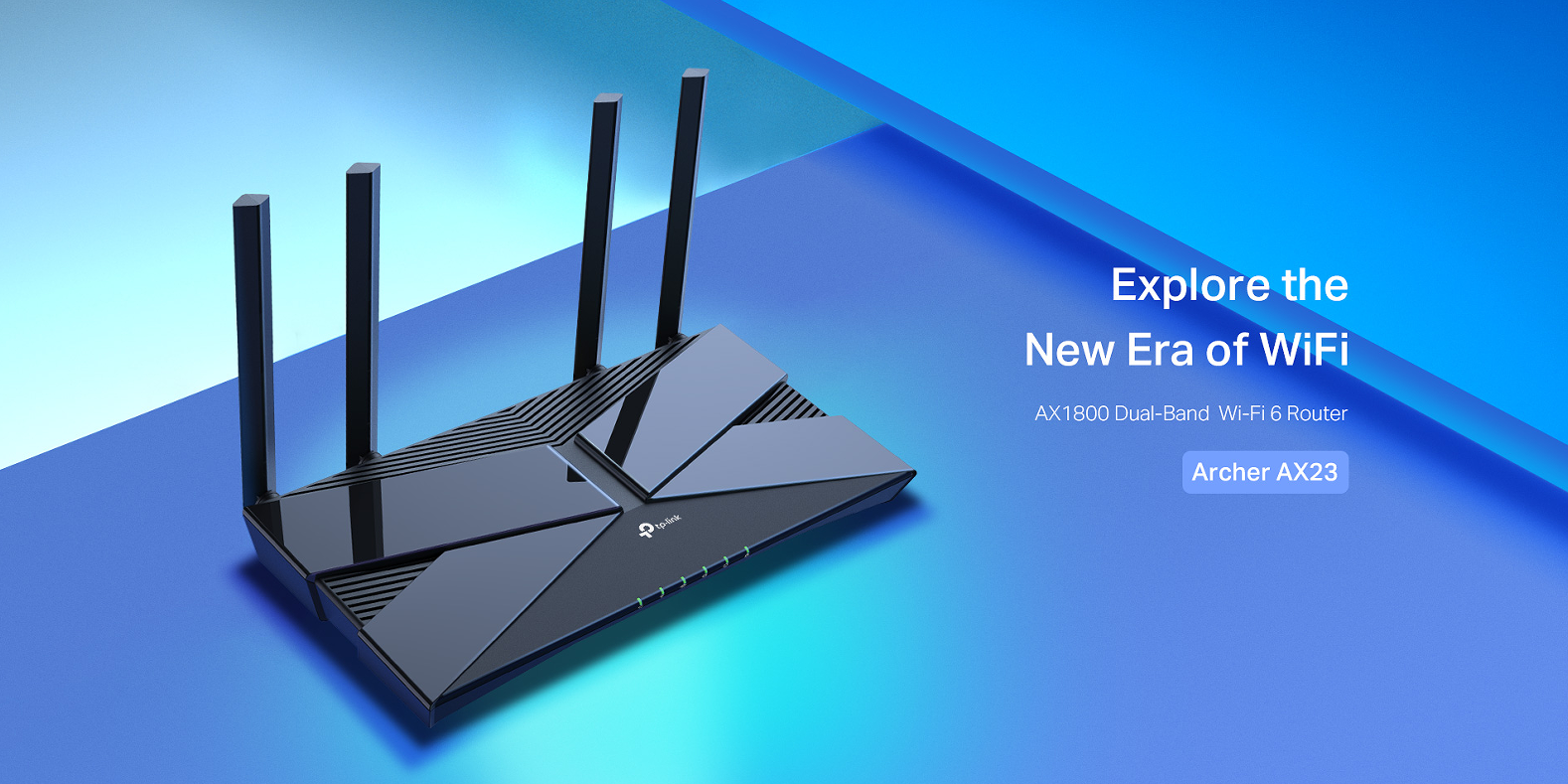 Powerful Wi-Fi 6 on the Next-Gen Platform
In the past 2 years, TP-Link Wi-Fi 6 routers have seen the fastest adoption rate. We've had Archer AX10 and Archer AX20 for decent daily streaming and they are still among the most popular routers on the market. As demand keeps growing, TP-Link continues to innovate, lowering the bar of entry and inviting more people to enjoy Wi-Fi 6 with a wider range of products. With advanced R&D capability and industry-leading vertical manufacturing, Archer AX23 is our answer.
"We adjusted the resource allocation including CPU, RAM, and network processing unit to better serve the sensitive activities that highly affect network experience," said Pan, the R&D leader of Archer AX23. "To make the most of the new chipset, we also improved the algorithm of generating stronger signals and forwarding network packets as fast as possible. After days of tuning and testing, it turns out Archer AX23 is even more powerful than other AX1800 routers in terms of coverage and speed."
Great AX1800 Speed and Coverage Performance
With the breakthrough in efficiency, Archer AX23 delivers all the power, outperforming all the other AX1800 routers that TP-Link has tested — all at a lower price point. In the lab, Archer AX23 surpasses its direct competitors from six top brands in speed and coverage performance while saving more energy.
When compared to Archer AX20, Archer AX23 can:
Download/Upload through Wi-Fi at the same speed.

Provide the same Wi-Fi coverage on both the 2.4 GHz and 5 GHz bands.

Transmit through the WAN port at the same speed.
In all, if you have less than 35 devices and you don't need a USB port, TP-Link highly recommends Archer AX23 for its decent Wi-Fi performance at an attractive price.
Compare Archer AX23, Archer AX10, and Archer AX20 >

Archer AX23 inherits the look and also the performance from Archer AX20
Comprehensive Software Experience
Apart from providing great Wi-Fi, Archer AX23 comes with comprehensive software features that are helpful when users need a hand.
The parental controls enable users to not only block certain websites but also create profiles to manage multiple kids' devices at once. Within parental controls, users can also turn on time limits or pause the network to streamline management.
For users looking to watch television over their network, Archer AX23 provides built-in IPTV support. The function supports IGMP proxy/snooping, bridge, and 802.1q tag mode, which is compatible with most IPTV providers.
OneMesh is also a popular feature on TP-Link routers for its outstanding performance and ease of deployment. With one mesh, users can build a seamless whole-home Wi-Fi with a OneMesh extender/Powerline, costing less than one-third the price of an expensive Mesh system. Learn more about OneMesh>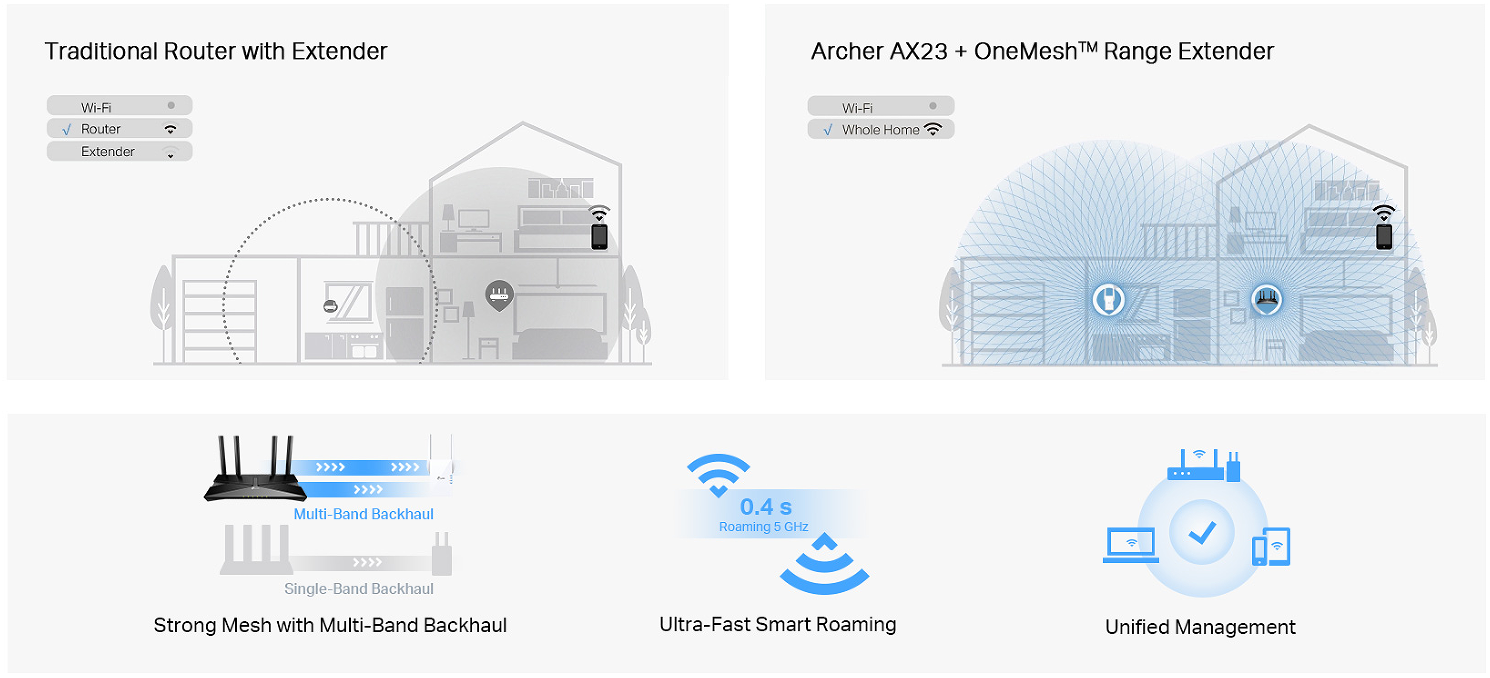 OneMesh provides seamless roaming experiences with expanded Wi-Fi
Full Compatibility with All ISPs
Internet providers in some regions, especially Eastern Europe, are providing internet through the PP2P and L2TP authentication modes. TP-Link Archer AX23 is fully loaded with 5 authentication modes built-in. No matter whether they're using the traditional PPPoE or static/dynamic IP modes or the special PP2P/L2TP model, Archer AX23 connects you to the internet, just like all the other TP-Link routers of the past decades.

Archer AX23 is compatible with most ISP authentication modes
Archer AX23 Key Features:
Super-Fast 1.8 Gbps Wi-Fi – Enjoy smooth 4K streaming and downloading with super-fast Wi-Fi speeds of 1.8 Gbps.†
Connect More Devices – Communicates with more devices using OFDMA while simultaneously reducing lag.‡
Broader Coverage – Improved algorithm, beamforming, and high-performance antennas enhance the Wi-Fi coverage performance.†
Next-Gen Platform – The Next-Gen High-Efficiency Qualcomm Chipset provides fast and stable Wi-Fi while saving more power consumption.△
Parental Controls – Enjoy the most versatile yet free parental controls features among all routers, including URL blocking, profile management, pausing, and more.
Works with Most ISPs – Compatible with most ISPs with extra L2TP/PPTP support. IPTV support works with your existing TV over the Internet contract.
OneMesh – Use with OneMesh extenders to get whole-home coverage and enjoy smooth roaming between signals.
Easy Setup – Set up your router in minutes with the powerful TP-Link Tether App.
Backward Compatible – Supports all previous 802.11 standards Wi-Fi devices.

About TP-Link
Founded in 1996, TP-Link is a global provider of reliable networking devices and accessories, involved in all aspects of everyday life. The company is consistently ranked by analyst firm IDC as the No. 1 provider of Wi-Fi products,3 supplying distribution to more than 170 countries and serving hundreds of billions of people worldwide.
As one of the world's leading companies in the networking industry, TP-Link has 25+ years of iterative inventing and testing. To realize the vision of making a superior digital life available to all, we're combining the latest technology and know-how into products ideal for multi-device usage scenarios.

For more information about TP-LINK, please visit us online at www.tp-link.com or follow us on:
- Facebook: facebook.com/tplink
- Twitter: twitter.com/tplink
- YouTube: youtube.com/tplinktech
- LinkedIn: linkedin.com/company/tp-link-technologies-co-ltd/

Media Contact
Note:
*Maximum wireless transmission rates are the physical rates derived from IEEE Standard 802.11 specifications. Range and coverage specifications are based upon test results under normal usage conditions. Actual wireless transmission rate and wireless coverage are not guaranteed and will vary as a result of 1) environmental factors, including building materials, physical objects, and obstacles, 2) network conditions, including local interference, volume and density of traffic, product location, network complexity, and network overhead and 3) client limitations, including rated performance, location, connection quality, and client condition.
‡ Use of Wi-Fi 6 (802.11ax) and its features including OFDMA and 1024-QAM requires clients to also support corresponding features.
△ Power consumption compared with Archer AX20.
From United States?
Get products, events and services for your region.