TP-Link Brings WiFi 6 to Everyone
Introduced in 2018, WiFi 6 (802.11ax WiFi) builds and improves on the current WiFi 5 (802.11ac WiFi) standard, and is designed to improve speed, increase efficiency and reduce congestion in heavy bandwidth usage scenarios..
What you can expect from WiFi 6
As the most advanced innovation in WiFi technology rolling out globally, WiFi 6 features faster speed, higher efficiency, larger capacity, and more scalability, compared with the previous WiFi 5 (802.11ac WiFi).
Explosively fast WiFi up to 9.6 Gbps. WiFi 6 uses both 1024-QAM to provide a signal packed with more data (giving you more efficiency) and a 160 MHz channel to provide a wider channel to make your wireless internet faster. Experience stutter-free VR and enjoy stunning 4K and 8K streaming.
4× more capacity for more devices. WiFi 6 uses 8×8 uplink/downlink MU-MIMO, OFDMA, and BSS Color to provide up to 4× larger capacity to handle more devices. Come home to a virtually flawless smart home experience or throw house parties with a network built to handle all your guests and their devices.
Reduced power consumption. Target Wake Time (TWT) allows devices to negotiate when and how often they will wake up to send or receive data, increasing device sleep time and substantially improving battery life for mobile and IoT devices.
Backwards compatible. WiFi 6 takes your Wi-Fi to the next level while being backwards compatible with the previous 802.11a/b/g/n/ac Wi-Fi standards.
WiFi 6 for All
TP-Link has been at the cutting edge of WiFi technology with the next-generation AX product line of routers, Mesh WiFi systems and range extenders. All are groundbreaking innovations, providing consumers with blazing fast WiFi and ideal solutions for intensive bandwidth loads. Featuring numerous products and pricing options from entry level to high end, TP-Link is committed to serving more people WiFi 6 and leading the way in WiFi 6 technology through our AX product line.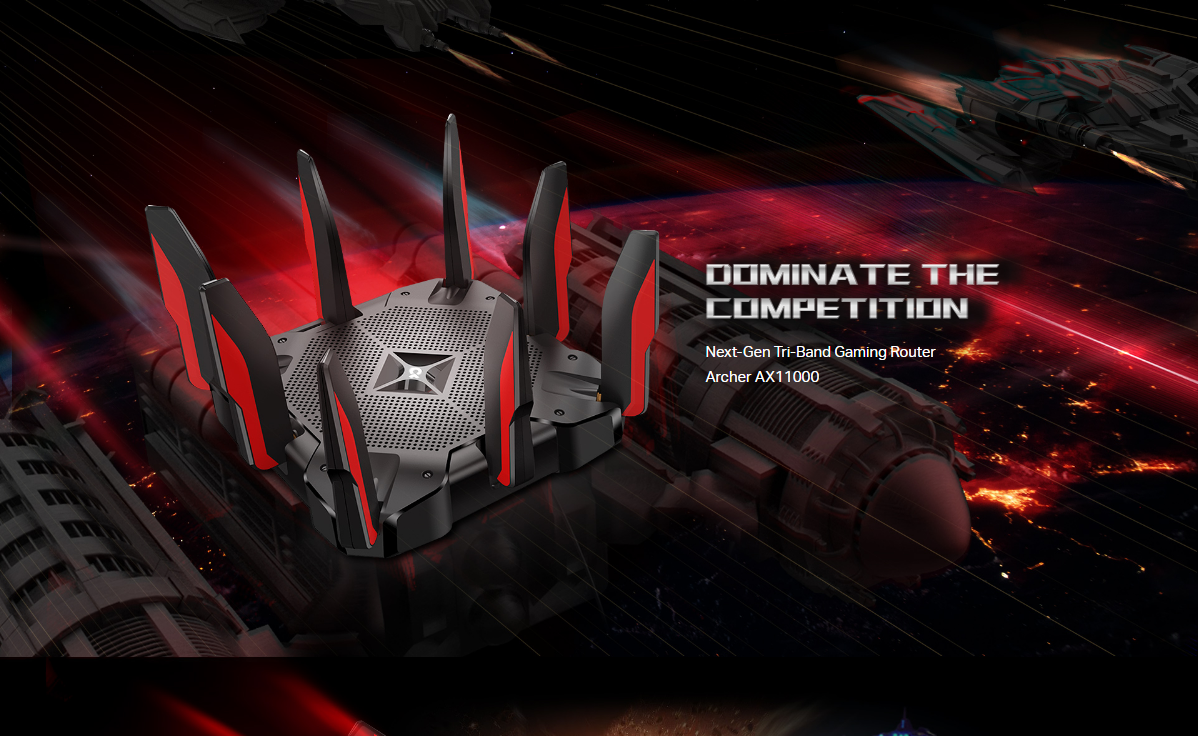 Built for victory, the CES innovation award winning AX11000 Tri-band Gaming Router brings WiFi speed to a revolutionary level—over 10 Gbps, demolishing network latency and interference. More than that, AX11000 serves as a game accelerator to optimize gaming streams, as a game protector with the HomeCare security system, and as a game network analyzer with its finely tuned UI.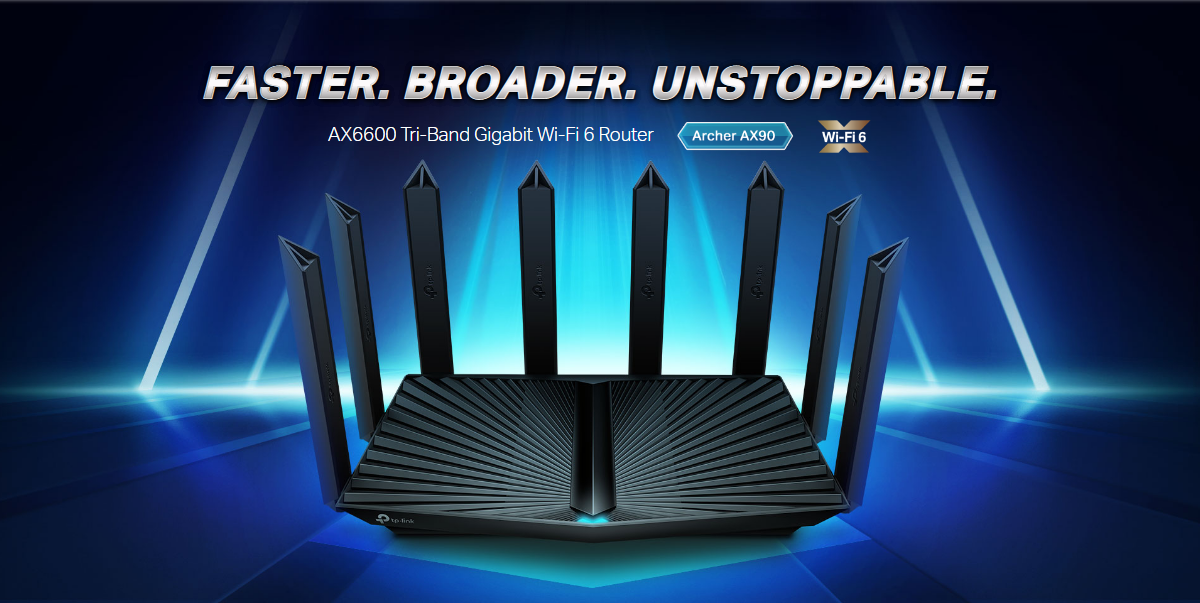 Combining Tri-band WiFi with high-tech WiFi 6, Archer AX90 provides eight simultaneous data streams to open up more bandwidth and help your devices operate at full speed. 1024-QAM and HT160 boost overall speeds up to an incredible 6600 Mbps: 4804 Mbps (5 GHz) + 1201 Mbps (5 GHz) + 574 Mbps (2.4 GHz). Eight high gain antennas not only deliver boosted WiFi signals to every corner of your home, but also bring a sense of aesthetics.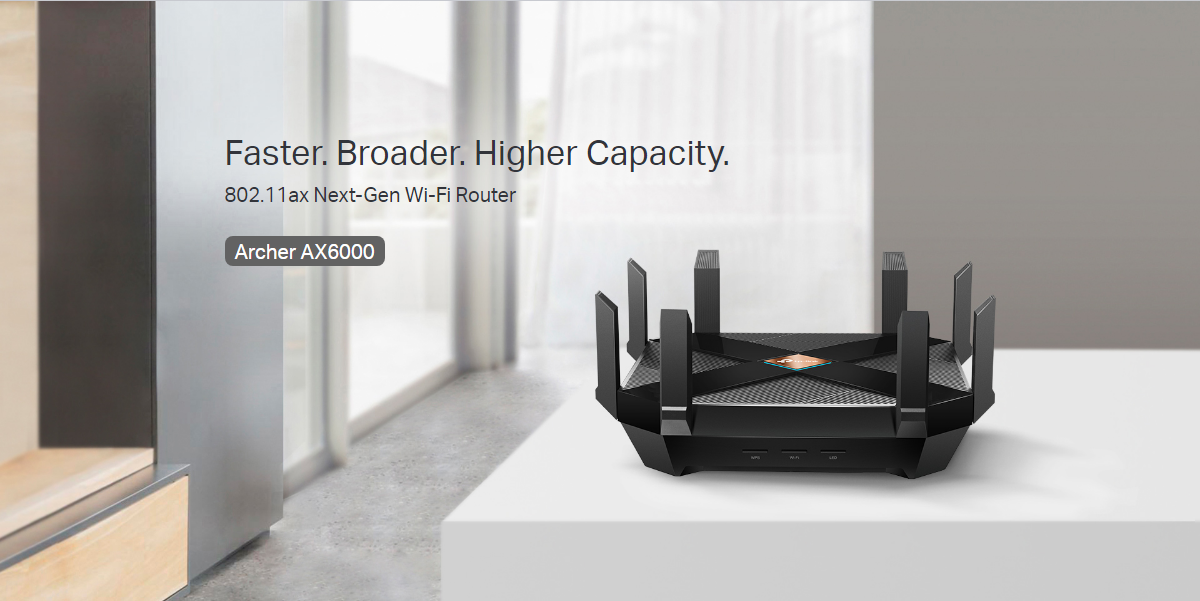 As the first WiFi 6 router launched by TP-Link, Archer AX6000 is equipped with a 2.5 Gigabit WAN port and 8× Gigabit LAN ports. Designed for the new era of home WiFi, AX6000 achieves speed up to 1,148 Mbps on the 2.4 GHz band and 4,804 Mbps on the 5 GHz band while providing up to 4× higher capacity to handle traffic-dense environment.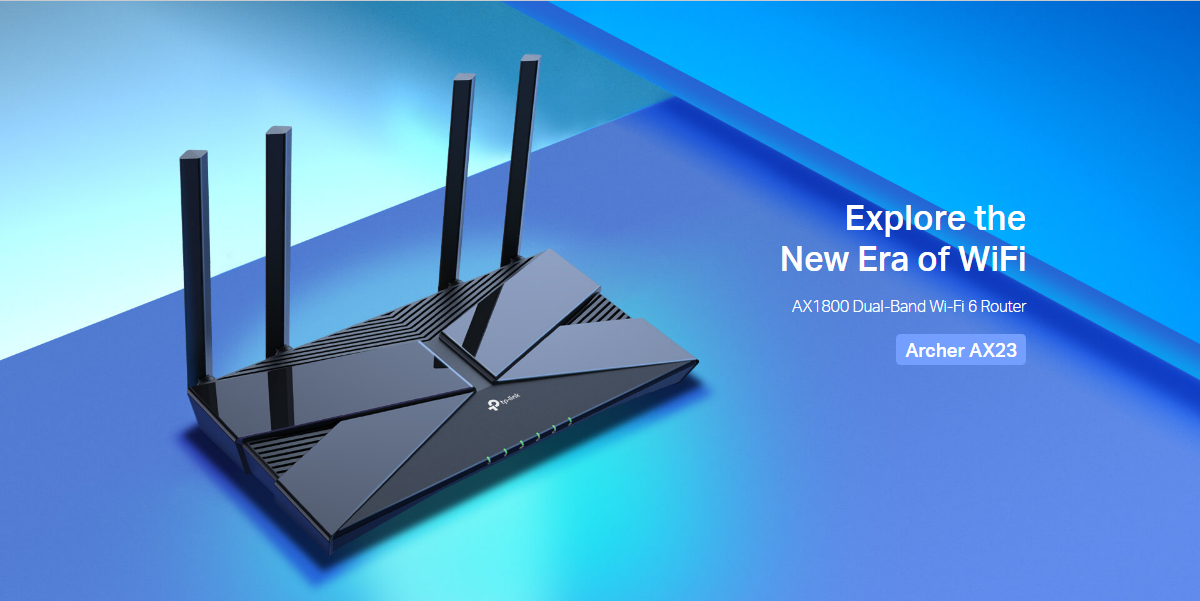 Archer AX23 provides super-fast dual-band wireless connections with speeds up to 1.8 Gbps — perfect for 4K streaming and short download times. With the breakthrough in efficiency, Archer AX23 delivers all the power, outperforming all the other AX1800 routers that TP-Link have tested — all at a lower price point. In the lab, Archer AX23 surpasses its direct competitors from six top brands in speed and coverage performance while saving more energy.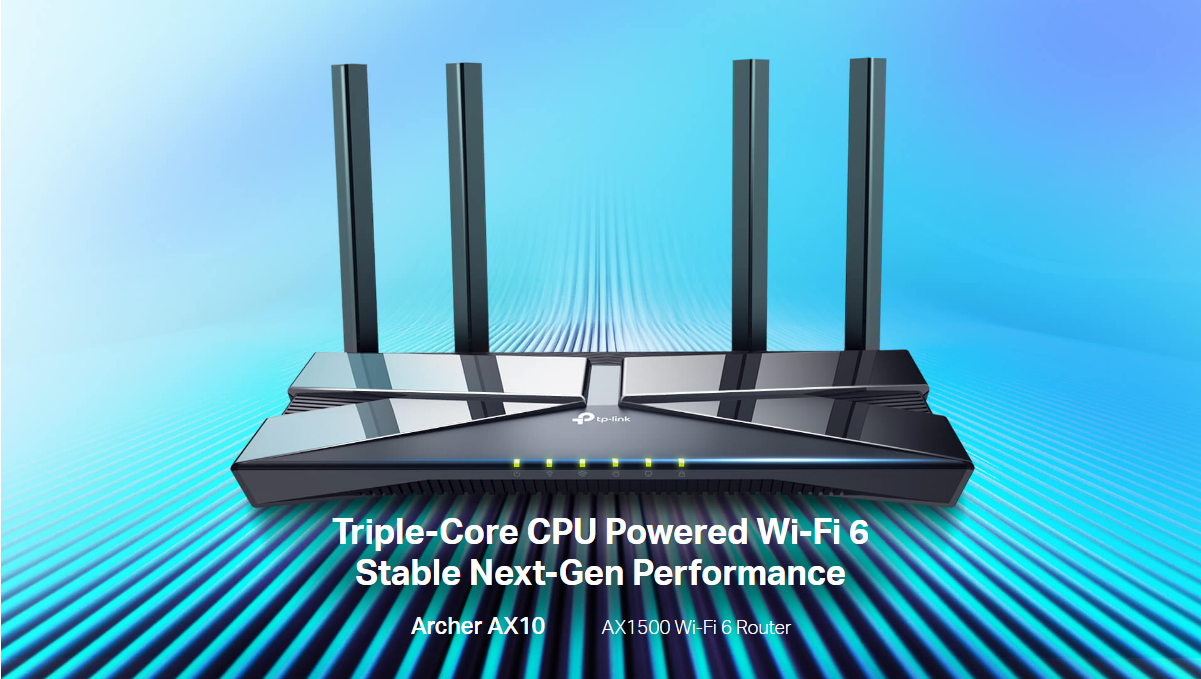 If you have a limited budget for home network devices, Archer AX10 may also be a good choice. Archer AX10 is the first product to offer WiFi 6 technology at a cost similar to a WiFi 5 router and speeds of 1,500 Mbps. Enjoy all the benefits of WiFi 6, at the lowest price possible.
Whole Home Mesh Wi-Fi 6 System Deco X60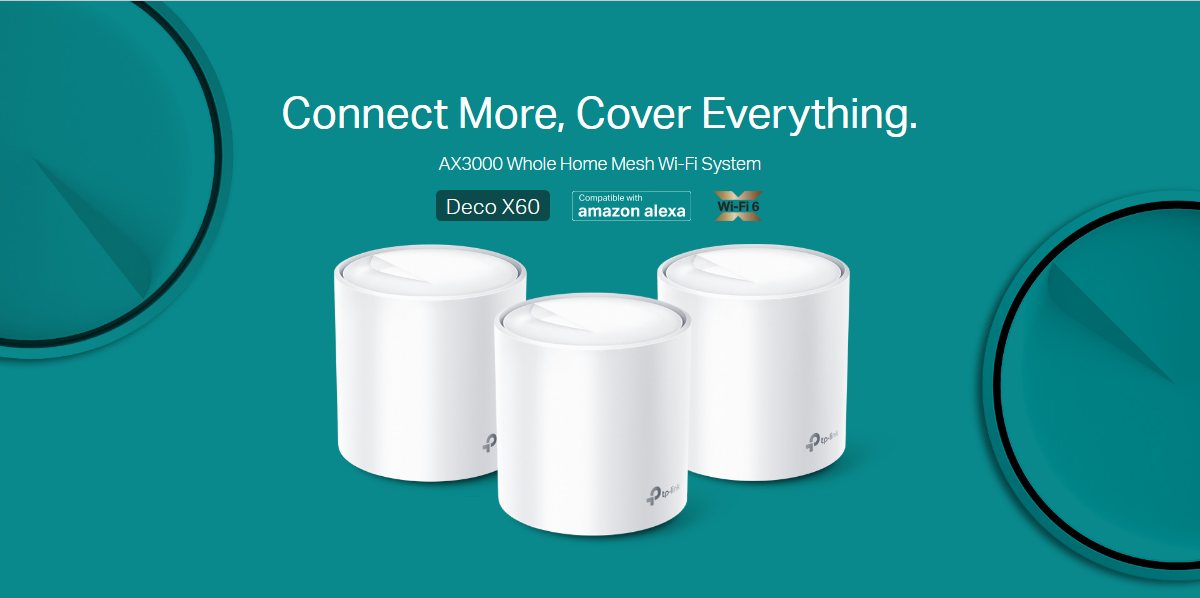 Armed with Wi-Fi 6 technology, the whole home Mesh Wi-Fi 6 system Deco X60 is designed to deliver a huge boost in coverage, speed, and total capacity. Deco X60 is tested to connect up to 150 devices without dragging down performance. Also, the latest 1024-QAM and higher symbol rate combine to boost speeds up to 3 Gbps (2402 Mbps on 5 GHz and 574 Mbps on 2.4 GHz)—ideal for bandwidth-intensive tasks like online gaming and HD video.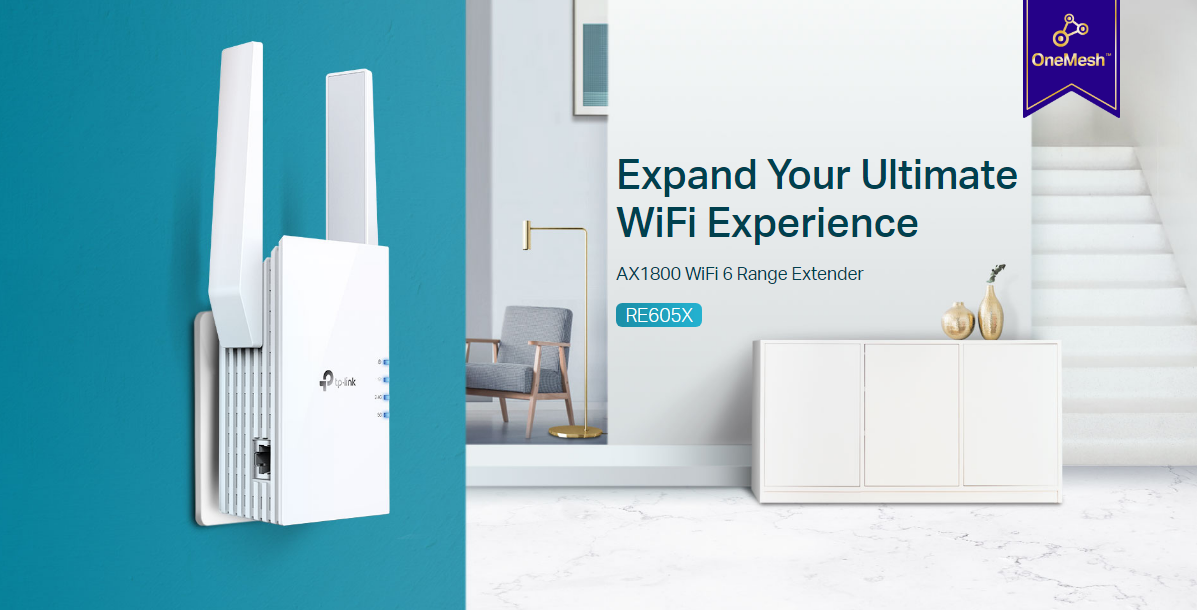 With speeds up to 1,800 Mbps, RE605X extends 802.11ax WiFi to more rooms while working together with the TP-Link AX product series to upgrade your network to be the fastest, most expansive, and most advanced internet you've ever experienced.
*Maximum wireless transmission rates are the physical rates derived from IEEE Standard 802.11 specifications. Range and coverage specifications are based upon test results under normal usage conditions. Actual wireless transmission rate and wireless coverage are not guaranteed and will vary as a result of 1) environmental factors, including building materials, physical objects, and obstacles, 2) network conditions, including local interference, volume and density of traffic, product location, network complexity, and network overhead and 3) client limitations, including rated performance, location, connection quality, and client condition.
‡ Use of 802.11ax (Wi-Fi 6) and its features including OFDMA, HE160, and 1024-QAM requires clients to also support corresponding features. The 160 MHz bandwidth may be unavailable in the 5 GHz band in some regions/countries due to regulatory restrictions.
From United States?
Get products, events and services for your region.