How to Configure IPTV function on Deco
This article will introduce the configuration of the IPTV function. Before we start, please make sure the internet is working on the Deco unit. If not, please set up the internet connection first.
Reminder:
If you have already accessed to Internet and IPTV functions normally by default, please ignore this article and just keep the default settings of the IPTV page.

For the ISP Singtel, please verify if you were issued with ONT before configuring the IPTV settings since the IPTV setting is only required for Singtel Optical Network Terminal (ONT) and not required if you have a Singtel Optical Network Router (ONR).
Note: not all the Deco models support setting IPTV ports on the satellite units, but this feature will be supported via firmware updates in the future.
Here we take Deco M5 as an example.
Step 1: Please go to More -> Advanced -> IPTV/VLAN page on the Deco App, and then enable it.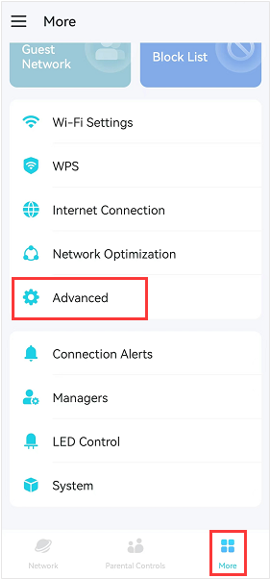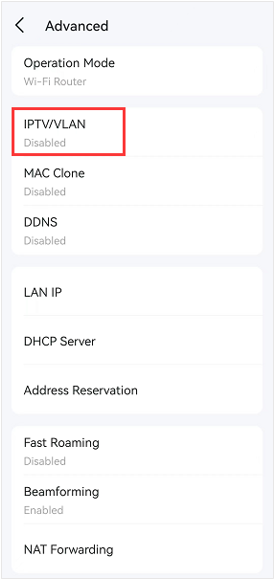 Step 2: Select the Mode according to your ISP.
There are many "Mode" available on the IPTV/VLAN setting page, such as Bridge, Singapore-Singtel, Malaysia-Unifi, Malaysia-Maxis, Custom, etc.
These Modes are designed for different ISPs. In other words, the Mode you selected is up to your ISP.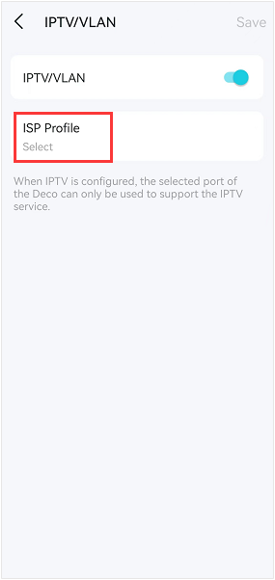 Custom mode is used for some ISPs that are not on the list.
Note: When IPTV is enabled, and if you only have the main deco, the other port on the main deco will be the IPTV port by default for IPTV service.
IPTV VLAN ID and IPTV VLAN priority are provided by your ISP. If your ISP does not provide a number for IPTV VLAN priority, you can set it to 0.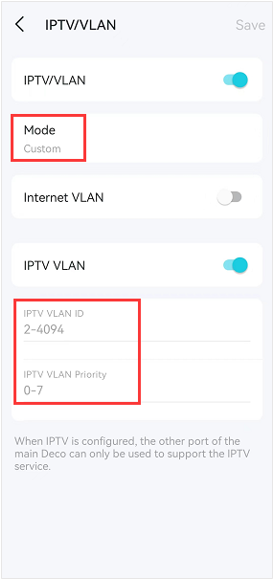 For some Deco models, such as Deco M5, the Custom mode supports setting the IPTV port on the satellite deco units. You can configure up to three IPTV ports for your Deco system.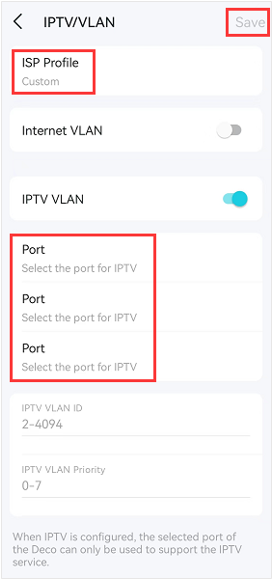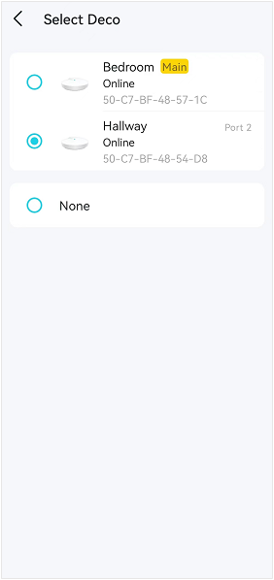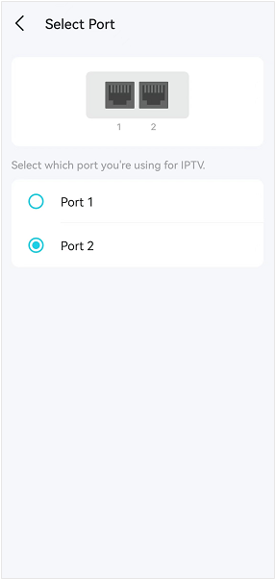 Note:
The selected port of the deco can only be used to support the IPTV service when IPTV is configured.
The IPTV/VLAN page and the ISP list may vary slightly depending on the model due to different software versions, which will synchronize in future firmware updates.
Step 3: Click on Save in the top right corner to complete the configuration.
When IPTV is configured, the IPTV service only takes effect on the IPTV port you set on the Deco, where you can connect your IPTV device, such as a set-top box.
Other wired network clients or switches connected to the IPTV port won't have internet access.
Is this faq useful?
Your feedback helps improve this site.
From United States?
Get products, events and services for your region.