Can different Deco models work together?
All our Deco models can be mixed to work together.
Here we will introduce some precautions for a Deco mixed network.
Q1. Why do some features disappear or become different after mixing different Deco models together?
For example, you have an existing Deco M5 network, then purchase a new Deco X90 unit and set it as the main Deco of the existing Deco network. In this case, you will find that some features (such as Antivirus, Parental Control and QoS) disappear in the Deco app, instead, there is a new function called HomeShield that includes Realtime Protection, Parental Control and QoS.
This is because that different Deco models may support different advanced features. In this case, Deco M5 supports HomeCare while Deco X90 supports HomeShield. Whether the Deco app displays HomeCare or HomeShield features, depends on which Deco model is set up as the main Deco.
You could refer to the articles below for more details about the HomeCare and HomeShield features.
HomeCare: https://www.tp-link.com/en/homecare/
HomeShield: https://www.tp-link.com/en/homeshield/
Q2. Which Deco should be the main deco?
Case 1. If you want to set up a Powerline Backhaul network.
If you have more than 2 Deco P7 or Deco P9 units and want a Powerline backhaul network, please select Deco P7 or Deco P9 as the main Deco (Deco P7 priors to Deco P9). And the powerline connection will be established only between Deco powerline products.
Case 2. How to set up different Deco models together for optimal performance without considering Powerline Backhaul?
1) When creating a new Deco network
On the page of selecting Deco models, click on "Have more than one Deco model?", and then you can see a priority order that will guide you to select the main deco.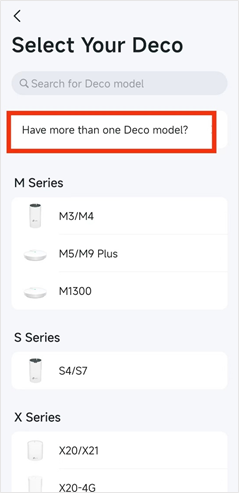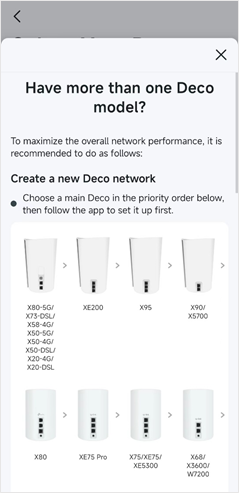 2) When adding a new Deco to an existing Deco network
Open the Deco app, tap the "+" icon in the upper right corner and follow the instructions to add the new Deco. After that, please refer to the above priority order and set the recommended Deco model as the main Deco through the Set Main Deco feature.
If you need further assistance, it's suggested to contact TP-Link support.
Is this faq useful?
Your feedback helps improve this site.
From United States?
Get products, events and services for your region.