General questions about Ethernet Backhaul feature on your Deco
Ez a leírás a következő eszköz(ök)re alkalmazható::
Q1:What is Ethernet backhaul?
Ethernet Backhaul is a feature that makes it possible to wire the Deco units together.
Thanks to this feature, every two Deco units can be wired with an Ethernet cable. And Deco will transmit data between the two units through the Ethernet connection, which is more stable and faster than Wi-Fi. Once Ethernet backhaul is established, the Wi-Fi backhaul will disconnect automatically.
Q2: How to establish Ethernet backhaul?
Please follow the steps below to establish the Ethernet backhaul.
1.Please set up the Deco units on the same network via Wi-Fi at first through the Deco app before you wire them together.
2.Place the satellite Deco in the ideal location for the best coverage and then wire Deco units together with Ethernet cables, the Ethernet backhaul will take effect automatically.
3.Deco works in Router mode by default, please note that the satellite Deco is requested to wired to the LAN port of the main Deco or a switch connected to main Deco's LAN port to avoid a network loop. When the Deco is set to work under Access Point mode, you can wire satellite Deco to any Deco unit or the main modem/router.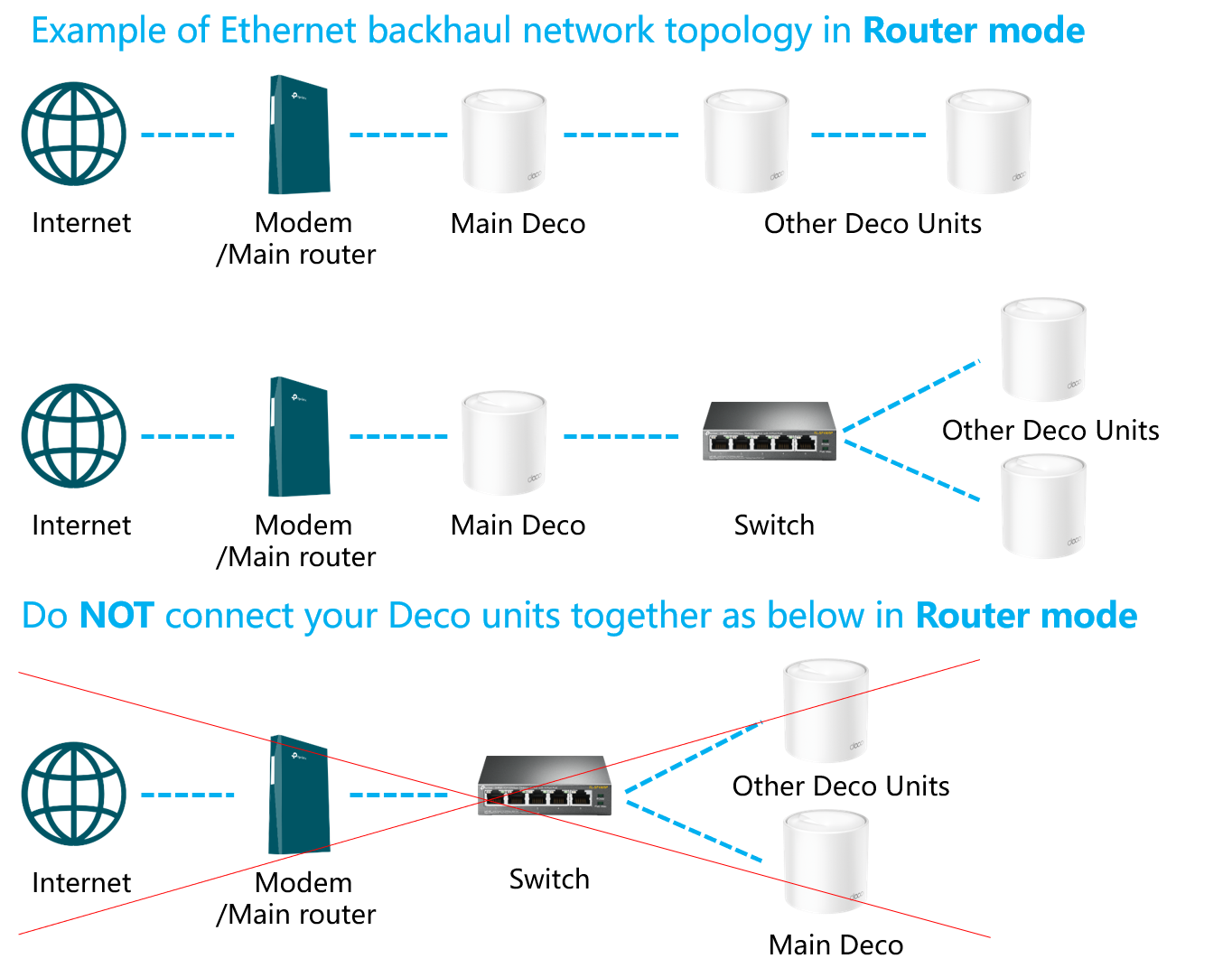 4. You can click on the network map on the Deco app, then click on a satellite Deco to check which deco it connects and whether through the Ethernet backhaul or not.
Q3: Which switch models support Ethernet backhaul?
Most of the switches on the market support Deco's Ethernet backhaul feature. If you don't have a switch or if your switch is verified not compatible with Deco Ethernet Backhaul, the following models will be a good choice.
Unmanaged switch Models:
8-Port 10G Desktop/Rackmount Switch 【TL-SX1008】: https://www.tp-link.com/business-networking/unmanaged-switch/tl-sx1008/
8-Port 10/100/1000Mbps Desktop Switch 【TL-SG108】: https://www.tp-link.com/business-networking/unmanaged-switch/tl-sg108/
Managed switch Model:
JetStream 8-Port Gigabit L2+ Managed Switch with 2 SFP Slots【TL-SG3210】: https://www.tp-link.com/business-networking/managed-switch/tl-sg3210/
For more switch models, please refer to: https://www.tp-link.com/home-networking/all-soho-switch/
Q4: To use the Ethernet Backhaul feature, do I need to wire all my Deco units together?
Nope. You can wired any satellite Deco to other units for Ethernet backhaul as you want. In this case the Ethernet Backhaul only works between Deco units that wired connected together.
For example:

Q5: What can I do if the Ethernet backhaul is not taking effect?
1. Please check if Deco has enabled the IPTV feature. And if yes, the selected IPTV port can't use to establish the ethernet backhaul, and it can be used for IPTV only.
2. Please connect the satellite Deco to a different port on the Deco/Switch.
3. Try a different Ethernet cable.
4. Please connect two Deco units directly without the switch if there is one between the Deco units. If the direct connection works, the issue may be related to the switch.
A: Deco switching from Wi-Fi backhaul to Ethernet backhaul may create a short loop in the network for 1~2s. If your switch supports loop detection, it may block the port used by Deco. Please turn off the loop detection function on your switch, then reboot your switch and try again.
B: Contact the switch's technical support to confirm if it has loop detection enabled by default or if it has a hardware problem.
Q6. What can I do if the Deco units become unstable once they're connected via a switch?
1.Try a different port on the Deco/Switch. On the main Deco, one port should connect to the modem/router to get internet, another port can be used for Ethernet backhaul. You can swap the Internet port and the Ethernet backhaul port for a try.
2.Try a different Ethernet cable.
3.Please try connecting two Deco units directly by using one Ethernet cable, bypassing the switch. If the Deco units become stable. It's probably that you're using a switch that does not forward specific multicast packets.
The Deco Ethernet backhaul feature is based on the standard IEEE 1905.1 protocol. However, we find that some switches, mainly the D-Link switches, will not forward packets based on IEEE 1905.1 protocol, causing all Deco units in a network loop and becoming quite unstable, you might consider changing another switch or contacting switch's support directly. TP-Link Switches are mostly compatible with our Deco's Ethernet backhaul.
Q7: Can I set up different Deco models such as M5 and M9 Plus together through Ethernet backhaul?
Yes, just configure and add different Deco models in the same Deco network. After that, you can wire them to set up the Ethernet backhaul connection.
Q8:How to turn off Ethernet backhaul on the Deco?
You can disconnect the Ethernet cable between Deco units to disable the Ethernet backhaul.
Q9: Can I use one Ethernet port on the Deco for Ethernet backhaul and the other to connect a computer?
Yes.
Note: On the main Deco, one Ethernet port should connect to the modem/router to get internet, the other Ethernet port can be used for Ethernet backhaul, or connect to a computer.
Q10: Can I wire Deco via Ethernet cable on different floors?
Yes, but you need to pay attention to the working mode of the Deco.
When the Deco system works in Router mode, only the main Deco can connect to the modem/router directly.
Ez a GY.I.K. hasznos volt?
Véleménye segíti az oldal fejlesztését
From United States?
Get products, events and services for your region.