How to Choose the Best WiFi Booster - 12 Recommended TP-Link WiFi Boosters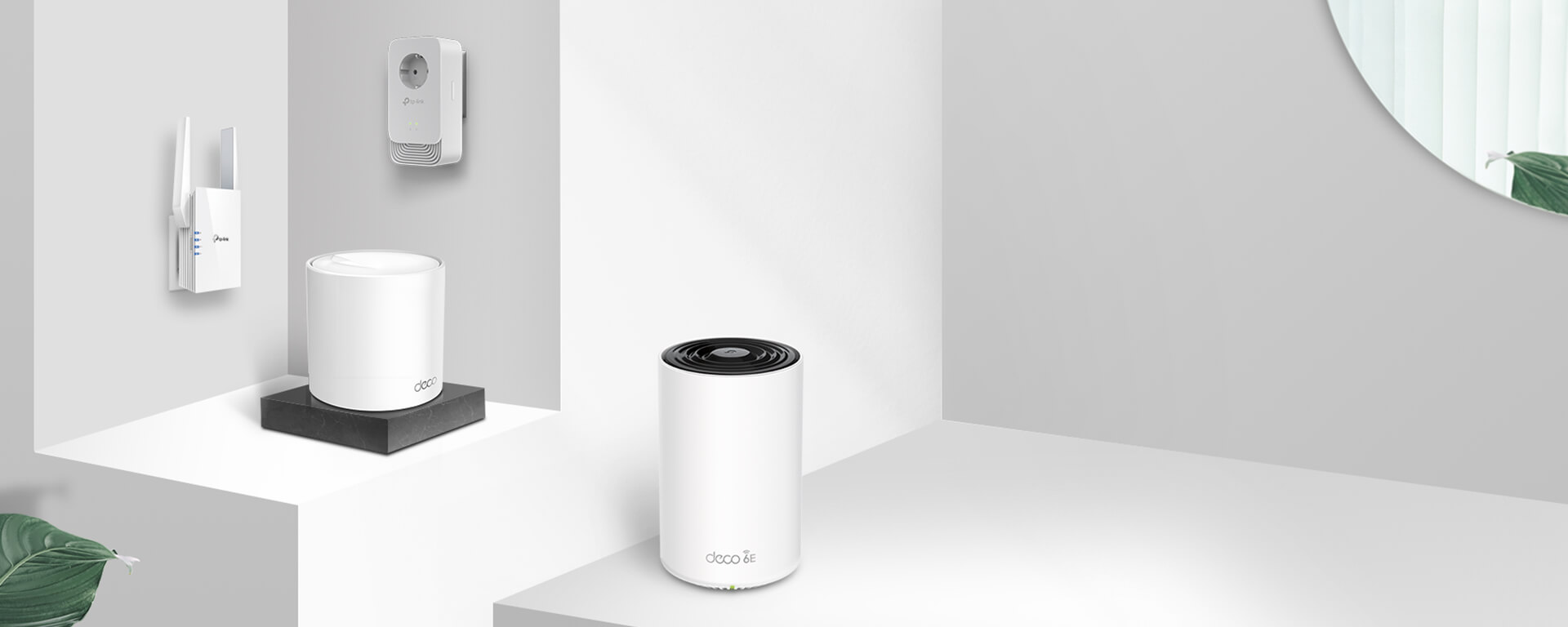 Have you encountered WiFi situations like weak or no signals? Or experienced spotty WiFi signals around your house's corners? When you're watching the FIFA World Cup and your favorite soccer player is about to score or when you're streaming Netflix and about to get to the climax, WiFi interruptions can be so frustrating. Sometimes, you want a perfect barbeque and outdoor cinema with your friends, and this is the time you need extended outdoor WiFi. Hence, getting stable, reliable, and wide-coverage WiFi connections are more important than ever.
In this article, we'll explain what WiFi boosters are and why you need them. Most of all, we'll show you the most recommended WiFi boosters and guide you in how to choose them.
What Is a WiFi Booster and How Does it Work?
Home networking performance may vary, depending on the network's speeds, fiber or Ethernet access, WiFi interference, obstacles, walls, areas, and clients. WiFi boosters are designed for home WiFi expansion, boosting your wireless signals further than it's supposed to be. This solves the problem of wireless dead zones and weak signals from distances. WiFi boosters usually work as extenders to further expand your current WiFi through wired or wireless connections. Some WiFi boosters integrate both wireless and wired connections for various demands.
When the WiFi booster connects with the main router wirelessly to receive signals and extend them to clients, then this extender works as an RE (range extender).

When your extender works in AP mode, it connects with the previous router through an Ethernet cable and transforms the wired connection into WiFi signals.

Why Do You Need WiFi Boosters?
As we mentioned before, a WiFi booster is ideal for people who suffer from weak or no WiFi signals around corners or outdoors. Simply put, users who live in big houses with multiple floors and walls or desire outdoor WiFi for a better network experience may need WiFi boosters.
Solves Weak or No WiFi Signals
For those who live in a large house with a couple of walls and floors, WiFi connections may be weak sometimes. Even worse, when clients are far away from the router and have floors between them, you can't receive any signals at all. With WiFi boosters like powerline adapters, they easily extend your router's wireless signals to other rooms or floors, delivering stable and reliable WiFi connections.
Eliminate WiFi Dead Zones
However, even with two or more routers in your home, the network conditions can still be undermined by many other factors, such as your router's placement, thick walls, or even a microwave. These could lead to WiFi dead zones in your home. Place a WiFi booster near the dead zone, and you'll achieve uninterrupted online experiences again.
If you want WiFi in your garden, backyard, patio, or even outdoor garage, you can always use a WiFi booster to further extend your existing home wireless signals. This way, you can video chat with friends while enjoying outdoor movies at the same time.
Typically, there are 3 types of WiFi boosters in the market, meeting various network demands.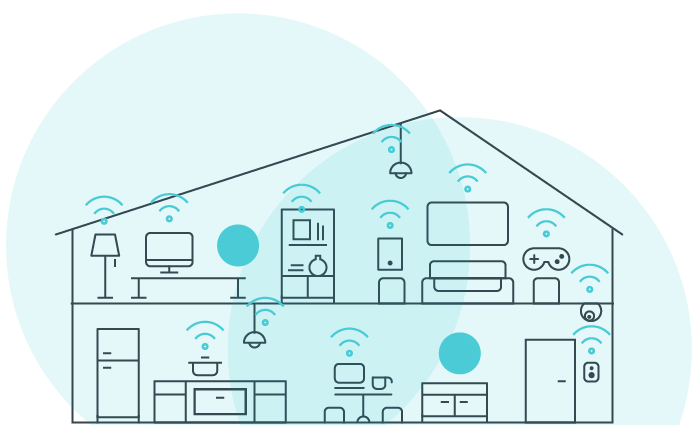 If you've added multiple network nodes but are still encountering WiFi dead zones while walking around your home, you should consider Mesh WiFi solutions. These are built to eliminate dead zones and provide uninterrupted WiFi throughout your home. A whole home Mesh network system secures network speed and reliability in every corner of your home, no matter whether you are in the basement or on the rooftop, you can enjoy stable WiFi with seamless roaming.
In a traditional home network, the setup and management of multiple network nodes might be head-scratching. However, in a TP-Link whole home Mesh network, multiple network nodes work together to form a single, unified network that shares the same WiFi settings, including network name, password, access control settings, and more.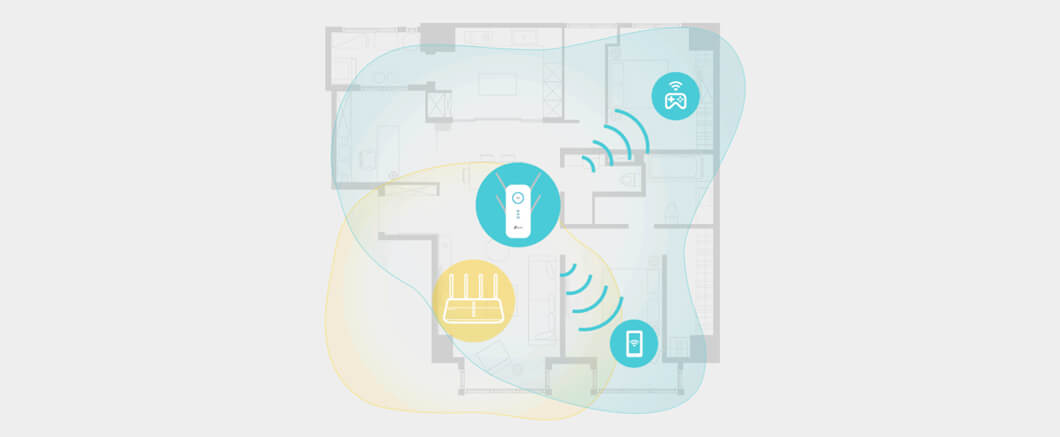 Range extenders (for some manufacturers they're described as "repeaters"), with powerful amplifiers and antennas, can boost an existing WiFi network by receiving the wireless signals from your router and repeating them, extending signal coverage by up to twice the range. To make the best of an extender, you need to place it about halfway between your router and the WiFi dead zone. When you move around your house, your devices will choose to connect to your router or extender automatically to avoid sudden signal drops or WiFi dead zones.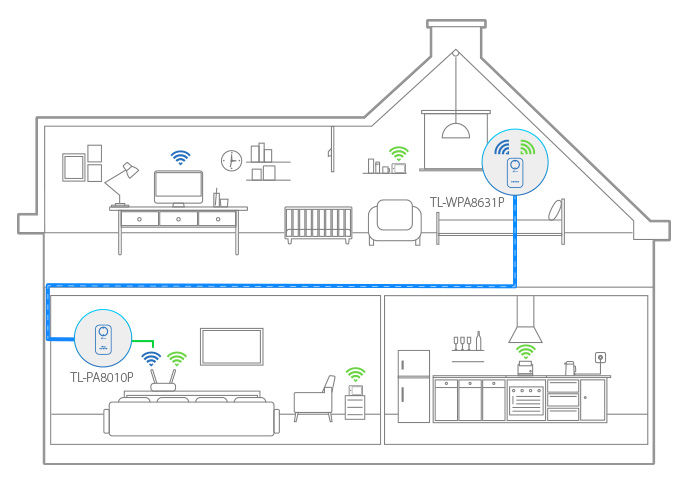 Different from range extenders and Mesh WiFi, powerline adapters transmit data and extend your home network coverage using existing electrical wiring. If you require more stable WiFi signals in a bigger or multi-story house but don't want to drill holes for expensive and complicated Ethernet cables, then a powerline adapter is a better solution for you. With powerline adapters, thick walls and ceilings aren't a problem anymore.
It should be noted that both powerline adapters should be on the same electrical circuit. If your home is wired on multiple circuits, make sure the section of your home with the router and the section you want to extend coverage to share the same circuit.
Here are some tips for you to choose a suitable WiFi booster to meet your demands.
House Layout/Type: You should consider your house layout when choosing WiFi boosters. For example, range extenders suffer from interference from obstacles such as concrete walls, metal objects, and microwaves, this solution is recommended if you live in a one-story house. For those who live in a multi-story house with thick walls and multiple floors, powerline adapters should be the best choice.
Installation: If you are looking for an easy setup and management network, a Mesh WiFi system is definitely your go-to choice. Setting up powerline adapters could be a bit challenging since they need to be installed on the same electrical circuit.
Extra Power Sockets: If the number of outlets in your room is limited, you can choose a Powerline device with passthrough. This feature lets you plug in regular devices as normal while also extending your network.
Price: In general, the price between these three types goes from Mesh WiFi System > Range Extender ≥ Powerline Adapter.
If you still have questions about WiFi booster selection, the following two tables below may help you make a decision.
Scheme Comparison

Mesh WiFi

Range Extender

Powerline Adapter

One-Story Home

⭐⭐⭐⭐⭐

⭐⭐⭐⭐⭐

⭐⭐⭐⭐⭐

Multi-Story Home

⭐⭐⭐⭐⭐

⭐⭐⭐

⭐⭐⭐⭐⭐

How to Extend

Wired or Wireless

Wireless

Powerline

Implementation Conditions

No

No

Under the same power circuit

Configuration Convenience

Easy setup and management

One-touch WiFi configuration

One-touch WiFi configuration

Reliability

Great

Fair

Good

Product Highlights

• Seamless Roaming with one WiFi name

• Flexible placement

• Stable long-range connectivity

• IoT Center: control your smart home devices

• Deco Mesh Technology (Only TP-Link Deco products)

• Works with any router

• Flexible placement

• AC Passthrough (specific products)

• OneMeshTM (Only TP-Link products)

• EasyMesh (Only EasyMesh-compatible products) 1

• Works through walls and floors

• Reliable long-range connectivity

• Internet from any outlet

• HomePlug or G.hn compatible2

• AC Passthrough (specific products)

Price

Medium to High

Medium

Low to Medium
12 Recommended TP-Link WiFi Boosters
The following are 12 recommended TP-Link WiFi boosters from Mesh WiFi, RE, to Powerline Adapters.
Model

Images

Positioning

Entry-Level WiFi 6E Mesh WiFi Solution

The Most Comprehensive Mesh WiFi 6 Solution

Multi-Scenario Mesh WiFi Meets All Your Needs

Extend Your WiFi Network Outdoors

Wi-Fi Bands

Tri-Band

Dual Band

Dual Band

Dual Band

Wi-Fi Class

AXE5400

AX3000

AX3000

AX3000

Speed

2402 Mbps (6 GHz) + 2402 Mbps (5 GHz) + 574 Mbps (2.4 GHz)

2402 Mbps (5 GHz) + 574 Mbps (2.4 GHz).

2402 Mbps (5 GHz) + 574 Mbps (2.4 GHz).

2402 Mbps (5 GHz) + 574 Mbps (2.4 GHz).

Wi-Fi Coverage

Up to 5,500 sq. ft. (2-pack)

Up to 4,500 sq. ft. (2-pack)

Up to 4,500 sq. ft. (2-pack)

Up to 4,500 sq. ft. (2-pack)

Capacity

Up to 200 Devices

Over 150 Devices

Over 150 Devices

Over 150 Devices

Ethernet Ports

3× Gigabit Ports

3× Gigabit Ports

1× 2.5 Gbps Port + 1× Gigabit Port

2× Gigabit Ports

Seamless AI-Driven Mesh

Intelligently learns your network environment to provide the ideal WiFi unique to your home.

TP-Link HomeShield

Provides comprehensive network protection, robust parental controls, real-time IoT security, and QoS.

160 MHz Channel

Doubles the bandwidth and enables many more simultaneous transmissions at the fastest possible speeds.3

Deco App

Set up and manage your network anytime and anywhere on the user-friendly Deco app. It walks you through setup step by step.

Works with Other Decos

Compatible with every other Deco model to form a Mesh network.

Works with Amazon Alexa and Google Assistant

Use an Amazon Alexa or Google Assistant-enabled device to control Deco with just your voice.

Other Highlights

• Brand New 6 GHz Band – Minimizes congestion with greenfield spectrum, delivering robust high-speed connections.

• Functional and Beautiful – Its delicate body case perfectly blends into various home decorations.
• Affordable Price – All the essential features in just one Deco, with the most affordable price.

• PoE Supported – Power over Ethernet for simplified network deployment.
• Multiple Installation Options – Place it on a tabletop or install it on a ceiling or wall with the adaptive accessories.

• Ideal for Fast Outdoor WiFi – IP65 waterproof and dustproof for outdoor use.
• Multiple Installation Options – Place it on a tabletop or install it on a pole or wall with the adaptive accessories.
• PoE Supported – Power over Ethernet for simplified network deployment.
| | | | | |
| --- | --- | --- | --- | --- |
| Model | | | | |
| Images | | | | |
| Wi-Fi Class | AXE5400 | AX6000 | AX1800 | AX1500 |
| Wi-Fi (2.4 GHz) | 574 Mbps | 1148 Mbps | 574 Mbps | 300 Mbps |
| Wi-Fi (5 GHz) | 2402 Mbps | 4804 Mbps | 1201 Mbps | 1201 Mbps |
| Wi-Fi (6 GHz) | 2402 Mbps | | | |
| Ethernet Ports | 1x Gigabit Port | 1x 2.5 Gbps Port + 2x Gigabit Ports | 1x Gigabit Port | 1x Gigabit Port |
| MU-MIMO | ● | ● | ● | ● |
| Beamforming | ● | ● | ● | ● |
| OneMeshTM | ● | ● | ● | ● |
| EasyMesh1 | ● | ● | ● | ● |
| Signal Indicator | ● | ● | ● | ● |
| Tether App | ● | ● | ● | ● |
| AP Mode | ● | ● | ● | ● |
| WPS Button | ● | ● | ● | ● |
| Multi-Language | ● | ● | ● | ● |
| High Speed Mode | - | ● | ● | ● |
| Power Schedule | ● | ● | ● | ● |
| LED Control | ● | ● | ● | ● |
| Access Control | ● | ● | ● | ● |
Model

Images

Sub-model

1× PGW2440

1× PG2400P

2× PG1200

TL-WPA8631P

TL-PA8010P

TL-WPA7617

TL-PA7017P

Protocol

G.hn MIMO

G.hn SISO

HomePlug AV2

HomePlug AV2

Powerline Speed

1428 Mbps

1428 Mbps

607 Mbps

1300 Mbps

1000 Mbps

Wi-Fi Class

AX1800

N/A

N/A

AC1200

N/A

AC1200

N/A

Wi-Fi (2.4 GHz)

574 Mbps

N/A

N/A

300 Mbps

N/A

300 Mbps

N/A

Wi-Fi (5 GHz)

1201 Mbps

N/A

N/A

867 Mbps

N/A

867 Mbps

N/A

Gigabit Ports

1

2

1 + 1

3

1

1

1

Power Socket

-

●

-

●

●

-

●

Wi-Fi Auto-Sync

●

-

-

●

-

●

-

Web UI

●

●

●

●

-

●

-

Utility

●

●

●

●

●

●

●

OneMeshTM

●

-

-

●

-

●

-

MU-MIMO

●

-

-

●

-

QoS

●

●

●

●

●

Power Saving

-

●

●

-

-
###
About TP-Link
TP-Link serves as the network backbone for homes and businesses worldwide. With humble beginnings in 1996, the company has grown to what it is today: a global leader.
You can find our Reliably Smart devices connecting 1.7 billion people in over 170 countries and regions. These numbers have led analyst firm IDC to rank us as the No. 1 provider of WiFi devices for over a decade.*
We understand the importance of the always-connected lifestyle. Our products feature the latest technologies and are engineered to last. The TP-Link portfolio includes home-business-ISP networking, surveillance, and consumer electronics. Rest assured that you're receiving our proven stability, performance, and value with every device.
As our lives grow ever more connected, TP-Link will continue to pursue excellence and explore the possibilities of tomorrow.
For more information about TP-LINK, please visit us online at www.tp-link.com or follow us on:
- Facebook: facebook.com/tplink
- Twitter: twitter.com/tplink
- YouTube: youtube.com/tplinktech
- LinkedIn: linkedin.com/company/tp-link-technologies-co-ltd/
Media Contact
1 TP-Link EasyMesh-compatible products can network with other devices that use EasyMesh. Failed connections may be due to firmware conflicts of different vendors. The EasyMesh-Compatible function is still being developed on some models and will be supported in subsequent software updates.
2 G.hn powerline adapters are not compatible with HomePlug AV/AV2 powerline adapters.
3 The 160 MHz bandwidth might not be available on the 5 GHz band in some regions/countries due to regulatory limits on the spectrum, hence the theoretical speeds might vary. The double channel width and speed refer to 160 MHz compared to 80 MHz for WiFi 6 products.
From United States?
Get products, events and services for your region.