Jul.2015

22
TP-Link DEBUTS REVOLUTIONARY WIRELESS TRI-BAND ROUTER, LETTING YOU CONNECT MORE, RUN FASTER AND REACH FURTHER
Shenzhen, China, July 22nd, 2015 - TP-Link, the world's leading innovator and provider of home, small and medium business networking solutions, today announced the latest addition to its 11ac router line, the Archer C3200 Tri-Band Gigabit Wi-Fi Router. The Archer C3200 utilizes breakthrough Tri-Band technology with Smart Connect to meet the heavy networking demands of today's large homes and small businesses. The Archer C3200 operates at a combined speed of up to 3.2Gbps, with two 5GHz bands that reach up to 1300Mbps each and one 2.4GHz band that reaches up to 600Mbps, making it ideal for supporting a large number of wireless devices simultaneously.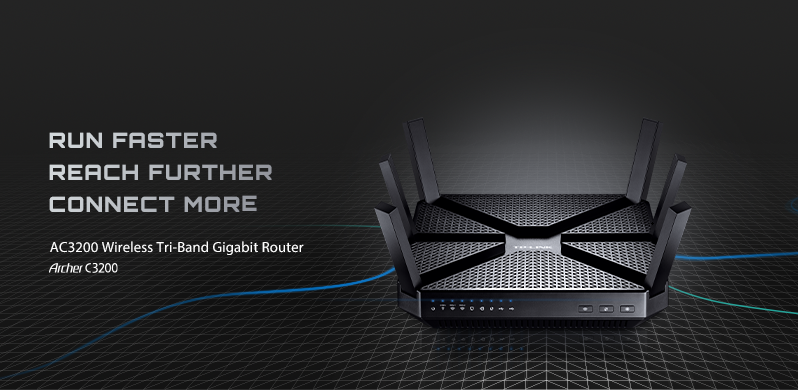 "There is a limit on what a simple increase in bandwidth can do to improve the performance of Wi-Fi routers in the home," said Andy Chen, International Business Director at TP-Link. "To continue improving the speed, reliability, and overall performance of our routers we are utilizing advanced technologies that allow them to serve connected devices with far greater efficiency."
Connect More
Today's modern houses are crowed with various Wi-Fi enabled devices like smartphones, tablets and laptops. The Archer C3200 uses revolutionary Tri-Band technology to connect more devices by offering a third 5GHz network. For large family with lots of devices, the Archer C3200 is an ideal solution to let everyone at home load, stream and game at the same without compromising the performance. The Smart Connect function helps your devices run even faster by assigning your devices to the best available band. Old devices handling everyday tasks like browsing and emailing will be automatically assigned to the traditional 2.4GHz band. New devices dealing with the most bandwidth intensive online tasks like 4K HD streaming and multiplayer online gaming will be assigned to the two newer and clearer 5GHz bands.
Run Faster
The Archer C3200 features the industry fastest combined Wi-Fi speed of up to 3200Mbps, with 600Mbps over the 2.4GHz band and 1300Mbps on the two 5GHz bands, avoiding the bottlenecks that occur when multiple devices demand high amounts of bandwidth at the same time for intensive tasks like gaming online or streaming 4K videos.
To maintain high performance, the Archer C3200 leverages one powerful 1GHz dual processor emitting fast, stable and responsive performance for all the tasks and 3 co-processor exclusively handling the Wi-Fi tasks over the 3 Wi-Fi bands to optimize the Wi-Fi performance of the router.
The Archer C3200 also has four gigabit Ethernet ports for superfast connection with other wired devices and one USB 3.0 and one USB 2.0 port to share printers, files and media within the network. The USB 3.0 port is ten times faster than the traditional USB 2.0 port.
Reach Further
Equipped with 6 high-performance external antennas, the Archer C3200 greatly increases the Wi-Fi coverage through even the large homes. So users can experience seamless Wi-Fi even throughout the large homes without losing the signal. The router also utilizes the Beamforming technology to further improve the router's coverage and signal stability by helping it locate wireless devices to form stronger, more reliable connections.
Archer C3200 Key Features:
Tri-Band technology creates three separate Wi-Fi bands for connecting more devices to your network without a drop in performance
Combined 3200Mbps Wi-Fi speed over one 2.4GHz (600Mbps) and two 5GHz (1300Mbps each) bands
Smart Connect helps devices run faster by assigning them to the best available channel to balance network demand
Six high-performance antennas maximize coverage area and stability
1GHz dual-core CPU and three co-processors handle simultaneous connections without interruption
Four gigabit Ethernet ports for lightning-fast wired connections
USB 3.0 and 2.0 ports to easily share files, photos, music, and video across your network
Beamforming for stronger, more reliable wireless connections
Intuitive GUI and Tether App for easy installation and network management
Von United States?
Erhalten Sie Produkte, Events und Leistungen speziell für Ihre Region