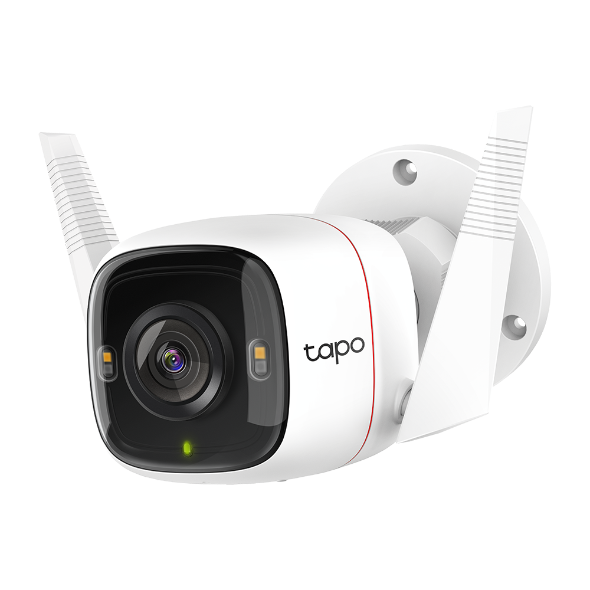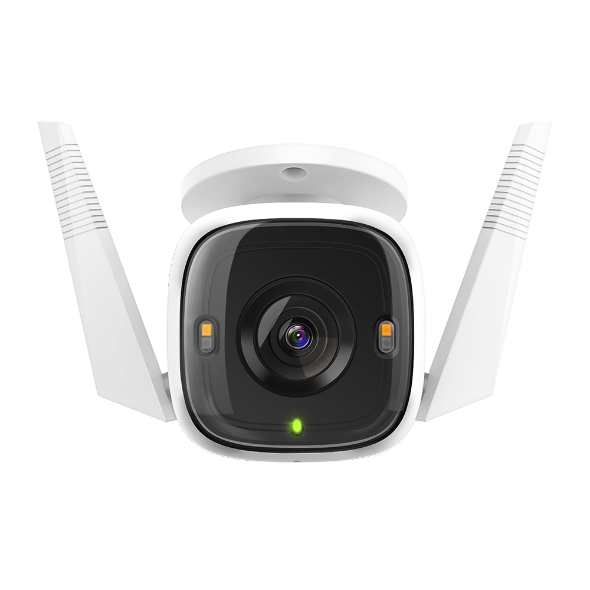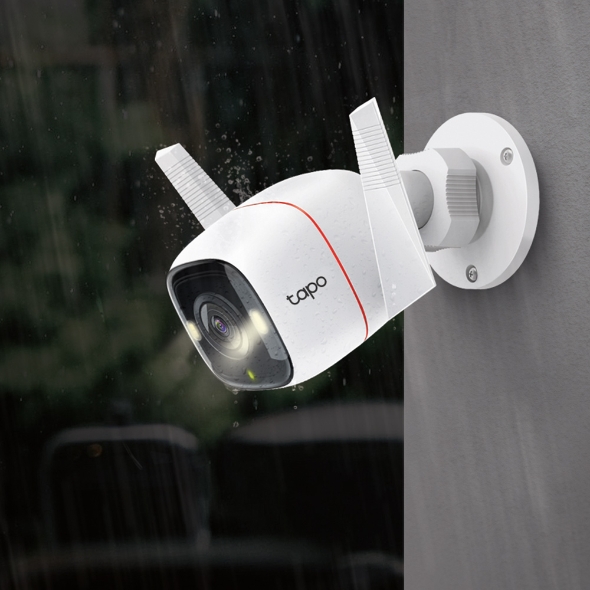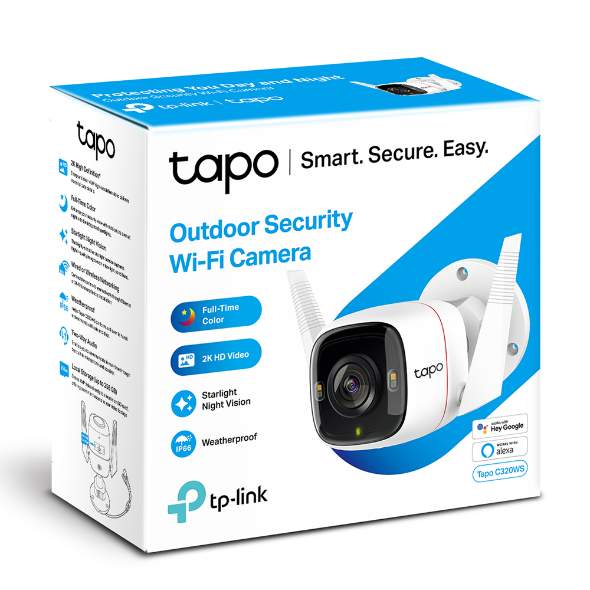 Tapo C320WS
Outdoor Sicherheits WLAN Kamera
2K QHD - Zeichnet jedes Bild in kristallklarer Auflösung von 2560 x 1440 auf.
Kabelgebundenes oder kabelloses Netzwerk – Verbinden Sie Ihre Kamera über Ethernet oder WiFi mit dem Netzwerk, um eine flexiblere Installation zu ermöglichen.
Vollfarb-Nachtsicht-Sensor -Liefert ein Vollfarb-Video auch bei Nacht.
Starlight Sensor - Bietet eine sternenklare stabile Sicht mit mehr Details.
Bewegungserkennung und Benachrichtigungen - Benachrichtigt Sie, wenn die Kamera eine Bewegung erkennt.
Ton- und Lichtalarm - Löst Leucht- und Toneffekte aus, um unerwünschte Besucher abzuschrecken.
Zwei-Wege-Audio – Ermöglicht die Kommunikation über ein eingebautes Mikrofon und einem Lautsprecher.
Sichere Speicherung – Speichert bis zu 128 GB 2K QHD-Video lokal auf einer microSD-Karte und bietet bequemen Zugriff auf Ihr Videomaterial.
Sprachsteuerung -Einfache Handhabung dank Sprachsteuerung: Tapo C320Ws arbeitet mit dem Google - Assistenten und Amazon Alexa. (Google Assistant und Amazon Alexa sind nicht in allen Sprachen und Ländern verfügbar).

Volle Farben auch bei Nacht
WLAN-Sicherheitskamera für den Außenbereich
Tapo C320WS
Starlight-Sensor wir sternenklare Wiedergabe

Bewegungserkennung und Benachrichtigungen

Zwei leistungsstarke Antennen

Lokaler Speicher
(Bis zu 256 GB)
†MicroSD-Karte ist nicht im Lieferumfang enthalten.
2K QHD, klar und hell jede Sekunde
Mit einer Auflösung von 2560 x 1440 liefert QHD feinere Details. Die 8-fache Vergrößerung kann Ihnen auch helfen, mehr zu sehen.
Der lebendige Vollfarb-Anblick bei dunkler Nacht
Anders als die Schwarz-Weiß-Ansicht normaler Kameras ist die Tapo C320WS mit dem hochauflösenden Sensor und dem Fülllicht ausgestattet, das mehr Farben einfängt.
Gewöhnliche Sensoren
Tapo-Vollfarbkamera
Einfach heller und klarer, sogar bei Sternenlicht
Der hochempfindliche Starlight-Sensor erfasst auch bei schlechten Lichtverhältnissen qualitativ hochwertigere Bilder, sodass Details im Schatten nicht verloren gehen.
Gewöhnliche Sensoren

Tapo Starlight-Sensor
Passen Sie Ihre eigene Bewegungserkennung an
Bereichs-Einbruchserkennung

Erkennung von Linienüberschreitungen

Abdeckungserkennung
Sirenenalarm mit hoher Dezibel
Zur Abschreckung können Sie die eingebaute Sirene starten. Und der Sirenenalarm kann auch automatisch mit den verschiedenen Bewegungserkennungen zusammenarbeiten.
Zwei-Wege-Audio
Mit Zwei-Wege-Audio immer vor Ort sein. Kommunizieren Sie mit einem Zusteller für mehr Komfort.
Dedizierte Tapo-App
Live-Ansicht, Wiedergabe, Clips speichern und einrichten – alles in einer App.
Laden Sie die Tapo-App herunter
Schalten Sie Ihre Kamera ein und schließen Sie sie an
Folgen Sie der In-App-Anleitung
NETZ
Sicherheit
128 bit AES encryption with SSL/TLS
Wireless Rate
11Mbps(802.11b)54Mbps(802.11g)150Mbps(802.11n)
Frequency
2.4 GHz
Wireless Security
WPA/WPA2-PSK
VIDEO
Video Compression
H.264
Frame Rate
15fps
Video Streaming
4MP
SYSTEM
Regulatory Certification
CE, NCC
System Requirements
iOS 9+, Android 4.4+
ENVIRONMENT
Operating Temperature
-20°C~45°C (-4°F~113°F)
Storage Temperature
-20°C~60°C (-4°F~140°F)
Operating Humidity
10%~90%RH non-condensing
Storage Humidity
0%~90%RH non-condensing
POWER
Camera input
3 Meter Power Cable
PACKAGE CONTENTS
Package Contents
Tapo C320WSPower AdapterMounting TemplateAnchors and ScrewsWaterproof SealWaterproof Cable AttachmentsQuick Start Guide
HARDWARE
Button
Reset button
Indicator LED
System LED, 2×White light LED
Adapter Input
100-240VAC, 50/60Hz, 0.3A
Adapter Output
9.0V/0.6A (DC Power)
Dimensions (W x D x H)
5.6 x 4.1 x 2.5 in. (142.3 x 103.4 x 64.3 mm)
KAMERA
Bildsensor
1/3"
Auflösung
4 MP (2560 × 1440)
Linse
F/NO: 1.61; Focal Length: 3.18 mm
Night Vision
850 nm IR LED up to 98 ft (30m)
AUDIO
Audiokommunikation
2-way audio
Audio Input & Output:
Built-in microphone and speaker
Von United States?
Erhalten Sie Produkte, Events und Leistungen speziell für Ihre Region