Sep.2019

02
TP-Link® Launches the Fully-Featured Wi-Fi 6 Router Archer AX50 Powered by Intel® Technology
TP-Link®, a leading global provider of consumer and business networking products, today announced its revolutionary AX3000 Wi-Fi 6 router—Archer AX50. Targeted at the mainstream and equipped with the Intel® Home Wi-Fi Chipset1, Archer AX50 will deliver a premium Wi-Fi 6 Gig+ experience to more families at an affordable price point.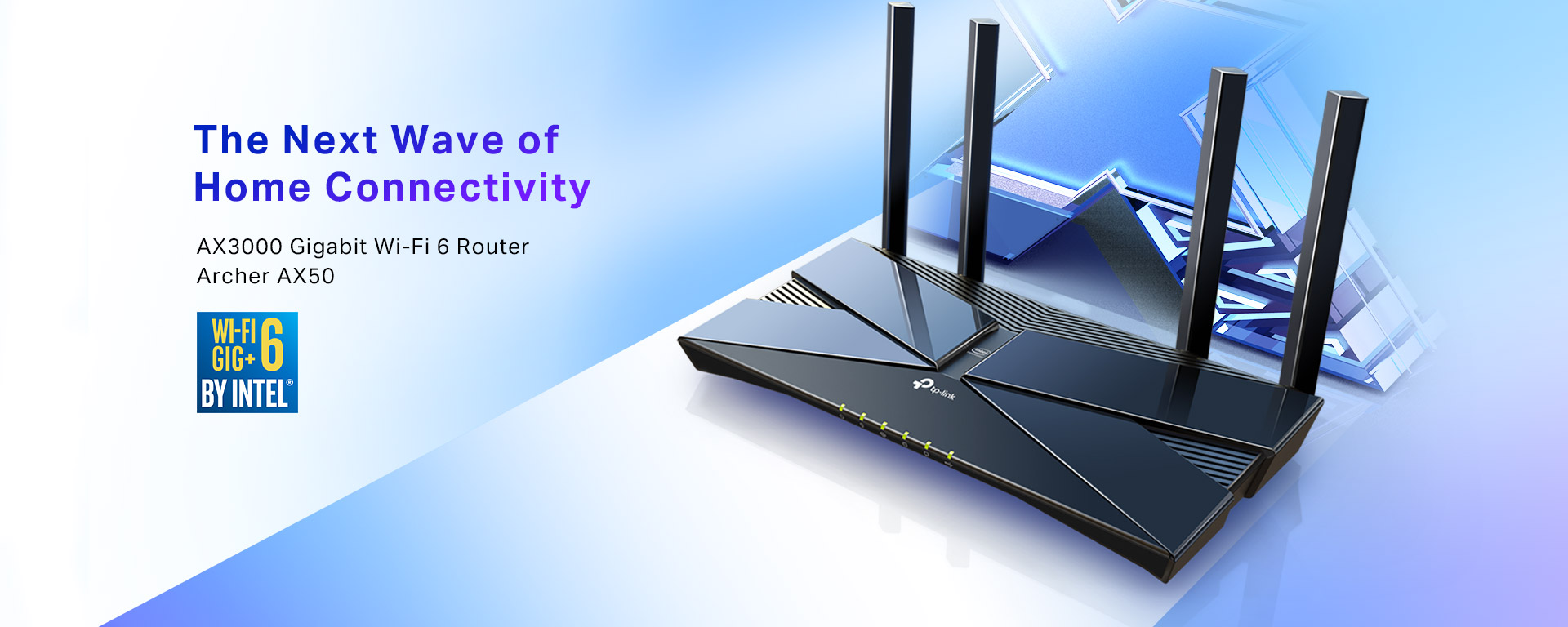 Wi-Fi 6 (802.11ax) is expected to be the most significant leap in Wi-Fi technology, developed in response to the ever growing demands on home Wi-Fi. With Intel's Wi-Fi 6 (Gig+) technology, Archer AX50 is capable of delivering a huge boost in speed and total capacity by utilizing a cutting-edge Wi-Fi 6 foundation.
Mainstream adoption of Wi-Fi 6 is growing with the introduction of more and more AX clients. Archer AX50 is estimated to be a major router product to hit the mass market. "Intel was the first to introduce Wi-Fi 6 for the PC and multiple PCs are now being introduced with the technology worldwide. Embedded with Intel's Wi-Fi 6 technology, TP-Link Archer AX50 can deliver Gig+ speeds to new PCs with Intel® Wi-Fi 6 Gig+," said Pingji Li, VP & GM of TP-Link Networking BU. "Intel is devoted to bringing Wi-Fi 6 Gig+ to more people for a better experience. The close collaboration with Intel helps TP-Link as we continuously strive for better connectivity, anywhere, at any time, for more people to deliver better experiences."
"Wi-Fi has seen its greatest advancement in the last decade with the introduction of Wi-Fi 6," said Doron Tal, general manager of Intel's Wireless Infrastructure Group. "With Wi-Fi 6 Gig+, Intel is delivering premium Wi-Fi 6 connectivity with best-in-class performance. New Wi-Fi 6 Gig+ devices like TP-Link Archer AX50 make it possible for a broader set of consumers to start experiencing the full potential of Wi-Fi 6."
TP-Link has been steadily taking a large share of the Wi-Fi product market for several years. With leading technology from Intel that is Gig+ capable, they can start bringing a new level of Wi-Fi 6 to the masses. This is made possible with HT160 technology that uses 160 MHz channel bandwidth. HT160 takes 5 GHz channels and broadens the width to 160 MHz—2× that of standard HT80 often used with 802.11ac. Utilizing HT160, Archer AX50 achieves blazing Gig+ speeds up to 3 Gbps—2,402 Mbps on the 5 GHz band plus 574 Mbps on the 2.4 GHz band. That's fast enough to download an 8 GB HD movie less than two minutes2 and more than capable of providing smoother gaming and 4K UHD video streaming for your whole family.

But faster speed isn't the only benefit. In addition, features like OFDMA enable faster response times even as more devices connect. Reductions in latency of up to 75% are possible3, for ultra-responsive real-time gaming and high-quality video conferencing. As TP-Link really cares about your home network security, HomeCareTM is provided to keep your family safe and sound from cyber threats and viruses.
TP-Link has been serving billions of users globally for more than 20 years, continually striving to bring a better networking experience to more people. To realize their vision of making a superior digital life available to all, they're combining Intel technology and know-how into a product ideal for multi-device usage scenarios.


Archer AX50 Key Features4:
Next-Gen Gig+ Wi-Fi 6 Speed—Speeds of 2,402 Mbps on a 5 GHz band and 574 Mbps on a 2.4 GHz band ensure smoother streaming and faster downloads.
Connect More Devices—OFDMA technology will further increase capacity5, enabling simultaneous transmission to more devices.
Ultra-Low Latency—Up to 75% reduction in latency3 makes gaming and video chatting more responsive.
Expanded Wi-Fi Coverage—Four high-gain external antennas and Beamforming technology combine to provide strong, reliable Wi-Fi throughout your home.
Enhanced Security—Enjoy more secure and trusted Wi-Fi with TP-Link HomeCare™.
Reliable Connections—An Intel® Home Wi-Fi Chipset greatly increases processing speed to deliver superior Wi-Fi 6 Gig+ performance.
Improved Client Battery Life—Target Wake Time helps your devices to communicate more while consuming less power6.
Compatible with Alexa—Control your router via voice commands and make your life smarter and easier with Amazon Alexa.

For more information about TP-LINK, please visit us online at https://www.tp-link.com/ae/ or follow us on:
Facebook : https://www.facebook.com/TPLink.UAE/
Twitter : https://twitter.com/TPLinkMEA
YouTube : http://www.youtube.com/c/TPLinkMEA
TP-LINK Forum : forum.tp-link.com
Media Contact
dolly.l@tp-link.com
---
1 Intel is a trademark of Intel Corporation in the U.S. and/or other countries.
2 Estimated time based on average user case, circumstance may vary slightly, according to real user environment.
3 Up to 75% lower latency" is based on Intel simulation data of 802.11ax with and without OFDMA using 9 clients. Average latency without OFDM is 36 ms, with OFDMA average latency is reduced to 7.6 ms. Latency improvement requires that the AP and all clients support OFDMA.
4 We reserve the right at any time without liability to you to suspend, modify or discontinue, temporarily or permanently, the app and /or the services or any feature or part thereof with or without notice.
5 This router may not support all the mandatory features as ratified in Draft 3.0 of IEEE 802.11ax specification. Further software upgrades for feature availability may be required.
6 Saving clients' battery power requires clients to also support the 802.11ax Wi-Fi standard. Actual power reduction may vary as a result of network conditions, client limitations, and environmental factors.
From United States?
Get products, events and services for your region.