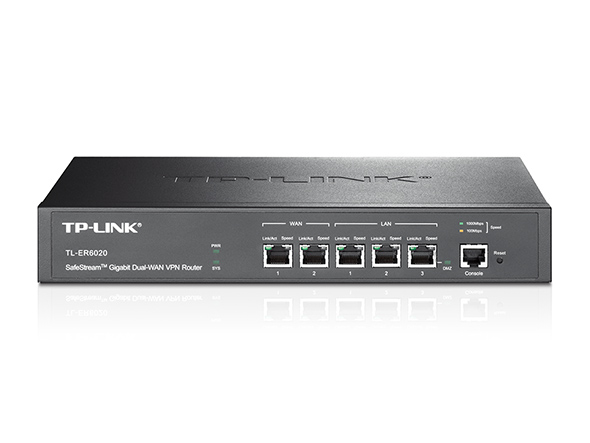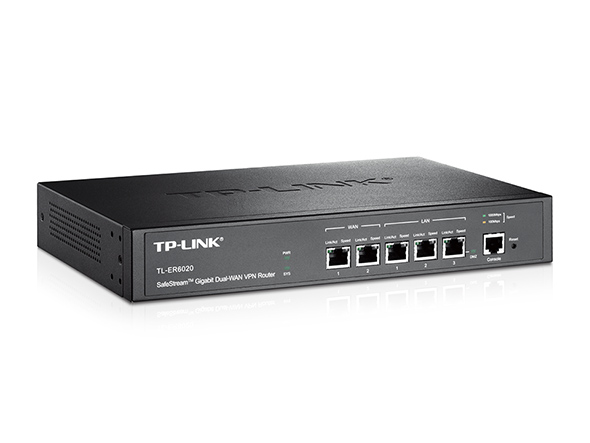 TL-ER6020
Router VPN WAN Dual Gigabit SafeStream
• 2 Puertos WAN Gigabit, 2 puertos LAN Gigabit, 1 puerto LAN/DMZ Gigabit y un puerto de consola
• Soporte para múltiples protocolos VPN incluyendo IPsec / PPTP / L2TP, que ayudan a los usuarios a establecer su VPN de una manera más flexible
• Soporte para hasta 50 túneles IPsec VPN con un motor de hardware basado en VPN
• Características de seguridad abundantes, entre las que se incluye inspección ARP, Defensa DoS, Filtro de dominios URL / palabras clave y control de acceso
• Implementa la restricción de las aplicaciones IM / P2P con un solo clic para administrar el comportamiento del equipo en línea
• Protección contra descargas de 4kV profesional que mantiene su inversión tan segura como sea posible
Lo que hace este producto
El Router VPN WAN Dual Gigabit SafeStream, el TL-ER6020 de TP-LINK posee una excelente capacidad de procesamiento de datos además de múltiples y poderosas funciones entre las cuales se encuentran IPsec / PPTP / L2TP VPN, Balanceo de cargas, control de accesos, bloqueo de IM/P2P, defensa DoS, control de banda ancha, límite de sesión, servidor PPPoE y muchas más, que finalmente, satisfacen las necesidades de pequeñas y medianas empresas, hoteles y comunidades con un gran volumen de usuarios que exigen una red eficiente y fácil de utilizar con un alto nivel de seguridad.
Alto desempeño VPN
El TL-ER6020 cuenta con soporte para múltiples protocolos VPN entre los cuales se encuentran IPsec, PPTP y L2TP en modo de Client/Servidor y también pueden manejar el tráfico de transferencias. También cuenta con un motor basado en VPN integrado en el hardware, que permite al router dar soporte y administrar hasta 50 conexiones LAN-a-LAN / Client-a-LAN IPsec VPN. Las características VPN avanzadas incluyen: encriptación, DES / 3DES / AES128 / AES192 / AES256, autentificación MD5/SHA1, administración Manual/ con llave IKE, y modos de negociación principal/agresiva.
Abundantes características de seguridad
Para defensa contra amenazas externas, el TL-ER6020 cuenta con defensa automática para detectar y bloquear los ataques de negación de servicio DoS (Denial of Service por sus siglas en inglés) tales como flooding de TCP/UDP/ICMP, Escaneo de TCP, Ping of Death y otras amenazas relacionadas. Además, este router cuenta con un puerto DMZ en su hardware, que permite a los administradores configurar los servidores públicos sin exponer su red interna, para evitar ataques de amenazas externas. Para un mejor manejo de la red interna, TL-ER6020 permite a los administradores establecer reglas para bloquear sitios web específicos así como aplicaciones IM/P2P con un solo clic, y restringir al equipo al utilizar servicios específicos como FTP, HTTP y SMTP.
Optimización del uso de banda ancha
El TL-ER6020 cuenta con dos puertos WAN, que permiten al router satisfacer varios requisitos para el acceso a internet a través de un solo dispositivo. La función balanceadora de carga inteligente puede distribuir el flujo de datos de acuerdo a la proporción de banda ancha de cada puerto WAN para elevar la tasa de uso de banda ancha de líneas múltiples. Con el control de banda ancha basado en IP y las funciones de límite de sesión, los administradores de red pueden manejar de manera flexible el ancho de banda de la red para optimizar el uso de banda ancha.
Inversiones de empresa enfocadas a la seguridad
La tecnología de protección contra descargas profesional fue diseñada para prevenir que altos voltajes penetren al interior del dispositivo, para descargarlos de manera inofensiva en la tierra. Este router está diseñado para prevenir daños por descargas de hasta 4Kv en condiciones de conexión puestas a tierra de manera adecuada. Esta característica asegura que las inversiones a la infraestructura de la gestión de redes permanece lo más segura posible de una de las situaciones más violentas de la madre naturaleza.
Branch Location

TP-Link Omada offers enterprise-level VPN, real-time network monitoring, and quick network troubleshooting to meet the requirements of headquarters and branches.

VPN
Easy management
Network monitoring and troubleshooting
High security
CARACTERÍSTICAS DE HARDWARE
Estándares y Protocolos
IEEE 802.3, IEEE802.3u, IEEE802.3ab
TCP/IP, DHCP, ICMP, NAT, PPPoE, SNTP, HTTP, DNS, IPsec, PPTP, L2TP
Interface
2 puertos WAN Gigabit
2 puertos LAN Gigabit
1 puerto Gigabit LAN / DMZ
1 puerto de consola (RJ-45 en RS232)
Medios de Red
10BASE-T: UTP categoría 3, 4, 5 cables (Max 100 m)
EIA / TIA-568 100Ω STP (Max 100 m)
100BASE-TX: UTP categoría 5, cable 5e (máximo 100m)
EIA / TIA-568 100Ω STP (Max 100 m)
1000BASE-T: UTP categoría 5, 5e, 6 cables (Max 100 m)
Cantidad de Ventiladores
Sin Ventilador
Botón
Botón de Reinicio
Fuente de Alimentación
Fuente de alimentación universal interna
AC100-240V ~ 50 / 60Hz de entrada
Flash
16MB
DRAM
DDRII 128MB
LED
PWR, SYS, Link/Act, Speed, DMZ
Dimensiones (W X D X H)
11.6 * 7.1 * 1.7 pulgadas (294 * 180 * 44 mm)
Estándar de montaje en bastidor 13 pulgadas de ancho, 1U altura
RENDIMIENTO
Sesiones Concurrentes
30000
Rendimiento NAT
180Mbps
Rendimiento VPN IPsec (3DES)
80Mbps
FUNCIONES BÁSICAS
WAN Connection Type
Static/Dynamic IP,PPPoE/Russian PPPoE,PPTP/Russian PPTP,L2TP/Russian L2TP, Bigpond Cable
MAC Clone
Modify WAN MAC Address
DHCP
DHCP Server/ClientDHCP Address Reservation
IPv6
IPv6 Support
VLAN
802.1Q VLAN, Port VLAN
IPTV
Bridge, Custom
FUNCIONES AVANZADAS
Equilibrio de carga
Equilibrio de carga inteligente
política de enrutamiento
Protocolo Encuadernación
Enlace de Backup (sincronización, conmutación por error)
Detección en línea
NAT
One-to-One NAT
Multi-nets NAT
Virtual Server, DMZ Host, Port Triggering, UPnP
FTP/H.323/SIP/IPsec/PPTP ALG
Routing
enrutamiento estatico
Enrutamiento dinámico (RIP v1 / v2)
System Mode
NAT, Non-NAT, Classical Routing
Control de Trafico
Control de Banda Ancha basado en IP
Garantía y banda ancha limitada
Políticas de tiempo programado
Límite de sesión basada en IP
TRANSMISION
Equilibrio de carga
Intelligent Load BalanceLink Backup (Timing, Failover)Online Detection
NAT
One-to-One NATMulti-nets NATVirtual ServerPort TriggeringFTP/H.323/SIP/IPsec/PPTP ALGUPnP
Routing
Static RoutingPolicy Routing
Límite de sesión
IP-based Session Limit
Bandwidth Control
IP-based Bandwidth Control
VPN
IPsec VPN
Túneles IPsec 50 VPN
LAN a LAN, Cliente a LAN, Modo de Negociación agresivo Principal
DES, 3DES, AES128, AES192, AES256 Algoritmo de cifrado
MD5, SHA1 Algoritmo de autenticación
Modo Manual, IKE de administración de claves
IPsec NAT (NAT-T)
Dead Peer Detection (DPD)
Perfect Forward Secrecy (PFS)
PPTP VPN
16 PPTP VPN Túneles
PPTP VPN Servidor / Cliente
PPTP con cifrado MPPE
L2TP VPN
16 L2TP Túneles VPN
L2TP VPN Servidor / Cliente
L2TP sobre IPsec
VPN Pass-through
IPsec (ESP), PPTP, L2TP
SEGURIDAD
DMZ Port
Hardware con puerto DMZ
Control de la Aplicación
Protocolo IM, P2P, mensajería instantánea Web, Web SNS, medios de comunicación Web, Bloqueo Proxy
Filtering
Filtrado MAC
URL / Palabras clave Filtradas
Filtrado de Contenido Web (Java, ActiveX, cookies)
ARP Inspection
Envío de paquetes GARP
ARP Escaneo por WAN / LAN
Vinculación IP-MAC
Defensa de Ataque
TCP / UDP / ICMP Defensa de inundación
Bloqueo TCP Scan (Stealth FIN/Xmas/Null)
Bloquear Ping desde WAN
Control de acceso
Source/Destination IP Based Access Control
AUTENTICACIÓN
Autenticación Web
Local User Authentication,Radius Sever Authentication,Onekey Online
ADMINISTRACIÓN
Servicio
Servidor PPPoE
Boleto Electrónico
DNS Dinámico (Dyndns, No-IP, Peanuthull, Comexe)
Mantenimiento
Interfaz de gestión Web/CLI/Telnet
Gestión remota
Configuración de Exportación e Importación
Sincronizador NTP
Soporte Syslog
Otros
Certificacion
CE, FCC, RoHS
Contenidos del Paquete
TL-ER6020
CD de recurso
Cable de alimentación
Planta cable
Kit de montaje en rack
Guía de instalación
Requisitos del Sistema
Microsoft® Windows® 98SE, NT, 2000, XP, Vista™ or Windows 7, MAC® OS, NetWare®, UNIX® or Linux
Ambiente
Temperatura de Funcionamiento: 0℃~40℃ (32℉~104℉)
Temperatura de Almacenamiento: -40℃~70℃ (-40℉~158℉)
Humedad de Funcionamiento: 10%~90% sin condensación
Humedad de Almacenamiento: 5%~90% sin condensación
From United States?
Get products, events and services for your region.