Warranty & RMA Policy
Dear Customers:
Thank you for purchasing TP-Link products. In order to protect your rights and interests, please read the following Warranty Policy carefully. PLEASE NOTE THAT THIS WARRANTY POLICY GIVES YOU SPECIFIC LEGAL RIGHTS, AND YOU MAY ALSO HAVE OTHER RIGHTS WHICH VARY FROM STATE TO STATE.
Limited Warranty
TP-Link USA Corp. ("TP-Link USA") provides a limited warranty on all eligible TP-Link products purchased in the United States. The limited warranty covers failures due to defects in material or workmanship on devices, antennas and accessories*. Packaging, software products and technical data are not covered under the limited warranty. The limited warranty is only applicable to the original purchaser of the product. Proof of purchase and a complete product serial number are required to receive any services guaranteed as part of the limited warranty.
The limited warranty does not apply to refurbished products or products that were resold by unauthorized resellers. For TP-Link Refurbished Product Warranty Policy, please visit http://www.tp-link.com/us/support/refurbished/
TP-Link USA does not provide refunds under the limited warranty in any conditions. TP-Link will replace defective units with factory refurbished products. If a factory refurbished unit is not available, then the defective unit will be replaced with a brand new product. If the defective unit Is discontinued, end of life, or out of stock, TP-Link will replace it with product(s) of equivalent value or features. Product warranty periods do not renew with replacement units. The original purchase date and warranty period will apply to replacement products.
Click here to view "Conditions that Disqualify Products from the Limited Warranty"
*Accessories: Please refer to TP-Link Home Accessories and TP-Link Business Accessories for Warranty Period.
Warranty Period
For the warranty period of products purchased before January 1, 2016, please use the links below.
As of January 1, 2016, TP-Link USA will provide a 2-Year Limited Warranty on our Home Products and a Limited Lifetime Warranty on our Business-Class Products.
*Limited Lifetime Warranty:
a. Products with a Limited Lifetime Warranty are covered as long as the original purchaser owns the product, and for discontinued products the Limited Lifetime Warranty will be limited to five (5) years from the end of sale date.
b. TP-Link USA will honor the Limited Lifetime Warranty for all Business-Class Products purchased on or after January 1, 2016.
c. Internal fans and internal power supplies are covered under the Limited Lifetime Warranty. External power supplies, modules and other accessories may be covered under a different warranty coverage than the host device. Please refer to TP-Link Business Accessories for more information.
Replacement Procedure
If the product(s) are found to be defective and is still covered under the TP-Link replacement policy, the customer may have a replacement processed by following the steps listed below: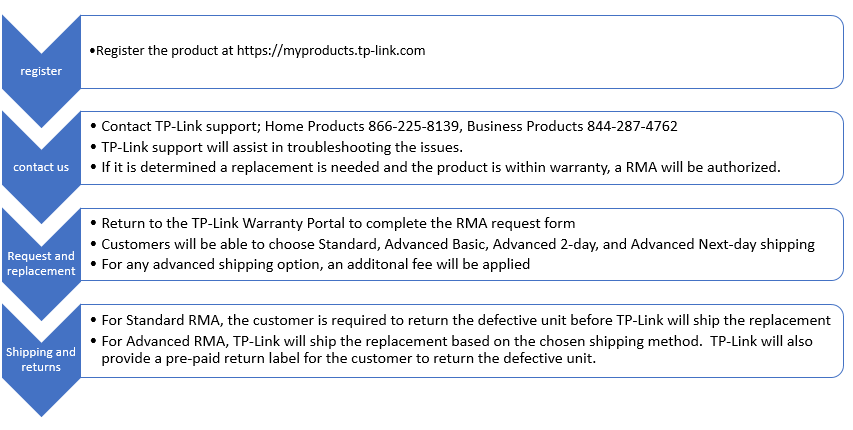 Click here to view the detailed TP-Link RMA Process
Please Note:
TP-Link USA may reject or return product(s) returned without accessories or an assigned case number.
If proof of purchase can't be provided, a warranty period start date may be assigned by TP-Link.
The three digits that make up the second to fourth digits of the Serial Number (SN) represent the manufacturing date (year and month). For example, a product with SN: 2171XXXXXXXXX, "171" represents the year of 2017 (17) and month of January (1). "17A" represents the year of 2017 (17) and month of October (A). (B) represents the month of November and (C) represents the month of December. The warranty period ends on the last day of the corresponding month.
Note: For products manufactured before 2014, the first three digits of the Serial Number (SN) represent the manufacturing date (year and month), for example SN: 14AXXXXXXXXXX.
Customers who choose Advanced RMA will receive a pre-paid return label with the replacement to ship the defective product back to TP-Link USA Customer Service Center. Customers who choose Standard RMA are responsible for the shipping fee associated with returning of the defective product(s) to TP-Link USA Customer Service Center. Once received, please allow for a processing period of up to 3 to 5 business days for your RMA to be processed and a replacement to be shipped.
TP-Link USA is not responsible for any damages that may occur during shipping.
TP-Link USA has no obligation to replace any products that are no longer covered under warranty. If TP-Link USA, in its sole and absolute discretion, chooses to replace your product that is not covered by warranty, TP-Link USA may charge a service fee.
Appendix:
The limited warranty stated above is only valid for products sold in the U.S. by TP-Link USA or its authorized resellers. Any additional warranty service agreed upon during purchase shall only be effective based on a contract signed by TP-Link USA. Advanced shipping options are only available in the contiguous 48 states.
None of any warranty service made by a distributor is covered by this warranty policy, and TP-Link USA shall not be held liable. In order to receive any benefits from the distributor's warranty and/or other policies, please keep any documents obtained during the purchase.
No employee or representative of TP-Link USA or its affiliates or any third party is authorized to make any modification, extension or addition to this warranty policy. If any term of this warranty policy is held to be illegal or unenforceable, the remaining terms of this warranty policy will remain in full force and effect.
TO THE MAXIMUM EXTENT PERMITTED BY APPLICABLE LAW, THE LIMITED WARRANTY WRITTEN ABOVE IS THE ONLY EXPRESS WARRANTY TP-LINK USA PROVIDES FOR THE APPLICABLE TP-LINK PRODUCTS, AND THE ABOVE REMEDY IS YOUR SOLE REMEDY. TP-LINK USA EXPRESSLY DISCLAIMS ALL OTHER WARRANTIES AND CONDITIONS OF ANY KIND, WHETHER STATUTORY OR IMPLIED, ARISING FROM COURSE OF CONDUCT OR OTHERWISE, REGARDING THE APPLICABLE TP-LINK PRODUCTS, EXCEPT THAT ANY IMPLIED WARRANTIES OF MERCHANTABILITY, FITNESS FOR A PARTICULAR PURPOSE, AND NON-INFRINGEMENT ARE LIMITED IN DURATION TO THE APPLICABLE WARRANTY PERIOD STATED ABOVE. CUSTOMER ASSUMES ALL RISK WHATSOEVER AS TO THE RESULT OF THE USE OF THE PRODUCTS PURCHASED, WHETHER USED SINGULARLY OR IN COMBINATION WITH ANY OTHER PRODUCTS OR SUBSTANCES.
YOU EXPRESSLY UNDERSTAND AND AGREE THAT, TO THE MAXIMUM EXTENT PERMITTED BY APPLICABLE LAW, TP-LINK USA AND ITS SUBSIDIARIES AND AFFILIATES (COLLECTIVELY, "TP-LINK PARTIES") SHALL NOT BE LIABLE TO YOU UNDER ANY THEORY OF LIABILITY (WHETHER CONTRACT, TORT (INCLUDING NEGLIGENCE) OR FAILURE OF ANY WARRANTY OR OTHERWISE) FOR ANY INDIRECT, INCIDENTAL, SPECIAL, CONSEQUENTIAL, OR EXEMPLARY DAMAGES THAT MAY BE INCURRED BY YOU IN CONNECTION WITH ANY TP-LINK PRODUCTS OR THESE TERMS, INCLUDING ANY LOSS OF DATA, WHETHER OR NOT A TP-LINK USA PARTY OR ITS REPRESENTATIVES HAVE BEEN ADVISED OF OR SHOULD HAVE BEEN AWARE OF THE POSSIBILITY OF ANY SUCH LOSSES ARISING.
SOME STATES DO NOT ALLOW LIMITATIONS ON HOW LONG AN IMPLIED WARRANTY LASTS, OR THE EXCLUSION OR LIMITATION OF INCIDENTAL OR CONSEQUENTIAL DAMAGES, SO THE ABOVE LIMITATION OR EXCLUSION MAY NOT APPLY TO YOU.
Remarks: TP-Link USA reserves the right, at its sole discretion, to interpret, modify and amend this warranty policy at any time.