Fix Unstable Connection on the Range Extender by Changing Router Advanced Features
This article provides instructions on how to modify the main router's settings if you are experiencing intermittent wireless connection on the range extender, especially when you have placed the extender in the best location (click here for How to place your wireless Range Extender for optimal reception and performance). Let's check the most common advanced features that you should look into on the router for a more stable range extender:
Like other network expansion products, Wi-Fi range extender works as a proxy for the devices behind it, in this case, the devices connected to the extender will be transformed in a complex way.
Parental Control or Access Control (Blacklist/ Whitelist) could be one of the reasons that RE or end device fails obtain IP successfully, try to disable this feature if RE or certain device could not get Internet.
2.Band Steering
Band Steering (also called 'Smart Connect' or 'Whole-Home Wi-Fi ') on dual-band routers automatically shifts your devices between the 2.4GHz and 5GHz bands for good performance, while that might could cause some trouble on range extenders.
When router recommends Wi-Fi devices switching from 5GHz Band to 2.4Ghz Band or reversely, it always do it by forbidding the device to connect 5GHz and leave 2.4GHz as the only option, however RE communicates with router through both Wi-Fi bands so Range extender could lose connection when router force the range extender on a different band.
Solution: try to turn off Band Steering and set up different Wireless names for router 's 2.4Ghz and 5Ghz to avoid possible issue caused by this function
Example:
Homehub3000
The feature is called 'Whole Home WiFi' on HomeHub300 ( a common model provided by CA ISP Bell ) . Switch 'Whole Home Wi-Fi' off and create different SSIDs for 5Ghz and 2.4Ghz to improve the stability of range extenders.
Hitron CODA-4582 (or similar models)
Users who own a Hitron router (a common model provided by CA ISP Rogers) could refer to the guide below to turn off band-steering.
https://www.rogers.com/customer/support/article/troubleshoot-band-steering-wifi-problems#
Plusnet Hub One (or similar models)
The feature is called 'Smart Connect' on Plusnet Hub (a common model provided by UK ISP Plusnet) .Try to turn off Smart Connect on the router create different SSIDs for 5Ghz and 2.4Ghz to avoid possible trouble.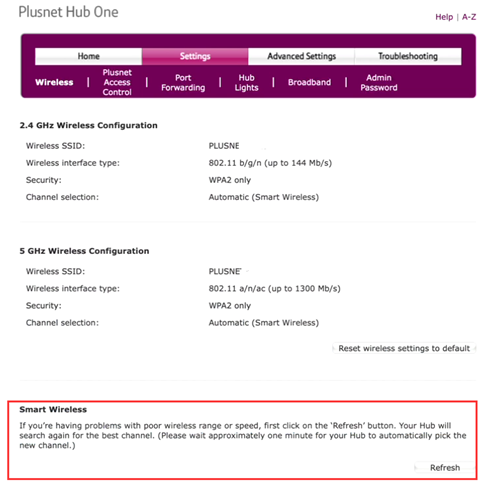 Cisco Meraki AP
Wi-Fi Optimizing feature is designed to look for a clearer Wi-Fi channel for wireless devices but every time router's channel is being changed, the extender will lose connection. When the Range extender tries to re-establish the connection with the router, devices connected to the ranger extender could experience intermittent issues.
Example:
FiOS G1100/3100
The FiOS router is US ISP Verizon's default modem, and it has the function that will auto-scanning and selecting new channels periodically. We can also solve it by fix the 2.4G and 5G channels manually like below: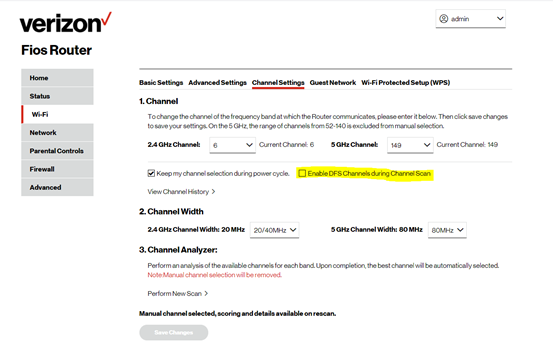 Is this faq useful?
Your feedback helps improve this site.