Source code template for External Web Portal (Controller 4.1.5 or above)
Suitable for Omada Controller V4.1.5 or above.
For Omada Controller V3.1.4 or above, please refer to FAQ2390
For Omada Controller V3.0.5 or below, please refer to FAQ916
This document outlines the requirements when establishing an external web portal server. In Omada Controller, External Web Portal can only be used when the portal authentication type is External Radius Server.
The below picture depicts the workflow among the wireless client, EAP, Omada Controller, External Web Portal and the Radius Server. It will help you better understand the requirements of establishing an External Web Portal server.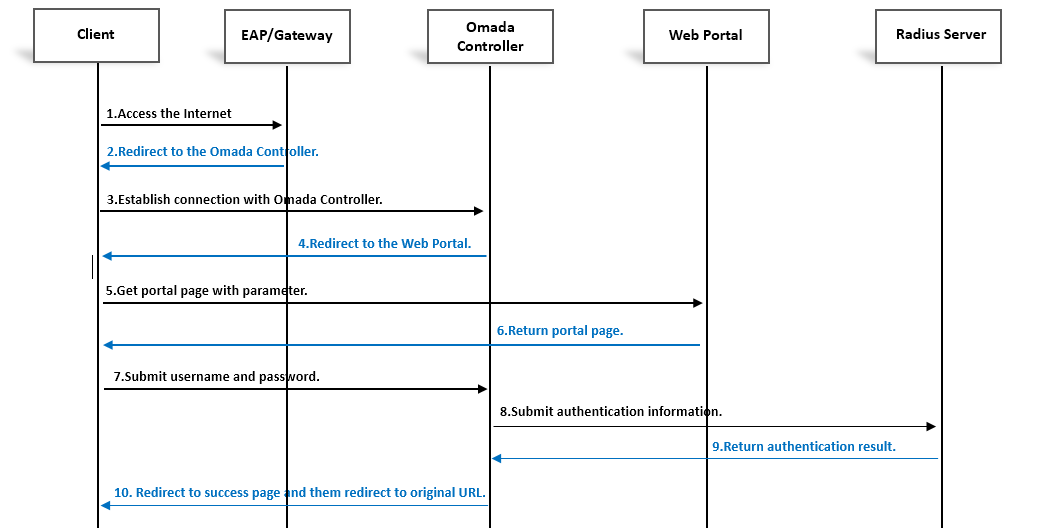 1. For wireless clients & wired clients, when they are connected to the SSID of the wireless network or wired LAN network and try to access the internet, EAP or gateway will intercepts client's HTTP request and then redirects it to the Omada Controller. (Step 1 and Step 2)
2. The Omada Controller then redirects the client's request to the external portal page by replying a HTTP response with status code 302 Found to the client. (Step 3 and Step 4)
3. Client sends HTTP/HTTPS GET request to external web portal with parameter "?target=target_controller_ip&targetPort=target_controller_port&clientMac=client_mac&clientIp=client_ip&raidusServerIp=radius_server_ip&apMac=ap_mac&gatewayMac=gateway_mac&scheme=scheme&ssidName==ssid_name&radioId=radio_id(0 for 2.4G radio, 1 for 5G radio)&vid=vid&originUrl=redirecturl(if you did not set the redirect URL after wireless/wired clients passing the portal authentication, the default redirect URL depends on the wireless clients)".
For example: "https://www.externalportal.com/?target=172.30.30.113&targetPort=8088&clientMac=F8-1E-DF-AA-AA-AA&clientIP=172.30.30.103&raidusServerIp=172.30.30.120&apMac=AC-84-C6-BB-BB-BB&GatewayMac=172.30.0.1&scheme=https&ssidName=eap_test&radioId=1&originalUrl=https%3A%2F%2Fwww.tp-link.com" (Step 5)
4. External web portal server should be able to get the value of the clientMac, clientIp, apMac, gatewayMac, ssidName, radioId, vid, scheme, originUrl parameters. Then external web portal server should redirect the client to Controller with the information of username, password, clientMac, clientIp, apMac, gatewayMac, ssidName, scheme, vid, radioId, originUrl. (Step 6)
5. Client sends HTTP/HTTPS POST packets to (http) https://target_controller_ip:targetport/portal/radius/auth with JSON format (or HTML form) in the HTTP message body after submitting.The default "targetport" of portal is 8843 (Step7)
Note: From Controller 5.0, the "Access-Control-Allow-Origin:URL" field should be submitted in the HTTP header to enhance security during Cross-Origin Resource Sharing (CORS). For example, if the domain name of your External Web Portal is "www.tplinkportal.com", you need to add "Access-Control-Allow-Origin:https://www.tplinkportal.com". Please download the demo at the end of the article for reference.
6. Omada Controller communicates with the radius server to verify the username and password. (Step 8 and Step 9)
7. If the authentication is passed, i.e., Access-Accept is received from radius server, Omada Controller will redirect a built-in success page or a predefined webpage according to the configuration of clients. (Step 10)
Note:
1. The client should send HTTP/HTTPS POST to the Controller in step7 since Controller 4.1.5 (or above) doesn't support HTTP/HTTPS GET in this way.
2. If your Controller (4.1.5 or above) is upgraded from Controller 3. x.x, please attention that we have changed some "Name" of the parameters.
Name(V3.x)

Name(V4.x)

Type

Remark

clientMac

clientMac

string

client MAC address

clientIp

clientIp

string

client IP address

ap

apMac

string

AP MAC address(only for ap)

ssid

ssidName

string

ssid name

radioId

radioId

integer

0: 2.4GHz, 1: 5GHz(only for ap)

/

authType

integer

The actual authentication type, only supports External RADIUS and Hotspot RADIUS authentication methods.

2: External RADIUS; 8: Hotspot RADIUS

redirectUrl

originUrl

string

redirectUrl

username

username

string

authentication username

password

password

string

authentication password
3. In step7, if your form has non-ASCII characters (such as the SSID name is Chinese or other languages), UTF-8 encoding must be used when sending the HTTP/HTTPS POST to the Controller.
4. Please note the "Access-Control-Allow-Origin:URL" field for Controller 5.0 and above.
The below html template is a simple demo for you to develop your External Web Portal working with Omada Controller using JSON format:
External Web Server Demo (JSON)
The below html template is another demo using HTML form:
External Web Server Demo (HTML form)
Is this faq useful?
Your feedback helps improve this site.
SubscribeTP-Link takes your privacy seriously. For further details on TP-Link's privacy practices, see TP-Link's Privacy Policy.
Be The First To Get Exclusive Deals & News