How to Setup the Satellite Deco to be the Main Deco?
For some reason, if you want to change the Satellite Deco to work as the Main Deco but do not want to reset the whole Deco network and reconfigure it, you can refer to the following instruction to finish the setup process.
Before start, please connect your phone to the Deco's Wi-Fi network, otherwise, you can't see the "Set Main Deco" option. Here we use Deco M9 Plus for example.
Step 1. Tap Internet icon on the Overview page.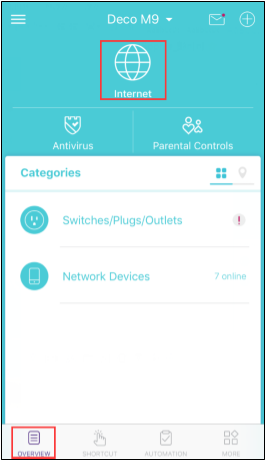 Step 2. Click on the three dots icon on upper right corner, then tap "Set Main Deco".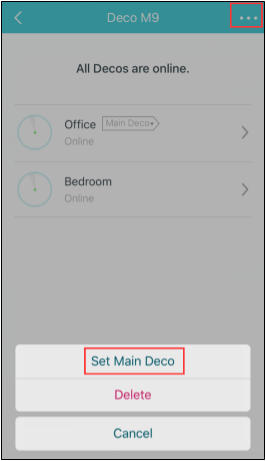 Step 3. Select the Satellite Deco which you want to use as a Main Deco, click on Save. Then a notification will pop up, click on "Continue".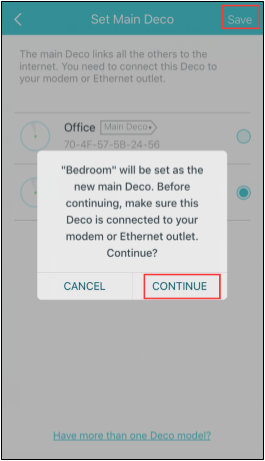 After you finished the setup process, please connect the new Main Deco to the modem by an Ethernet cable instead, power it on, and then you can enjoy the internet.
The original Main Deco will work as a Satellite Deco automatically.
If your phone shows connected to the Deco's Wi-Fi name but still can't see the "Set Main Deco" option, please force your Deco App to close first, then go to the Settings->Wi-Fi, double confirm your phone is connected to the Deco's network, and then open the Deco App again to have a try.
If your phone has a VPN program running, please close the VPN program as well.
Is this faq useful?
Your feedback helps improve this site.
SubscribeTP-Link takes your privacy seriously. For further details on TP-Link's privacy practices, see TP-Link's Privacy Policy.
Be The First To Get Exclusive Deals & News