How to Configure Load Balance Omada Controller?
Load Balance is to avoid a single EAP having overloaded clients while other EAPs are idle. In the topology below, we have a EAP, because of the random distribution of wireless clients, there may be too many clients connected with this EAP. At this time, we want to "Balance" and "Guide" weaker signal clients to connect to another EAPs.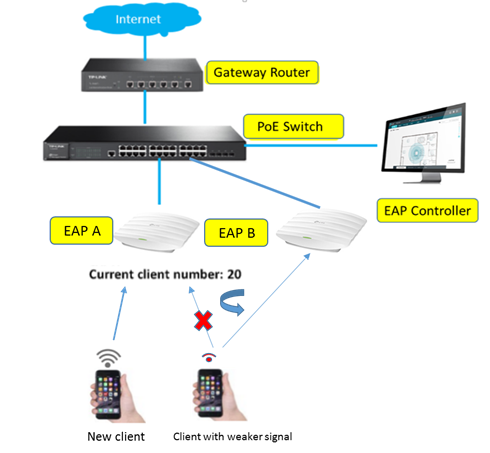 This document will introduce how to configure load balance function on Omada Controller.
Based on the topology above: we can see that
A newly added client is trying to connect to EAP A.
EAP A is almost overloaded with 20 clients connected, while EAP B is idle with only 3 clients connected.
At this time, we want the client with weaker signal to connect to EAP B.
Here are the configuration methods of Load Balance function on TP-Link EAP/Omada Controller:
Go to Access Points. Choose one of the EAP that you want to enable Load balance on. Then select Configuration->Load Balance->Enable Max Associated Clients, RSSI Threshold and click Apply.
You can set Load Balance function in 2.4G and 5G radio separately.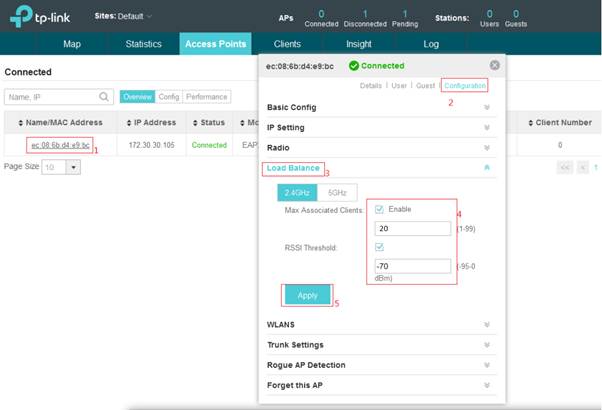 Explanations:
Threshold means the "maximum number of clients for each EAP" before Load Balance function is triggered. In this instance, we set it as "20", which means each EAP can have 20 clients at most before Load Balance function is triggered. Here EAP A already reaches this limitation (20 clients). In other words, EAP A already has overloaded clients so that Load Balance function may be effective to disconnect clients with weaker signals. Then those clients will connect to another EAP.
RSSI Threshold: Enable this function and enter the threshold of RSSI (Received Signal Strength Indication). When the clients' signal is weaker than the RSSI Threshold you've set, the clients will be disconnected from the EAP
Is this faq useful?
Your feedback helps improve this site.
SubscribeTP-Link takes your privacy seriously. For further details on TP-Link's privacy practices, see TP-Link's Privacy Policy.
Be The First To Get Exclusive Deals & News