How to configure Schedule and Timer on Wi-Fi Extender+ via Kasa
The Wi-Fi Extender+ is equipped with a Smart Plug that lets you to control and automate your connected lights and other household electronic devices via the Kasa app.
Here takes RE270K as demonstration.
Scheduling
You can set up the Smart Plug's schedule, which is made up of Events, to automate your connected devices to work around your home and work schedules, such as setting the lights to come on at dusk and turn off at sunrise.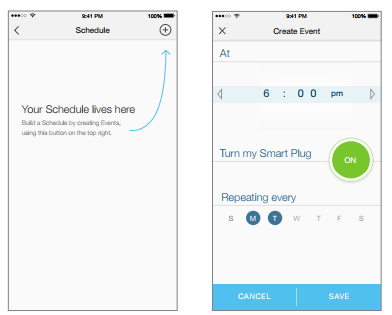 1. On the Devices screen, tap on the row of the Wi-Fi Extender+ that you want to create a schedule for.
2. Tap

(Schedule) to open the Schedule screen.
3. Tap

to create an event.
4. Within the Create Event screen, set the time, your preferred state (ON or OFF) for the connected device, and repeating frequency.
You can set the Event's time for sunrise or sunset by tapping the arrows next to the time. The time of the Event will synchronize with your local sunrise and sunset times for each day.
5. Tap Save.
You can create as many events as you like and edit them at any time from the Schedule screen. To edit a scheduled Event, simply tap the row for it. To delete it, you can swipe left on the row on an iOS device, or long-press the row on an Android device. If you want to temporarily disable an Event, just turn off its toggle from the Schedule screen. Please note that up to 32 events can be set on a Wi-Fi Extender+.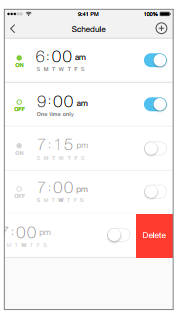 Timer
Timer can be set to automatically turn the lights or household appliances plugged into the Wi-Fi Extender+ ON or OFF after the countdown time has elapsed.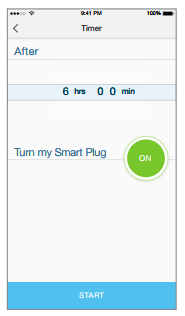 1. On the Devices screen, tap on the row of the Wi-Fi Extender+ to go to its controls.
2. Tap

(Timer) to open the Timer screen.
3. Set the timer duration in Hours and Minutes.
4. Set your preferred state (ON or OFF) to be triggered once the countdown timer is complete.
5. Tap Start.
Note that if a timer overlaps an existing scheduled Event, that schedule will not run. However, timer will be canceled when power is lost or interrupted, or at any time you turn ON/OFF the device manually using Kasa or the physical ON/OFF switch. You may need to set a new timer if desired.
Get to know more details of each function and configuration please go to Download Center to download the manual of your product.
Is this faq useful?
Your feedback helps improve this site.