How to extend another Wi-Fi network on Wi-Fi Extender+ via Kasa
If you want to reconfigure an extender's Wi-Fi connection to another network, perform the following steps. Note that you will need to reconnect the Wi-Fi devices in your home or office to the newly configured network.
Here takes RE270K as demonstration.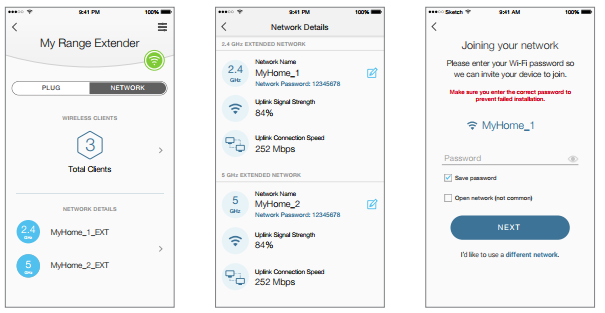 1. On the Devices screen, tap on the row of the Wi-Fi Extender+ to go to its controls.
2. Tap

to switch to the Extended Network view.
3. Tap anywhere in the Network Details section.
4. Within the Network Details screen, tap on the

(Edit) icon of the Wi-Fi connection you want to reconfigure and confirm when prompted.
5. On the Joining your network screen, tap the current Wi-Fi network name (SSID) or "I'd like to use a different network", and then choose another network to connect the extender to.
6. Enter the Wi-Fi password of the selected network. Please make sure that you enter the correct password to prevent failed connection.
7. Tap

.
Note that if you change the Wi-Fi network name (SSID) and Wi-Fi password of your main (host) network, the Wi-Fi Extender+ will need to be reconfigured to connect to the network with the changes. You can simply re-add the extender using the Add Device process and follow the app's instructions. Be careful not to reset the Wi-Fi Extender+ when prompted.
Get to know more details of each function and configuration please go to Download Center to download the manual of your product.
Is this faq useful?
Your feedback helps improve this site.