What's the difference between an owner account and a manager account?
Each Deco has only one owner with full authority to manage the network, including add or remove manager accounts.
The owner can assign up to eight manager accounts for a single Deco network. Managers can also remove themselves from the Deco network, but cannot add or delete Deco units.
We can add Privilege options for manager accounts.
Note: Update your Decos to latest firmware version to use the Privilege feature. Currently, only Deco M9 Plus and Deco M5 have the Privilege feature. Other Deco models will add this feature through firmware update in the near future.
On the Deco App, when go to the More->Manager, you can see the Privilege option for the manager account.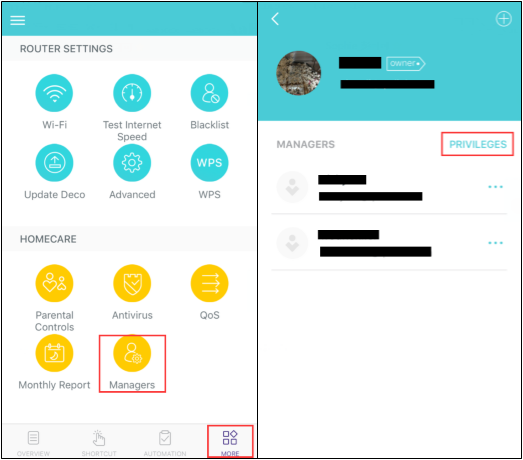 Tap Privileges, you can see the options including Network Management, Client Management, IoT Management and HomeCare.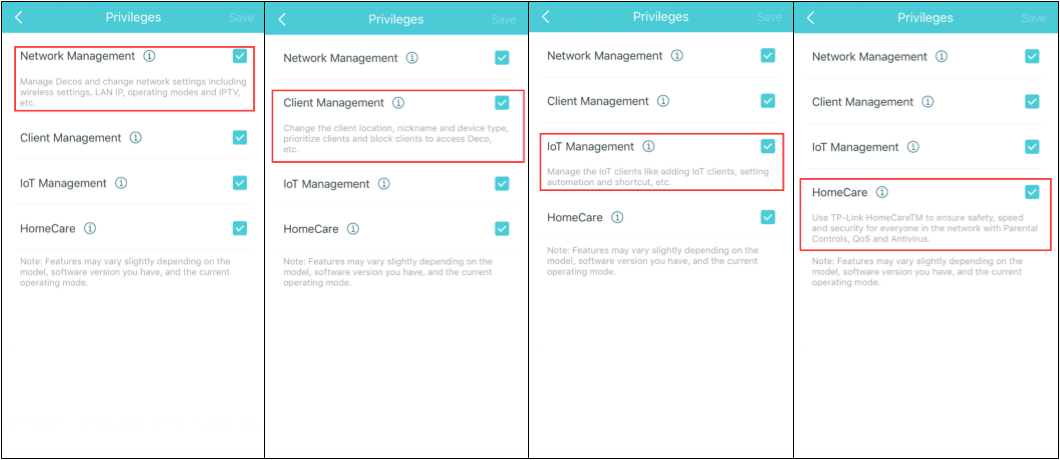 When Network Management is enabled, manager account can manage decos and change network settings including wireless settings, LAN IP, operating modes and IPTV, etc.
When Client Management is enabled, the manager account can change the client location, nickname and device type, prioritize clients and block clients to access deco, etc
When IoT Management is enabled, the manager account can manage the IoT clients like adding IoT clients, setting automation and shortcut, etc.
When HomeCare is enabled, the manager account can use TP-LINK HomeCareTM to ensure safety, speed and security for everyone in the network with Parental Controls, QoS and Antivirus.
Note: Features may vary slightly depending on the model, software version you have and the current operating mode.
Is this faq useful?
Your feedback helps improve this site.