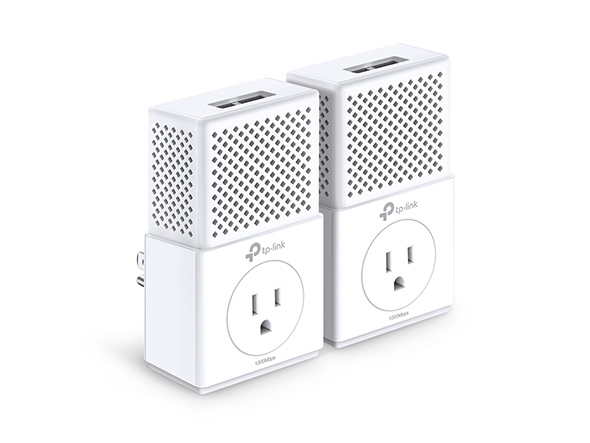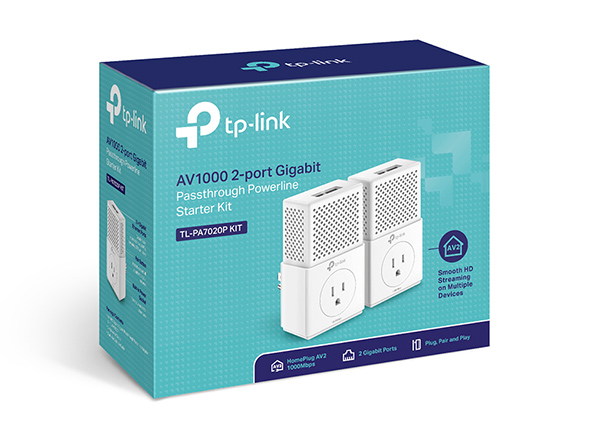 TL-PA7020P KIT
End of Life
AV1000 2-port Gigabit Passthrough Powerline Starter Kit
HomePlug AV2 standard compliant, high-speed data transfer rates of up to 1000Mbps, supports all your online needs*
2 Gigabit ports create secure wired networks for desktops or IPTVs
Integrated power socket ensures no power outlet goes to waste
Plug and play, no configuration required
Patented Power-Saving Mode automatically reduces power consumption by up to 85%**
AV1000 Powerline Kit
Bring Your Home Network Into New Era
HomePlug AV2
AV1000 2-Port Gigabit Passthrough
Powerline Starter Kit
TL-PA7020P KIT
1000Mbps!
Perfect for Bandwidth
Demanding Activities
Coming with advanced HomePlug AV2 technology, TL-PA7020P KIT provides users with
high-speed data transfer rates of up to 1000Mbps, which is ideal for bandwidth intensive
applications such as multiple HD/3D/4K video streaming, online gaming and large file transfers.
2 Gigabit Ports
for Maximum Connectivity*
With 2 gigabit Ethernet ports, TL-PA7020P KIT can simultaneously connect up to 2
wired-only devices. This makes the TL-PA7020P KIT the perfect home entertainment
companion. Connect any 2 devices from smart TVs and games consoles to NAS boxes
and computers to the Internet at the same time. Just plug the Ethernet cable into the
powerline and away you go!
Game Console
4K TV
Computer
Plug and Play,
No Configuration Required
Connect a powerline adapter to the router; plug another
powerline adapter into a wall socket in another room,
and connect it to your Internet enabled device via
Ethernet - and you're done!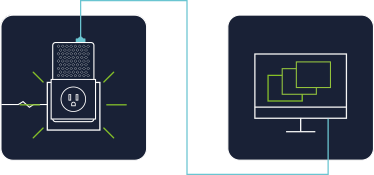 Extra Power Socket for Additional Devices
Where sockets are at a premium, the TL-PA7020P KIT with an integrated AC pass-through power socket, means the powerlines can be
used like a traditional electrical socket. Plug your smart TV or games consoles into the powerlines, as if it were a normal plug socket. No
socket needs to go to waste. The built-in noise filter helps to prevent electrical signal noise from affecting powerline performance.
*Power output of up to 16A is suitable for high-power
electrical appliances to be connected.
Power Save by Up to 85%
TL-PA7020P KIT, a new-generation of powerline adapter, with
its practical design and sophisticated Power-Saving Mode, will
automatically switch from its regular "Working" mode to
"Power-Saving" mode reducing its energy consumption by
up to 85%.
85%
LESS
Working mode
Power-Saving mode
Related Products
| | TL-PA8030P | TL-PA8010P | AV1300 Gigabit Passthrough Powerline Starter Kit TL-PA8010P KIT |
| --- | --- | --- | --- |
| HomePlug AV2 Standard | √ | √ | |
| Powerline Speed | 1300Mbps | 1300Mbps | |
| Ethernet Port | 3 Gigabit Ports | 1 Gigabit Port | |
| Extra Power Socket | √ | √ | |
| One Button Security | √ | √ | |
| Power Saving Mode | 85% | 85% | |
HARDWARE FEATURES
Plug Type
EU, UK, FR
Interface
2 * Gigabit Ethernet Port, Power Socket
Button
Pair Button
Power Consumption
Maximum: 6W (220V/50Hz)
Typical: 6W (220V/50Hz)
Standby: 0.5W (220V/50Hz)
LED Indicator
PWR, PLC, ETH
Dimensions ( W x D x H )
5.2×2.8×1.7 in. (131×72×42 mm)
Range
300 Meters over electrical circuit
Power Output to Integrated Socket
16 A
SOFTWARE FEATURES
Modulation Technology
OFDM (PLC)
Encryption
Powerline Security:
128-bit AES
OTHERS
Certification
RoHS
Package Contents
Powerline Ethernet Adapter
6.5 ft. (2 m) Ethernet cable (RJ45)
Resource CD
Quick Installation Guide
System Requirements
Windows 2000/XP/2003/Vista, Windows 7/8, Mac, Linux
Environment
Operating Temperature: 0°C~40°C (32°F ~104°F)
Storage Temperature: -40°C~70°C (-40°F ~158°F)
Operating Humidity: 10%~90% non-condensing
Storage Humidity: 5%~90% non-condensing
*The terms "AV1000" and "1000Mbps" are derived from applicable specifications and refer to the theoretical maximum physical-layer data transfer rate. Those terms are used on this product solely to indicate its compatibility with other "AV1000" or "1000Mbps" powerline devices. Actual data speeds vary and may be limited by the product's Ethernet port and other network conditions such as data traffic, electrical noise, and wiring issues. For better performance, powerline devices should be deployed on the same electrical circuit and rated for the same HomePlug standard. A minimum of two powerline devices are required to establish a powerline connection. If you are uncertain about your network conditions, you should consult an IT professional to assist in selecting a networking product.
**Actual power saved varies based on network conditions and environmental factors.
Actual network speed may be limited by the rate of the product's Ethernet WAN or LAN port, the rate supported by the network cable, Internet service provider factors and other environmental conditions.