Create Your Smart Home with 3 Simple Steps
From TP-Link Italy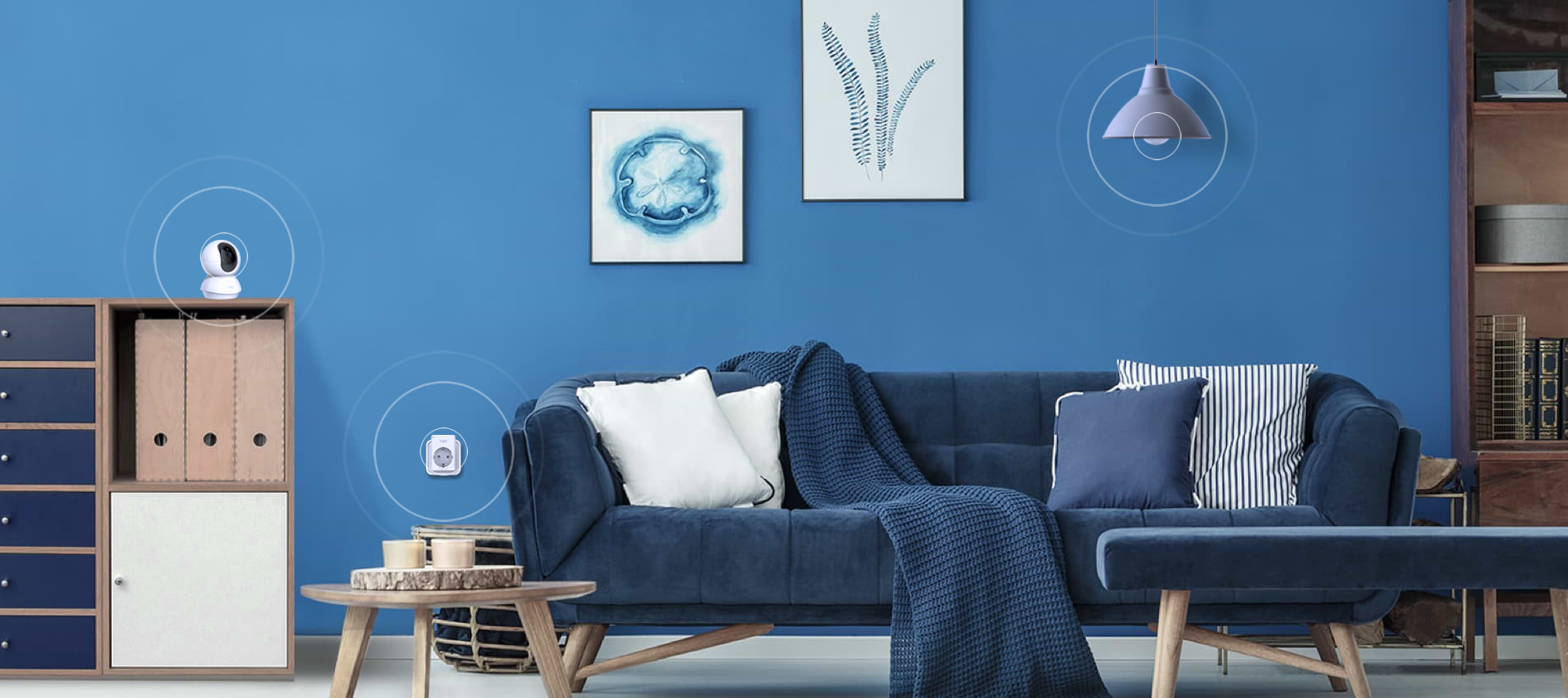 Have you ever felt like upgrading to home automation but finally it just remains as an idea because you considered that it's highly expensive and complex to buy technical inventions and replace old stuff at home.
Contrary to what one might think, obtaining a functional and personalized Smart Home does not necessarily involve complex or complete transformation and excessive costs!
In this guide we will see all the steps to transform your home into a tailor-made smart home thanks to the products of the TP-Link Tapo range - which includes security cameras, light bulbs and smart plugs - very simple to use, integrated into a single app and really affordable costs!
Contents:
What does Smart Home mean and what are the advantages
Create your Smart Home in 3 simple steps
Step 1: Optimize the connection
Step 2: Install the smart devices
Smart Wi-Fi cameras

Smart Wi-Fi bulbs

Smart Wi-Fi sockets
Step 3: Control your smart home from a single app
What Does Smart Home Mean and What Are the Advantages
Smart home indicates a home where there are devices connected to the Internet (Internet of Things) that communicate with each other in order to create an integrated home system , make your life easier and optimize energy consumption.
In fact, in a smart home you can create scenarios or routines that automate various actions, such as turning on the coffee machine at dawn, starting the irrigation system in the evening and turning off the lights and turning on security cameras simultaneously at night.
In 2019 the smart home market in Italy reached a value of 530 million euros, with an increase of 40% compared to 2018, driven by security solutions, smart home speakers and appliances. Along with the market share, consumer awareness and dissemination of smart objects in homes have also increased: 68% of Italians have heard once about smart home and 40% have at least one smart object, with security solutions and smart home speaker at the top of buyers' preferences.
(Source: Internet of Things Observatory of the School of Management of the Politecnico di Milano )
The advantages of a smart home compared to a traditional home are numerous and, although smart speakers and security systems are currently the most requested needs, the Internet of Things concerns many aspects of home life.
Besides the main advantages we certainly find: the ability to control your appliances and the lighting system even from a distance, to monitor your home and have you be alerted in case of suspicious movements, you can also benefit from energy savings with consequent reduction of costs in the bill.
The benefits of a smart home at a glance:
Automation and comfort
Energy saving
Safety
Personalization
Total control of your home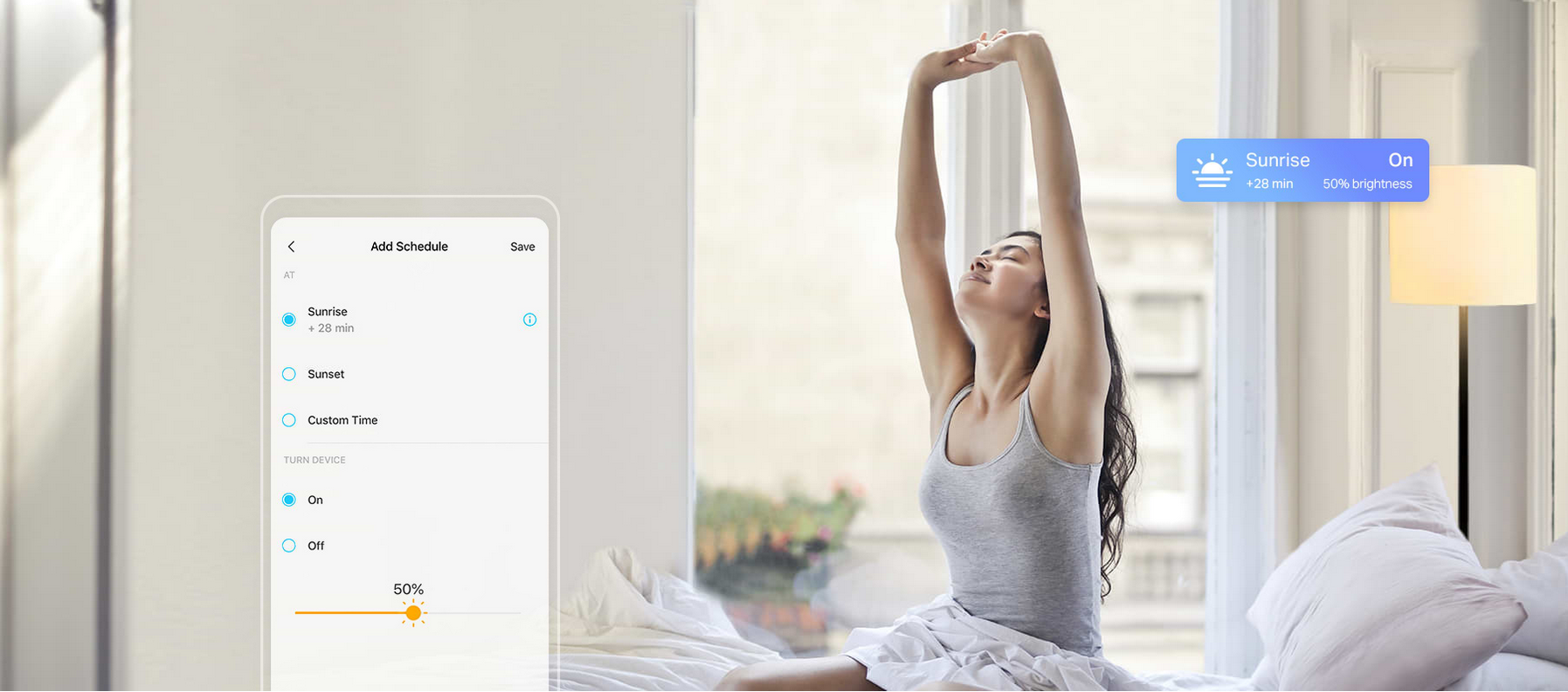 Create Your Smart Home in 3 Simple Steps
The first step is definitely to optimize the network connection. In fact, without a stable and wide wireless coverage in home environments it will not be possible to use smart devices, which need a good signal to communicate with the Internet and home network system.
Secondly, you will need to install all the smart devices you need to create smart environments.
Finally you need to manage your smart home in a simple and intuitive way, to have a full control of your home wherever you are.
These operations do not involve complex or complete replacement and excessive costs as one might think. In fact, TP-Link offers a range of convenient products, easy to install and manage, and integrated into a single app, which will allow you to transform your home into a smart home with very little professional and economic effort.
This is the Tapo range, which includes security cameras, light bulbs and smart plugs.
So let's analyze the 3 steps to obtain a smart home in detail: optimize the connection, install smart devices and manage everything from a centralized, simple and intuitive control platform.
1. Optimize the connection
It is essential to understand what kind of network connection technology is available for your home among F (Fiber FTTH), FR (Fiber-Copper FTTC) and R (Copper), in order to evaluate whether to upgrade the network line and select the most appropriate router to make the full use of the chosen technology. To learn more about the available network technologies and choose the Modem Router that best suits your needs, you can consult our Selection Guide.
Secondly, you will need to understand if the wireless signal of your Router is sufficient to cover all the rooms of the house or if it is requisite to expand the WiFi coverage via a Range Extender , a Powerline or a Mesh System.
TP-Link has created several video courses and guides with practical suggestions to optimize your wireless network and help you select the most appropriate product to expand your WiFi according to the shape of your home. Once you have created the optimal wireless network system for your home, you will be really ready to install your smart devices.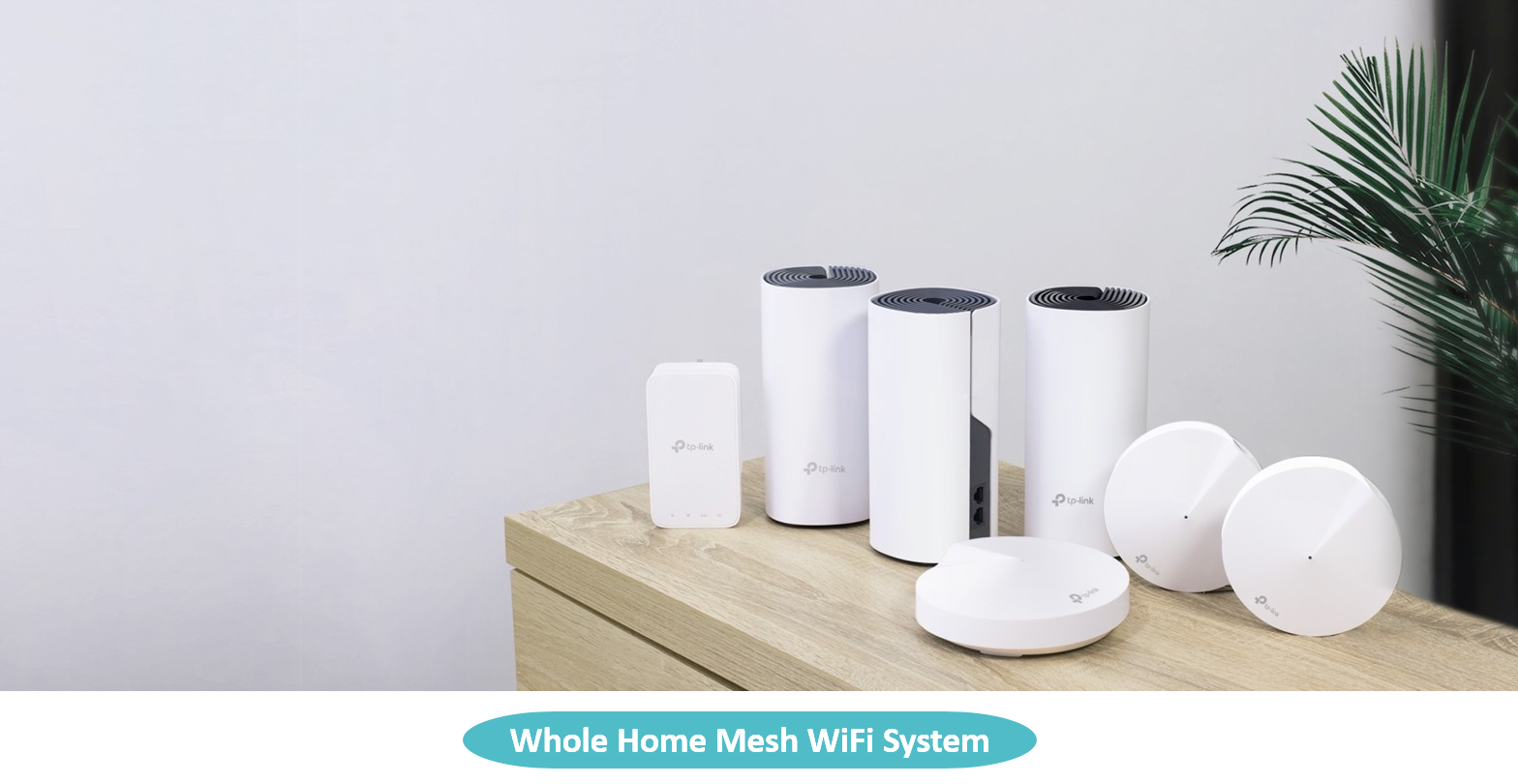 2. Install Smart Devices
Among the indispensable devices to create your smart home we recommend security cameras, light bulbs and smart plugs. Home network security is at the top of most users' needs when stepping into the world of IoT. Smart WiFi Cameras are the easiest and cheapest way to surveil your home wherever you are. The Smart Bulbs allow you to personalize your home with the most suitable lighting at every scenario. Furthermore, many objects in the house can be transformed into intelligent devices, simply by connecting them to a Smart Plug.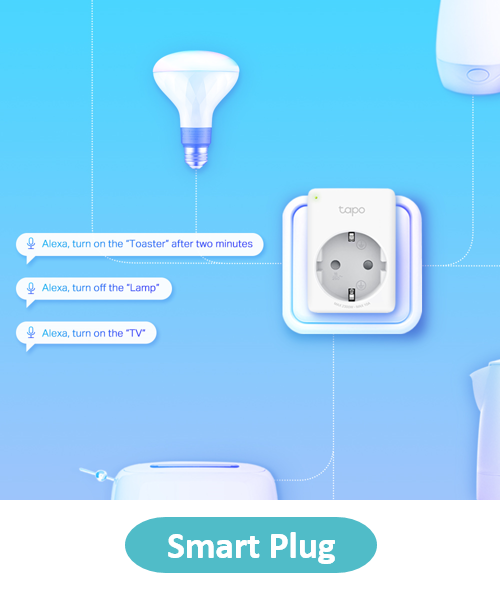 So let's find out the functions and advantages of all these smart devices.
Smart WiFi Cameras
It is essential above all considering to surveil your home for safety reasons especially when you are away from home. It is also useful for monitoring pets or small children when we have to temporarily move away from the room.
The features offered by TP-Link Wi-Fi security cameras are many:
Full HD shooting with night vision
Video storage on MicroSD Card up to 128GB
Live View and sharing of saved movies through the app
Sound and motion detection with push notifications in real time
Integrated acoustic and light alarm to discourage any unwanted visitors
Two-way audio to communicate with anyone near the camera
Voice control thanks to compatibility with the main smart home speakers
The Tapo range offers two models with Full HD resolution to choose from: Tapo C100 with fixed framing and Tapo C200 with Pan/Tilt movement that allows you to rotate the camera 360° horizontally and 114° vertically. Installation is very simple: just connect the Tapo camera to the power socket and your home Wi-Fi, and you can control directly from your smartphone via Tapo app, or by voice commands if working together with a smart speaker.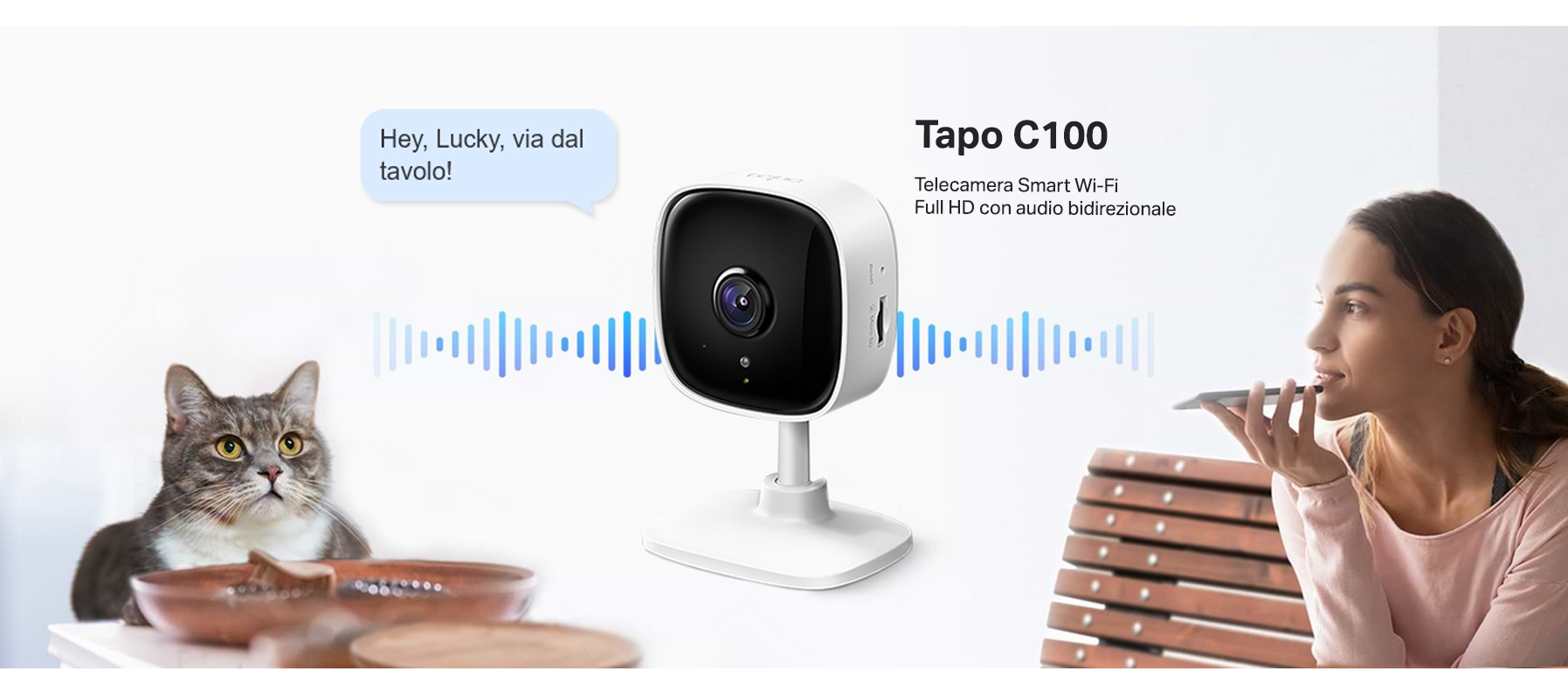 Smart WiFi bulbs
The Smart Wi-Fi LED bulbs allow you to create the atmosphere tailored to you by setting up multiple parameters such as brightness, temperature and - in the most advanced models - even the color of the light and some other interesting features accessible via app or voice commands.
The main features of the smart Wi-Fi bulbs are:
the schedule setting to turn the lights on or off at certain times
the away mode to turn on and turn off the lights at random intervals to simulate the presence of someone in the house
the remote control of the lights via app
the voice control of the lights (when associated with a smart speaker)
Installing TP-Link smart bulbs is very simple: just screw them to the lamp holder and connect them to your home WiFi following the instruction by app. The Tapo L510E dimmable bulb also allows you to keep energy consumption under control through the reports available on the Tapo app.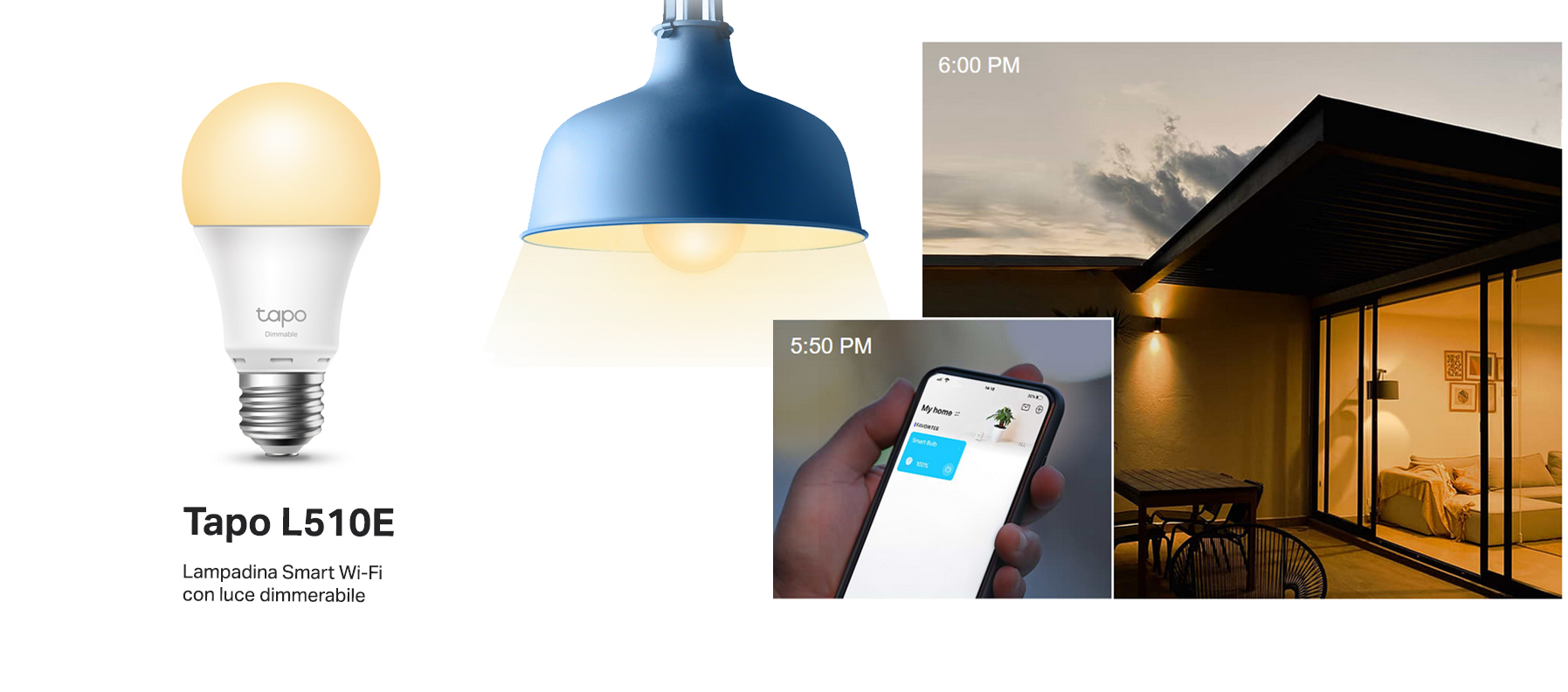 Smart WiFi Plugs
The Smart Plugs allow you to have full control, even when you are away from home, on connected devices. You can check that everything is off (or on) wherever you are or set program schedule for your devices remotely.
TP-Link smart plugs include interesting features accessible via app or voice commands:
the schedule setting allows you to set on/off at specific times (for example to switch on the dehumidifier connected to the smart plug every day at 18:00)
the away mode turns on and off the outlet at random intervals to simulate the presence of someone in the house (for example, turns on and off a lamp connected to the smart plug, so as to discourage thieves)
the timer allows to turn off the smart plug programmed after a certain period of time (for example to turn off the smartphone charger after 2 hours from when it is connected).
the remote control of the plugs and connecting devices via app
the voice control of the plugs (when associated with a smart speaker)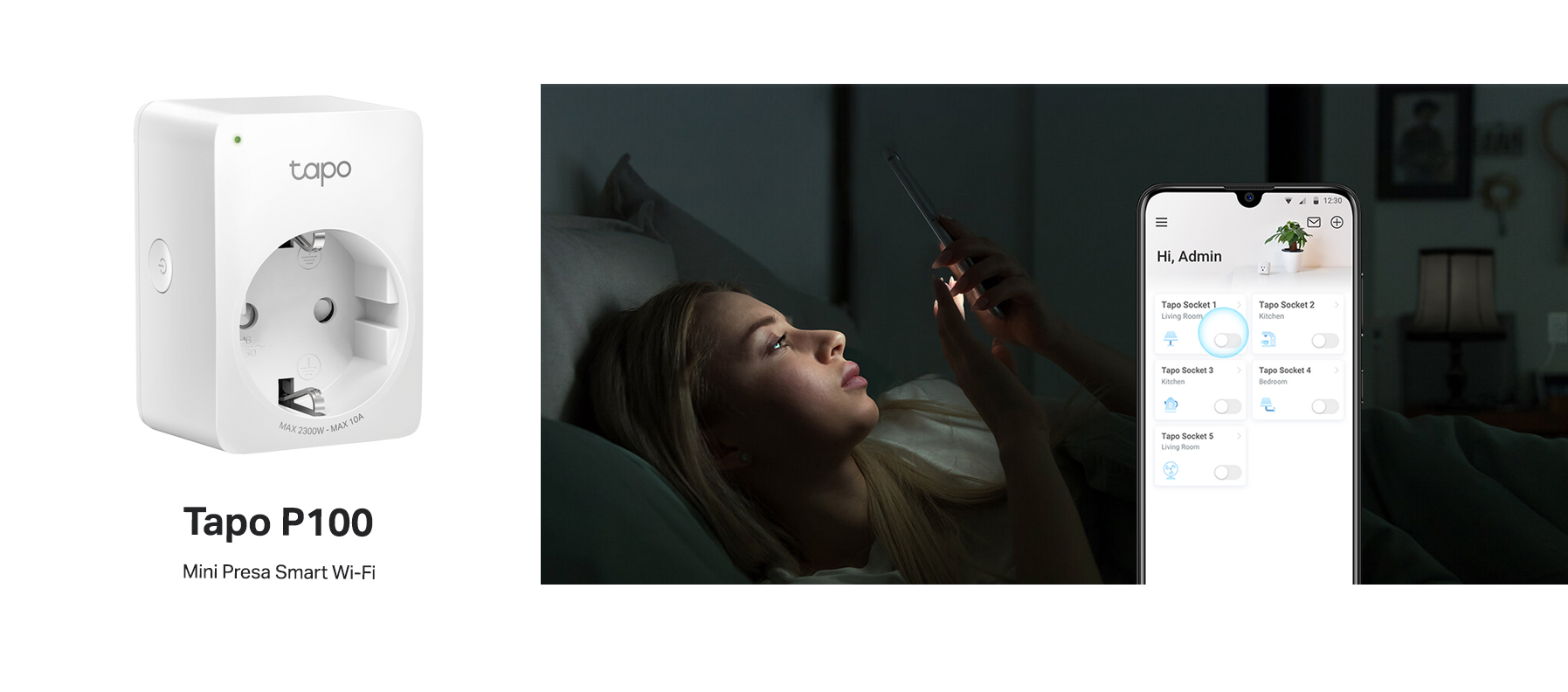 Installing TP-Link smart plugs is very simple: just plug them into the electrical socket and connect them to your home WiFi following the instruction directly via app. there're many choices for applications and the only limit will just be your imagination. Here are just a few examples of the devices that can be connected to a smart plug:
lamps
home irrigation system
hair straightener
cooling fan
charger
dehumidifier / room fragrance
TP-Link offers several models of smart plugs to choose from, including the very compact Tapo P100 which, in addition to having an unbeatable price, is available in a 4-piece kit, very useful to intelligent your home in an instant.
3. Control Your Smart Home from a Single App
Among the advantages of choosing a unique ecosystem for your home, the first thing should be the possibility to manage the entire Smart Home from a single application. The TP-Link Tapo app, available for iOS and Android, allows you to monitor and control all the devices of the Tapo range installed in your home. Furthermore, it will soon be possible to create a serious of automations actions in one scenario that integrate the functionality of several devices in the range. For example, by selecting the "goodnight" scenario it will be possible to turn off all the smart lights in the house, activate the security cameras at the same time and switch on the smart plug connected to the children's room lamp.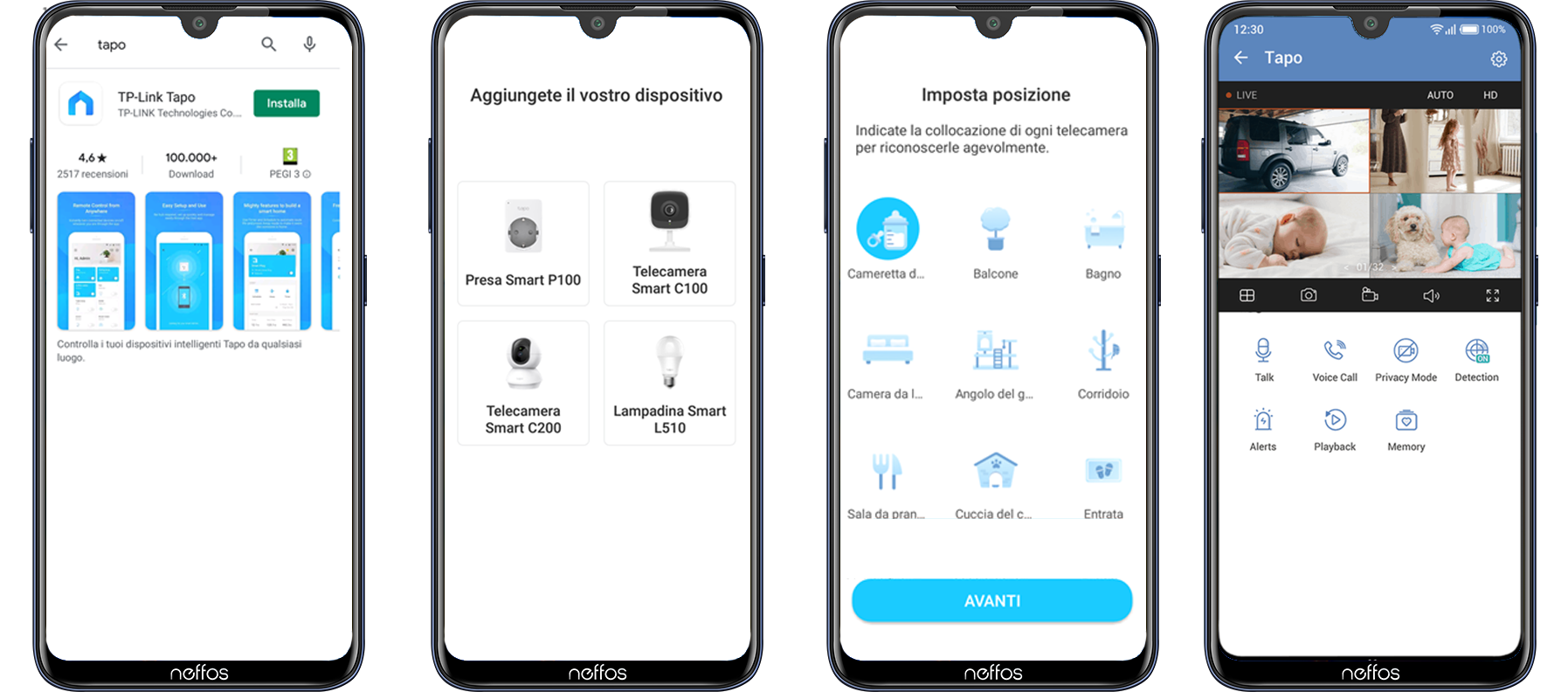 Some features of the Tapo app:
From United States?
Bölgeniz için ürünler, etkinlikler ve hizmetler alın.