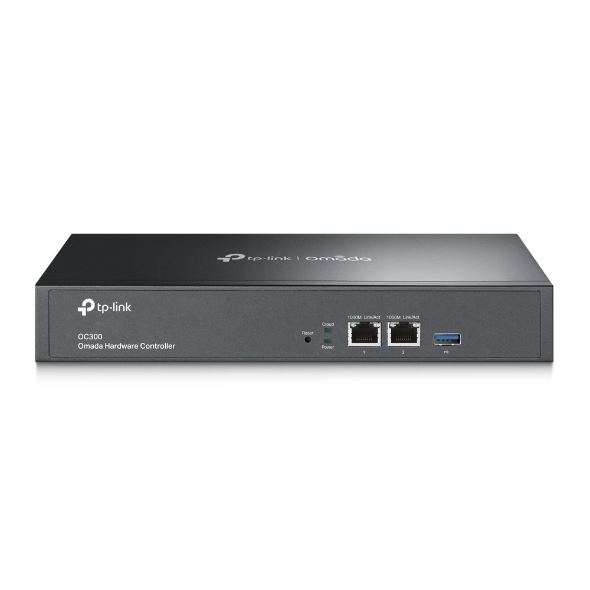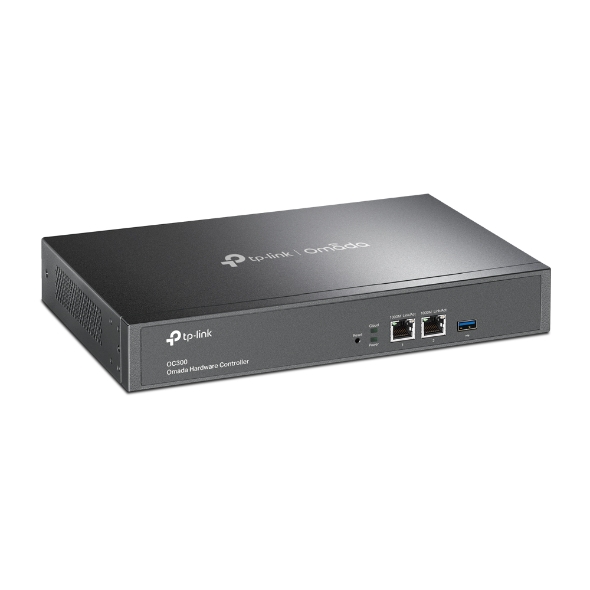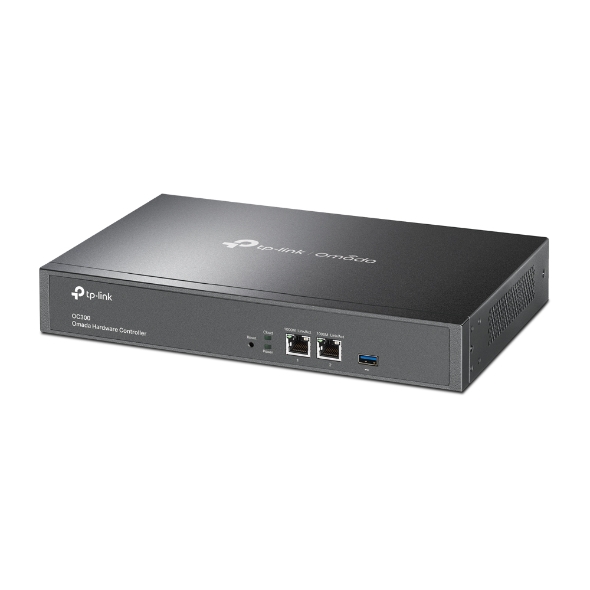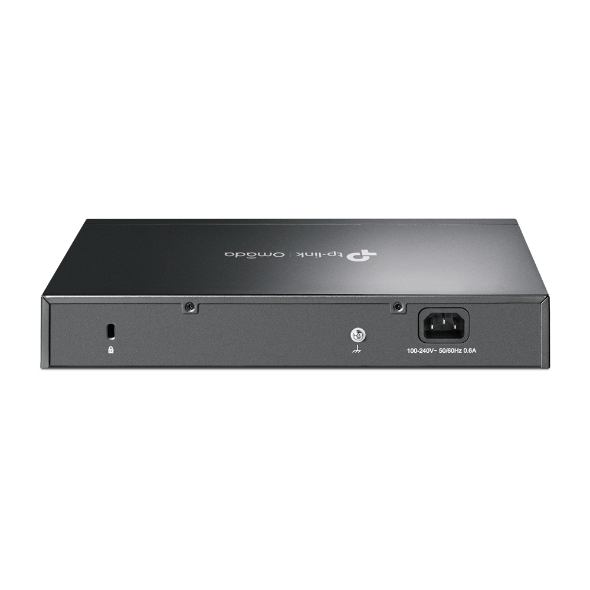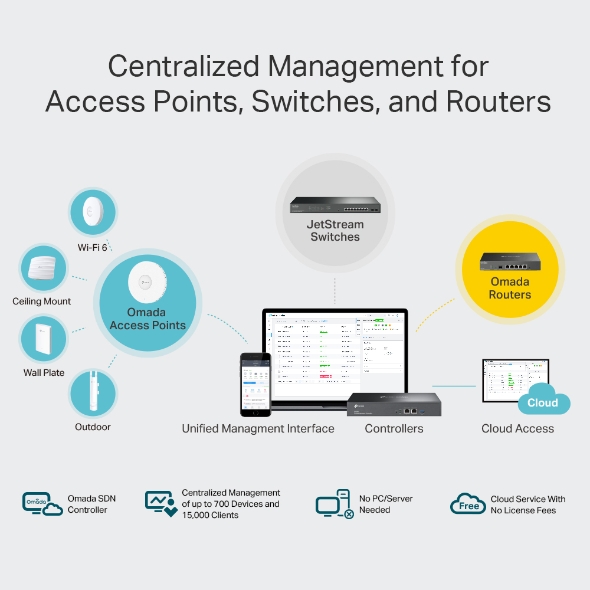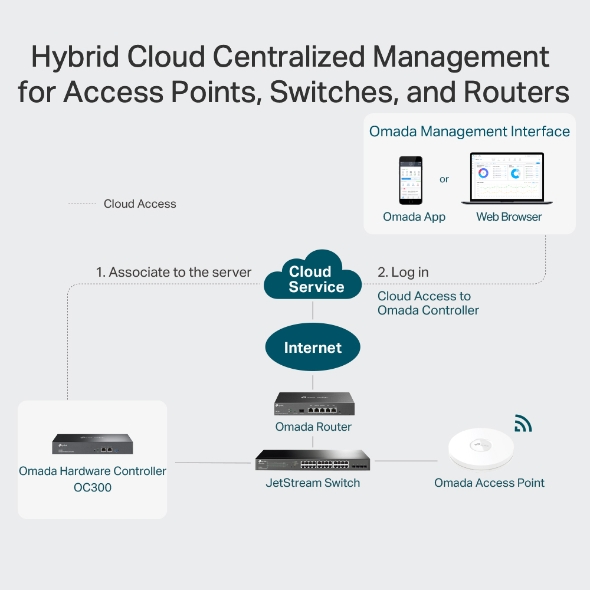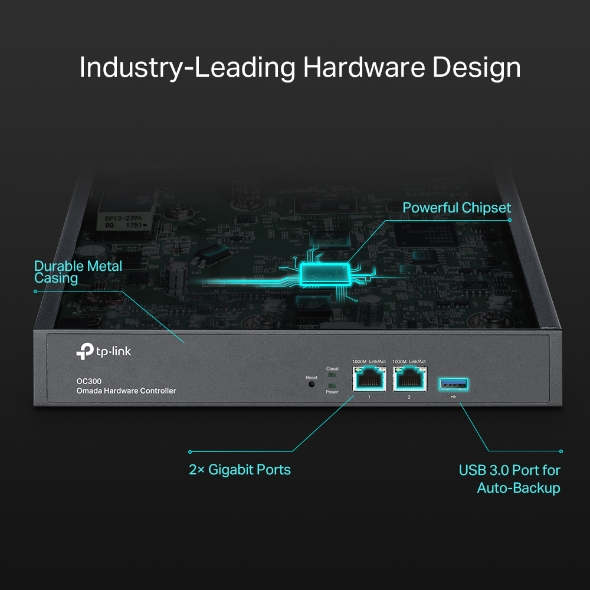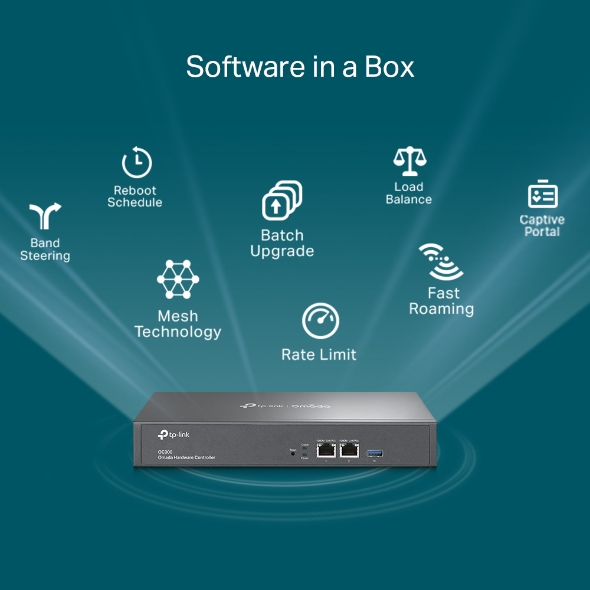 Omada Hardware Controller ตัวควบคุมแอคเซสพอยต์
การจัดการแบบรวมศูนย์: จุดเชื่อมต่อ Omada สูงสุด 500 จุด, สวิตช์ JetStream 100 ตัว และเราเตอร์ Omada 100 ตัว
การเข้าถึงระบบคลาวด์ฟรี: จัดการและตรวจสอบด้วยแอพ Omada หรือ Web UI จากทุกที่ทุกเวลา
การจัดการในสถานที่: ตรวจสอบและจัดการอุปกรณ์ในเครื่องด้วยการรักษาความปลอดภัยและความเสถียรขั้นสูงสุด
การออกแบบฮาร์ดแวร์ชั้นนำของอุตสาหกรรม: ชิปเซ็ตอันทรงพลัง เคสโลหะที่ทนทาน พอร์ต USB 3.0 สำหรับการสำรองข้อมูลอัตโนมัติ และพอร์ตกิกะบิตสองพอร์ต
การตรวจสอบเครือข่ายที่ง่ายและชาญฉลาด: แดชบอร์ดที่ใช้งานง่ายทำให้ง่ายต่อการดูสถานะเครือข่ายแบบเรียลไทม์และการกระจายการรับส่งข้อมูล
โทโพโลยีเครือข่ายแบบเรียลไทม์: ช่วยให้ผู้ดูแลระบบไอทีดูและแก้ไขปัญหาการเชื่อมต่อได้อย่างรวดเร็ว
การบำรุงรักษาเครือข่ายที่ง่ายขึ้น: โปรแกรมจำลองแผนที่ความร้อน WiFi รายงานเครือข่ายที่มองเห็นได้ และการบำรุงรักษาเครือข่ายแบบกลุ่มและหลายไซต์
Learn more about Omada Cloud SDN>​

Hardware Controller
A Professional Omada SDN Controller with No Need to Run a PC/Server
OC300
Centralized Management for
Access Points, Switches, and Routers
OC300, the professional on-premises hardware controller for the Omada Software Defined Networking (SDN) platform, provides 100% centralized management of Omada access points, JetStream switches, and Omada routers—all controlled from a single interface.
Omada SDN Controller

Centralized Management of up to 700 Devices and 15,000 Clients

No PC/Server Needed

Cloud Service With No License Fees
Unified Managment Interface
Hybrid Cloud for
Maximum Convenience
Featuring hybrid cloud technology, the Omada Hardware Controller OC300 allows you to remotely control the whole network wherever you are in the world with cloud access. Locally manage devices with the ultimate security and stability.
1. Associate to the server
Omada Hardware Controller OC300
Cloud Access to Omada Controller
Omada Management Interface
USB 3.0 Port for Auto-Backup
Industry-Leading Hardware Design
Equipped with an advanced design and the latest chipset, OC300 has enough processing power to support the massive management of your business network. Rackmount/desktop design benefits easier and flexible installation.
Easy and Intelligent Network Monitoring
The easy-to-use dashboard makes it easy to see your real-time network status; check network usage and traffic distribution; receive network condition logs, abnormal event warnings, and notifications; or even track key data for better business results. Network topology helps IT admins quickly see and troubleshoot connections at a glance.
Multiple Factors
Guarantee Easier
Network Maintenance
WiFi Heatmap Simulator

Generate a Wi-Fi solution by simulating the wireless coverage effect of APs in the actual site. Determine the appropriate number and location of APs according to the coverage requirements.

Visualizable Network Report for Conveniently Summary

Help service providers easily report network service quality to their customers through reports. IT administrators also easily report network operation status through reports.

Automated Periodic Report

Batch Management, Multi-Site Management, and Remote Firmware Updates

Improve network maintenance without needing to configure on-site or manage devices one by one.

Powerful Scheduling

Maintain your network easily with more agile and effective processing. No manual tasks required.

Channel Adjustment Schedule
Greater Convenience with the Omada App
Remotely access and configure your whole network with a tap of your phone from anywhere in the world.
Choose the Right Controller that Fits Your Business
Omada On-Premises Controller
Omada Cloud-Based Controller
Hardware Controller
(OC300)
Hardware Controller
(OC200)
Software Controller
Management Scale
Up to 500 Omada access points,
100 JetStream switches,
and 100 Omada routers
Up to 100 Omada access points,
20 JetStream switches,
and 10 Omada routers
<1,500 Devices*
Unlimited**
Usage Method
Connect to the intranet
Deploy to intranet servers
or private clouds
Log in and use
Network Type
Small/Medium local network
Medium/Large network
Medium/Large multi-site network
Pricing Model
Hardware costs
Free
Device license fee
Cloud Access
√(Free)
√(Free)
√(Free)
√
Auto Channel Selection
and Power Adjustment
-
-
-
√
Zero-Touch
Provisioning
-
-
-
√
Advanced Functions
Multi-Site Management, Multi-User Privilege Assignment, WiFi Heatmap Simulator, Network Summary Report,
Abnormal Event Warnings and Notifications,
Batch Configuration, Batch Firmware Upgrading, Captive Portal (Facebook WiFi, Voucher, SMS, etc.)
Hospitality

TP-Link Omada allows hotels to build reliable WiFi networks. Hotel WiFi network solutions including network topology, design, features, installation, and products are introduced.

Full WiFi coverage and wired connections
Flexible guest control
Seamless roaming
Easy Management

Education

Due to its reliable, scalable, and secure network solution, TP-Link has been widely acknowledged by global customers in the Education market ranging from infant schools with a few APs up to colleges and universities with hundreds of APs.

ง่ายในการจัดการเครือข่าย

สัญญาณอินเทอร์เน็ตคุณภาพสูง

สัญญาณครอบคลุมทั้งแบบมีสายและไร้สาย

VPN และ security

Retail

เครือข่ายไร้สายที่ดีไม่เพียงแต่ให้บริการระบบเครือข่ายสำนักงานของห้างสรรพสินค้าเท่านั้น แต่ยังมอบประสบการณ์การช็อปปิ้งที่สะดวกสบายให้กับลูกค้าอีกด้วย TP-Link Omada SDN Solution ช่วยให้เจ้าของร้านค้าสร้างประสบการณ์ภายในร้านที่ทันสมัยและน่าสนใจสำหรับลูกค้าทุกคน

ส่งเสริมธุรกิจออนไลน์
ครอบคลุม WiFi เต็มรูปแบบ
โรมมิ่งที่ครอบคลุม
ลูกค้าที่มีการใช้งานเครือข่ายที่มีประสิทธิภาพสูงพร้อมกัน
การจัดการที่ง่าย
Many network technologies such as XGS-PON help Covid-19 Vaccine Center

Many network technologies such as XGS-PON help Covid-19 Vaccine Center

Many network technologies such as XGS-PON help Covid-19 Vaccine Center

Many network technologies such as XGS-PON help Covid-19 Vaccine Center
HARDWARE FEATURES
Interface
• 2× 10/100/1000 Mbps Ethernet Ports• 1× USB 3.0 Port
Power Supply
100–240 V~50/60 Hz, 0.6 A
Dimensions
11.6 × 7.1 × 1.7 in (294 × 180 × 44 mm)
MANAGEMENT
Omada App
Yes
Centralized Management
• Up to 500 Omada access points, 100 JetStream switches, and 100 Omada routers*• Up to 15,000 clients*Refer to www.tp-link.com/en/business-networking/all-omada/ to find all the models supported by OC300
Cloud Access
Yes
L3 Management
Yes
Multi-site Management
Yes
Management Features
• Automatic Device Discovery • Batch Configuration• Batch Firmware Upgrading • Intelligent Network Monitoring• Abnormal Event Warnings• Unified Configuration• Reboot Schedule• Captive Portal Configuration
OTHERS
Certification
CE, FCC, RoHS
Package Contents
• Omada Hardware Controller OC300• Quick Installation Guide • Ethernet Cable• Power Cord• Rackmount Kit
System Requirements
Microsoft® Windows®10, 8, 7,Vista™, XP or MAC® OS, NetWare®, UNIX® or Linux
Environment
• Operating Temperature: 0–50 ℃ (32–122 ℉)• Storage Temperature: -40–70 ℃ (-40–158 ℉)• Operating Humidity: 10–90% RH non-condensing• Storage Humidity: 5–90% RH non-condensing
From United States?
Get products, events and services for your region.