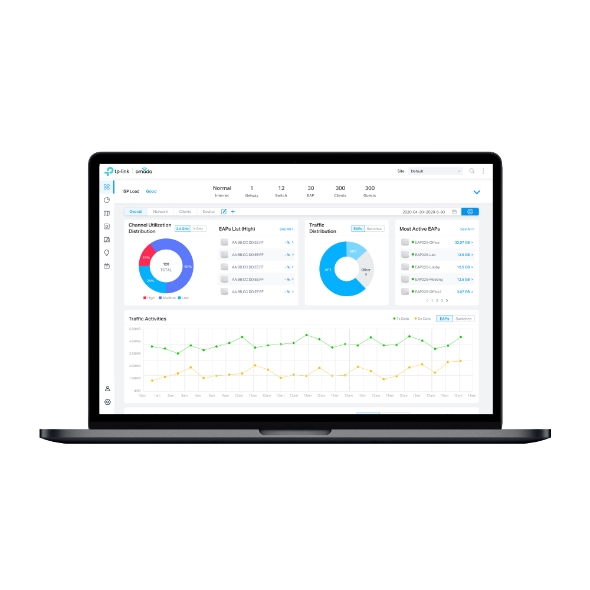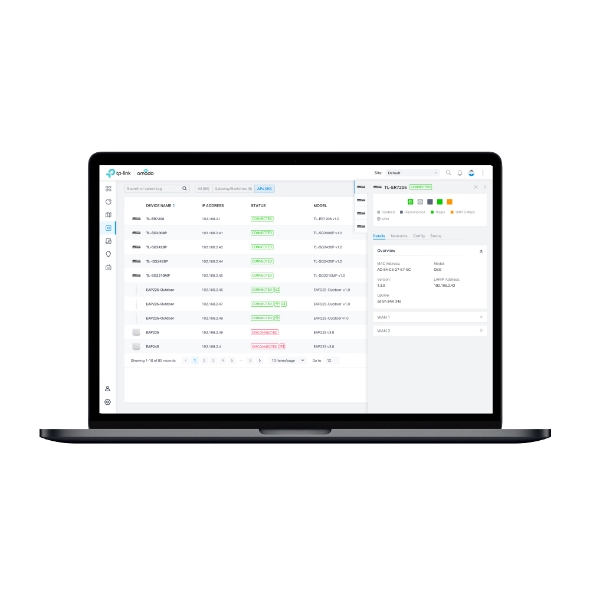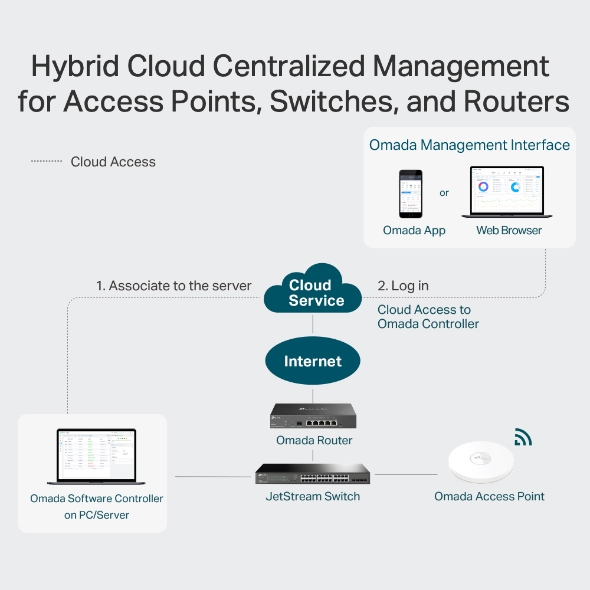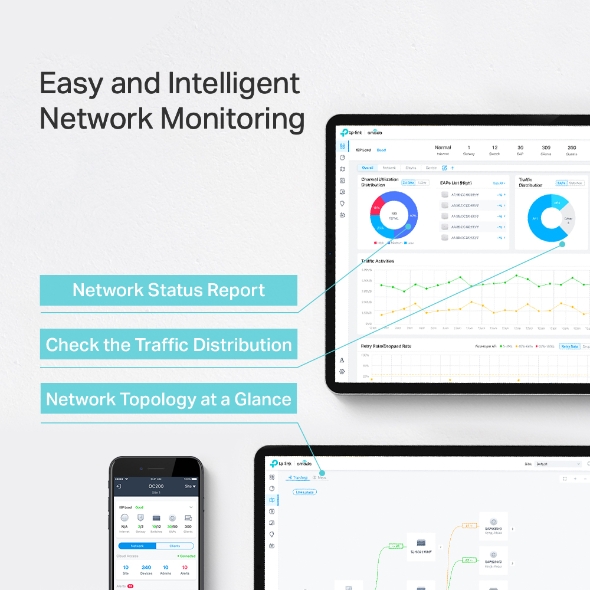 Centralized Software Controller
Monitor and manage hundreds of EAPs in a single or multiple sites
Cloud access to manage from anywhere, anytime
Configure and automatically synchronize unified wireless settings to all EAPs in the network
Secure Guest Network with Facebook Wi-Fi and SMS Authentication
Rate Limit and Load Balance ensure the network stability and efficiency
Access Control and Rogue AP Detection protect the network from threats
Controller upgrade instructions>​
Software Controller
Centralized Management for Wi-Fi Network
100+

Manage Hundreds of EAPs

Cloud

Cloud Access for Remote Management
Omada Software Controller

Centralized Management Platform
Monitor and manage hundreds of EAPs in a single or multiple sites
Configure and automatically synchronize unified wireless settings to all EAPs in the network
Upload floor plans to visualize and optimize network resource deployment
Make network administration more effective and efficient with batch firmware updates
Cloud Management—Anytime. Anywhere.
Omada offers cloud access to its centralized management platform. Take your network with you wherever you go.
Cloud Service
with No License Fees
Convenient Management
with Remote Access
Multi-Site Management
for Large-Scale Networks
Intuitive Real-Time Monitoring
View the real-time traffic status of each EAP, including the number of clients and volume of data usage
Use built-in data visualizations to quickly analyze network traffic statistics for connected APs
Monitor data from each EAP and track user activity to better understand traffic patterns and enhance network efficiency
Omada Mesh

Enable wireless connectivity between access points for extended range, making wireless deployments more flexible and convenient

Seamless Roaming

802.11k and 802.11v seamless roaming provide seamless switching to the access point with the optimal signal when moving between APs

Online Upgrade

Save time and resources with the ability to upgrade network EAPs in any location, at any time

Auto Backup

Automatically backup your management data to ensure great stability and security

Schedule

With Reboot Schedule enabled, the EAP can reboot itself automatically at a specified time, ensuring optimal performance
Guest Network with Facebook Wi-Fi and SMS Login
Give visitors secure Wi-Fi access via a captive portal with wireless isolation technology. A new SMS authentication feature simplifies the connection process while Facebook authentication raises the social media profile of your business.
Easy Management with the Omada App
Omada lets you configure settings, monitor the network status and manage clients, all from the convenience of a smartphone or tablet.
Compatible with All Omada Access Points
Hospitality

TP-Link Omada allows hotels to build reliable WiFi networks. Hotel WiFi network solutions including network topology, design, features, installation, and products are introduced.

Full WiFi coverage and wired connections
Flexible guest control
Seamless roaming
Easy Management

Education

Due to its reliable, scalable, and secure network solution, TP-Link has been widely acknowledged by global customers in the Education market ranging from infant schools with a few APs up to colleges and universities with hundreds of APs.

ง่ายในการจัดการเครือข่าย

สัญญาณอินเทอร์เน็ตคุณภาพสูง

สัญญาณครอบคลุมทั้งแบบมีสายและไร้สาย

VPN และ security

Retail

เครือข่ายไร้สายที่ดีไม่เพียงแต่ให้บริการระบบเครือข่ายสำนักงานของห้างสรรพสินค้าเท่านั้น แต่ยังมอบประสบการณ์การช็อปปิ้งที่สะดวกสบายให้กับลูกค้าอีกด้วย TP-Link Omada SDN Solution ช่วยให้เจ้าของร้านค้าสร้างประสบการณ์ภายในร้านที่ทันสมัยและน่าสนใจสำหรับลูกค้าทุกคน

ส่งเสริมธุรกิจออนไลน์
ครอบคลุม WiFi เต็มรูปแบบ
โรมมิ่งที่ครอบคลุม
ลูกค้าที่มีการใช้งานเครือข่ายที่มีประสิทธิภาพสูงพร้อมกัน
การจัดการที่ง่าย
The Muse Accommodation

TP-Link Builds Wall-to-Wall WiFi for Student Accommodation in Thailand

The Muse Accommodation

TP-Link Builds Wall-to-Wall WiFi for Student Accommodation in Thailand
From United States?
Get products, events and services for your region.