What can I do if the Deco app shows "Let's Begin" while Deco is working well?
Sometimes you may find that the Deco network is working well but when you log in to the Deco app, it will show the following "Let's Begin" page. In this case, you can refer to the following steps to troubleshoot.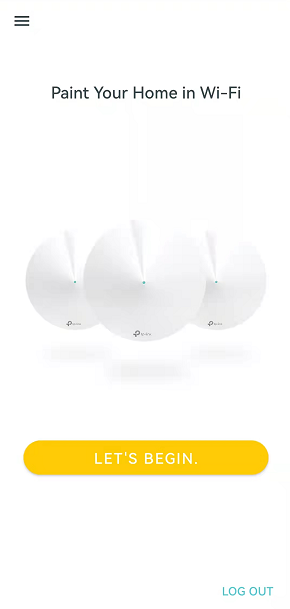 Ensure you have logged in to the Deco app with the original email address (also called owner account) that setting up on the Deco network. If you're not sure, try to log in with another email address if you have one.
If you encounter the issue when the phone connects to other Wi-Fi networks or uses mobile data, please log out of the Deco app on the phone, then switch the phone to connect to the Deco's Wi-Fi network. At the same time, disable mobile data and close any VPN application on the phone if you have one.
After that, launch the Deco app and log in again.
2.1 If you're able to log in and see the Deco network
Go to More -> System->Update Deco. And ensure the Deco system is using the latest firmware. If the "Let's begin" issue persists with the latest firmware while the phone connects to other networks, please kindly contact TP-Link Support.
2.2 If you're not able to log in to the Deco app
In this case, you may have lost the original TP-Link account/password used to configure the Deco system. And you need to reset the whole Deco system and set up them again with your current TP-Link account.
Fick du svar på din fråga?
Your feedback helps improve this site.
From United States?
Get products, events and services for your region.