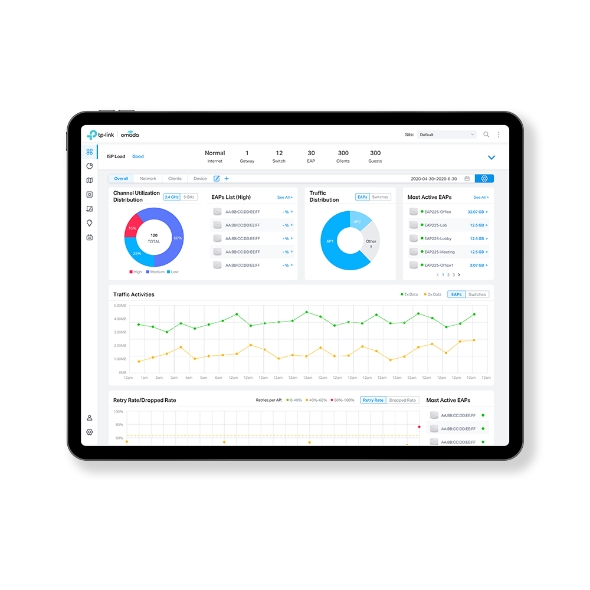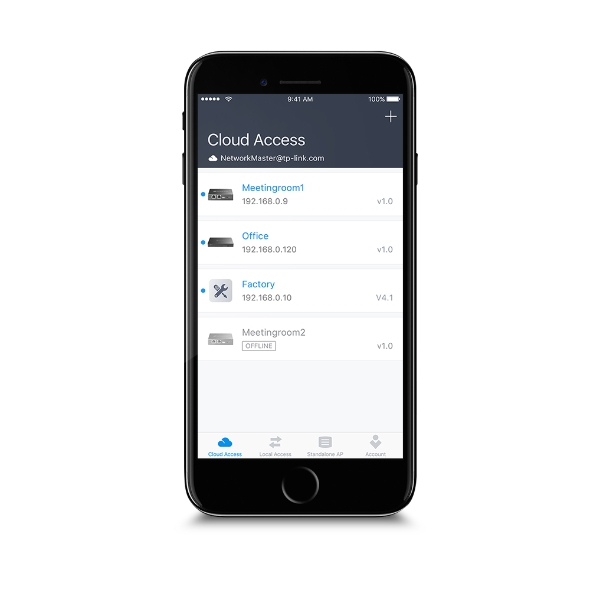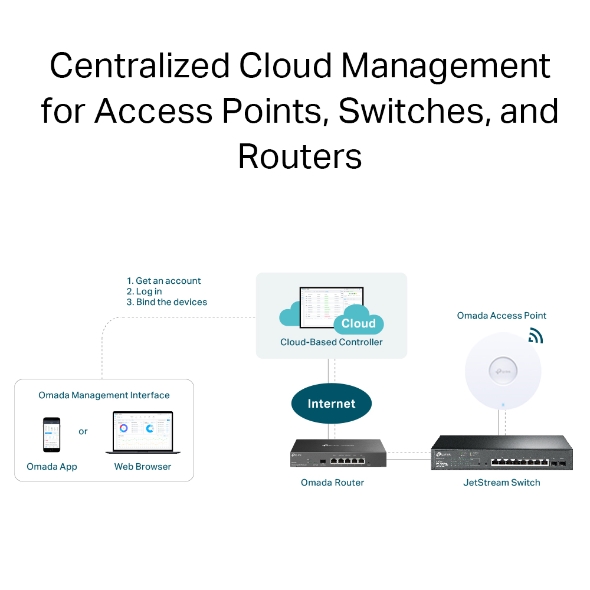 Omada Cloud-Based Controller
Próximamente
Omada Cloud-Based Controller
Completamente en la nube.
Sin inversión adicional de controlador de hardware e instalación en las instalaciones del cliente.
Administración centralizada para puntos de acceso Omada ilimitados, switches JetStream y router SafeStream. *
Acceso a la nube para administrar desde cualquier lugar, en cualquier momento.
Admite aprovisionamiento Zero-Touch (sin intervención) para una implementación eficiente y reduce el costo general de implementación, operación y mantenimiento.
App Omada para una gestión conveniente.
El panel de control fácil de usar hace que sea sencillo ver el estado de la red en tiempo real y verificar el uso de la red y la distribución del tráfico.
Controlador en la Nube
Gestión centralizada en la nube para puntos de acceso, switches y routers
Gestión centralizada para puntos de acceso, switches y routers
El controlador basado en la nube de Omada, que existe completamente en la nube para la plataforma de redes definidas por software (SDN) de Omada, proporciona una gestión en la nube 100% centralizada de puntos de acceso, switches y routers, todo controlado desde una única interfaz. No se requiere inversión e instalación adicional del controlador de hardware en las instalaciones del cliente.
Completamente en la nube

Escala de gestión centralizada ilimitada*

Sin inversión de controlador de hardware adicional

Sin instalación en las instalaciones del cliente
1. Obtener una cuenta
2. Iniciar sesión
3. Unir los dispositivos
Interfaz de gestión Omada
App Omada
o
Navegador Web
Controlador en la nube
Nube
Internet
Router SafeStream
Switch JetStream
Punto de acceso Omada
Nube con mayor eficiencia: aprovisionamiento sin intervención
La implementación sin intervención de Omada permite la implementación remota y la configuración de redes de múltiples sitios, por lo que no es necesario enviar un ingeniero para la configuración en el sitio. Omada Cloud garantiza una implementación eficiente a un costo menor.
Paso 1
Conectar en el sitio los dispositivos Omada Powered a internet
Paso 2
Adicionar los dispositivos a través del panel de control de Omada Cloud
Paso 3
Los dispositivos obtienen automáticamente el archivo de configuración de la nube
Paso 4
Disfruta del aprovisionamiento 100% remoto y la administración en la nube
Nube con mayor seguridad: protección de la privacidad del usuario
TP-Link Omada separa los datos de administración de la red de los datos del usuario, sin que el tráfico del usuario pase a través de la nube, para garantizar una mejor protección de la privacidad de los usuarios.
Nuebe
Tráfico de usuario
Datos de gestión
T1 / DSL
Router SafeStream
Switch JetStream
Punto de acceso Omada
24/7
Detección automatizada de fallos
Aislamiento geográfico
Servidores de respaldo
Producto fiables
Alta calidad
Nube con mayor confiabilidad—disponibilidad de SLA
Se garantiza una mayor fiabilidad con una disponibilidad de SLA del 99.99%, detección de fallos automatizado las 24 horas, los 7 días de la semana, servidores de respaldo aislados geográficamente y calidad de producto fiable. La red funciona incluso si se interrumpe el tráfico de administración.
Monitoreo de red inteligente y fácil
El panel de control fácil de usar hace que sea sencillo ver el estado de la red en tiempo real; verificar el uso de la red y la distribución del tráfico; recibir registros de estado de la red, advertencias de eventos anormales y notificaciones; o incluso rastrear datos clave para obtener mejores resultados comerciales. La topología de red ayuda a los administradores de TI a ver y solucionar problemas rápidamente de las conexiones de un vistazo.
Múltiples factores garantizan un mantenimiento de red más fácil
Ajuste de potencia y selección de canales automática

Proporciona un potente rendimiento inalámbrico mientras reduce en gran medida la interferencia de Wi-Fi al ajustar automáticamente la configuración del canal y los niveles de potencia de transmisión de los AP vecinos en la misma red.

Administración por lotes, administración de sitios múltiples y actualizaciones remotas de firmware

Mejorar el mantenimiento de la red sin necesidad de configurar en el sitio o administrar dispositivos uno por uno..

Programación potente

Mantener la red fácilmente con un procesamiento más ágil y efectivo. No se requieren tareas manuales.

Programación de respaldo

Reinicio programado

Programación de Wi-Fi

Programación PoE

Programación de ajuste de canal
Mayor comodidad con la aplicación Omada
Acceder y configurar de forma remota toda la red con un toque desde el teléfono desde cualquier parte del mundo.
Eligir el controlador adecuado que se adapta al negocio
Controlador Omada en la Nube
Controlador Omada en cliente
Controlador Software
Controlador Hardware
(OC300)
Controlador Hardware
(OC200)
Escala de gestión
Ilimitadp*
<1,500 Dispositivos**
<500 Dispositivos
<100 Dispositivos
Método de uso
Iniciar sesión u usar

Implementar en servidores de intranet
o nubes privadas

Conectado a la intranet
Tipo de red
Red multi sitio media/grande
Red media/grande
Red local pequeña/media
Pricing Model
Device license fee
Gratis
Coste Hardware
Acceso Nuebe
√
√
√
√
Selección automática de canales
√
-
-
-
Provisionamiento sin intervención
√
-
-
-
*Device management capacity of the Omada Cloud-Based Controller v4.x is 1,500 and can be upgraded to v5.0 for unlimited capacity. V5.0 is currently in development. Should you need to manage over 1,500 devices with v4.x, please contact us for further help.
**Actual management scale of the Omada Software Controller depends on the PC/server's hardware specifications.
Hospitality

TP-Link Omada allows hotels to build reliable WiFi networks. Hotel WiFi network solutions including network topology, design, features, installation, and products are introduced.

Full WiFi coverage and wired connections
Flexible guest control
Seamless roaming
Easy Management

Education

Due to its reliable, scalable, and secure network solution, TP-Link has been widely acknowledged by global customers in the Education market ranging from infant schools with a few APs up to colleges and universities with hundreds of APs.

Easy management
High-density WiFi
Full WiFi coverage and wired connections
VPN and security

Retail

A good wireless network cannot only serve the network office system of the mall, but also bring a more comfortable shopping experience to customers. The TP-Link Omada SDN Solution empowers store owners to create a modern and compelling in-store experience for every customer.

Boost online business
Full WiFi coverage
Seamless roaming
High-concurrent clients
Easy management
ADMINISTRACIÓN
Omada App
Si
Centralized Management
• Escala de gestión centralizada ilimitada.
• Administrar de forma centralizada los puntos de acceso Omada, los switches JetStream y los routers SafeStream
Cloud Access
Si
L3 Management
Si
Multi-site Management
Si
Zero-Touch Provisioning
Yes
Management Features
• Detección automática de dispositivos
• Configuración por lotes
• Actualización de firmware por lotes
• Monitoreo inteligente de red
• Advertencias de eventos anormales
• Configuración unificada
• Programa de reinicio
• Configuración del portal cautivo
From United States?
Get products, events and services for your region.