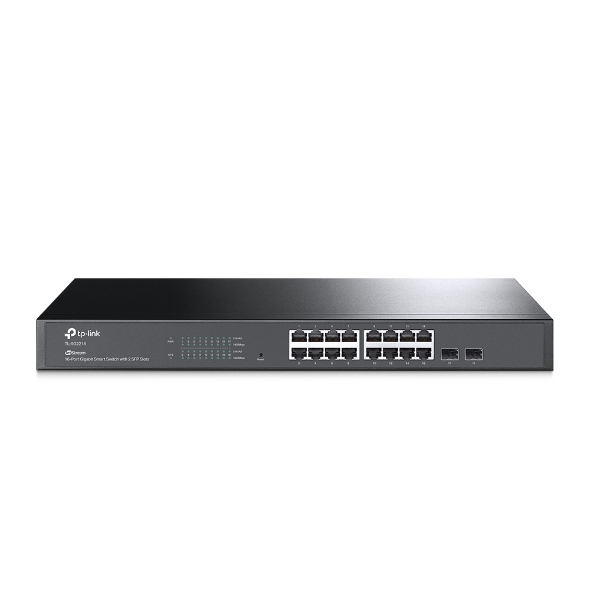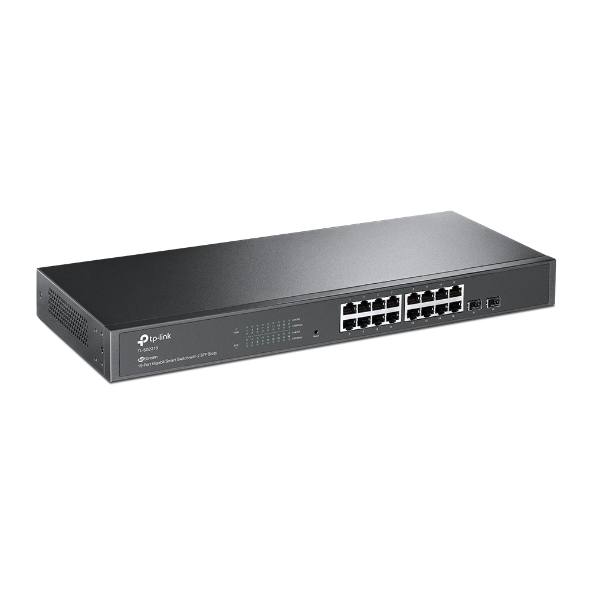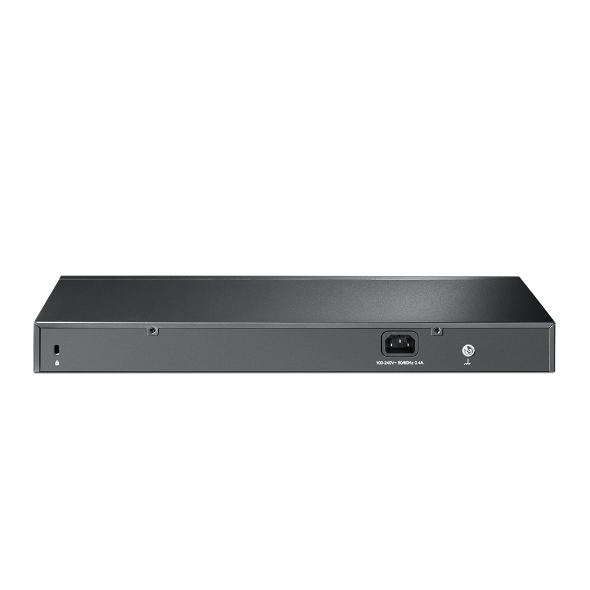 TL-SG2218
JetStream 16-poorts Gigabit Smart-switch met 2 SFP-poorten
Full gigabit-poorten: 16× gigabit RJ45-poorten en 2× gigabit SFP-poorten bieden supersnelle verbindingen.
Geïntegreerd in Omada SDN: Zero-Touch Provisioning (ZTP)*, gecentraliseerd cloudbeheer en slimme bewaking.
Gecentraliseerd beheer: Cloudtoegang en Omada app voor extra gebruiksgemak en eenvoudig beheer.
Statische routering: Statische routering helpt bij het sturen van intern verkeer zodat er efficiënter gebruik wordt gemaakt van netwerkbronnen.
Robuuste beveiligingsstrategieën: IP-MAC-Port Binding, ACL, Port Security, DoS Defend, Storm Control, DHCP Snooping, 802.1X, Radius-authenticatie en meer.
Optimalisatie van stem- en videotoepassingen: L2/L3/L4 QoS en IGMP Snooping.
Afzonderlijk beheer: Web, CLI (Telnet, SSH), SNMP, RMON en Dual Image zorgen voor krachtige beheeropties

Gecentraliseerd beheer
Praktische gigabit-switch
voor een volledig Omada-netwerk
JetStream 16-poorts gigabit smart-switch met 2 SFP-poorten
TL-SG2218
Betrouwbare gigabit-verbindingen

16× gigabit RJ45-poorten en
2× gigabit SFP-poorten

Gecentraliseerd cloudbeheer

Integratie voor SDN-oplossingen
voor een uiterst efficiënt netwerk

Voldoende beveiligingsstrategieën

Investeringsbescherming van de LAN-omgeving

Geavanceerde L2+-functies

L2/L3/L4 QoS, ACL,
statische routering en meer
Software Defined Networking (SDN) met cloudtoegang
Met het SDN-platform (Software Defined Networking) van Omada integreer je netwerkapparaten, zoals access points, switches en gateways, en het biedt 100% gecentraliseerd cloudbeheer. Omada creëert een zeer schaalbaar netwerk dat via één interface kan worden bediend. Zowel bekabelde als draadloze verbindingen zijn mogelijk, dus ideaal voor gebruik in de horeca, het onderwijs, de detailhandel, kantoren enzovoort.
Wifi 6
Plafondmontage
Wandmontage
Buitenmontage
Uniforme beheerinterface
Cloud
Gebruiksvriendelijke cloud- of
lokale controllers

Cloudbeheer voor
meerdere locaties

Zero-Touch
Provisioning (ZTP)*
Geavanceerde L3-functies**
Er worden voldoende L2+- en L3-functies ondersteund zodat je een zeer schaalbaar en robuust netwerk kunt opzetten. Daardoor is dit een betrouwbare en efficiënte oplossing voor ondernemingen, campussen en internetproviders.
Veilig netwerk
De beveiligingsfuncties omvatten IP-MAC-Port-VID Binding, Port Security, Storm Control en DHCP Snooping om het netwerk tegen verschillende soorten aanvallen te beschermen. Een geïntegreerde lijst van veelvoorkomende DoS-aanvallen is beschikbaar, zodat ze gemakkelijker kunnen worden voorkomen. Bovendien beperken Access Control Lists (ACL, L2 tot L4) de toegang tot gevoelige netwerkbronnen door pakketten te weigeren op basis van de herkomst en bestemming van MAC-adressen, IP-adressen, TCP-/UDP-poorten of VLAN-ID. De netwerktoegang van gebruikers kan beheerd worden via 802.1X-verificatie dat werkt op basis van een RADIUS/Tacacs+-server. Hierbij krijgen gebruikers alleen toegang als ze geldige aanmeldgegevens hebben opgegeven.
Beheerfuncties op ondernemingsniveau
Het volledige aanbod aan L2+-functies wordt ondersteund, met inbegrip van 802.1Q VLAN, Port Mirroring, STP/RSTP/MSTP, Link Aggregation Control Protocol en 802.3x Flow Control. Geavanceerde IGMP Snooping zorgt ervoor dat de switch de multicast-stream alleen naar de juiste gebruikers doorstuurt, terwijl IGMP Throttling & Filtering elke gebruiker tot een bepaald poortniveau beperkt om ongeoorloofde toegang tot multicasting te voorkomen. Statische routering is een eenvoudige manier om het netwerk te segmenteren en intern verkeer via de switch te leiden voor een verbeterde efficiëntie.
Geavanceerde QoS
Er kan prioriteit worden gegeven aan spraak- en videotoepassingen op basis van IP-adres, MAC-adres, TCP-poortnummer, UDP-poortnummer etc. Met behulp van QoS (Quality of Service) verlopen spraak- en videotoepassingen vloeiend, zelfs als er weinig bandbreedte beschikbaar is.
ISP-functies**
sFlow, QinQ, L2PT PPPoE ID Insertion en IGMP-verificatie zijn beschikbaar. Deze functies zijn ontwikkeld met het oog op dienstverleners. 802.3ah OAM en Device Link Detection Protocol (DLDP) bieden een eenvoudige manier om ethernetkoppelingen te bewaken en problemen op te lossen.
IPv6-ondersteuning
Verschillende IPv6-functies worden ondersteund, zoals IPv4/IPv6 Dual Stacking, MLD Snooping, IPv6 ACL, DHCPv6 Snooping, IPv6 Interface, Path Maximum Transmission Unit (PMTU) Discovery en IPv6 Neighbor Discovery, zodat het netwerk klaar is voor het Next Generation Network (NGN) zonder dat je netwerkapparatuur hoeft te vervangen.
ISP Citynet

TP-Link Offered Citynet Reliable and High-Speed Data Transfer for Network Service

ISP Citynet

TP-Link Offered Citynet Reliable and High-Speed Data Transfer for Network Service

"I would like to emphasize that of the large number of devices deployed, not one of them has suffered any type of physical failure. There was a point at which the price of TP-Link's Jetstream series was something we no longer considered important since they're so reliable. We stopped looking at other manufacturers because we were so satisfied with the products we purchased." —Skynet
Functionaliteit van de Hardware
Interface
• 16× 10/100/1000 Mbps RJ45-poorten
• 2× gigabit SFP-sleuven
Ventilator Aantal
Zonder ventlator
Uitgangsvermogen
100 - 240 V AC~50/60 Hz
Afmetingen ( B x D x H )
440 × 180 × 44 mm
Montage
Rackbevestiging
Max Power Consumption
12,3 W (220 V/50 Hz)
Max Heat Dissipation
41,97 BTU/uur
Prestatie
Schakelvermogen
36 Gbps
Packet Forwarding Tarief
26,8 Mpps
MAC Address Table
8K
Jumbo Frame
9 KB
Functionaliteit van de Software
Kwaliteit van de Dienst (QoS)
• 8 prioriteitswachtrijen
• Prioriteit voor 802.1p CoS/DSCP
• Planning voor wachtrijen
- SP (Strict Priority)
- WRR (Weighted Round Robin)
- SP+WRR
• Bandbreedtebeheer
- Port/Flow based Rating Limiting
• Betere prestaties
• Acties voor stromen
- Spiegelen (voor ondersteunde interfaces)
- Omleidingen(voor ondersteunde interfaces)
- Frequentielimiet
- QoS Remark
L2 and L2+ Kenmerken
• Link Aggregation
- Static Link Aggregation
- 802.3ad LACP
- Tot 8 aggregatiegroepen en tot 8 poorten per groep
• Spanning Tree Protocol
- 802.1d STP
- 802.1w RSTP
- 802.1s MSTP
- STP-beveiliging: TC Protect, BPDU Filter, BPDU Protect, Root Protect, Loop Protect
• Loopback Detection
- Op basis van poorten
- Op basis van VLAN
• Flow Control
- 802.3x Flow Control
- HOL Blocking Prevention
• Mirroring
- Poortspiegeling
- CPU-spiegeling
- Een-op-een
- Veel-op-een
- Tx/Rx/Both
L2 Multicast
• Ondersteund 511 (IPv4, IPv6) IGMP-groepen
• IGMP Snooping
- IGMP v1/v2/v3 Snooping
- Fast Leave
- IGMP Snooping Querier
- IGMP-verificatie
• IGMP -verificatie
• MVR
• MLD Snooping
- MLD v1/v2 Snooping
- Fast Leave
- MLD Snooping Querier
- Configuratie voor statische groepen
- Beperkte IP Multicast
• Multicast filters: 256 profielen en 16 items per profiel
VLAN
• VLAN-groep
- Max 4K VLAN-groepen
• 802.1q Tagged VLAN
• MAC VLAN: 12 vermeldingen
• Protocol VLAN: protocolsjabloon 16, Protocol VLAN 16
• GVRP
• VLAN VPN (QinQ)
- Poortgebaseerde QinQ
- Selectieve QinQ
• Voice VLAN
LijstToegangsbeheer
• ACL op basis van tijd
• MAC ACL
- MAC-adres van bron
- MAC-adres van doel
- VLAN-id
- Prioriteit gebruiker
- Ethertype
• IP ACL
- IP-adres van bron
- IP-adres van doel
- Fragment
- IP-protocol
- TCP Flag
- TCP/UDP-poort
- DSCP/IP TOS
- Prioriteit gebruiker
• Gecombineerde ACL
• Packet Content ACL
• IPv6 ACL
• Policy
- Spiegelen
- Omleiden
- Frequentielimiet
- QoS Remark
• ACL toepassen op poort/VLAN
Veiligheid
• IP-MAC-Port Binding
- DHCP Snooping
- ARP Inspection
- IPv4 Source Guard
• IPv6-MAC-Port Binding
- DHCPv6 Snooping
- ND Detection
- IPv6 Source Guard
• DoS Defend
• Statische/dynamische poortbeveiliging
- Tot 64 MAC-adressen per poort
• Broadcast/Multicast/Unicast Storm Control
- Besturingsmodus kbps/ratio/pps
• Toegangsbeheer op basis van IP/poort/MAC
• 802.1X
- Verificatie op basis van poort
- Verificatie op basis van MAC-adres
- VLAN-toewijzing
- MAB
- Gast-VLAN
- Ondersteund Radius-verificatie en beheer
• AAA (inclusief TACACS+)
• Port Isolation
• Beveiligd webbeheer via HTTPS met SSLv3/TLS 1.2
• Beheer via Secure Command Line Interface (CLI) met SSHv1/SSHv2
IPv6
• IPv6 Dual IPv4/IPv6
• Multicast Listener Discovery (MLD) Snooping
• IPv6 ACL
• IPv6 Interface
• Statische IPv6-routering
• IPv6 neighbor discovery (ND)
• Detectie voor path maximum transmission unit (MTU)
• Internet Control Message Protocol (ICMP) versie 6
• TCPv6/UDPv6
• IPv6-applicaties
- DHCPv6-client
- Ping6
- Tracert6
- Telnet (v6)
- IPv6 SNMP
- IPv6 SSH
- IPv6 SSL
- Http/Https
- IPv6 TFTP
L3 Kenmerken
• 16 IPv4/IPv6-interfaces
• Statische routering
- 48 statische routes
• Statische ARP
• 316 ARP-vermeldingen
• Proxy ARP
• Gratuitous ARP
• DHCP Server
• DHCP Relay
• DHCP L2 Relay
Management
• Web-gebaseerde gebruikersinterface
• Command Line Interface (CLI) via consolepoort, telnet
• SNMPv1/v2c/v3
- Trap/Inform
- RMON (1, 2, 3, 9 groepen)
• SDM-sjabloom
• DHCP/BOOTP-client
• 802.1ab LLDP/LLDP-MED
• DHCP AutoInstall
• Dual Image, Dual Configuration
• CPU-bewaking
• Kabeldiagnose
• EEE
• Wachtwoordherstel
• SNTP
• Systeemlogboeken
Geavanceerde Functies
• Ondersteund Omada-hardwarecontroller (OC200/OC300), -softwarecontroller, -cloudcontroller
• Automatische detectie van apparaten
• Batchconfiguratie
• Firmware in batches bijwerken
• Slim netwerkbeheer
• Waarschuwingen voor abnormale gebeurtenissen
• Uniforme configuratie
• Herstartschema
• ZTP (Zero-Touch Provisioning)*
Overige
Certificatie
CE, FCC, RoHS
Pakketinhoud
• TL-SG2218 Switch
• Netsnoer
• Beknopte handleiding
• Rackmount kit
• Rubberen voetjes

Omgeving
• Gebruikstemperatuur: 0°C~40℃
• Bewaartemperatuur: -40°C~70℃
• Rel. luchtvochtigheid gebruik: 10%~90%, niet-condenserend
• Rel. luchtvochtigheid bewaren: 5%~90%, niet-condenserend
*Voor de functie Zero-Touch Provisioning is het gebruik van de Omada-cloudcontroller vereist.
**L3- en providerfuncties kunnen alleen in de zelfstandige modus worden geconfigureerd.
From United States?
Get products, events and services for your region.