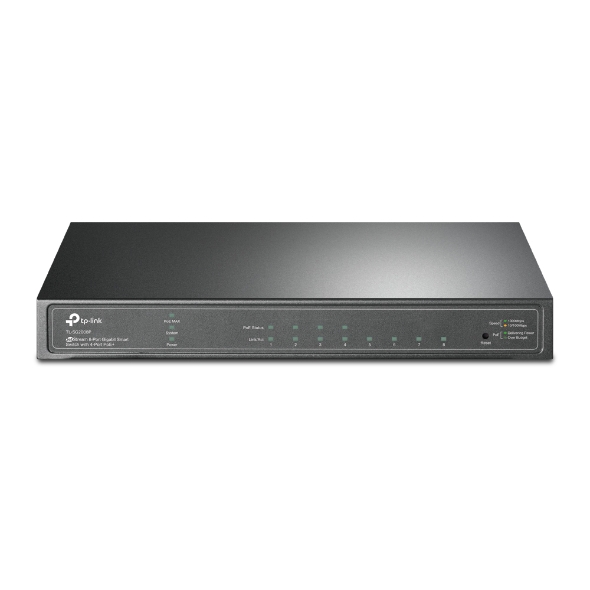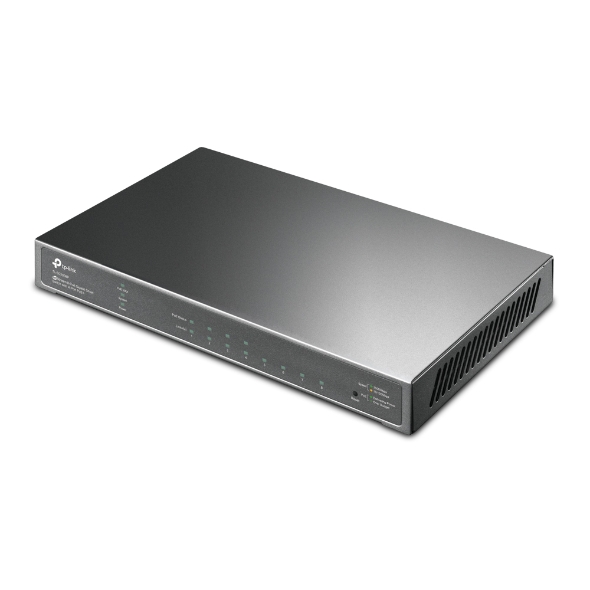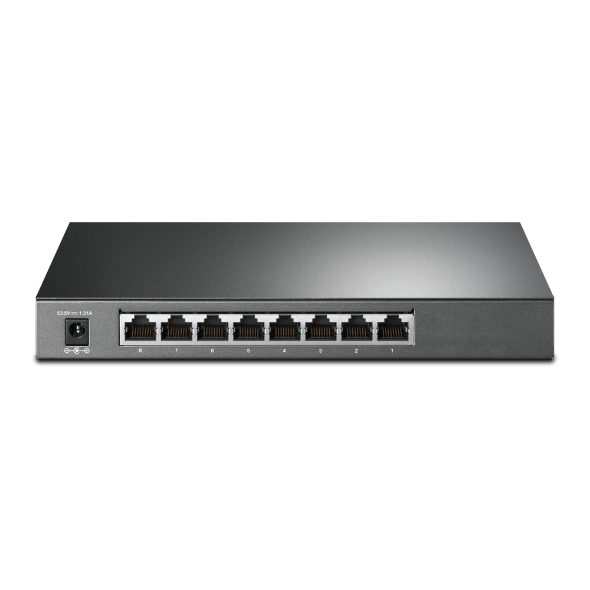 JetStream 8-poort Gigabit Smart-switch met 4 PoE+-poorten
PoE-energietoewijzing van 62 W: 4x 802.3at/af PoE+-poorten met een totaal vermogen van 62 W*.
Full gigabit-poorten: 4× gigabit PoE+-poorten en 4× gigabit-poorten (zonder PoE) bieden supersnelle verbindingen.
Geïntegreerd in Omada SDN: Zero-Touch Provisioning (ZTP)**, gecentraliseerd cloudbeheer en slimme bewaking.
Gecentraliseerd beheer: Cloudtoegang en Omada app voor extra gebruiksgemak en eenvoudig beheer.
Robuuste beveiligingsstrategieën: IP-MAC-Port Binding, ACL, poortbeveiliging, DoS Defend, Storm Control, DHCP-snooping, 802.1X, Radius-authenticatie en meer.
Optimalisatie van stem- en videotoepassingen: L2/L3/L4 QoS en IGMP-snooping.
Lees meer over de PoE-technologie van TP-Link >

Gecentraliseerd beheer
Slimmere switches voor slimmere resultaten
JetStream 8-poorts Gigabit Smart-switch met 4 PoE+-poorten
TL-SG2008P
Gecentraliseerd beheer

Beheer meerder locaties

Omada app

Multicast-optimialisatie

VLAN

Toegangsbeheerlijst

PoE-energietoewijzing van 62 W*

Duurzame metalen behuizing
Meerdere toepassingsscenario's
De TL-SG2008P is volledig compatibel met PoE-apparaten, zoals IP-camera's, access points en VoIp-telefoons. Hij is ook geschikt voor bedrade apparaten zonder PoE, zoals pc's, printers en IPTV.
Bewaking

Compatibel met IP-cameras

Conference calls

Compatibel met VoIP-telefoons

Wifi-dekking

Compatibel met Omada EAP's

Bekabelde verbindingen

Compatibel met pc's en printers
Power over ethernet voor een eenvoudige netwerkimplementatie
De switch beschikt over vier PoE+-poorten die compatibel zijn met 802.3af/at en biedt ondersteuning voor een totale PoE-energietoewijzing van 62W.* De switch kan gebruikt worden met één Ethernetkabel voor gegevens- en stroomoverdracht en biedt een flexibele implementatie van apparaten die PoE ondersteunen, zoals draadloze access points, IP-camera' en VoIP-telefoons. Hierdoor hebben kleine ondernemingen lagere kosten voor de IT-architectuur.
Internet
Router
Netwerkvideorecorder
Monitor
IP-camera
VoIP-telefoon
Access points
Geavanceerde functie voor onverwachte ervaringen
Access Control List (ACL)

ACL dient als een virtuele beheerder zodat alle verbonden apparaten gegevens kunnen ophalen in overeenstemming met de door de gebruiker gedefinieerde netwerkregels. Dit helpt om de benodigde netwerkregels op te stellen.

QoS voor een lagvrije ervaring

Wijs prioriteiten aan het verkeer toe op basis van QoS, zodat spraak- en videotoepassingen die gevoelig zijn voor latentie altijd helder en lag-vrij verlopen.

VLAN voor beveiliging

Gebruik VLAN om apparaten op logische wijzen te groeperen in verschillende fysieke LAN's, de beveiliging van gegevens te verbeteren en congestie te verminderen.
Omada SDN — slimmere cloudoplossing voor zakelijke netwerken
Met het SDN-platform (Software Defined Networking) van Omada integreer je netwerkapparaten, zoals access points, switches en gateways, voor een krachtig zakelijk netwerk met een hogere efficiëntie, beveiliging en betrouwbaarheid.
Omada-hardwarecontroller
Access point (plafondmontage)
Access point (wandmontage)
Access point (buiten)
<
TL-SG2008P
SafeStream-gatewaybeveiliging
Cloudtoegang
Probleemloos en centraal cloudbeheer:
100% gecentraliseerd cloudbeheer voor het hele netwerk, vanaf verschillende locaties – kan altijd en overal volledig via één interface worden bediend.
Switches for Surveillance

For general surveillance, TP-Link has designed a variety of PoE Switches to meet the requirements of most IPCs. Many robust features provide value well beyond basic networking needs, creating a versatile and reliable surveillance network to grow your business.

Long-Range PoE
Auto Camera Recovery
Enhanced Network Security

Hospitality

TP-Link Omada allows hotels to build reliable WiFi networks. Hotel WiFi network solutions including network topology, design, features, installation, and products are introduced.

Full WiFi coverage and wired connections
Flexible guest control
Seamless roaming
Easy Management

Education

Due to its reliable, scalable, and secure network solution, TP-Link has been widely acknowledged by global customers in the Education market ranging from infant schools with a few APs up to colleges and universities with hundreds of APs.

Easy management
High-density WiFi
Full WiFi coverage and wired connections
VPN and security
Functionaliteit van de Hardware
Standaarden en protocollen
IEEE 802.3i, IEEE 802.3u, IEEE 802.3ab, IEEE 802.3ad, IEEE 802.3af, IEEE 802.3at, IEEE 802.3x, IEEE 802.1d, IEEE 802.1s, IEEE 802.1w, IEEE 802.1q, IEEE 802.1p, IEEE 802.1x
Interface
• 8× 10/100/1000 Mbps RJ45-poorten (poorten 1–4 ondersteunen 802.3at/af PoE+)
• Auto-Negotiation/Auto MDI/MDIX
Netwerkmedia
• 10BASE-T: UTP-kabel categorie 3, 4, 5 (maximaal 100 m)
• 100BASE-TX/1000Base-T: UTP-kabel categorie 5, 5e of hoger (maximaal 100 m)
Ventilator Aantal
Ventilatorloos
Uitgangsvermogen
• Externe voedingsadapter (uitgang: 53,5 V DC/ 1,31 A)
Energieverbruik
• 7,9 W (220 V/50 Hz) (geen apparaat verbonden)
• 79,2 W (220 V/50 Hz) (verbonden met 62W-apparaat)

PoE Ports (RJ45)
• Standaard: compatibel met 802.3af/at
• PoE-poorten: 4 poorten
• Voeding: 62 W*
Afmetingen ( B x D x H )
209 x 126 x 26 mm
Prestatie
Bandbreedte/Backplane
16 Gbps
MAC Address Table
8k
Packet Buffer Geheugen
4,1 Mbit
Jumbo Frame
9 KB
Functionaliteit van de Software
Kwaliteit van de Dienst (QoS)
• 802.1p CoS/DSCP-prioriteit
• 8 prioriteitwachtrijen
• Planningsmodus voor prioriteit
- SP (Strict Priority)
- WRR (Weighted Round Robin)
• Wachtrijconfiguratie
• Bandbreedtebeheer
- Snelheidslimiet op basis van poorten/stroom
• Soepelere prestaties
• Storm Control
- Meerdere beheermodi (kbps/ratio)
- Beheer voor broadcast/multicast/unknown-unicast
L2 and L2+ Kenmerken
• DHCP-relay
- DHCP VLAN-relay
• DHCP L2-relay
• Link Aggregation
- Statische Link Aggregation
- 802.3ad LACP
- Tot 8 aggregatiegroepen en tot 8 poorten per groep
• Spanning Tree Protocol
- 802.1D STP
- 802.1w RSTP
- 802.1s MSTP
- STP Security: TC Protect, BPDU Filter/Protect,
Root Protect
• Loopback Detection
• Datatransportbesturing
- 802.3x-datatransportbesturing
• Spiegeling
- Poortspiegeling
- CPU-spiegeling
- Een-op-een
- Veel-op-een
- Stroomgebaseerd
- Inkomend verkeer/uitgaand verkeer/beide
• Device Link Detect Protocol (DLDP)
• 802.1ab LLDP/ LLDP-MED
L2 Multicast
• 511 IPv4, IPv6 shared multicast groups
• IGMP-snooping
- IGMP v1/v2/v3-snooping
- Fast Leave
- IGMP Snooping Querier
- Static Group Config
• Multicast VLAN Registration (MVR)
• Multicast Filtering
• MLD Snooping
- MLD v1/v2 Snooping
- Fast Leave
- MLD Snooping Querier
- Configuratie statische groepen
• Beperkte IP Multicast (256 profielen en 16 vermeldingen per profiel)
IPv6 Support
• IPv6 Dual IPv4/IPv6
• Multicast Listener Discovery (MLD) Snooping
• IPv6 neighbor discovery (ND)
• Path maximum transmission unit (MTU) discovery
• Internet Control Message Protocol (ICMP)
versie 6
• TCPv6/UDPv6
• IPv6-applicaties
- DHCPv6-client
- Ping6
- Tracert6
- Telnet (v6)
- IPv6 SNMP
- IPv6 SSH
- IPv6 SSL
- Http/Https
- IPv6 TFTP
VLAN
• VLAN-groep
- Maximaal 4K VLAN-groepen
• 802.1Q tag VLAN
• MAC VLAN
• Protocol VLAN
• GVRP
• Voice VLAN
LijstToegangsbeheer
• Ondersteuning voor maximaal 230 vermeldingen
• Tijdsbereik
- Tijdsegment
- Wekelijks tijdsbereik
- Absoluut tijdsbereik
- Vakantie
• Tijdgebaseerde ACL
• MAC ACL
- Bron-MAC
- Doel-MAC
- VLAN-id
- Gebruikersprioriteit
- Ethertype
• IP ACL
- Bron-IP
- Doel-IP
- IP-protocol
- TCP-vlag
- TCP/UDP-bronpoort
- TCP/UDP-doelpoort
- DSCP/IP TOS
• IPv6 ACL
• Gecombineerde ACL
• Regelbewerking
- Toestaan/afwijzen
• Beleidsacties
- Spiegelen
- Snelheidslimiet
- Omleiden
- QoS Remark
• Binding ACL-regels
- Poortbinding
- VLAN-binding
• Acties voor stromen
- Spiegelen (naar ondersteunde interface)
- Omleiden (naar ondersteunde interface)
- Snelheidslimiet
- QoS Remark
Veiligheid
• AAA
• 802.1X
- Verificatie op basis van poorten
- Verificatie op basis van MAC (host)
- Verificatiemethoden omvatten PAP/EAP-MD5
- MAB
- Gast-VLAN
- Ondersteunt Radius-verificatie en
aansprakelijkheid
• IP/IPv6-MAC Binding
- 512 bindingen
- DHCP-snooping
- DHCPv6-snooping
- ARP-inspectie
- ND-detectie
• IP Source Guard
- 253 vermeldingen
- Source IP+Source MAC
• IPv6 Source Guard
- 183 vermeldingen
- Source IPv6 Address+Source MAC
• DoS Defend
• Statische/dynamische/permanente poortbeveiliging
- Tot 64 MAC-adressen per poort
• Broadcast/Multicast/Unicast Storm Control
- Beheermodus voor kbps/ratio
• Poortisolatie
• Veilig webbeheer via HTTPS met
SSLv3/TLS 1.2
• Secure Command Line Interface-beheer (CLI)
met SSHv1/SSHv2
• Toegangsbeheer op basis van IP/poort/MAC
MIBs
• MIB II (RFC1213)
• Bridge MIB (RFC1493)
• P/Q-Bridge MIB (RFC2674)
• Radius Accounting Client MIB (RFC2620)
• Radius Authentication Client MIB (RFC2618)
• Remote Ping, Traceroute MIB (RFC2925)
• Ondersteunt privé MIB's van TP-Link
• RMON MIB (RFC1757, rmon 1, 2, 3, 9)
Beheer
Omada App
Ja
Centralized Management
• Omada-cloudcontroller
• Omada-hardwarecontroller (OC300)
• Omada-hardwarecontroller (OC200)
• Omada-softwarecontroller
Cloud Access
Ja (met behulp van OC300, OC200, Omada-cloudcontroller of Omada-softwarecontroller)
Management Features
• Webgebaseerde gebruikersinterface
• Command Line Interface (CLI) via telnet
• SNMPv1/v2c/v3
• SNMP Trap/Inform
• RMON (1, 2, 3, 9 groepen)
• SDM-sjabloon
• DHCP/BOOTP-client
• Dual Image, Dual Configuration
• CPU-bewaking
• Kabeldiagnoses
• EEE
• SNTP
• Systeemlogboeken
Overige
Certificatie
CE, FCC, RoHS
Pakketinhoud
• TL-SG2008P
• Voedingsadapter
• Installatiegids
• Rubberen voetjes
Systeemvereisten
Microsoft® Windows® 98SE, NT, 2000, XP, Vista™ of Windows 7/8/10, MAC® OS, NetWare®, UNIX® of Linux.
Omgeving
Gebruikstemperatuur: 0°C~40℃
Bewaartemperatuur: -40°C~70℃
Rel. luchtvochtigheid gebruik: 10%~90%, niet-condenserend
Rel. luchtvochtigheid bewaren: 5%~90%, niet-condenserend
*Berekeningen van de PoE-energietoewijzing zijn gebaseerd op laboratoriumtests. De werkelijke PoE-energietoewijzing kan niet worden gegarandeerd en kan variëren op basis van beperkingen van de client en omgevingsfactoren.
**Voor de functie Zero-Touch Provisioning is het gebruik van de Omada-cloudcontroller vereist.
From United States?
Get products, events and services for your region.