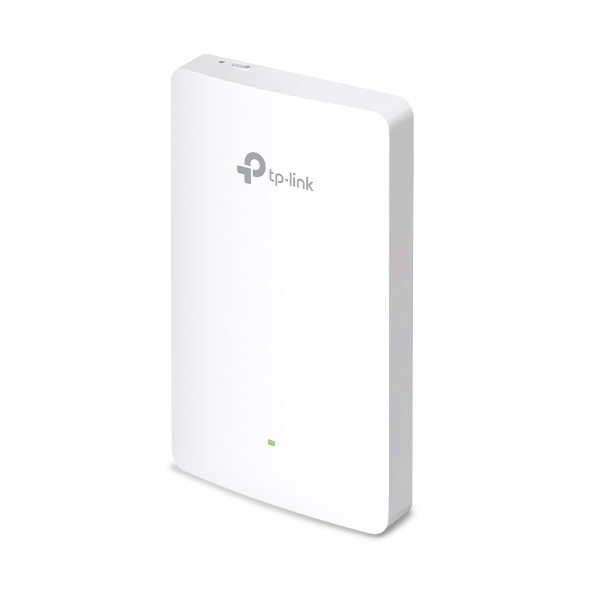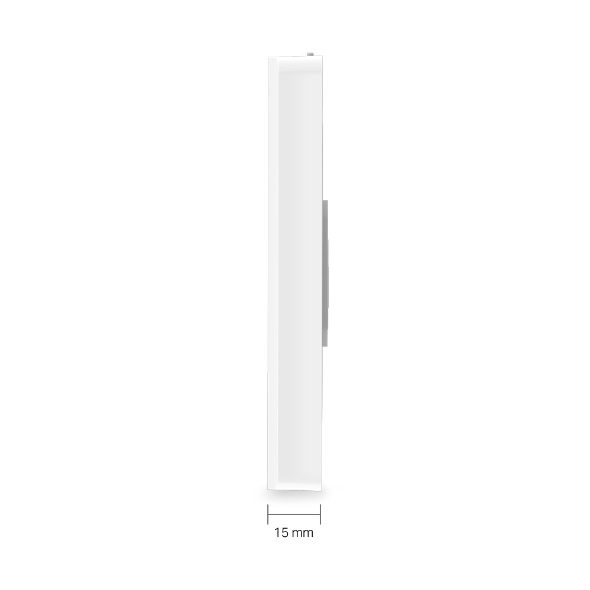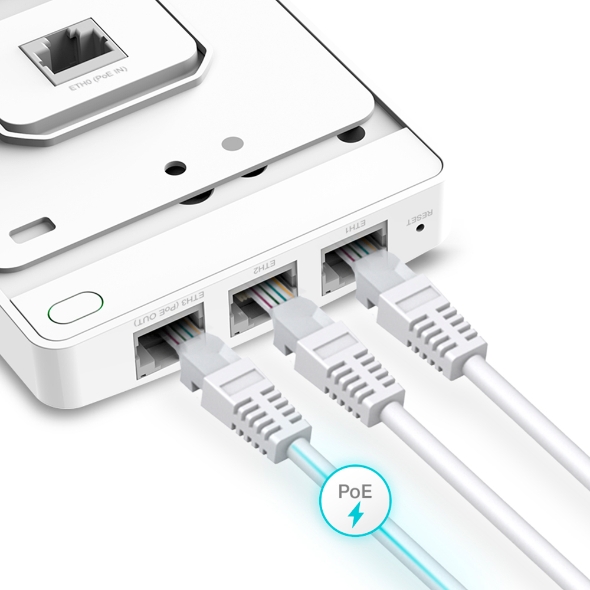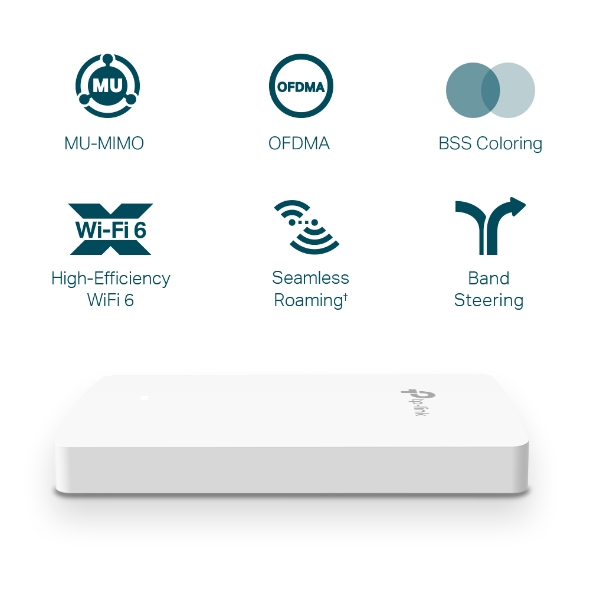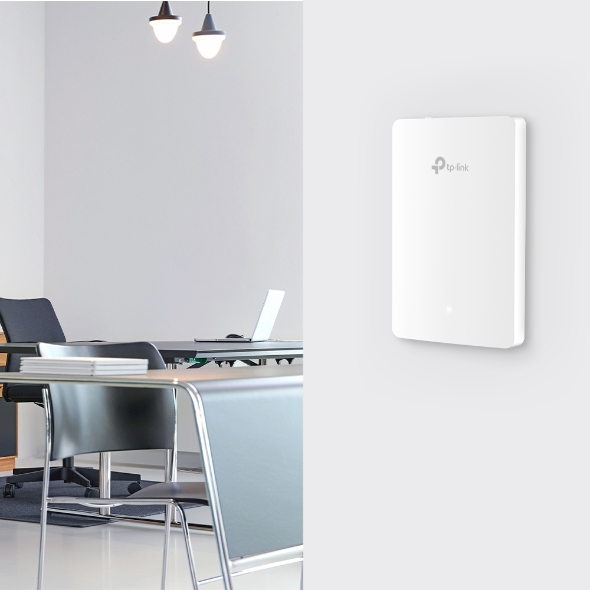 AX1800 Wall Plate WiFi 6 Access Point
Ongelooflijke wifi 6-snelheden: Gelijktijdig 574 Mbps op de 2.4GHz-band en 1201 Mbps op de 5GHz-band, totale wifi-snelheden tot 1775 Mbps.**
Krachtige verbindingen: Voor een betere netwerkefficiëntie en minder latentie.
4 gigabit-poorten: 4 gigabit ethernet-poorten (1× uplink + 3× downlink), met 1 downlink-poort die PoE pass-through ondersteunt en dient als voeding voor een bekabeld apparaat.‡
Gecentraliseerd beheer: Geïntegreerd in Omada SDN voor cloudtoegang en extern beheer.
Beveiligd gastnetwerk: Voorzien van meerdere verificatiemogelijkheden (sms/Facebook/wifi/voucher enz.) en voldoende draadloze beveiligingstechnologieën.
Eenvoudige installatie en PoE-ondersteuning: Eenvoudig te monteren en compatibel met een 86 mm aansluitdoos en EU en VS-standaard aansluitdoos en voorzien van 802.3af/at PoE-ondersteuning.
Nieuwe ervaring met wifi 6
EAP615-Wall
Ongelooflijke wifi 6-snelheden
Hiermee voldoe je aan de eisen voor soepelere online activiteiten en is het mogelijk om met meer apparaten verbinding te maken. De nieuwste 802.11ax-technologieën* zoals 1024 QAM en een lang OFDM-symbool zorgen ervoor dat de EAP de snelheden kan verhogen tot 1775 Mbps**.
1024 QAM

25% meer gecodeerde gegevens tegelijkertijd

Lang OFDM-symbool

11% sneller
2 datastromen voor wifi 5
2 datastromen voor wifi 6
5 GHz
40% sneller
867 Mbps
1201 Mbps
2 datastromen voor wifi 5
2 datastromen voor wifi 6
2.4 GHz
90% sneller
300 Mbps
574 Mbps
Krachtige verbindingen voor
een betere gebruikerservaring
De nieuwste functies en geavanceerde technieken van wifi 6 garanderen een hogere netwerkefficiëntie en lagere latentie*.
MU-MIMO

OFDMA

BSS Coloring

Wifi 6
met hoge efficiëntie

Seamless
Roaming†

Band
Steering
Naadloze integratie met het Omada SDN-platform
Met het SDN-platform (Software Defined Networking) van Omada integreer je netwerkapparaten, zoals access points, switches en routers, voor 100% gecentraliseerd cloudbeheer en een zeer schaalbaar netwerk – allemaal via één interface.
Hardware- of softwarecontrollers

Gecentraliseerd cloudbeheer
Intelligente bewaking
Access point met wifi 6 voor omgevingen met een hoge dichtheid
Access point (plafondmontage)
Access point (wandmontage)
Access point (buiten)
JetStream PoE-switches
Omada-hardwarecontroller
Of
Omada-softwarecontroller
Webbrowser
Omada app
Cloudtoegang
Internet
Omada VPN-router
Niet alleen de snelheid, ook beveiliging is belangrijk
Bescherm uw netwerk en gegevens tegen aanvallen en spionage met WPA3-beveiliging op bedrijfsniveau, verificatie voor portals en aparte gastnetwerken.
Veilig gastnetwerk met maximaal 16 SSID's

Het gastnetwerk biedt een beveiligde toegang voor gasten. Dankzij de verschillende SSID's is flexibel toegangsbeheer mogelijk.

Gastnetwerk met login via Facebook, wifi en sms

Captive portal (inclusief sms, Facebook WiFi, vouchers) en 802.1x-verificatie helpen om geautoriseerde gasten toegang te geven tot het netwerk. Versterk je bedrijfsactiviteiten met een gepersonaliseerde marketingpagina.

WPA3 voor een openbaar netwerk dat zorgeloos kan worden gebruikt

Met geavanceerde beveiliging voor ondernemingen biedt WPA3 een betere beveiliging van gegevens dan onbeveiligde en openbare wifi-hotspots.
Moeiteloze implementatie met PoE-voeding
Het apparaat ondersteunt 802.3af/802.3at Power over Ethernet en daardoor heb je geen extra kabels nodig. U hoeft alleen maar de bestaande ethernetkabels aan te sluiten.
TP-Link PoE-switch
Ethernetkabel
Full gigabit-poorten om het netwerk te overbruggen
Bekabelde apparaten zoals VoIP-telefoons worden van stroom voorzien, zonder dat je extra stroomkabels nodig hebt. De vier datapoorten (1 uplink + 3 downlinks) dragen gegevens over via krachtige gigabit-verbindingen zodat je meerdere apparaten met je gigabit-netwerk kunt verbinden. Eén van de downlinkpoorten biedt PoE pass-through‡ zodat je geen extra voedingspoort nodig hebt.
VoIP-telefoon

Printer

Pc

Smart-tv
Snelle, eenvoudige installatie
Door het ontwerp kun je onze EAP gemakkelijk installeren en ben je geen extra tijd en geld kwijt.
*Geschikt voor drie soorten aansluitdozen
86 mm aansluitdoos voor aan de muur

Standaard EU-aansluitdoos

Standaard VS-aansluitdoos
Functionaliteit van de Hardware
Interface
• Uplink: 1× 10/100/1000 Mbps ethernetpoort
• Downlink: 3× 10/100/1000 Mbps ethernetpoorten (1 poort ondersteunt PoE OUT. Voor de functie PoE OUT is 802.3at PoE+-invoer vereist. Het maximale uitgangsvermogen voor POE pass-through is 13 W (EU-versie) of 12 W (US-versie), gebaseerd op laboratoriumtests.)

Physical Security Lock
Ja
Knop
Reset
Uitgangsvermogen
802.3af/at PoE
Energieverbruik
EU: 10 W (802.3at PoE, PoE Out off)
US: 11,5 W (802.3at PoE, PoE Out off)
Dimensions
143 × 86 × 20 mm
Antenne
2 dual-band antennes
• 2.4 GHz: 2× 3 dBi
• 5 GHz: 2× 4 dBi
Montage
Wandplaatmontage
Draadloze Functies
Standaarden voor Draadloze Netwerken
IEEE 802.11ax/ac/n/g/b/a
Frequentie
2.4 GHz en 5 GHz
Overdrachtssnelheid
• 5 GHz: tot 1201 Mbps
• 2.4 GHz: tot 574 Mbps
Draadloze Functies
• 16 SSID's (tot 8 SSID's op elke band)
• Draadloze radio inschakelen/uitschakelen
• Automatische kanaaltoewijzing
• Besturing signaalsterkte (signaalsterkte wijzigingen via dBm)
• QoS(WMM)
• Seamless Roaming†
• Beamforming
• MU-MIMO
• Rate Limit
• Load Balance
• Airtime Fairness
• Band Steering
• Herstartschema
• Draadloos schema
• RADIUS Accounting
• MAC-verificatie
• Draadloze statistieken
• Statisch IP/Dynamisch IP
Draadloze Beveiliging
• Captive Portal-verificatie
• Toegangsbeheer
• Draadloos Mac-adresfilter
• Draadloze isolatie tussen clients
• VLAN
• Rogue AP-detectie
• 802.1X-ondersteuning
• WPA-Personal/Enterprise, WPA2-Personal/Enterprise, WPA3-Personal/Enterprise
Overdrachtsvermogen
• CE:
< 20 dBm (2.4 GHz, EIRP)
< 23 dBm (5 GHz, EIRP)

• FCC:
< 21 dBm (2.4 GHz)
< 21 dBm (5 GHz)
Beheer
Omada App
Ja
Centralized Management
• Omada-hardwarecontroller (OC300)
• Omada-hardwarecontroller (OC200)
• Omada-softwarecontroller
Cloud Access
Ja (via OC300, OC200, of Omada-softwarecontroller)
Email Notificaties
Ja
LED Aan/Uit Controle
Ja
Management MAC Toegangscontrole
Ja
SNMP
v1, v2c, v3
System Logging Local/Remote Syslog
Lokale/externe syslog
SSH
Ja
Web-based Management
HTTP/HTTPS
L3 Management
Ja
Multi-site Management
Ja
Management VLAN
Ja
Overige
Certificatie
CE, FCC, RoHS
Pakketinhoud
• AX1800 Wall Plate WiFi 6 Access Point EAP615-Wall
• Installatiegids
• Bevestigingssets
Systeemvereisten
Microsoft Windows XP, Vista, Windows 7, Windows 8, Windows 10
Omgeving
Gebruikstemperatuur: 0°C–40℃
Bewaartemperatuur: -40°C–70℃
Rel. luchtvochtigheid gebruik: 10%–90%, niet-condenserend
Rel. luchtvochtigheid bewaren: 5%–90%, niet-condenserend
*Voor het gebruik van wifi 6 (802.11ax) en functies zoals OFDMA en MU-MIMO zijn clientapparaten vereist die de bijbehorende functies ondersteunen.
*Maximale draadloze signaalfrequentie op basis van specificaties van de IEEE 802.11-standaard. Werkelijke draadloze gegevensdoorvoer en draadloos bereik kunnen niet worden gegarandeerd. Deze variëren op basis van netwerkomstandigheden, clientbeperkingen en omgevingsfactoren, zoals bouwmaterialen, obstakels, omvang en dichtheid van het verkeer en locatie van de client.
†Om gebruik te maken van seamless roaming moet mogelijk de firmware worden bijgewerkt. §Voor Omada Mesh en seamless roaming is het gebruik van een Omada SDN-controller vereist. Raadpleeg de gebruikershandleidingen van Omada SDN-controllers voor configuratiemethoden.
‡PoE pass-through is alleen beschikbaar als het apparaat wordt gevoed via 802.3at. Het maximale uitgangsvermogen voor POE pass-through is 13 W (EU-versie) of 12 W (VS-versie), gebaseerd op laboratoriumtests. Werkelijke geleverde voeding naar het apparaat kan variëren.
From United States?
Get products, events and services for your region.