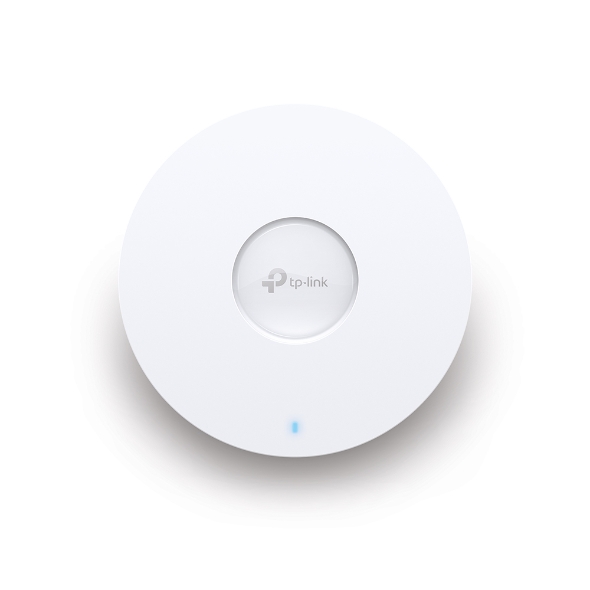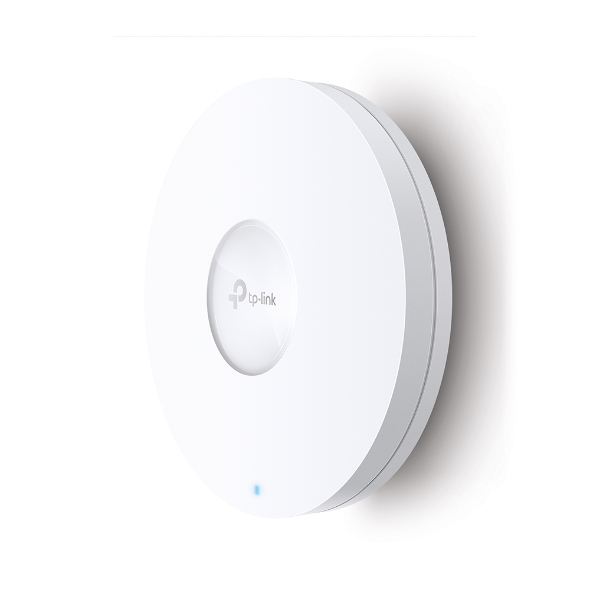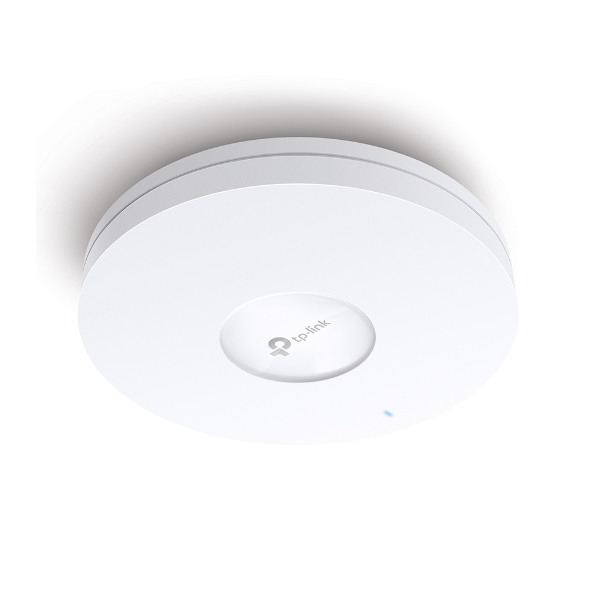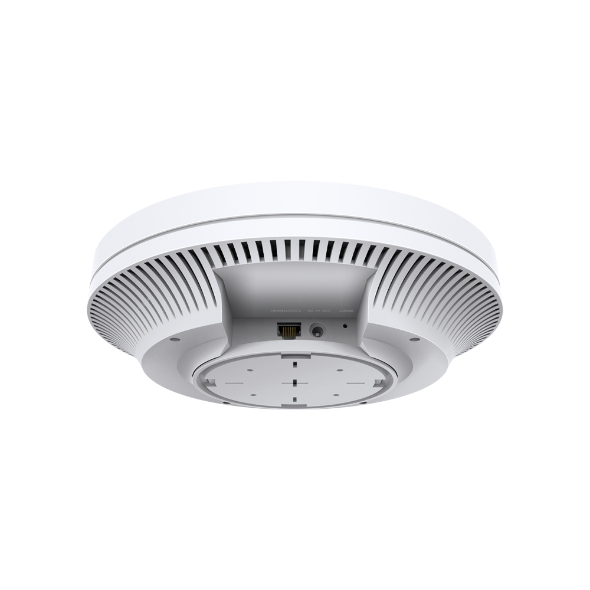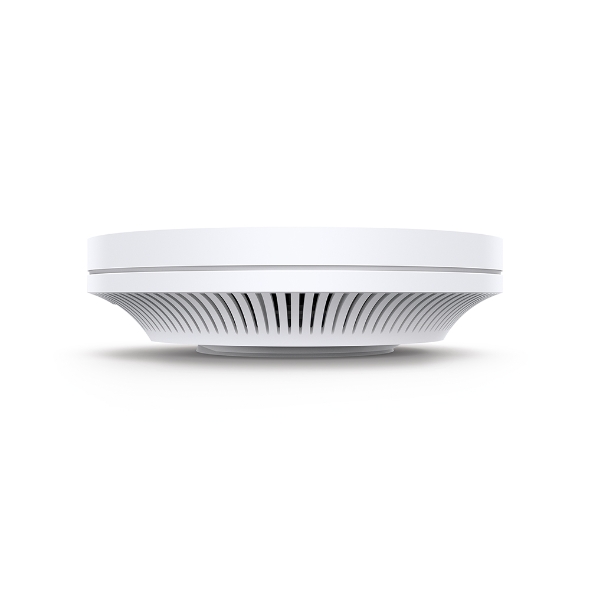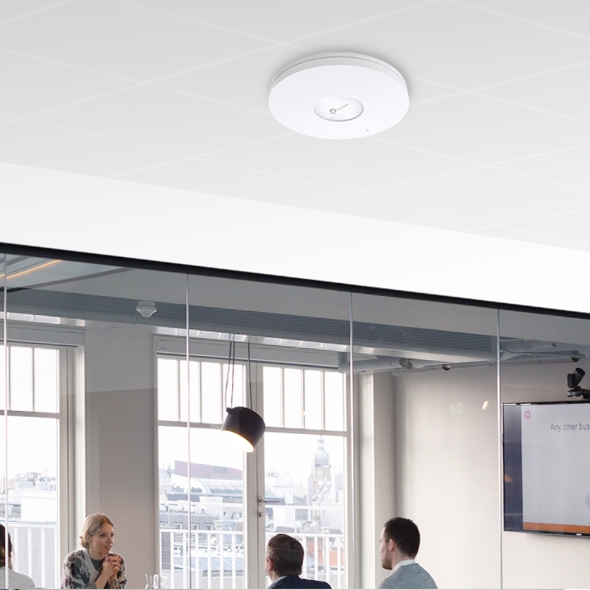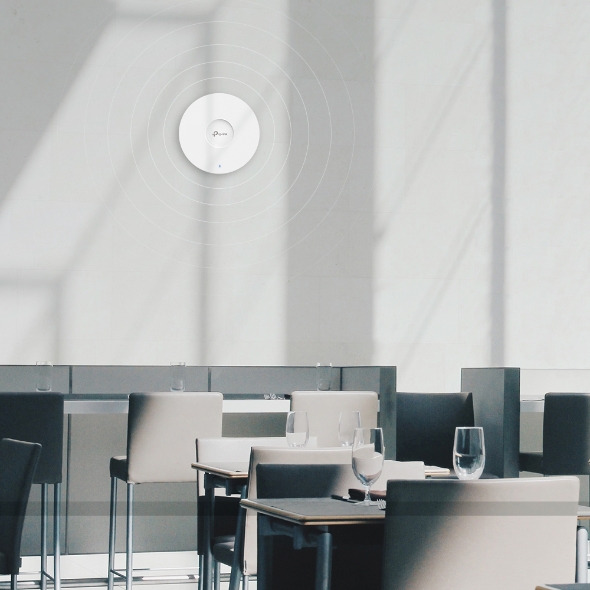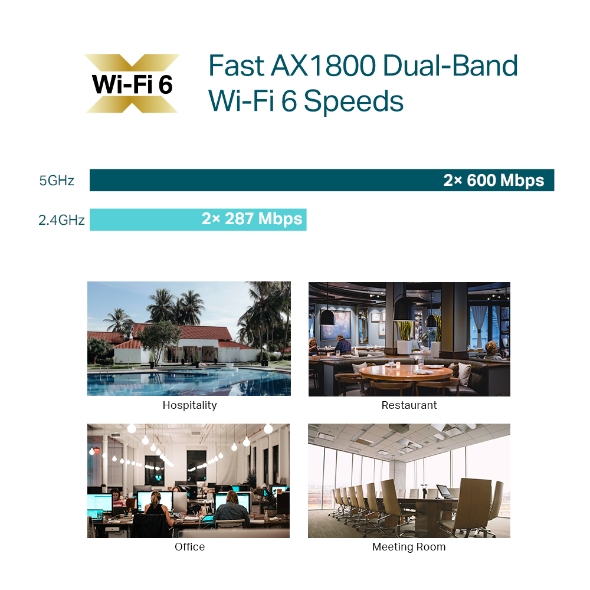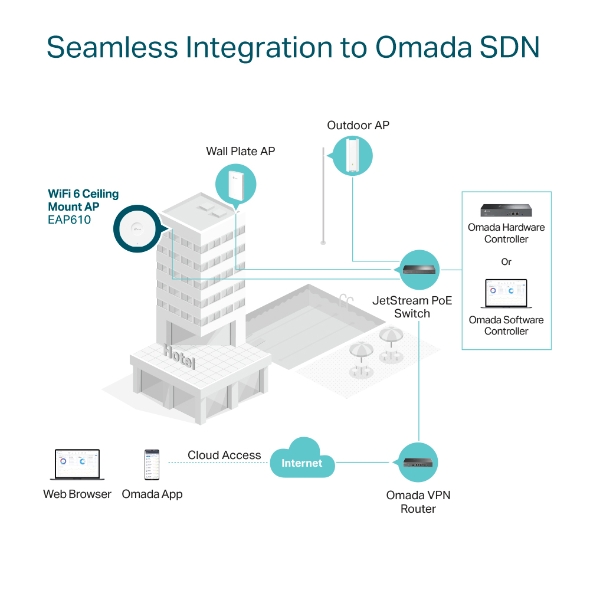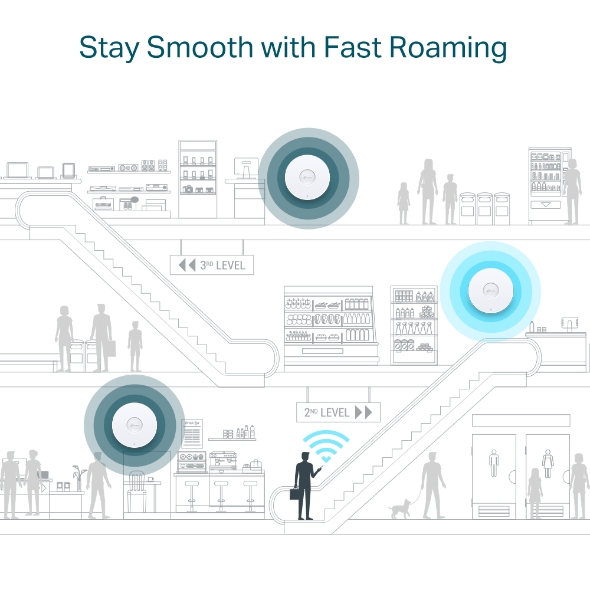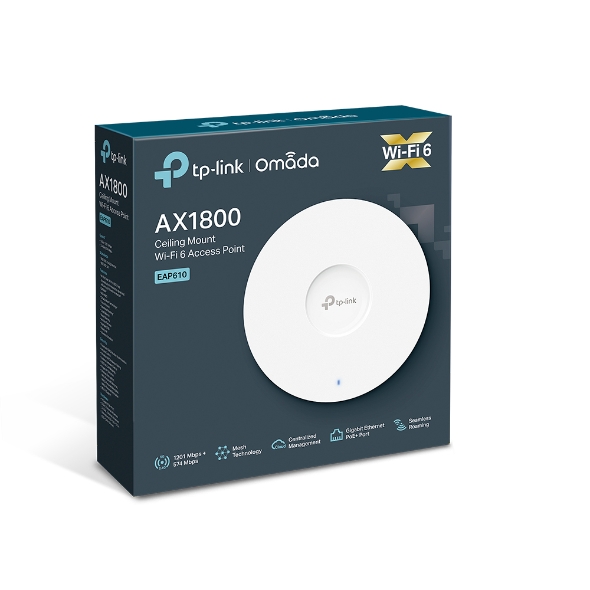 EAP610
AX1800 Draadloos Dual-band Access Point voor plafondmontage
Ultrasnelle wifi 6-snelheden: Gelijktijdig 574 Mbps op de 2.4GHz-band en 1201 Mbps op de 5GHz-band, totale wifi-snelheden tot 1775 Mbps.†
High-efficiency wifi 6: Meer verbonden apparaten met hogere snelheden.
Gecentraliseerd cloudbeheer: Beheer het volledige netwerk lokaal of vanuit de cloud via de online gebruikersinterface of de Omada app.
Seamless Roaming: Zelfs videostreams en spraakoproepen worden niet onderbroken als gebruikers door een ruimte lopen.§
Omada Mesh: Maakt een draadloze verbinding tussen access points mogelijk voor een groter bereik en een flexibele implementatie.§
Voeding via PoE+: Ondersteunt Power over Ethernet (802.3at) en DC-voeding voor flexibele installaties.
Beveiligd gastnetwerk: Voorzien van meerdere verificatiemogelijkheden (sms/Facebook/wifi/voucher enz.) en voldoende draadloze beveiligingstechnologieën.
Wat dit product doet
De EAP610 is een AX1800 wifi 6 access point voor plafondmontage die perfect geschikt is als je het netwerk wil upgraden naar wifi 6, bijvoorbeeld voor gebruik op kantoren, campussen, in de detailhandel en hotels. Wifi 6-technologie zorgt voor hogere snelheden, minder lag en een hogere capaciteit. De geavanceerde functies, zoals Omada Mesh, Seamless roaming, MU-MIMO en Captive Portal, verbeteren de veiligheid, efficiëntie en dekking van het netwerk.
Bovendien is dit product geïntegreerd in het Omada Software Defined Networking-systeem (SDN) en kan daardoor centraal worden beheerd vanuit de cloud met de Omada-hardwarecontroller of -softwarecontroller. De mogelijkheid om het volledige netwerk vanaf één aangesloten pc te bedienen, wijzigen en visualiseren zorgt ervoor dat gecentraliseerd beheer van het zakelijke wifi-netwerk efficiënter en kosteneffectiever is dan ooit tevoren.
Kies voor wifi 6, geef je bedrijf een boost
Wifi 6 zorgt voor hogere snelheden, minder lag en een hogere capaciteit.
Ongelooflijke wifi 6-snelheden
Stap over op wifi 6 met snelheden tot 1775 Mbps (gelijktijdig 574 Mbps op de 2.4GHz-band en 1201 Mbps op de 5GHz-band), tot wel 50% sneller dan wifi 5†. Bovendien werkt iedere toepassing soepeler dankzij de aanzienlijk verbeterde wifi-snelheden‡. Dit is mogelijk door 4 ruimtelijke streams, 024 QAM en langer ODFM-symbooltijden.
Hogere efficiëntie voor meer apparaten
Wifi 6-functies zoals OFDMA en MU-MIMO verwerken meerdere clients binnen overbelaste omgevingen, zoals kantoren, accommodaties en kleine klinieken. Geniet van hogere snelheden op meer apparaten, maar met minder lag.‡
Software Defined Networking (SDN) met cloudtoegang
Met het SDN-platform (Software Defined Networking) van Omada integreer je netwerkapparaten, zoals access points, switches en routers, voor 100% gecentraliseerd cloudbeheer en een zeer schaalbaar netwerk – allemaal via één interface.
• Hardware- of softwarecontroller
• Gecentraliseerd cloudbeheer
• Beheer van meerdere locaties via de cloud
• Intelligente bewaking
Eenvoudige implementatie en betere prestaties dankzij Omada Mesh§
Eenvoudig koppelen, minder bekabeling
De Omada EAP's beschikken over mesh-technologie, waardoor je geen extra kabels hoeft te leggen. Het wifi-signaal wordt draadloos versterkt, ook naar moeilijk te bereiken plaatsen.
Geoptimaliseerde netwerkprestaties
Door een intelligente zelforganisatie wordt het pad tussen de EAP's geoptimaliseerd en zelfherstel zorgt ervoor dat je online blijft, zelfs als het signaal van een AP wordt verstoord.
Altijd een soepele verbinding dankzij Fast Roaming§
Zorgt ervoor dat klanten altijd ononderbroken kunnen streamen, zelfs als ze rondlopen. Clients schakelen namelijk automatisch over naar het access point met het optimale signaal.
Eenvoudig te installeren door het verfijnde industriële ontwerp en PoE-ondersteuning
De EAP610 ondersteunt een voeding via DC en 802.3at PoE+ voor een flexibele installatie. De EAP610 ziet er prachtig uit en is voorzien van een eenvoudig montagesysteem voor bevestiging aan de muur of het plafond. Hij is dus moeiteloos en eenvoudig te gebruiken.
Verbeterde netwerkbeveiliging en efficiëntie
Veilig gastnetwerk met maximaal 16 SSID's
Het gastnetwerk biedt een beveiligde toegang voor gasten. Dankzij de verschillende SSID's is flexibel toegangsbeheer mogelijk.
Captive Portal met aanmelding via Facebook WiFi en sms
Captive portal (inclusief sms, Facebook WiFi, vouchers) en 802.1x-verificatie helpen om geautoriseerde gasten toegang te geven tot het netwerk. Versterk je bedrijfsactiviteiten met een gepersonaliseerde marketingpagina.
WPA3 voor een zorgeloos openbaar netwerk
Met geavanceerde beveiliging voor ondernemingen en Enhanced Open™ biedt WPA3 een betere beveiliging van gegevens dan onbeveiligde en openbare wifi-hotspots.
Band Steering
Dual-band apparaten worden automatisch naar de bredere 5 GHz-band verplaatst voor snellere verbindingen
Load Balancing
Dual-band apparaten worden automatisch naar de bredere 5 GHz-band verplaatst voor snellere verbindingen
Airtime Fairness
Verbetert de gemiddelde netwerkdoorvoer voor zeer drukke omgevingen.
Functionaliteit van de Hardware
Interface
1× gigabit ethernetpoort (RJ-45) (ondersteunt IEEE802.3at PoE)
Knop
Reset
Uitgangsvermogen
• 802.3at PoE
• 12 V / 1 A DC
Energieverbruik
• EU: 12,8 W (voor PoE); 10,8 W (voor DC)
• US: 13,9W (voor PoE); 11,8 W (voor DC)
Afmetingen ( B x D x H )
243 × 243 × 64 mm
Type Antenne
Interne omnidirectionele antenne
• 2.4 GHz: 2× 4 dBi
• 5 GHz: 2× 5 dBi
Montage
Plafond-/wandmontage (kits meegeleverd)
Draadloze Functies
Standaarden voor Draadloze Netwerken
IEEE 802.11ax/ac/n/g/b/a
Frequentie
2.4 GHz en 5 GHz
Overdrachtssnelheid
5 GHz: tot 1201 Mbps
2.4 GHz: tot 574 Mbps

Draadloze Functies
• 1024-QAM
• 4× Longer OFDM Symbol
• OFDMA
• Meerdere SSID's (tot 16 SSID's, 8 per band)
• Draadloze radio in-/uitschakelen
• Automatische kanaaltoewijzing
• Bediening signaalsterkte (signaalsterkte wijzigen via dBm)
• QoS(WMM)
• MU-MIMO
• Seamless Roaming
• Omada Mesh
• Band Steering
• Load Balance
• Airtime Fairness
• Beamforming
• Frequentielimiet
• Herstartschema
• Draadloos schema
• Draadloze statistieken op basis van SSID/AP/Client
Draadloze Beveiliging
• Captive Portal-verificatie
• Toegangsbeheer
• Draadloos Mac-adresfilter
• Wireless Isolation Between Clients
• SSID to VLAN Mapping
• Rogue AP Detection
• 802.1X-ondersteuning
• WPA-Personal/Enterprise, WPA2-Personal/Enterprise, WPA3-Personal/Enterprise
Overdrachtsvermogen
• CE:
< 20 dBm (2.4 GHz, EIRP)
< 23 dBm (5 GHz, EIRP)

• FCC:
< 25 dBm (2.4 GHz)
< 25 dBm (5 GHz)
Beheer
Omada App
Ja
Centralized Management
• Omada-hardwarecontroller (OC300)
• Omada-hardwarecontroller (OC200)
• Omada-softwarecontroller
Cloud Access
Ja (via OC300, OC200 of Omada-softwarecontroller)
Email Notificaties
Ja
LED Aan/Uit Controle
Ja
Management MAC Toegangscontrole
Ja
SNMP
v1, v2c, v3
System Logging Local/Remote Syslog
Lokale/externe syslog
SSH
Ja
Web-based Management
HTTP/HTTPS
L3 Management
Ja
Multi-site Management
Ja
Management VLAN
Ja
Overige
Certificatie
CE, FCC, RoHS
Pakketinhoud
• EAP610
• Voedingsadapter
• Kits voor plafond-/wandmontage
• Installatiegids

Systeemvereisten
Microsoft Windows XP, Vista, Windows 7, Windows 8, Windows 10, Linux
Omgeving
Gebruikstemperatuur: 0°C – 40℃
Bewaartemperatuur: -40°C – 70℃
Rel. luchtvochtigheid gebruik: 10% – 90%, niet-condenserend
Rel. luchtvochtigheid bewaren: 5% – 90%, niet-condenserend
†Maximale draadloze signaalfrequentie op basis van specificaties van de IEEE 802.11-standaard. De werkelijke draadloze gegevensdoorvoer en het draadloos bereik kunnen niet gegarandeerd worden en variëren op basis van 1) omgevingsfactoren, met inbegrip van bouwmaterialen, fysieke objecten en obstakels, 2) netwerkomstandigheden, met inbegrip van lokale interferentie, omvang en dichtheid van het verkeer, locatie van het product, complexiteit van het netwerk en overhead, en 3) clientbeperkingen, met inbegrip van nominaal vermogen, locatie, verbinding, kwaliteit en toestand van de client.
‡Voor het gebruik van wifi 6 (802.11ax) en functies zoals OFDMA, MU-MIMO zijn clients vereist die de bijbehorende functies ondersteunen.
§Voor Omada Mesh en Seamless Roaming is het gebruik van een Omada-controller vereist.
From United States?
Get products, events and services for your region.