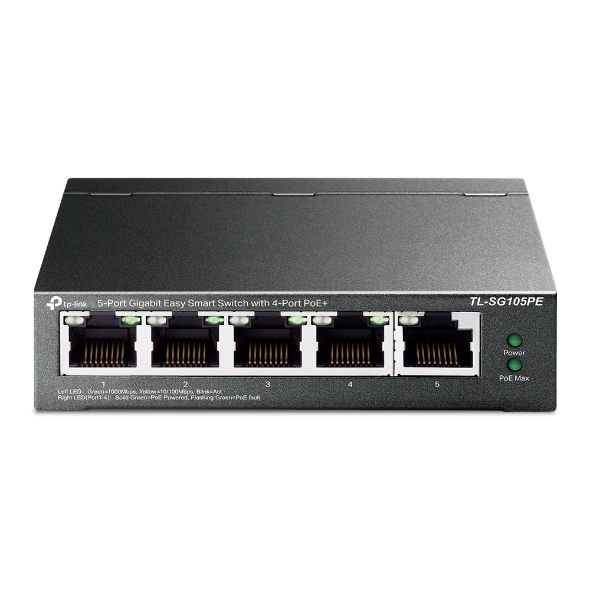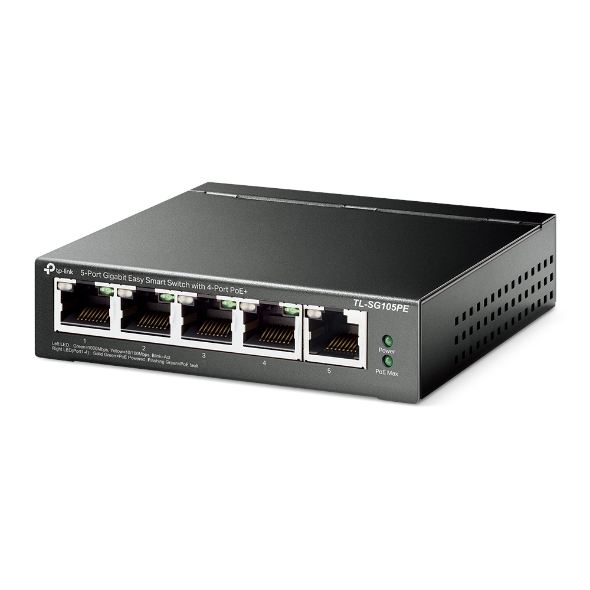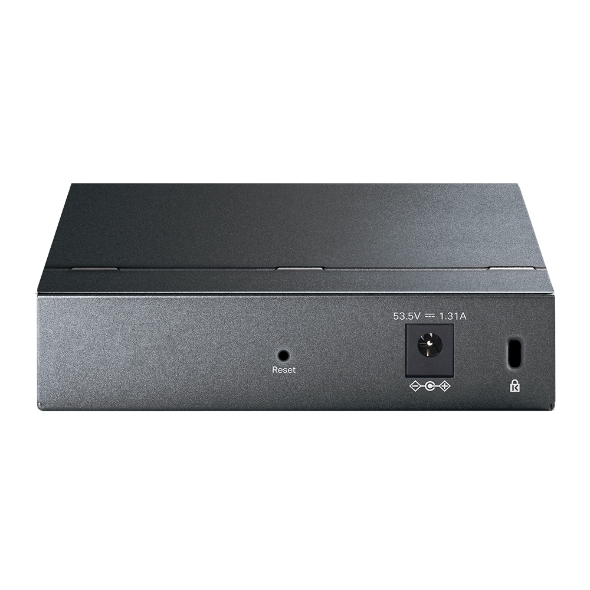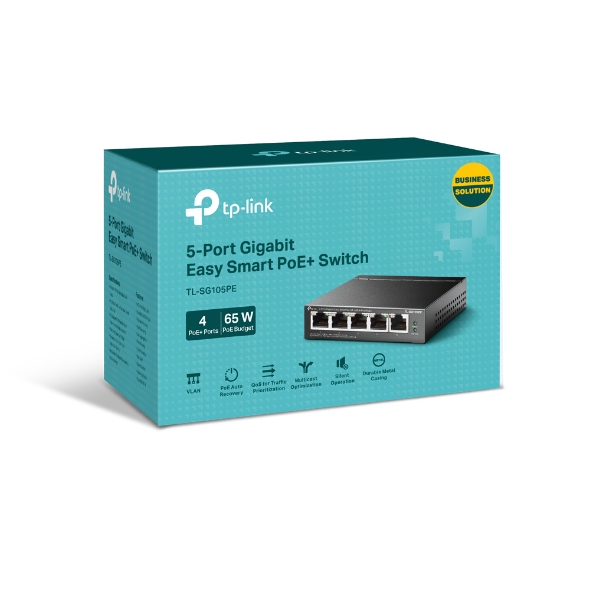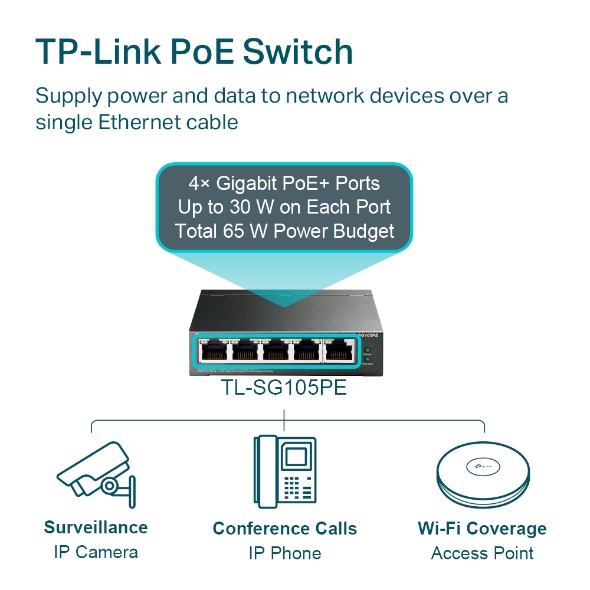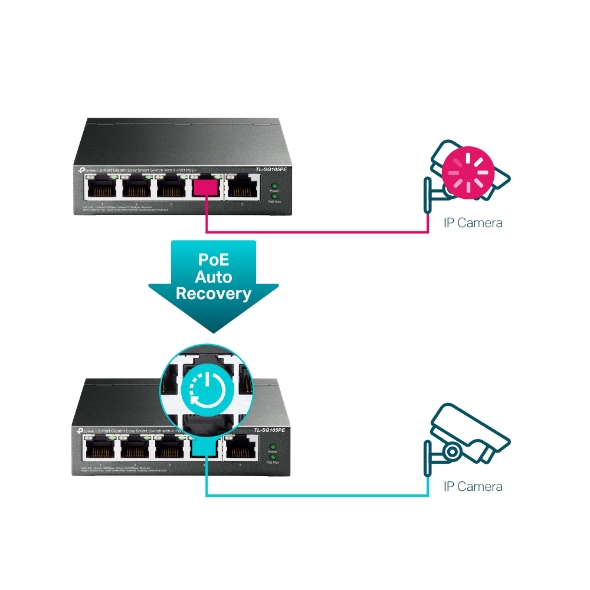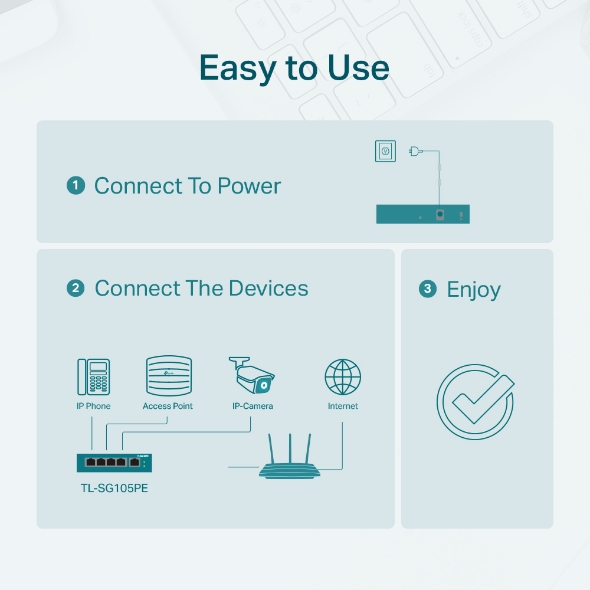 TL-SG105PE
5-poorts Gigabit Easy Smartswitch
met 4 PoE+-poorten
5x 10/100/1000 Mbps RJ45-poorten

4 poorten met 802.3af/at PoE+ met een energietoewijzing van 30 W per poort, data en stroom kunnen worden verstuurd via één kabel

Ondersteunt een PoE-energietoewijzing van 65 W voor elke PoE-poort*

Netwerkbewaking, prioriteit van het verkeer, VLAN-functies en automatisch herstel van PoE

Eenvoudige netwerkinstellingen en plug-and-play

De online gebruikersinterface en het hulpprogramma Easy Smart Configuration vereenvoudigen de configuratie

Ventilatorloos design zorgt voor een lager energieverbruik en een stille werking
Professionele 5-poorts Gigabit Easy Smart-switch met 4 PoE+-poorten
Gebruiksvriendelijke, multifunctionele PoE-switch met krachtige prestaties
TL-SG105PE
-

PoE-energietoewijzing van 65 W*

-

Gigabit-poorten

-

Eenvoudig in gebruik

-

VLAN

-

QoS voor optimalisatie van het verkeer

-

Intelligent beheer

-

Automatisch herstel van PoE

Meerdere toepassingsscenario's

De TL-SG105PE is volledig compatibel met PoE-apparaten, zoals IP-camera's, access points en VoIp-telefoons. Hij is ook geschikt voor bedrade apparaten zonder PoE, zoals pc's, printers en IPTV.

Bewaking

Compatibel met IP-cameras

Conference calls

Compatibel met VoIP-telefoons

Wifi-dekking

Compatibel met Omada EAPs

Bedrade verbindingen

Compatibel met pcs en printers

4 gespecialiseerde PoE+-poorten (65W-energietoewijzing) voor verschillende toepassingen

Compatibel met de 802.3af/at PoE+-standaard en ondersteuning voor een energietoewijzing van 30 W op elke PoE-poort. Door de totale PoE-energietoewijzing* van 65 W voor 4x gigabit PoE+-poorten zijn veel verschillende toepassingen mogelijk, zoals videobewaking voor kantoren, studentenhuizen en kleine bedrijven. Hij is volledig compatibel met IP-camera's, access points, VoIp-telefoons, computers, printers enzovoort.

IP-camera

VoIP-telefoon

Access point

TL-SG105PE

Router

Internet

4× gigabit PoE+-poorten
Tot 30 W op elke poort
Totale energietoewijzing van 65 W*

Plug In

Verbinding maken met apparaten

IP-camera

IP-telefoon

Geavanceerde functie voor onverwachte ervaringen

QoS voor een lagvrije ervaring

Zorgt dat toepassingen die gevoelig zijn voor latentie soepel werken, zoals spraak- en videotoepassingen

IGMP-snooping voor multicast-optimalisatie

Zorgt ervoor dat het multimediaverkeer wordt geoptimaliseerd, zodat het netwerk beter presteert. Dit is met name nuttig voor toepassingen zoals IPTV.

VLAN voor beveiliging

Helpt om het netwerk beter te beveiligen en zorgt voor betere algemene prestaties doordat het netwerk in kleinere groepen wordt verdeeld.

Hulpprogramma voor beheer

Gebruikersinterface

Eenvoudig beheer

De TL-SG105PE biedt bewaking van het netwerk zodat gebruikers het verkeer kunnen bewaken. Met behulp van de online gebruikersinterface en het hulpprogramma voor beheer biedt de TL-SG105PE verschillende handige functies, inclusief bewaking van het netwerk, prioriteit van het verkeer en geavanceerde QoS.

Meerdere functies zorgen voor een stabiele werking

Zelfherstellend systeem met automatisch herstel van PoE

De switch detecteert automatisch apparaten, zoals camera's en access points, en start ze opnieuw op wanneer ze offline gaan of niet reageren. Hierdoor wordt verzekerd dat verbonden PoE-apparaten stabiel blijven werken en handmatige bewaking en herstart niet noodzakelijk is.

Overbelasting

65 W

Intelligente voeding

Intelligent energiebeheer om overbelasting te voorkomen

De voeding van poorten met lagere prioriteit wordt automatisch verlaagd zodat poorten met hoge prioriteit voldoende worden gevoed als de PoE-energietoewijzing van 65 W wordt overschreden. Hierdoor raakt het apparaat niet overbelast.

PoE-apparaten

Apparaten zonder PoE

IP-camera

VoIP-telefoon

Access point

Computer

Printer

NAS

Netwerkvideorecorder

Router

Geweldige compatibiliteit met apparaatdetectie

Ook wordt de benodigde stroom van je PoE-apparaten automatisch gedetecteerd en wordt je apparatuur zonder PoE beschermd tegen schade.

Duurzame metalen behuizing

De onderdelen binnenin de TL-SG105PE worden beschermd door een hoogwaardige metalen behuizing zodat ze lang mee gaan. De TL-SG105PE is uitvoerig getest en levert prestaties waarop je kunt vertrouwen.

-

Compact desktopdesign

-

Wandmontage

-

Ventilatorloos design

Switches for Surveillance

For general surveillance, TP-Link has designed a variety of PoE Switches to meet the requirements of most IPCs. Many robust features provide value well beyond basic networking needs, creating a versatile and reliable surveillance network to grow your business.

Long-Range PoE
Auto Camera Recovery
Enhanced Network Security

Hospitality

TP-Link Omada allows hotels to build reliable WiFi networks. Hotel WiFi network solutions including network topology, design, features, installation, and products are introduced.

Full WiFi coverage and wired connections
Flexible guest control
Seamless roaming
Easy Management

Education

Due to its reliable, scalable, and secure network solution, TP-Link has been widely acknowledged by global customers in the Education market ranging from infant schools with a few APs up to colleges and universities with hundreds of APs.

Easy management
High-density WiFi
Full WiFi coverage and wired connections
VPN and security

East European Comic Con

TP-Link Provides Internet Access for East European Comic Con for the Fourth Year Running

East European Comic Con

TP-Link Provides Internet Access for East European Comic Con for the Fourth Year Running

"TP-Link Romania have provided a high-quality service and the right equipment to meet our requirements in each of the projects we have worked on together. EECC2017 was their toughest challenge so far and they passed with flying colors." —Marius Radu, EECC Gaming Director

Functionaliteit van de Hardware
Standaarden en protocollen
IEEE 802.3i, IEEE 802.3u, IEEE 802.3ab, IEEE 802.3af,
IEEE 802.3x, IEEE 802.1q, IEEE 802.1p, IEEE 802.3at
Interface
5 RJ45-poorten (10/100/1000Mbps)
AUTO Negotiation/AUTO MDI/MDIX

Netwerkmedia
10BASE-T: UTP-kabel categorie 3, 4, 5 (maximaal 100 m)
EIA/TIA-568 100Ω STP (maximaal 100 m)
100BASE-TX: UTP-kabel category 5, 5e (maximaal 100 m)
EIA/TIA-568 100Ω STP (maximaal 100 m)
1000BASE-T: UTP-kabel categorie 5, 5e, 6 of hoger (maximaal 100 m)
EIA/TIA-568 100Ω STP (maximaal 100 m)

Ventilator Aantal
Ventilatorloos
Uitgangsvermogen
Externe voedingsadapter (uitgangsvermogen 53,5 VDC/1,31 A)
PoE Ports (RJ45)
Standaard: compatibel met 802.3 af/at
PoE-poorten: poort 1 - poort 4
PoE-energietoewijzing: 65 W

Afmetingen ( B x D x H )
99,8 × 98 × 25 mm
Max Power Consumption
4,52 W (220 V/50 Hz zonder verbonden apparaat)
75,16 W (220 V/50 Hz met verbonden apparaat van 65 W)
Max Heat Dissipation
15,41 BTU/h (zonder verbonden apparaat)
256,30 BTU/h (met verbonden apparaat van 65 W)

Prestatie
Schakelvermogen
10 Gbps
Packet Forwarding Tarief
7,44 Mpps
MAC Address Table
2 K
Packet Buffer Geheugen
1,5 Mb
Jumbo Frame
16 KB

Functionaliteit van de Software
Kwaliteit van de Dienst (QoS)
Ondersteunt poortgebaseerde/802.1p-/DSCP-prioriteit
Ondersteunt 4 prioriteit-wachtrijen
Frequentielimiet
Storm Control

L2-Functionaliteit
IGMP Snooping V1/V2/V3
Static Link Aggregation
Port Mirroring
Cable Diagnostics
Loop Prevention
PoE Auto Recovery
Extend Mode
VLAN
Ondersteunt tot 32 VLAN's tegelijkertijd (4K VLAN ID's)
MTU/Port/Tag VLAN

Management
Online gebruikersinterface
Gebruiksvriendelijke hulpprogramma voor de configuratie
Transmissie Methode
Opslaan en doorsturen

Overige
Certificatie
FCC, CE, RoHS
Pakketinhoud
TL-SG105PE
Voedingsadapter
Installatiehandleiding
Rubberen voetjes

Systeemvereisten
Microsoft® Windows® voor het uitvoeren van hulpprogramma's
Omgeving
Gebruikstemperatuur: 0°C~40℃
Bewaartemperatuur: -40°C~70℃
Rel. luchtvochtigheid gebruik: 10%~90%, niet-condenserend
Rel. luchtvochtigheid bewaren: 5%~90%, niet-condenserend

*Berekeningen van de PoE-energietoewijzing zijn gebaseerd op laboratoriumtests. De werkelijke PoE-energietoewijzing kan niet worden gegarandeerd en kan variëren op basis van beperkingen van de client en omgevingsfactoren.

From United States?

Get products, events and services for your region.