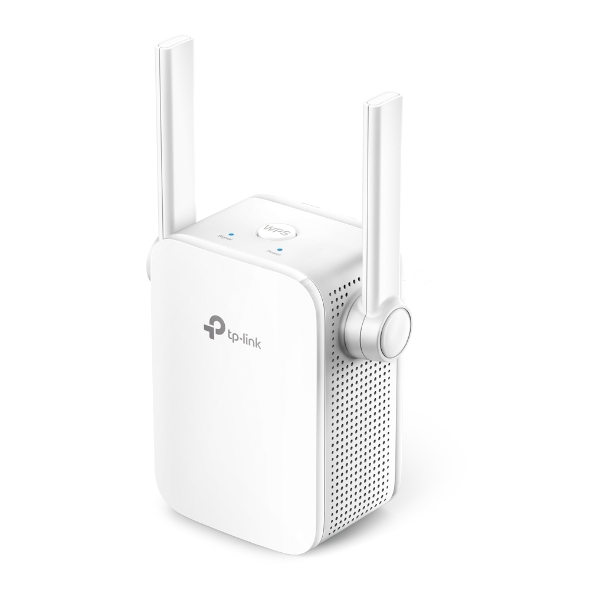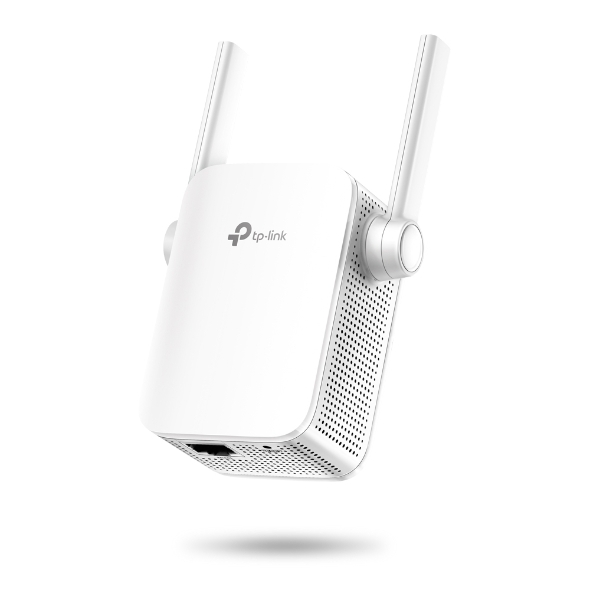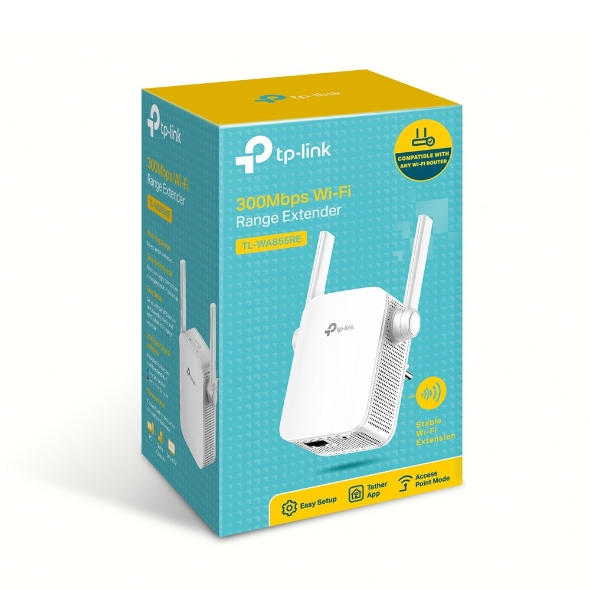 TL-WA855RE
300Mbps Mini Wi-Fi Range Extender
Breid uw netwerk uit voor ultieme prestaties van het draadloze en bedrade netwerk
Externe antennes voor een snellere en betrouwbaardere Wi-Fi
Ondersteunt AP modus voor het creëren van een nieuw Wi-Fi access point
Met één druk op de knop eenvoudige uitbreiding van het draadloze bereik
Beheer het energiegebruik van de range extender voor het besparen van energie.
Dankzij de Tether App heeft u eenvoudig toegang tot de instellingen via uw mobiele apparaat.
Werkt met elke Wi-Fi router of draadloos access point.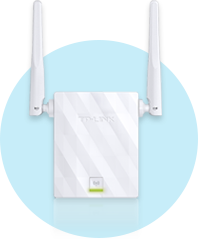 Bereik Voorheen
Vergoot Bereik
Compact. Sterk.
Ondanks het compacte ontwerp kunt u moeilijk om de TL-WA855RE heen vanwege de indrukwekkende manier waarop hij u Wi-Fi toegang verleend op plekken waar u voorheen geen verbinding had met alleen uw router. De TL-WA855RE ondersteunt draadloze snelheden tot 300Mbps en zorgt ervoor dat uw favoriete apparaten zo snel mogelijk blijven werken.
Zo krachtig als je zou verwachten
De twee externe antennes met MIMO technologie maken de TL-WA855RE uniek. MIMO technology verbetert u netwerk drastisch door uw draadloze snelheden te verhogen. De twee externe antennes zorgen voor een stabiel signaal.
Netwerkuitbreiding zonder enige moeite
Simpelweg twee keer drukken en klaar bent u
Druk de WPS knop van uw router in en vervolgens op de Range Extender knop op de TL-WA855RE om eenvoudig van uw uitgebreide Wi-Fi te genieten.
Verbind optimaal
De intelligent LED indicator biedt u een simpele indicatie met kleurcodes, zodat u de perfecte locatie kunt vinden.
Goede verbinding
Te ver van de router vandaan
Wi-Fi zoals je het nodig hebt
TL-WA855RE zorgt voor de Wi-Fi die u nodig heeft met zijn twee keuzemodes.
Wanneer uw router
faalt
De TL-WA855RE werkt als een repeater om
u te redden van een slecht signaal door het signaal
van de router uit te breiden naar voorheen
"dead zones".
Om een nieuw Wi-Fi netwerk te creëren
Nu kunt u de ethernetpoort in uw hotelkamer veranderen in uw persoonlijke
Wi-Fi hotspot.
Functionele Web UI brengt u in controle
Lees meer over de nieuwe Web UI >
Controle over het Wi-Fi Bereik

Pas instellingen aan die van invloed zijn
op het draadloze dekkingsgebied

Toeganscontrole

Beveilig uw netwerk door te controleren
wie hem gebruikt

Energiebeheer

Stel een gewenst tijdschema op voor het
aan/uit zetten van uw netwerk
Eenvoudige monitoring
en controle op afstand
Tether is een intuïtieve app waarmee gebruikers gemakkelijk de status van hun range extender kunnen bekijken, functies kunnen aanpassen en instellingen kunnen veranderen via elke compatibel mobiel apparaat.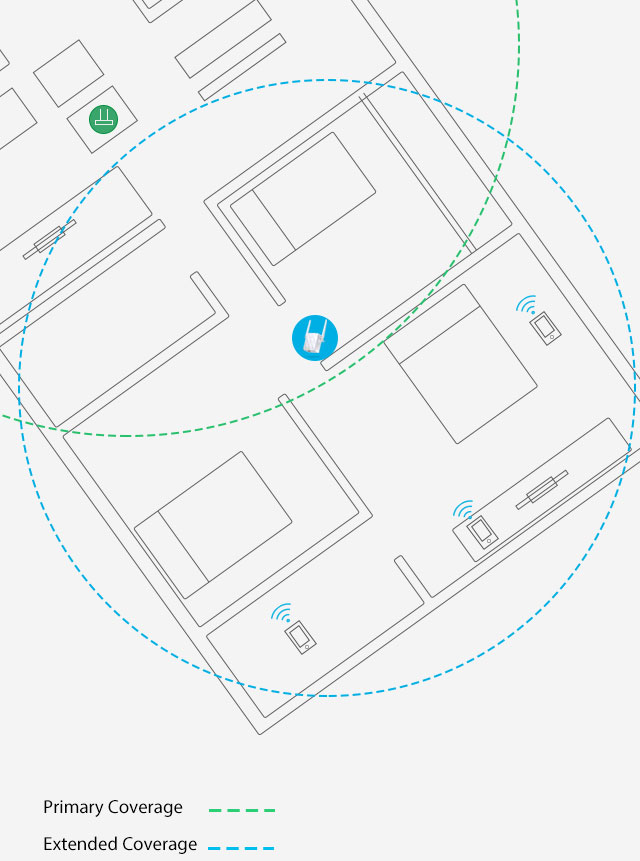 Compact. Strong.
Despite its compact size, it may be hard to ignore the TL-WA855RE due to the truly impressive way that it projects Wi-Fi access into the areas of your home that your standard router simply cannot reach. The TL-WA855RE supports wireless speeds of up to 300Mbps and keeps all of your favorite devices running as fast as possible.

As Powerful As You Expect
The two external antennas with MIMO technology help set the TL-WA855RE apart from the rest. MIMO technology enhances your network by dramatically increasing wireless speeds and the two external antennas ensure that a stable wireless signal reaches you where you need it most.
Effortless Network Expansion
Two Simple Taps and You are Ready to Connect
Just press the WPS button on your router, then press the Range Extender button on TL-WA855RE to begin enjoying simple, expanded Wi-Fi.

Connect with Confidence
The Intelligent LED indicator provides a simple, color-coded indication, allowing you to find the perfect location.
Good connection
Too far away from the router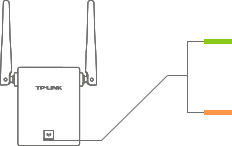 Wi-Fi As You Need
TL-WA855RE brings Wi-Fi as the way you need it with its two selectable Work Modes.

To Create a New Wi-Fi Network
Now you can turn that Ethernet port in your hotel room into your own personal Wi-Fi hotspot.
When Your Router
Fails You
The TL-WA855RE works as a repeater to save you from pour signal by expanding your router's network coverage to the primary "dead zones".
Functional Web UI Puts You in Control
Learn more about the new Web UI > Wi-Fi Coverage Control
Adjust settings that affect your wireless coverage area Access Control
Secure your network by controlling who uses it Power Schedule
Create a timetable to turn the network on/off as you desire
Easy Monitoring
and Remote Control
Tether is an intuitive app that allows users to conveniently monitor the state of your range extender, controlling its functions and altering its settings from any compatible mobile device remotely.
Functionaliteit van de Hardware
Stekkertype
EU
Interface
1 x 10/100M Ethernet Port (RJ45)
Knop
RE (Range Extender) Knop, Resetknop
Energieverbruik
Rond 3W
Afmetingen ( B x D x H )
52 x 34 x 65mm
Antenne
2 *extern
Draadloze Functies
Standaarden voor Draadloze Netwerken
IEEE 802.11n, IEEE 802.11g, IEEE 802.11b
Frequentie
2.4~2.4835GHz
Overdrachtssnelheid
11n: Tot 300Mbps (dynamisch)
11g: Tot 54Mbps (dynamisch)
11b: Tot 11Mbps (dynamisch)
Ontvangstgevoeligheid
270M: <-68dBm@10% PER
130M: <-68dBm@10% PER
108M: <-68dBm@10% PER
54M: <-68dBm@10% PER
11M: <-68dBm@8% PER
6M: <-68dBm@10% PER
1M: <-68dBm@8% PER
Draadloos Zendvermogen
< 20 dBm (EIRP)
Draadloze Modi
Range Extender, AP Modus
Draadloze Functies
Wireless MAC Address Filtering
Domain Login Function
Transmit Power Control
Draadloze Beveiliging
64/128/152-bit WEP
WPA-PSK / WPA2-PSK
Overige
Certificatie
CE, RoHS
Pakketinhoud
300Mbps Wi-Fi Range Extender TL-WA855RE
Installatiegids (quick-start)
Systeemvereisten
Microsoft® Windows® 98SE, NT, 2000, XP, Vista or Windows 7, 8, 8.1, 10, Mac® OS, NetWare®, UNIX® or Linux.
Omgeving
Gebruikstemperatuur: 0°C~40℃
Bewaartemperatuur: -40°C~70℃
Rel. luchtvochtigheid gebruik: 10%~90%, niet-condenserend
Rel. luchtvochtigheid bewaren: 5%~90%, niet-condenserend
From United States?
Get products, events and services for your region.