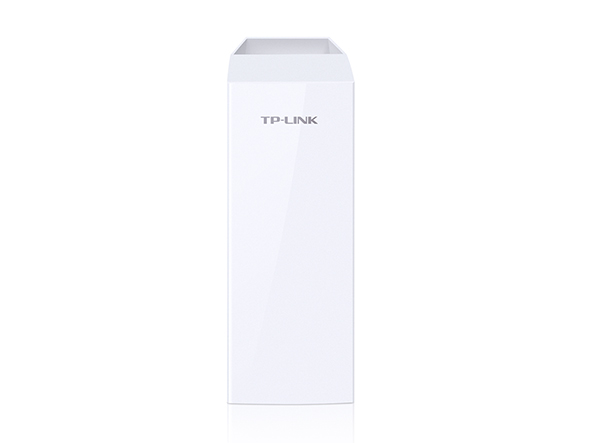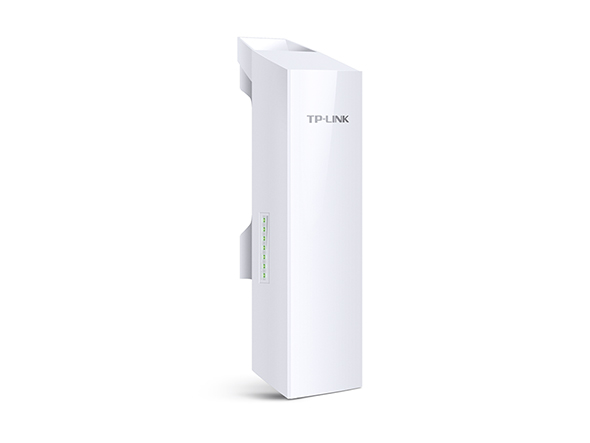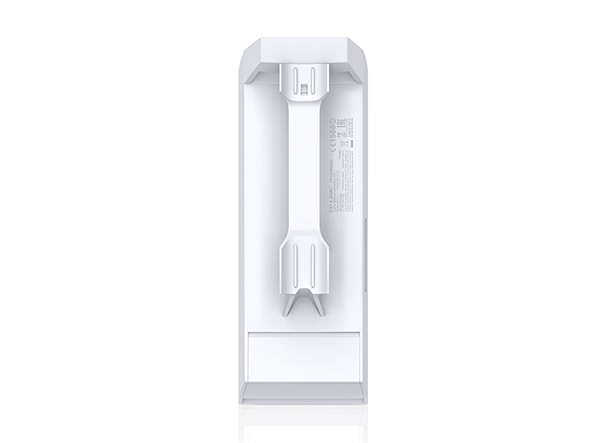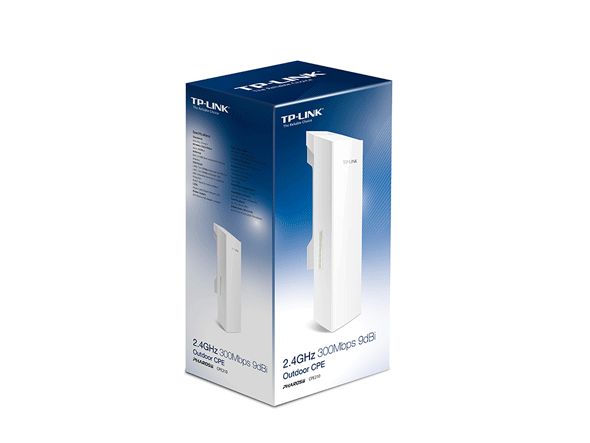 CPE210
2.4Ghz 300Mbps 9dBi CPE voor buiten
Ingebouwde 9dBi 2x2 dual-gepolarizeerde directionele MIMO antenne
Verstelbaar zendvermogen van 0 tot 27dBm/500mw
Systeemlevel optimalisatie voor draadloze transmissie over meer dan 5km lange afstanden
TP-LINK Pharos MAXtream TDMA (Time-Division-Multiple-Access) technologie verbetert productprestaties van doorvoer, capaciteit en latente prestaties, ideaal voor PTMP applicaties
Gecentraliseerd beheersysteem - Pharos controle
AP/ Cliënt / Repeater / AP Router / AP Cliënt Router (WISP) werkingsmodus
Passieve PoE adapter ondersteunt tot 60 meter (200 voet) Power over Ethernet en staat toe om het apparaat op afstand te resetten.
Point-to-Multi-Point Verbindingen
De CPE210, TP-LINK's 2.4GHz 300Mbps 9dBi CPE voor buiten, biedt effectieve oplossingen voor draadloze netwerktoepassingen buitenshuis. Dankzij de gecentraliseerde management toepassingen is hij flexibel en ideaal voor point-to-point, point-to-multipoint en Wi-Fi netwerktoepassingen buitenshuis. Professionele prestaties en een gebruikersvriendelijk ontwerp, maakt de CPE210 de ideale keus voor zowel zakelijke als thuis gebruikers.
Enterprise Hardware
Met Qualcomm Atheros enterprise level chipsets, high gain antennes en materiaal van hoge kwaliteit, speciaal ontworpen behuizing en PoE stroomvoorziening, is de CPE210 speciaal ontworpen voor buitenshuis gebruik en kan hij feilloos functioneren in bijna elk klimaat, met gebruikstemperaturen variërend van -30℃ (-22℉) tot +70 ℃ (158℉).
Qualcomm Atheros enterprise 560MHz CPU
High power Tx en high sensitivity Rx radio front-end ontwerp
Geavanceerd Antenne Systeem
Ingebouwde High Gain Dual-gepolariseerde Antenne
Toegewijde metalen reflectors verzekeren een hoger bereik
en verminderd ruisstoringen
V-Pol Co-polarisatie Patroon
H-Pol Co-polarisatie Patroon
5km+ Draadloze Dataoverdracht
Speciaal ontworpen voor buitenshuis gebruik, ideaal voor lange afstanden draadloze data overdracht over 5km+, in de praktijk getest.
5km+
TP-LINK MAXtream TDMA Technologie
Nu er netwerkschaalvergrotingen zijn en de draadloze concurrentie en botsingen tussen de CPE en basisstations zo enorm
zullen zijn dat de daadwerkelijke doorvoer van het netwerk reduceert, heeft dit een serieuze impact op de ervaring van de eindgebruiker.
Om deze effecten te verzachten maakt de CPE210 gebruik van MAXtream TDMA Technologie.
Pharos Control – Gecentraliseerd Beheersysteem
CPE210 komt eveneens met een gecentraliseerd beheerderssoftware dat gebruikers erbij helpt om gemakkelijk
alle apparaten in hun netwerk van een enkele PC with Pharos Control te beheren. Functies zoals apparaat detectie ,
status monitoring, firmware upgraden en netwerkonderhoud kan beheerd worden door gebruik te maken van Pharos Control.
PharOS
Het gebruikersvriendelijke web-based beheersysteem staat professionals toe om specifieke configuraties te verrichten.
2.4GHz 300Mbps 9dBi CPE voor buiten
CPE210
Ingebouwde 9dBi Dual-gepolariseerde
Directionele Antenne
AP / Client / Repeater / AP Router /
AP Client Router (WISP) operatie modus
6000V Protectie tegen Blikseminslag
Weerbestendige behuizing
15KV ESD Protectie
Passieve PoE Adapter
CPE210
TL-WA7510N
TL-WA7210N
TL-WA5210G

Draadloze Prestaties

Draadloze Snelheden

2.4GHz 300Mbps

5GHz 150Mbps

2.4GHz 150Mbps

2.4GHz 54Mbps

Zendvermogen

27dBm

27dBm

27dBm

27dBm

Antenne

9dBi

15dBi

12dBi

12dBi

MIMO

√

-

-

-

Dekkingsgebied

5km+

5km+

5km+

2km+

Hardware

Processor

560MHz
(Enterprise Level)

400MHz

400MHz

180MHz

Geheugen

64MB DDR2
(Enterprise Level)

32MB DDR

32MB DDR

16MB DDR

Compatibiliteit

802.11b/g/n

802.11a/n

802.11b/g/n

802.11 b/g

Externe Antenne Interface

-

1 * RP-SMA

1 * RP-SMA

1 * RP-SMA

Weerbestendige Behuizing

√(IPX5)

√

√

√

Twee Ethernet Poorten

√

-

-

-

PoE Doorvoer

√

-

-

-

Aardklem

√

√

√

√

Bescherming tegen blikseminslag over
Ethernet Kabel

√

-

-

-

ESD Protectie

15kV

15kV

15kV

15kV

Protectie tegen Blikseminslag

6kV

4kV

4kV

4kV

Stroomvoorziening

24V Passieve PoE
Adapter

12V Power Adapter + Passieve PoE Injector

Software

Werk Modus

AP / Client / Bridge / Repeater / AP Client Router (WISP Client) / AP Router Mode

MAXtream TDMA Modus

√

-

-

-

Kanaal bandbreedte

5/10/20/40MHz

20/40MHz

20/40MHz

20MHz

Zendvermogen Controle

Stepping 1dBm

Stepping 3dBm

Stepping 3dBm

-

Antenne Richting

√

√

√

√

Zendvermogen Monitors

√

-

-

-

Spectrum Analyzer

√

-

-

-

Iperf Speed Test Tool

√

-

-

-

Pharos Control ondersteund
(Centraal Netwerk Beheer Applicatie)

√

-

-

-
Wireless Networking for Elevators

TP-Link Omada offers a wireless solution for elevators: a wireless point-to-point link delivering a throughput of up to 867 Mbps. Wireless coverage extends to the entire shaft to connect surveillance cameras or digital signage directly to your network. Record real-time video to an NVR with virtually no hard wiring required—so there are no cables to wear out.

Easy Installation and Auto-Paring
Stable Connections at High-Speeds
Ideal for Elevator Camera
No Complex Cabling
Multi-Customer and Multi-Site Management
Peru WISP

TP-Link Helps WISP to Provide Reliable Wireless Connectivity in Peru

Peru WISP

TP-Link Helps WISP to Provide Reliable Wireless Connectivity in Peru

"The performance of CPE was better than expected, working stable even with -85 dBm of received power." —David Grillo, Engineer, Kroton

ADINET WISP in Indonesia

TP-Link Helps Local WISP Provide Long Distance Wireless Connectivity in Indonesia

ADINET WISP in Indonesia

TP-Link Helps Local WISP Provide Long Distance Wireless Connectivity in Indonesia

"Amazing! The performance of the Pharos Wireless Broadband Solution has exceeded even our wildest expectations." —Bagus Prakoso, Owner of ADINET
Functionaliteit van de Hardware
Processor
Qualcomm Atheros 560MHz CPU, MIPS 74Kc
Geheugen
64MB DDR2 RAM, 8MB Flash
Interface
1 10/100Mbps Afgeschermde Ethernet Poort (Lan0, Passieve PoE in)
1 10/100Mbps Afgeschermde Ethernet Poort (Lan1, Passieve PoE doorvoer)
1 Aardklem
1 Reset knop
Uitgangsvermogen
Passieve Power over Ethernet via LAN0 (+4,5pins; -7,8pins)
Voltage bereik: 16-27VDC
Energieverbruik
10.5 Watts Max
Opmerking: Wanneer gebruik gemaakt wordt van de Passieve PoE, zal de stroom getrokken van de bron hoger zijn afhankelijk van de lengte van de kabel.
Afmetingen ( B x D x H )
225 x 79 x 60 mm
Type Antenne
Ingebouwde 9dBi 2x2 Dual gepolariseerde directionele Antenne
Beam Width: 65° (H-Plane) / 35° (E-Plane)

Opmerking: Voor verdere details, raadpleeg de datasheet
Beveiliging
15KV ESD bescherming
6000V Bliksem bescherming
Enclosure
Buitenshuis ASA gestabiliseerd plastic materiaal
IPX5 waterdichtheid certificaat
Draadloze Functies
Standaarden voor Draadloze Netwerken
IEEE 802.11b/g/n (Met Pharos MAXtream uitgeschakeld)
Proprietary Protocol
TDMA Mode (Met Pharos MAXtream ingeschakeld)
Wireless Speeds
Up to 300Mbps (40MHz,Dynamisch)
Up to 144.4Mbps (20MHz,Dynamisch)
Up to 72.2Mbps (10MHz,Dynamisch)
Up to 36.1Mbps (5MHz,Dynamisch)
Frequentie
2.4~2.483GHz
Opmerking: Beschikbare werkende frequentie kan variëren, afhankelijk van de beperkingen van de landen of regio's waar het apparaat gebruikt wordt.
Ontvangstgevoeligheid
• 802.11b:
11M: -95dBm, 5.5M: -96dBm, 2M: -96dBm, 1M: -96dBm
• 802.11g:
54M: -79dBm, 48M: -80dBm, 36M: -84dBm, 6-24M: -88dBm
• 802.11n:
MCS15: -76dBm, MCS14: -78dBm, MCS13: -80dBm,
MCS12: -84dBm, MCS11: -87dBm, MCS10: -91dBm,
MCS9: -93dBm, MCS8: -96dBm, MCS7: -76dBm,
MCS6: -78dBm, MCS5: -80dBm, MCS4: -84dBm,
MCS3: -87dBm, MCS2: -91dBm, MCS1: -93dBm, MCS0: -96dBm
Overdrachtsvermogen
27dBm/500mw (Verstelbare power door 1dBm)
Opmerking:Maximale zendvermogen kan variëren door verschillende kanalen afhankelijk van de beperkingen van de landen of regio's waar het apparaat gebruikt wordt.
Functionaliteit van de Software
Wireless Configuraties
Pharos MAXtream TDMA Technologie
802.11b/g/n Modes
Selecteerbare kanaalbreedte: 5/10/20/40MHz
Automatische Kanaal Selectie
Zendvermogen Controle
Dynamisch Frequentie Selectie (DFS)
WDS Inschakelen/Uitschakelen
Beveiliging: WPA/WPA2, WPA-PSK/WPA2-PSK (AES/TKIP) Encryptie, 64/128/152-bit WEP Encryptie
SSID Broadcast Inschakelen/Uitschakelen
Multi-SSID met VLAN Tagging (alleen AP mode)
Distance/ACK Timeout Instelling
Wireless MAC Address Filter
Wireless Geavanceerd:
> Beacon Interval/RTS Threshold/Fragmentation
>Threshold/DTIM Interval/AP Isolation/Short GI/Wi-Fi Multimedia
Management
Ontdekken en op afstand beheren via Pharos Control applicatie
HTTP/HTTPS Web-gebasseerd management
Systeem Log
SNMP Agent(v2c)
Ping Watch Dog
Dynamisch DDNS
SSH Server
System Tools
Draadloos Signaal Kwaliteit Indicaties:
Signaal sterkte / Ruis/ Uitzenden CCQ/ CPU/ Geheugen
Monitors: Doorvoer/Stations/Interfaces/ARP/Routeringen/WAN/DHCP
Spectrum Analyzer
Speed Test
Ping
Traceroute
System-level Optimizations
Geoptimaliseerde IGMP Snooping/Proxy voor multicast applicaties
Hardware watch dog
POE ADAPTER FEATURES
Dimensions(W x D x H)
110*57*33.5mm
Interfaces
1 AC Jack met Aardpen
1 10/100Mbps Afgeschermde Ethernet Poort (Power + Data)
1 10/100Mbps Afgeschermde Ethernet Poort (Data)
Knop
Remote Reset Button
Power Status LEDs
0~0.8A: Groen
0.8A~1.0A: Rood
Input
100-240VAC, 50/60Hz
Input Voltage
100VA~240VAC @ 50Hz~60Hz
Input Current
0.8A Max @ 100VAC
Output
24VDC, 1.0A Max
+4, 5pins; -7, 8pins. (Ondersteunt tot 60m Power over Ethernet)
Output Voltage
24VDC(+4,5pins; -7,8pins)
Efficiëntie
>80%
Certificaties
CE/FCC/UL/IC/GS/PSB/C-tick/SAA/S-Mark/KC-mark
Overige
Certificatie
CE, FCC, RoHS, IPX5
Pakketinhoud
Buitenshuis Draadloos CPE
24V 1A Passieve PoE Adapter
Paal montage strippen
AC Voedingskabel
Installatiegids
Systeemvereisten
Microsoft Windows 98SE, NT, 2000, XP, Vista™ of Windows 8, Windows 7, MAC OS, NetWare, UNIX of Linux.
Opmerking:We raden u aan om 1 van de volgende webbrowsers te gebruiken voor een verbeterde gebruikers ervaring: Google Chrome, Safari, and Firefox. IE browsers zijn niet aangeraden.
Omgeving
Gebruikstemperatuur: 30℃~70℃ (-22℉~158℉)
Bewaartemperatuur: -40℃~70℃ (-40℉~158℉)
Rel. luchtvochtigheid gebruik: 10%~90%, niet-condenserend
Rel. luchtvochtigheid opslag: 5%~95%, niet-condenserend
From United States?
Get products, events and services for your region.