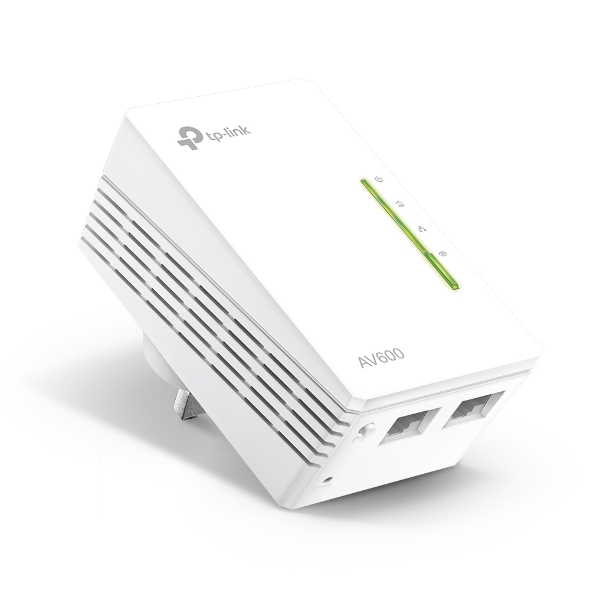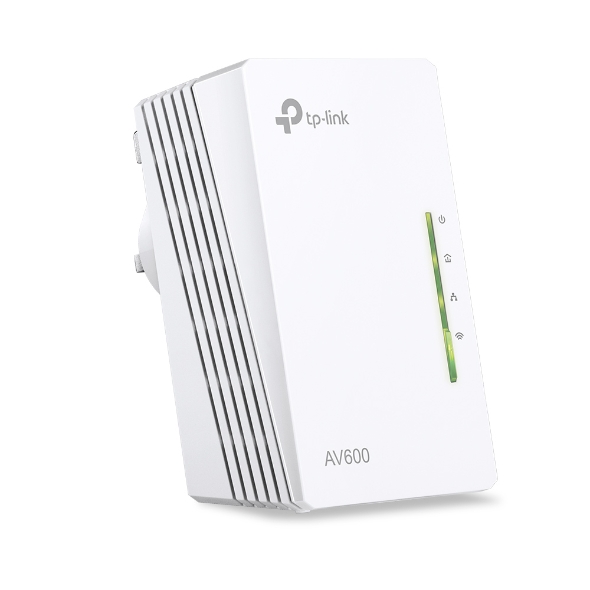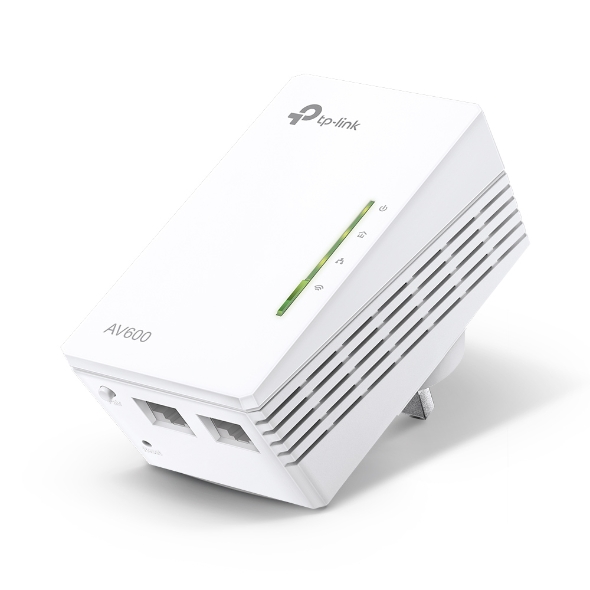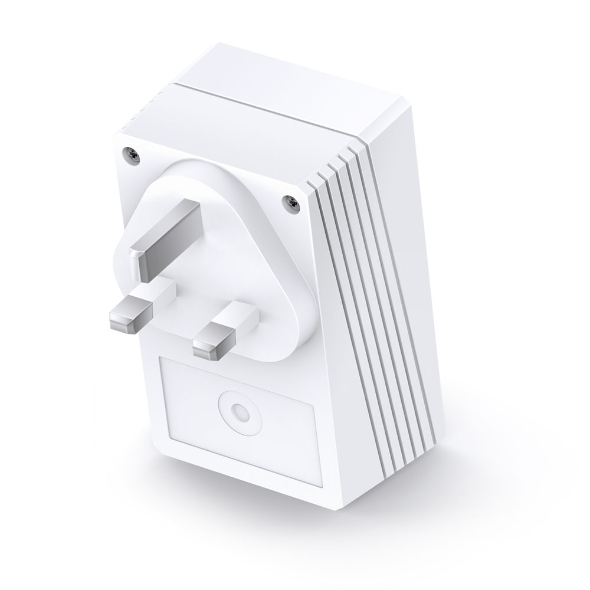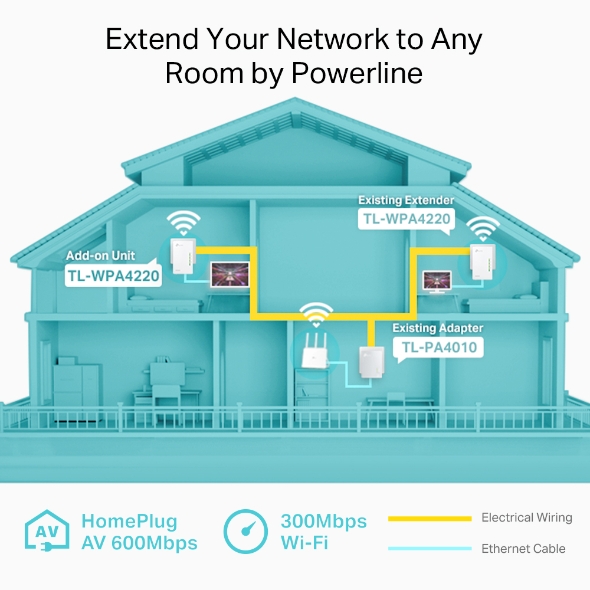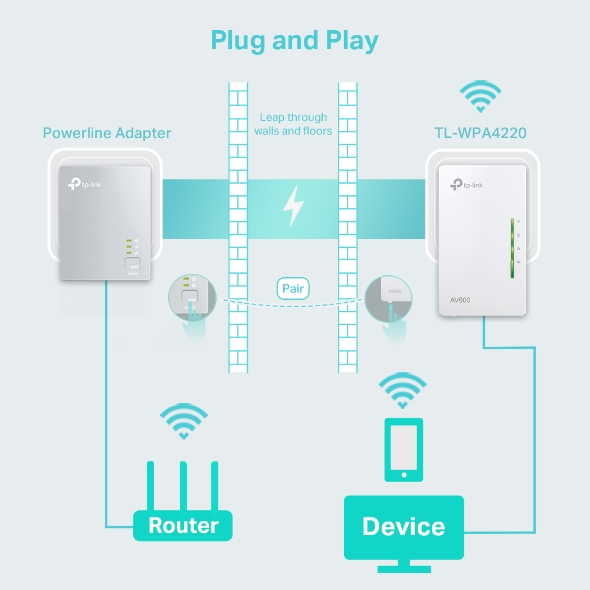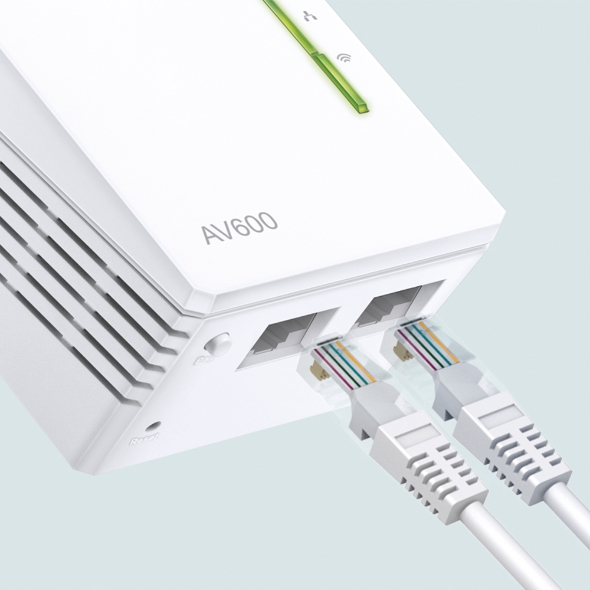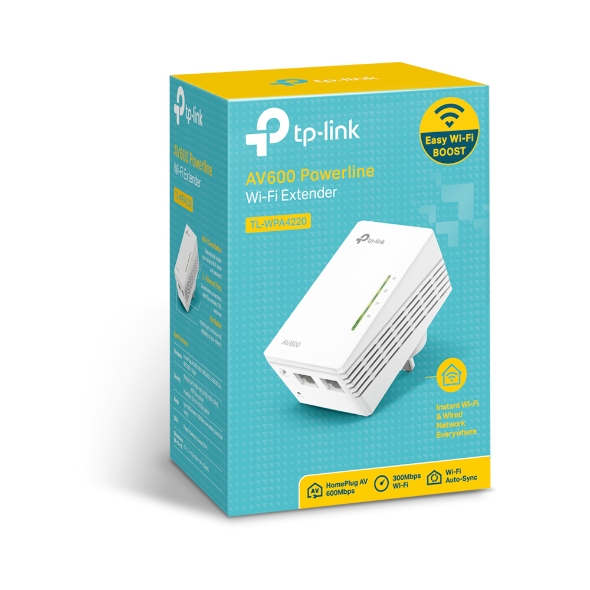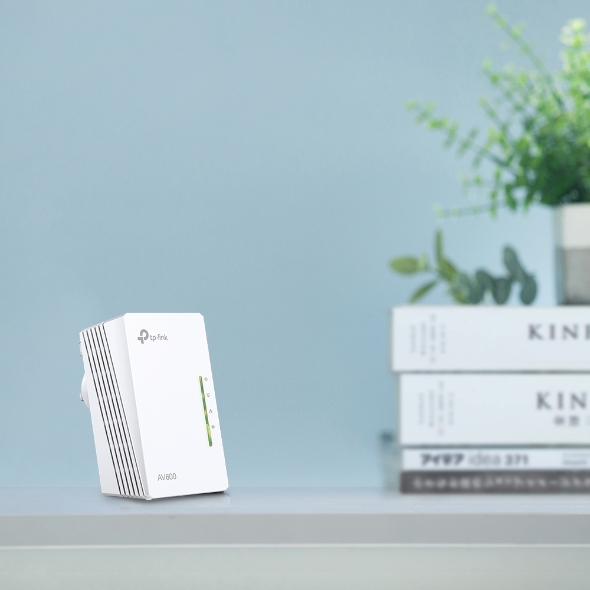 300Mbps AV600 Wi-Fi Powerline Extender
Extend wired and wireless network to any room using your home's existing electrical system
One Touch Super Range Extension - Wi-Fi Clone Button simplifies your Wi-Fi configuration and helps build a seamless unified home network
HomePlug AV standard providing up to 600Mbps1 high speed data transmission over a home's existing electrical wiring, ideal for lag-free HD or 3D video streaming and online gaming
Extend 300Mbps wireless connections to previously hard-to-reach areas of your home and office
Find Wired and Wireless Network from
Any Outlet with Your Home's Electrical System
300Mbps AV600 Powerline Wi-Fi Extender
TL-WPA4220
Extend Your Network to Any Room Using Existing Powerline
The TL-WPA4220 transforms your home's existing electrical circuit into a high-speed network with no need for new wires or drilling. With advanced HomePlug AV, TL-WPA4220, an add-on unit, is perfect for further extending the existing powerline network, providing stable and high-speed data transfer rates of up to 600 Mbps on a line length of up to 300 meters and bringing wired and wireless network simultaneously to anywhere there is a power outlet.
HomePlug
AV 600Mbps
300Mbps
Wi-Fi
*TL-WPA4220 is an add-on unit and it must be deployed on the same circuit with other adapters in a set of two or more. There is no need to buy or deploy additional Ethernet cable, and TL-WPA4220 is compatible with any powerline adapters
Plug & Play, No Configuration Required
Plug the powerline adapter in the wall and connect it to the router with an Ethernet cable. Then plug the TL-WPA4220 in any desired power outlet. There you go! No configuration is required. Just enjoy the seamless, high speed wired and wireless network.
Pair for More Security
Press the "Pair" button on both adapters to create a more secure network.
* Powerline adapters need to be connected to the same electrical circuit.
Router
Powerline Adapter
Leap through walls and floors
Pair
Device
Wi-Fi Auto-Sync for Unified Wi-Fi Network
Pressing the Wi-Fi Clone button instantly copies your network name and password from your router for easy setup. Wi-Fi Move automatically applies any settings changes across the network. Your existing Wi-Fi settings will be synchronized to the new extender automatically.
Two Ethernet Ports for Wired Connections
With two Ethernet ports, the TL-WPA4220 can run multiple high-speed and reliable wired connections at the same time for devices like smart TVs, PCs, and game consoles. One Ethernet cable is included in the box.
Powerline Management on Your Smartphone
The tpPLC Utility and tpPLC app make it easy to control wireless network settings, set schedules for Wi-Fi availability and even control the LED indicators on your adapters from any iOS or Android device. You can download the tpPLC app for iOS and Android devices. You can download the intuitive new tpPLC Utility for your PC at www.tp-link.com/en.
HARDWARE FEATURES
Plug Type
EU, UK, US, AR
Standards and Protocols
HomePlug AV, IEEE802.3, IEEE802.3u, IEEE802.11b/g/n
Interface
2*10/100Mbps Ethernet Port
Button
Pair, Reset, Wi-Fi/Wi-Fi Clone
Power Consumption
Maximum: 5.308W (220V/50Hz)
Typical: 5.086W (220V/50Hz)
Standby: 4.170W (220V/50Hz)
LED Indicator
PWR, PLC, ETH, Wi-Fi/Wi-Fi Clone
Dimensions ( W x D x H )
3.7 x 2.1 x 1.6 in. (94×54×40mm)
Range
300 Meters over electrical circuit
WIRELESS FEATURES
Frequency
2.4-2.4835GHz
Signal Rate
11n: Up to 300Mbps(dynamic)
11g: Up to 54Mbps(dynamic)
11b: Up to 11Mbps(dynamic)
Reception Sensitivity
270M: -68dBm@10% PER
130M: -68dBm@10% PER
108M: -68dBm@10% PER
54M: -68dBm@10% PER
11M: -85dBm@8% PER
6M: -88dBm@10% PER
1M: -90dBm@8% PER
Wireless Security
64/128-bit WEP / WPA / WPA2,WPA-PSK / WPA2-PSK
Advanced Functions
Enable/DisableWireless Radio,WMM, Wireless Statistics
Transmission Power
CE:<20dBm(2.4GHz)
FCC:<30dBm
SOFTWARE FEATURES
Modulation Technology
OFDM (PLC)
Encryption
Powerline Security:
128-bit AES
Wireless Security:
WEP, WPA/WPA2, WPA-PSK/WPA2-PSK Encryption
OTHERS
Certification
CE, FCC, RoHS
Package Contents
● AV600 Powerline Wi-Fi Extender: TL-WPA4220
● Ethernet Cable × 1
● Quick Installation Guide
System Requirements
Windows 2000/XP/2003/Vista, Windows 7/8, Mac, Linux, Windows 10
Environment
Operating Temperature: 0°C~40°C (32°F ~104°F)
Storage Temperature: -40°C~70°C (-40°F ~158°F)
Operating Humidity: 10%~90% non-condensing
Storage Humidity: 5%~90% non-condensing
Reviews

Unboxing & Cara Pasang TP-Link AV500 WIFI Powerline Extender Ada masalah dengan sambungan network di rumah atau pejabat? Sambungan WIFI tidak sampai ke sesetengah kawasan kerana halangan dinding konkrit yang tebal. Mungkin juga ada lokasi dalam bangunan yang menjadi blindspot kerana tidak menerima RF (radio frequency) WIFI dengan jelas atau mempunyai gangguan RF yang sangat tinggi daripada kelengkapan rumah. Tanda-tanda masalah gangguan RF ini adalah sambungan WIFI kerap terputus. Biasanya orang guna WIFI repeater atau WIFI extender untuk menyelesaikan masalah signal WIFI tidak sampai ke zon tertentu. Tetapi masalah gangguan RF berbeza dan kita perlu gunakan satu alat yang dipanggil homeplug adapter atau powerline extender. Apakah itu homplug adapter atau powerline extender. Ia adalah sebuah alat yang menggunakan litar pendawaian tenaga elektrik bangunan sebagai sistem LAN. Sistem ini sudah terbukti selamat kerana mempunyai ciri-ciri sekuriti seperti device pairing atau device locking. Jadi tidak mudah untuk orang-orang tertentu untuk menceroboh network bangunan anda. Selain daripada itu, kita gunakan homeplug adapter untuk mendapatkan sambungan network kualiti tertinggi yang stabil. Oleh itu saya ingin memberikan ulasan mengenai TP-Link AV500 WIFI Powerline Extender Starter Kit. 300Mbps TP-Link AV500 WIFI Starter Kit tp-link-av500-wifi-powerline-extender-01-iklanlahpercuma.com Produk TP-Link sekali lagi menjadi pilihan saya kerana ia adalah jenama mampu milik untuk pengguna rumah. Starter Kit TP-Link AV500 WIFI ini menyenangkan proses pemasangan kerana ia adalah satu pakej lengkap homeplug adapter atau powerline extender iaitu: 1 unit TL-PA4010 1 unit TL-WPA4220 TL-PA4010 adalah unit yang perlu disambungkan kepada router manakala TL-WPA4220 adalah unit yang digunakan untuk soket elektrik bilik yang hendak dibuat sambungan internet. Set ini melengkapkan litar sambungan powerline TP-Link AV500 WIFI. tp-link-av500-wifi-powerline-extender-02-iklanlahpercuma.com Kelajuan data atas sistem pendawaian tenaga elektrik adalah 500Mbps manakala untuk WIFI pula adalah 300Mbps. Di belakang kotak ada diberikan jadual gambarajah perbandingan model-model salam siri TP-Link AV500 WIFI. Apakah alat-alat model yang diperlukan mengikut senario jenis sambungan anda. Kelebihan unik model TL-WPA4220 ini adalah kerana bilik yang bermasalah boleh mendapat sambungan internet secara wired dan wireless. Mungkin alat-alat tertentu ada tidak ada fungsi WIFI jadi unit TL-WPA4220 ada 2 port ethernet untuk digunakan. Jangan risau, jika anda memerlukan lebih daripada 2 port, boleh sahaja buat sambungan kepada network switch 8 port. Tetapi pilihan terbaik adalah mengaktifkan sambungan WIFI jadi alat mudah alih seperti smartfon dan tablet boleh menggunakan WIFI di dalam bilik tersebut. Sambungan wired adalah lebih sesuai untuk alat yang memerlukan siaran video berkualiti HD seperti: HyppTV Unifi HTPC atau media player IPTV seperti Skybox, Dreambox dan Rasberry Pi konsol game seperti Playstation dan XBox. Sudah semestinya siaran video berkualiti HD memerlukan sambungan terbaik iaitu 500Mbps. tp-link-av500-wifi-powerline-extender-03-iklanlahpercuma.com Setelah kotak TP-Link AV500 WIFI di buka kita akan nampak 2 unit dalam pakej starter kit homeplug adapter. Disebelah kiri adalah 1 unit TL-WPA4220 dan yang kanan pula adalah TL-PA4010. tp-link-av500-wifi-powerline-extender-04-iklanlahpercuma.com Turut serta dalam pakej starter kit TP-Link AV500 WIFI adalah 2 kabel RJ45, manual pemasangan untuk kedua jenis alat homeplug adapter serta CD perisian. Sekarang kita boleh mulakan sambungan TP-Link AV500 WIFI. Ia sangat mudah dan tidak memerlukan pemasangan perisian tambahan kecuali dalam situasi tertentu. Contohnya jika anda hendak mengubah konfigurasi WIFI SSID secara manual bagi mereka yang menggunakan WIFI router lama yang tidak ada fungsi WPS (WIFI Protected Setup). tp-link-av500-wifi-powerline-extender-05-iklanlahpercuma.com Sambungkan satu kabel RJ45 ke network switch atau router anda. Saya terpaksa gunakan network switch kerana kesemua 4 port router tidak cukup di bilik server rumah. tp-link-av500-wifi-powerline-extender-06-iklanlahpercuma.com Nasihat TP-Link adalah pengguna mesti pasang homeplug adapter TL-PA4010 terus pada soket elektrik. Jangan gunakan power extension kerana ia mungkin akan beri gangguan kepada fungsi homeplug adapter. Tetapi oleh kerana soket elektrik server room saya sudah habis penuh digunakan, saya cuba juga buat sambungan seperti di atas. tp-link-av500-wifi-powerline-extender-07-iklanlahpercuma.com Setelah kabel RJ45 disambungan ke ethernet port homeplug adapter TL-PA4010, lampu LED untuk LAN menyala menandakan ada sambungan network LAN. tp-link-av500-wifi-powerline-extender-08-iklanlahpercuma.com Sekarang kita perlu pasang pula TL-WPA4220 di bilik bermasalah atau bilik yang perlukan internet. Sekali lagi diingatkan bahawa anda kena pasang unit homeplug adapter di soket elektrik secara terus tanpa menggunakan power extension. Untuk demonstrasi ini sambungan kabel network akan terus dibuat daripada unit TL-WPA4220 ke port ethernet laptop saya. tp-link-av500-wifi-powerline-extender-09-iklanlahpercuma.com Unit homeplug adapter TL-WPA4220 yang sudah dipasang dan diaktifkan. Lampu LED akan menyala. tp-link-av500-wifi-powerline-extender-10-iklanlahpercuma.com Apabila saya kembali ke server room, saya dapati homeplug adapter TL-PA4010 sudah menyala penuh. tp-link-av500-wifi-powerline-extender-11-iklanlahpercuma.com Gambar zoom lampu status LED homeplug adapter TL-PA4010. Penerangan ikon status LED: LED kuasa: Homeplug sudah diaktifkan. LED homeplug: Menyala menunjukkan sudah ada litar yang lengkap untuk sistem TP-Link AV500. Jika ia tidak menyala, anda kena pastikan sambungan homeplug adapter adalah terus ke soket. Pastikan juga bahawa bangunan anda menggunakan litar single phase dan bukan tri-phase. LED LAN: Jika tidak menyala, maknyanya tiada sambungan network. Cuba periksa kabel RJ45 anda dan pastikan ia ketat masuk dalam port ethernet. Jika ia menyala maknanya sudah ada sambungan network tetapi tiada proses pemindahan data. Lampu akan berkelip-kelip dengan rancak jika ada proses pemindahan data. tp-link-av500-wifi-powerline-extender-12-iklanlahpercuma.com Contoh status LED LAN menyala dalam gambar atas. Ia terus menyala kerana tiada pemindahan data dalam network. Lampu LED LAN ini akan berkelip-kelip jika ada pemindahan data. Ok kerja-kerja pemasangan sudah selesai. Tak perlu pecah kepala nak setup pun. Cucuk sahaja homeplug adapter sudah jalan. Bandwith Test TP-Link AV500 WIFI tp-link-av500-wifi-powerline-extender-13-iklanlahpercuma.com Sekarang masa kita periksa pula sistem homeplug adapter TP-Link AV500 WIFI pada komputer. Sambungan ethernet laptop saya terbukti tiada masalah dengan kelajuan 100Mbps. tp-link-av500-wifi-powerline-extender-14-iklanlahpercuma.com Oleh kerana saya tidak mempunyai peralatan Gigabit network switch jadi saya tidak boleh buat LAN bandwith test untuk menyemak kelajuan sebenar produk TP-Link AV500 WIFI samada ia boleh cecah 500Mbps seperti yang diiklankan. tp-link-av500-wifi-powerline-extender-15-iklanlahpercuma.com Gambar di atas adalah bukti bahawa tiada masalah dengan sambungan homeplug adapter untuk sambungan TM Unifi VIP5 iaitu 5Mbps. Walaupun laptop saya mempunyai interface Gigabit tetapi router dan network switch di server room masih menggunakan 10Base-T dan kelajuan maksima adalah 100Mbps. Saya mungkin perlu naik taraf semua peralatan network ke Gigabit memandangkan semakin banyak peralatan yang menggunakan internet. Lebih-lebih lagi jika saya ingin memindahkan HyppTV daripada bilik server room ke ruang tamu. Rugi sekarang ini tiada siapa yang tonton rancangan HyppTV. Kotak HyppTV tu jadi berhabuk begitu sahaja. Sebelum saya terlupa, homeplug adapter TL-WPA4220 adalah juga WIFI extender. Jadi ia mempunyai SSID dan juga password. Boleh rujuk belakang homeplug adapter untuk maklumat MAC address, WIFI SSID dan juga password WIFI. tp-link-av500-wifi-powerline-extender-16-iklanlahpercuma.com Alamak rumah sudah ada sampai dua WLAN SSID? Malas nak ingat banyak password? Jangan risau, hanya gunakan butang WPS untuk klonkan maklumat WLAN sedia ada. Jika WIFI AP router anda tidak ada fungsi WPS, anda masih boleh buat konfigurasi secara manual menggunakan perisian yang datang dalam pakej Starter Kit. Nantikan entri akan datang: Cara Pasang TP-Link AV500 WIFI Menggunakan WLAN SSID WIFI AP Router Cara Pindahkan HyppTV Ke Ruang Tamu Daripada Server Room Jika anda berminat dengan produk ini sila pergi ke Lazada dan cari TP-Link AV500 WIFI Starter Kit. Percayalah, harga produk ini memang mampu milik dan berbaloi sangat. Terima kasih kerana membaca dan sila kongsikan artikel ini dengan menggunakan butang media sosial di bawah.
*1. The theoretical maximum channel data transfer rate is derived from HomePlug AV specifications. Actual data transfer rate will vary from network environment including: distance, network traffic, noise on electrical wires, building material and construction, quality of electrical installation and other adverse conditions.
*2. Compatible with all HomePlug AV and AV2 Standard Powerline adapters. This product may not be compatible with routers or gateways with firmware that has been altered, is based on open source programs, or are non-standard or outdated.
*3. Maximum wireless signal rates are the physical rates derived from IEEE Standard 802.11 specifications. Actual wireless data throughput and wireless coverage are not guaranteed and will vary as a result of 1) environmental factors, including building materials, physical objects, and obstacles, 2) network conditions, including local interference, volume and density of traffic, product location, network complexity, and network overhead, and 3) client limitations, including rated performance, location, connection, quality, and client condition.
From United States?
Get products, events and services for your region.