How to configure Link Aggregation for EAP330
Introduction: EAP330 has two gigabit Ethernet ports which can be used together after link aggregation (LAG) is configured. LAG can provide a more reliable wired connection. When one of the two links is down, there is another link available, so the EAP330 won't lose wired connection. And LAG can also balance the load which can make full use of the two links.
The LAG setting is called "Trunk" in EAP330. This function can only be used along with a switch that can configure Static LAG rules on its ports.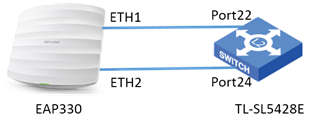 Note: It is strongly recommended to only connect ETH1 to Port22 before you finish the whole configuration, because the two links without LAG configured will cause a loop problem which may reduce the performance of the switch.
Step 1:
Login the Web page of EAP330. Here is an introduction about how to login the Web page:
How do I login to the web management page of the EAP Series?
Step 2:
After login the management page of EAP330, you can find the Trunk configuration in Management ->Trunk ->Trunk Settings, then click Enable to enable this function on EAP330. About the Mode, you can select whichever mode available. And don't forget to click Save to save you configuration.
After the configuration on EAP330 is finished, next step is to LAG on switch.

Step 3:
Login the interface of switch.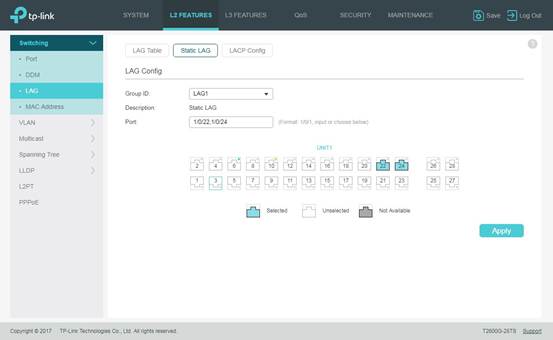 Since EAP330 only supports Static Link Aggregation, please doesn't choose dynamic link aggregation like LACP (Link Aggregation Control Protocol).
In Switching ->LAG ->Static LAG ->LAG Config, you can choose any Group Number available. In Member Port, you are supposed to select the two ports connected to the EAP330 as the member ports of LAG group, in this case they are Port22 and Port24. And click Apply.
Note: In static link aggregation, the configuration of the member ports need to be identical.
Step 4:
Now you can connect ETH2 to Port24. So far all the settings are completed.
But how do we know if LAG is successfully configured?
When you connect ETH2 to Port24 without LAG configured, the light of the two ports on switch will keep flashing abnormally fast. After the successful configuration, the light will turn to be normal.
Is this faq useful?
Your feedback helps improve this site.
From United States?
Get products, events and services for your region.