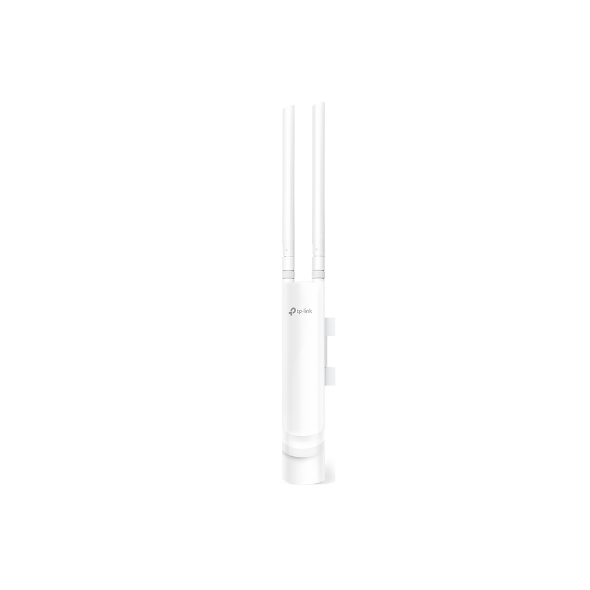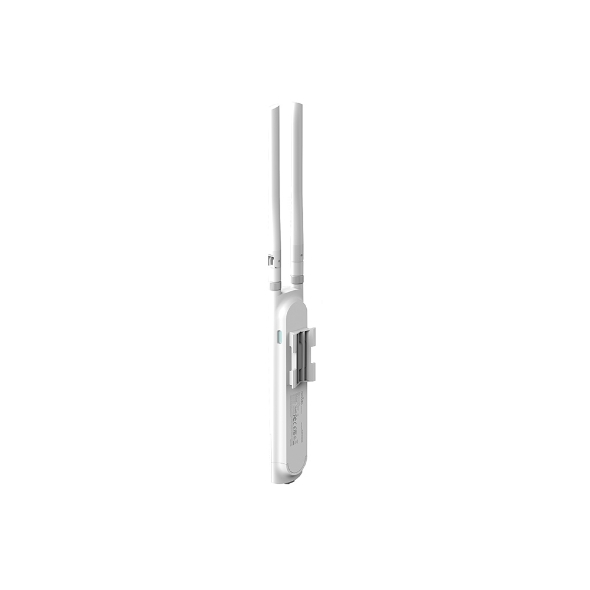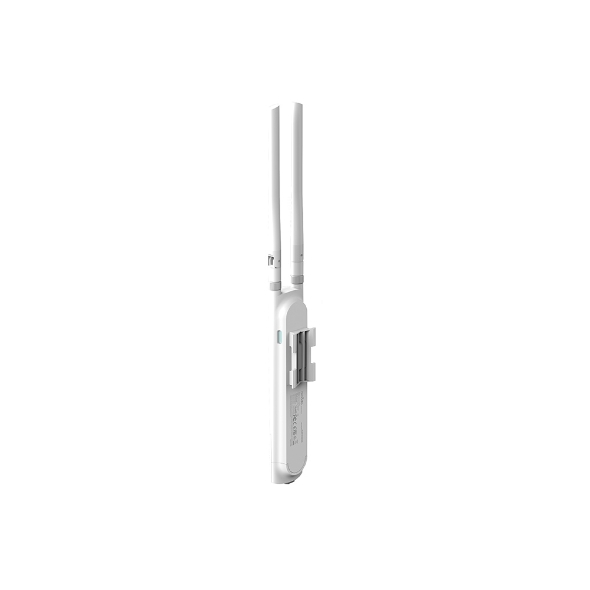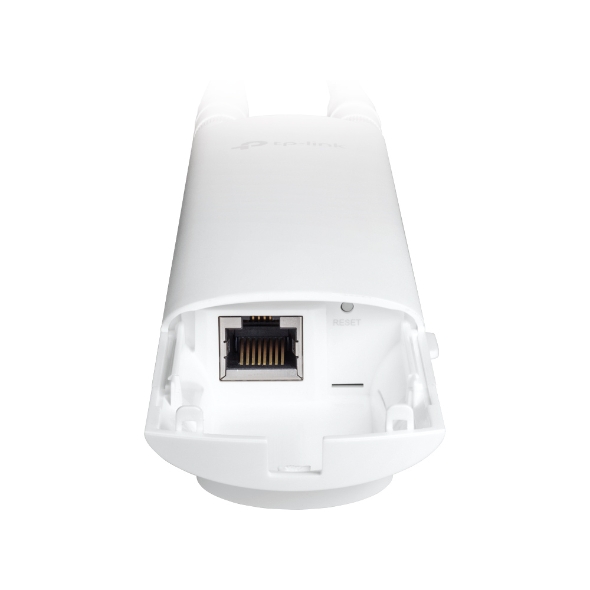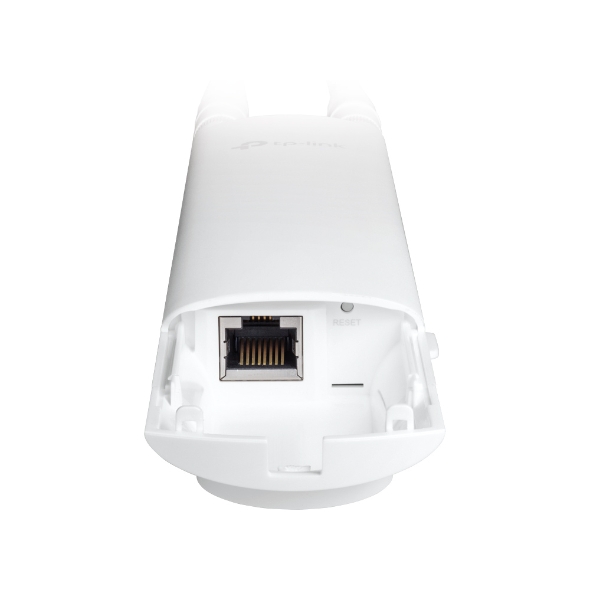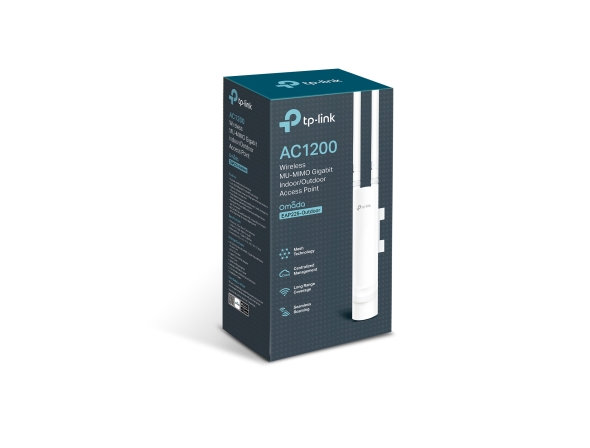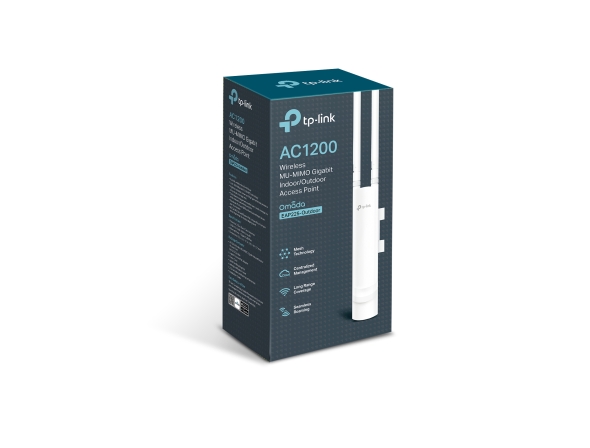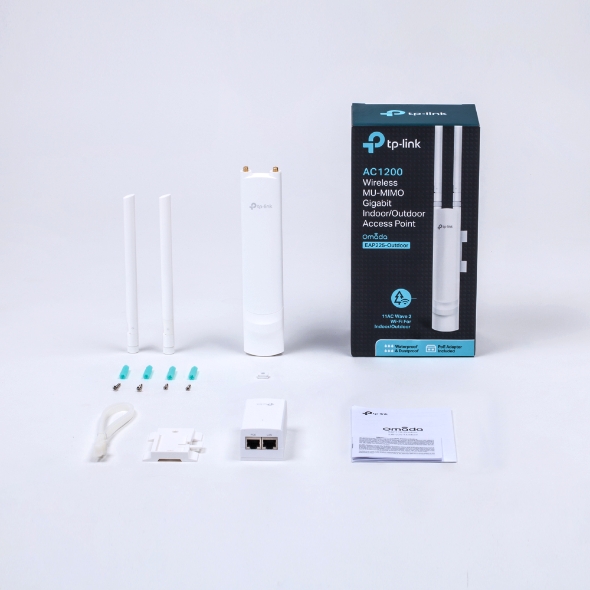 EAP225-Outdoor
Punto de Acceso Inalámbrico Gigabit MU-MIMO AC1200 para Exterior / Interior
Cubierta duradera y resistente a inclemencias meteorológicas para aplicaciones Wi-Fi de exterior
Hasta 1200Mbps con tecnología 2×2 MIMO
Tecnología Omada Mesh permite la conectividad inalámbrica entre AP para un alcance extendido, haciendo que las implementaciones inalámbricas sean más flexibles y convenientes
Admite itinerancia sin interrupciones para que incluso las transmisiones de video y las llamadas de voz no se vean afectadas a medida que los usuarios se mueven entre ubicaciones
Alta potencia de transmisión y antenas de alta ganancia proporcionan una gran cobertura
Controlador Software Gratuito Omada habilita a los administradores para que gestionen fácilmente cientos de EAPs
Portal Cautivo proporciona un método conveniente de autenticación de invitados vía SMS, Facebook Wi-Fi, Baucher etc
802.3af/PoE Pasivo (Adaptador PoE incluido) compatible y con diseño simple de montaje permite un despliegue flexible y una instalación conveniente
AC1200 Wave2 con tecnología Mesh para una red Wi-Fi Empresarial más estable y confiable
Omada EAP225-Outdoor
Tecnología Omada Mesh
Ruta Inteligente

Los EAP de Omada con tecnología Mesh, eligen automáticamente la mejor ruta para extender su Wi-Fi aún más y de manera más flexible.

Direccionamiento Inteligente

Si un enlace tiene un problema, el sistema redirigirá automáticamente los datos a través de los otros dispositivos de Omada para asegurarse de que permanezca en línea.
Rendimiento Wi-Fi superior y cobertura de largo alcance
El amplificador de alta potencia dedicado y las antenas de alta ganancia en junto con la tecnología 802.11ac Wave 2 MU-MIMO de última generación aseguran un mejor rendimiento de Wi-Fi y cobertura de largo alcance en bandas de 2,4 GHz y 5 GHz.
MU-MIMO

Beamforming

Band Steering

Airtime Fairness
2.4GHz:200m+
5GHz:300m+
Roaming eficaz para una movilidad perfecta
Los servicios de itinerancia rápida 802.11k y 802.11v cambian automáticamente a los clientes al punto de acceso con la señal óptima con una transición sin inconvenientes al moverse. Esto permite que aplicaciones delicadas como VoIP y videoconferencias no se interrumpan.
Con el cambio automático los equipos pasan a la señal mas optima
Carcasa Impermeable Especialmente Diseñada Para Escenarios en Exteriores
Calificado como IP55 durante las pruebas de protección, con un gabinete resistente a la intemperie para proteger los puntos de acceso contra las condiciones extremas en el exterior.
Protección contra Rayos de 6KV y Protección ESDE 15KV

Protección Contra el Polvo
Excelente Diseño y Hardware
Antenas especialmente diseñadas, con opciones de potencia y método de instalación, el EAP225-Outdoor es la opción perfecta para diferentes escenarios tanto de interior como exterior.
Antenas Desmontables
EAP225-Outdoor está equipado con 2 antenas desmontables Omnidireccionales, lo que implica que otras antenas pueden ser utilizadas según las necesidades específicas.
Antenas MIMO Omnidireccionales
AC 1200 Wave2 con tecnología Mesh para una red Wi-Fi Empresarial mas estable y confiables
EAP225-Outdoor es similar a un teléfono celular, con una dimensión de 8.5 × 1.8 × 1.1in. (215 × 46 × 27mm)
215mm
138mm
Múltiples Opciones PoE para Instalaciones Fáciles
El EAP225-Outdoor soporta tanto PoE 802.3af como PoE Pasivo, lo que implica que puede ser alimentado por un Switch PoE o por el adaptador PoE suministrado..
Puerto Gigabit Ethernet 802.3af PoE / 24V PoE pasivo
Despliegue flexible
EAP225-Outdoor puede instalarse fácilmente en una pared o en un poste con los kits de montaje provistos
Cloud Centralized Management
- Anytime, Anywhere
Omada Hardware Controller OC200 and Omada Software Controller make it easy to manage and monitor the whole Omada network in real-time, while cloud service enables remote and secure access no matter where you find yourself.
Fácil gestión con la aplicación Omada
Siga las instrucciones de configuración en la aplicación gratuita de Omada para configurarlo en minutos. Omada le permite configurar ajustes, supervisar el estado de la red y administrar a clientes, todo desde la comodidad de un teléfono inteligente o tableta..
Meet Our New Hero Product!
The OC200 Omada Hardware Controller is dedicated to providing centralized management for the whole Omada network.
Omada Hardware Controller
OC200
Hospitality

TP-Link Omada permite a los hoteles construir redes WiFi confiables. Se presentan las soluciones de redes WiFi para hoteles que incluyen topología, diseño, características, instalación y productos de la red.

Cobertura WiFi completa y conexiones por cable
Control de invitados flexible
Roaming sin interrupciones
Manejo sencillo

Education

Debido a su solución de red confiable, escalable y segura, TP-Link ha sido ampliamente reconocido por los clientes globales en el mercado de la educación, desde escuelas infantiles con algunos AP hasta colegios y universidades con cientos de AP.

Manejo sencillo
WiFi de alta densidad
Cobertura WiFi completa y conexiones por cable
VPN y seguridad

Outdoor WiFi

TP-Link Omada outdoor WiFi access points offer smooth outdoor WiFi experience for outdoor events, WiFi outside home, or in the garden, yard, outdoor swimming pool, outdoor café, outdoor barns and shed. With Omada outdoor WiFi extenders, the outdoor wifi system is ideal for wirelessly connecting outdoor camera and outdoor speakers.

Long Outdoor WiFi Range
Outdoor WiFi for Camera and Outdoor Events, and WiFi Outside Home
Ideal for Outdoor WiFi in Garden, Outdoor Swimming Pool, and Outdoor Café.
Outdoor WiFi Extender with IP67 or IP65 Weatherproof Enclosure
CARACTERÍSTICAS DE HARDWARE
Interface
Gigabit Ethernet (RJ-45)Port*1(Support 802.3af PoE and Passive PoE)
Botón
Reset
Fuente de Alimentación
802.3af/A PoE24V Passive PoE (+4,5pins; -7,8pins. PoE Adapter Included)
Consumo de Energía
10.5W
Dimensiones (W X D X H)
8.5 × 1.8 × 1.1in. (215 × 46 × 27 mm)
Antena
2.4GHz: 2 * 3dBi, 5GHz: 2 * 4dBi
Resistencia a la Intemperie
IP65
Montaje
Pole/Wall Mounting (Kits included)
Watch Dog por Hardware
Yes
CARACTERÍSTICAS INALÁMBRICAS
Estándares Inalámbricos
IEEE 802.11a/b/g/n/ac
Frecuencia
2.4GHz, 5GHz
Tasa de Señal
802.11ac: 5G:6.5 Mbps to 867Mbps(MCS0-MCS9,NSS = 1 to 2 VHT20/40/80) 2.4G:78Mbps to 300Mbps (MCS8-MCS9 VHT20/40, NSS=1 to 3)802.11n: 6.5 Mbps to 300 Mbps (MCS0-MCS15, VHT 20/40)802.11g: 6, 9, 12, 18, 24, 36, 48, 54 Mbps802.11b: 1, 5.5, 11Mbps802.11a: 6, 9, 12, 18, 24, 36, 48, 54 Mbps
Funciones Inalámbricas
Multiple SSIDs(Up to 16 SSIDs, 8 for each band)Enable/Disable Wireless RadioAutomatic Channel AssignmentTransmit Power Control (Adjust Transmit Power on dBm)QoS(WMM)MU-MIMOAirtime FairnessBeamformingBand SteeringLoad BalanceRate LimitReboot ScheduleWireless ScheduleWireless Statistics based on SSID/AP/Client
Seguridad Inalámbrica
Captive Portal AuthenticationAccess ControlWireless Mac Address FilteringWireless Isolation Between ClientsSSID to VLAN MappingRogue AP Detection802.1X Support
Potencia de Transmisión
• CE: <20 dBm (2.4 GHz, EIRP), <27 dBm(5 GHz, EIRP)• FCC: <23 dBm (2.4 GHz), <22 dBm(5 GHz)
ADMINISTRACIÓN
Omada App
Yes
Omada Cloud Controller
Yes
Centralized Management
• Omada Cloud-Based Controller• Omada Hardware Controller (OC300)• Omada Hardware Controller (OC200)• Omada Software Controller
Omada Controller Software
Yes
Cloud Access
Yes
Alertas de Correo Electrónico
Yes
Management MAC Access Control
Yes
SNMP
v1, v2c
System Logging Local/Remote Syslog
Yes
SSH
Yes
Web-based Management
Yes
L3 Management
Yes
Multi-site Management
Yes
Management VLAN
Yes
Otros
Certificacion
CE、FCC、RoHS
Contenidos del Paquete
AC1200 Wireless MU-MIMO Gigabit Indoor/Outdoor Access PointEAP225-OutdoorPower AdapterMounting KitsInstallation Guide
Ambiente
Operating Temperature: -30℃~70℃ (-22℉~158℉)Storage Temperature: -40℃~70℃ (-40℉~158℉)Operating Humidity: 10%~90% non-condensingStorage Humidity: 5%~90% non-condensing
From United States?
Get products, events and services for your region.