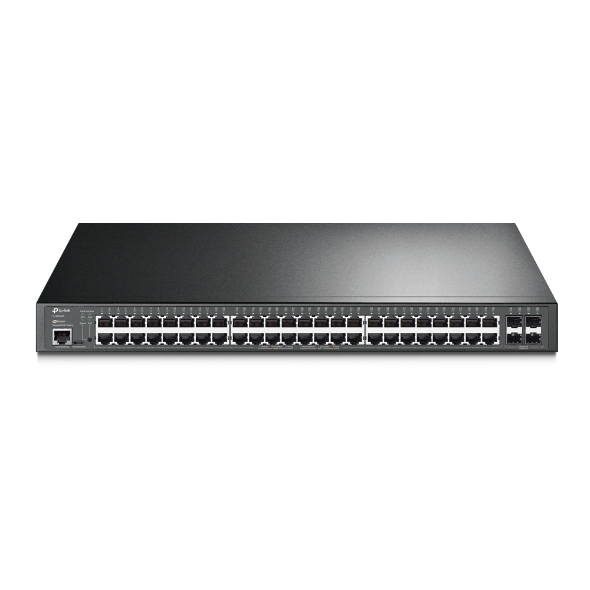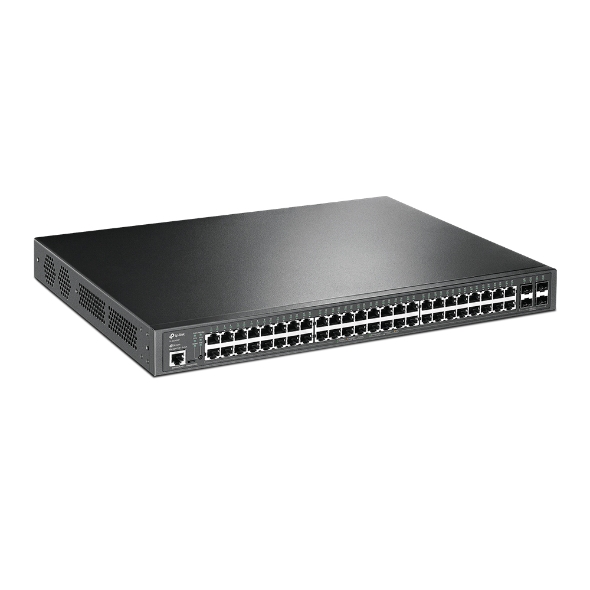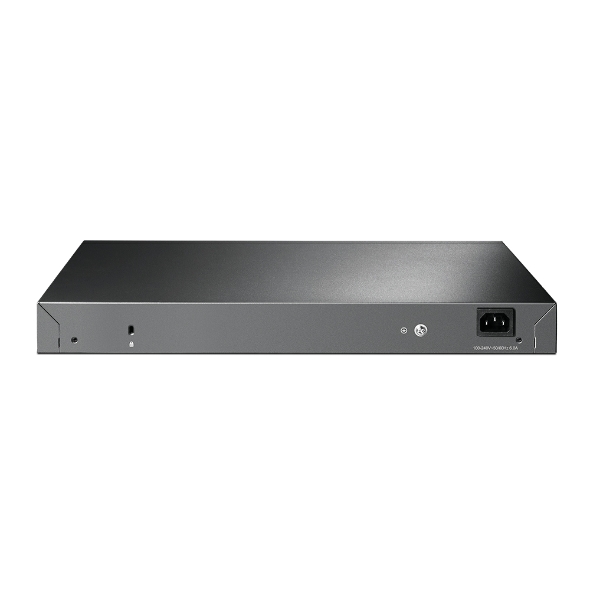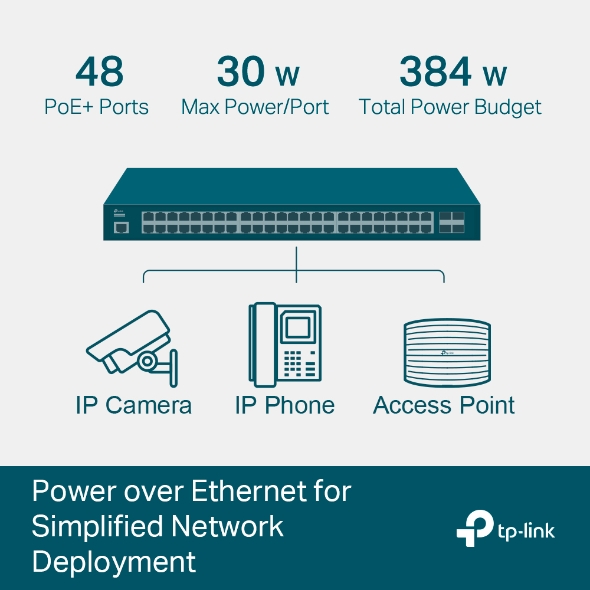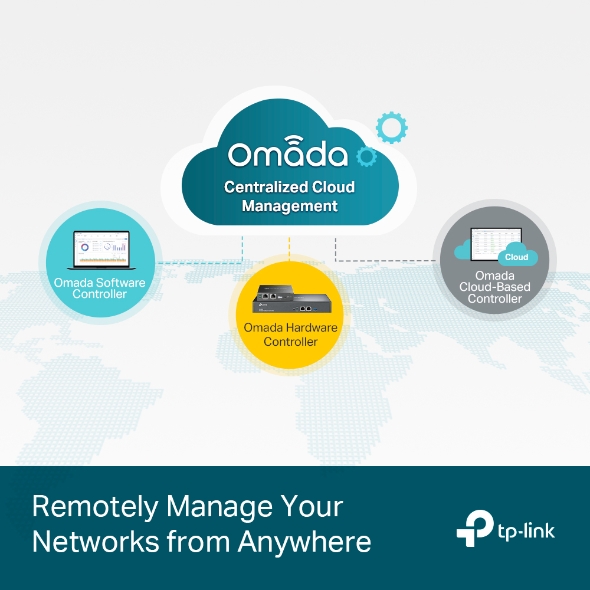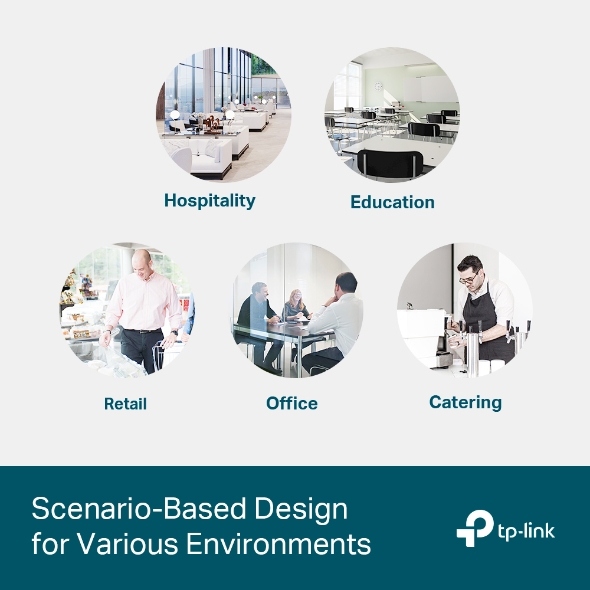 Switch L2+ administrable de 52 puertos Gigabit, con 48 puertos PoE+
Presupuesto PoE de 384 W: 48 puertos PoE + compatibles con 802.3at / af con una fuente de alimentación total de 384 W *.
Puertos Gigabit completos: 48 puertos RJ45 gigabit y 4 ranuras SFP gigabit proporcionan conexiones de alta velocidad.
Integrado en Omada SDN: aprovisionamiento Zero-Touch (ZTP) **, administración centralizada en la nube y monitoreo inteligente.
Gestión centralizada: acceso a la nube y aplicación Omada para una máxima comodidad y una gestión sencilla.
Enrutamiento estático: ayuda a enrutar el tráfico interno para un uso más eficiente de los recursos de la red.
Estrategias de seguridad sólidas: enlace de puerto IP-MAC, ACL, seguridad de puerto, defensa DoS, control de tormentas, indagación DHCP, 802.1X, autenticación Radius y más.
Optimice las aplicaciones de voz y video: QoS L2 / L3 / L4 e IGMP snooping.
Administración independiente: Web, CLI (puerto de consola, Telnet, SSH), SNMP, RMON e imagen dual brindan potentes capacidades de administración.
Learn more about TP-Link PoE technology >

Gestión
Centralizada
Switch L2+ administrable de 52 puertos Gigabit, con 48 puertos PoE+ Omada Network
Switch L2+ administrable de 52 puertos Gigabit, con 48 puertos PoE+
TL-SG3452P
PoE+ Output

48 puertos Gigabit PoE + con
Presupuesto de energía total de 384 W *

Gestión centralizada de la nube

Integración de soluciones SDN para
una red altamente eficiente

Funciones avanzadas de L2 +

QoS L2 / L3 / L4, ACL,
Enrutamiento estático y más

Abundantes estrategias seguras

Protección de inversiones en área LAN
Redes definidas por software (SDN) con acceso a la nube
La plataforma de redes definidas por software (SDN) de Omada integra dispositivos de red, incluidos puntos de acceso, conmutadores y enrutadores, lo que proporciona una gestión de la nube 100% centralizada. Omada crea una red altamente escalable, todo controlado desde una única interfaz. Se proporcionan conexiones inalámbricas y por cable perfectas, ideales para su uso en hostelería, educación, comercio minorista, oficinas y más.
WiFi 6
Montaje en techo
Placa de pared
Exterior
Interfaz de gestión unificada
Cloud
Nube sin complicaciones o
Controladores en las instalaciones

Nube de múltiples sitios
Gestión

Zero-Touch
Aprovisionamiento (ZTP) *
Funciones avanzadas de L3 **
Se admiten una gran cantidad de funciones L2 + y L3 para ayudar a construir una red robusta y altamente escalable, proporcionando una solución confiable y eficiente para empresas, campus e ISP.
Redes seguras
Las características de seguridad incluyen enlace IP-MAC-Port-VID, seguridad de puerto, control de tormentas y vigilancia DHCP para defenderse de una variedad de amenazas de red. Se encuentra disponible una lista integrada de ataques DoS comunes, lo que hace que sea más fácil que nunca prevenirlos. Además, la función de Listas de control de acceso (ACL, L2 a L4) restringe el acceso a recursos de red sensibles al denegar paquetes según la dirección MAC de origen y destino, la dirección IP, los puertos TCP / UDP o la ID de VLAN. El acceso a la red de los usuarios se puede controlar mediante la autenticación 802.1X, que funciona con un servidor RADIUS / Tacacs + para otorgar acceso solo cuando se proporcionan credenciales de usuario válidas.
Funciones de nivel empresarial
Se admite una línea completa de características L2 +, que incluyen VLAN 802.1Q, duplicación de puertos, STP / RSTP / MSTP, protocolo de control de agregación de enlaces y control de flujo 802.3x. Advanced IGMP Snooping garantiza que el conmutador reenvíe de forma inteligente las transmisiones de multidifusión solo a los suscriptores adecuados, lo que elimina el tráfico innecesario, mientras que la limitación y el filtrado de IGMP restringen a cada suscriptor en un nivel de puerto para evitar el acceso de multidifusión no autorizado. El enrutamiento estático es una forma sencilla de segmentar la red y enruta internamente el tráfico a través del conmutador para mejorar la eficiencia.
QoS avanzada
El tráfico de voz y video se puede priorizar según la dirección IP, la dirección MAC, el número de puerto TCP, el número de puerto UDP y más. Con QoS (Quality of Service), los servicios de voz y video se mantienen fluidos, incluso cuando el ancho de banda es escaso.
Funciones de ISP **
Se proporcionan funciones de autenticación QinQ, L2PT, PPPoE ID Insertion e IGMP, desarrolladas pensando en los proveedores de servicios. El Protocolo de detección de enlaces de dispositivos (DLDP) ofrece un fácil monitoreo y resolución de problemas de enlaces Ethernet.
Soporte IPv6
Las funciones de IPv6, como la pila de IPv4 / IPv6 dual, el rastreo de MLD, la ACL de IPv6, el rastreo de DHCPv6, la interfaz de IPv6, el descubrimiento de la unidad de transmisión máxima de ruta (PMTU) y el descubrimiento de vecinos de IPv6 garantizan que su red esté lista para la red de próxima generación (NGN) sin actualizar su hardware.
CARACTERÍSTICAS DE HARDWARE
Interface
• 48× 10/100/1000 Mbps RJ45 Ports• 4× Gigabit SFP Slots• 1× RJ45 Console Port• 1× Micro-USB Console Port
Cantidad de Ventiladores
3
Fuente de Alimentación
100-240 V AC~50/60 Hz
Puertos PoE+ (RJ45)
• Standard: 802.3at/af compliant• PoE+ Ports: 48 Ports, up to 30 W per port• Power Budget: 384 W
Dimensiones (W X D X H)
17.3 × 13.0 × 1.7 in (440 × 330 × 44 mm)
Montaje
Rack Mountable
Consumo Máximo de energía
52.53 W (110 V/60 Hz) (no PD connected)485.4 W (110 V/60 Hz) (with 384 W PD connected)
Disipación Máxima de Calor
179.13 BTU/hr (110 V/60 Hz) (no PD connected)1656.19 BTU/hr (110 V/60 Hz) (with 384 W PD connected)
RENDIMIENTO
Capacidad de Switcheo
104 Gbps
Tasa de Reenvío de Paquetes
77.4 Mpps
Tabla de MAC Address
16 K
Jumbo Frame
9 KB
CARACTERÍSTICAS DE SOFTWARE
Calidad de servicio
• 8 priority queues• 802.1p CoS/DSCP priority• Queue scheduling- SP (Strict Priority)- WRR (Weighted Round Robin)- SP+WRR• Bandwidth Control- Port/Flow based Rating Limiting• Smoother Performance• Action for Flows- Mirror (to supported interface)- Redirect (to supported interface)- Rate Limit- QoS Remark
Características de L2 y L2 +
• Link Aggregation- Static link aggregation- 802.3ad LACP- Up to 8 aggregation groups and up to 8 ports per group• Spanning Tree Protocol- 802.1d STP- 802.1w RSTP- 802.1s MSTP- STP Security: TC Protect, BPDU Filter, BPDU Protect, Root Protect, Loop Protect• Loopback Detection- Port-based- VLAN based• Flow Control- 802.3x Flow Control- HOL Blocking Prevention• Mirroring- Port Mirroring- CPU Mirroring- One-to-One- Many-to-One- Tx/Rx/Both
L2 Multicast
• Supports 511 (IPv4, IPv6) IGMP groups• IGMP Snooping- IGMP v1/v2/v3 Snooping- Fast Leave- IGMP Snooping Querier- IGMP Authentication• IGMP Authentication• MVR• MLD Snooping- MLD v1/v2 Snooping- Fast Leave- MLD Snooping Querier- Static Group Config- Limited IP Multicast• Multicast Filtering: 256 profiles and 16 entries per profile
VLAN
• VLAN Group- Max 4K VLAN Groups• 802.1q Tagged VLAN• MAC VLAN: 12 Entries• Protocol VLAN: Protocol Template 16, Protocol VLAN 16• GVRP• VLAN VPN (QinQ)- Port-Based QinQ- Selective QinQ• Voice VLAN
Lista de control de acceso
• Time-based ACL• MAC ACL- Source MAC- Destination MAC- VLAN ID- User Priority- Ether Type• IP ACL- Source IP- Destination IP- Fragment- IP Protocol- TCP Flag- TCP/UDP Port- DSCP/IP TOS- User Priority• Combined ACL• Packet Content ACL• IPv6 ACL• Policy- Mirroring- Redirect- Rate Limit- QoS Remark• ACL apply to Port/VLAN
Seguridad
• IP-MAC-Port Binding- DHCP Snooping- ARP Inspection- IPv4 Source Guard• IPv6-MAC-Port Binding- DHCPv6 Snooping- ND Detection- IPv6 Source Guard• DoS Defend• Static/Dynamic Port Security- Up to 64 MAC addresses per port• Broadcast/Multicast/Unicast Storm Control- kbps/ratio/pps control mode• IP/Port/MAC based access control• 802.1X- Port based authentication- Mac based authentication- VLAN Assignment- MAB- Guest VLAN- Support Radius authentication andaccountability• AAA (including TACACS+)• Port Isolation• Secure web management through HTTPS with SSLv3/TLS 1.2• Secure Command Line Interface (CLI) management with SSHv1/SSHv2
IPv6
• IPv6 Dual IPv4/IPv6• Multicast Listener Discovery (MLD) Snooping• IPv6 ACL• IPv6 Interface• Static IPv6 Routing• IPv6 neighbor discovery (ND)• Path maximum transmission unit (MTU) discovery• Internet Control Message Protocol (ICMP) version 6• TCPv6/UDPv6• IPv6 applications- DHCPv6 Client- Ping6- Tracert6- Telnet (v6)- IPv6 SNMP- IPv6 SSH- IPv6 SSL- Http/Https- IPv6 TFTP
L3 Features
• 16 IPv4/IPv6 Interfaces• Static Routing- 48 static routes• Static ARP• 316 ARP Entries• Proxy ARP• Gratuitous ARP• DHCP Server• DHCP Relay• DHCP L2 Relay
Administración
• Web-based GUI• Command Line Interface (CLI) through console port, telnet• SNMPv1/v2c/v3- Trap/Inform- RMON (1, 2, 3, 9 groups)• SDM Template• DHCP/BOOTP Client• 802.1ab LLDP/LLDP-MED• DHCP AutoInstall• Dual Image, Dual Configuration• CPU Monitoring• Cable Diagnostics• EEE• Password Recovery• SNTP• System Log
Características Avanzadas
• Support Omada Hardware Controller (OC200/OC300), Software Controller, Cloud-Based Controller• Automatic Device Discovery• Batch Configuration• Batch Firmware Upgrading• Intelligent Network Monitoring• Abnormal Event Warnings• Unified Configuration• Reboot Schedule• ZTP (Zero-Touch Provisioning)**
Otros
Certificacion
CE, FCC, RoHS
Contenidos del Paquete
• TL-SG3452P Switch• Power Cord• Quick Installation Guide• Rackmount Kit• Rubber Feet
Ambiente
• Operating Temperature: 0–40 ℃ (32–104 ℉);• Storage Temperature: -40–70 ℃ (-40–158 ℉)• Operating Humidity: 10–90% RH non-condensing• Storage Humidity: 5–90% RH non-condensing
*PoE budget calculations are based on laboratory testing. Actual PoE power budget is not guaranteed and will vary as a result of client limitations and environmental factors.
**Zero-Touch Provisioning requires the use of Omada Cloud-Based Controller.
***L3 and ISP features can only be configured in standalone mode.
From United States?
Get products, events and services for your region.