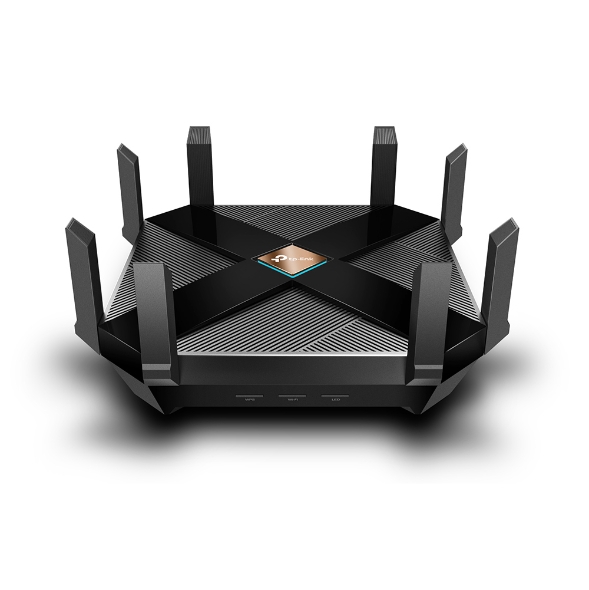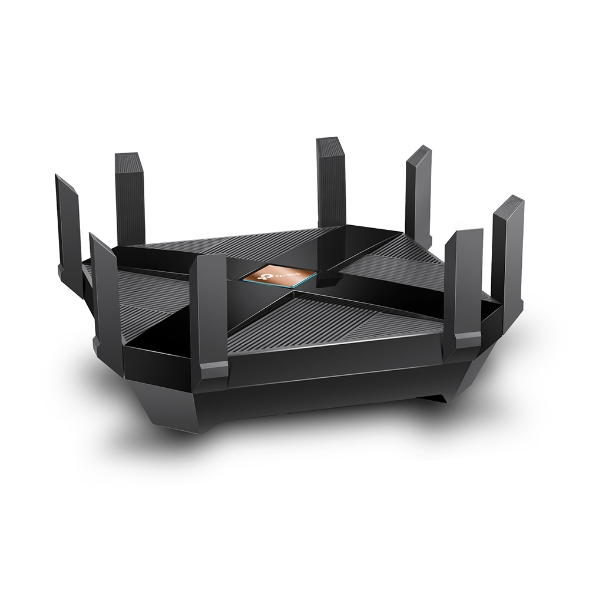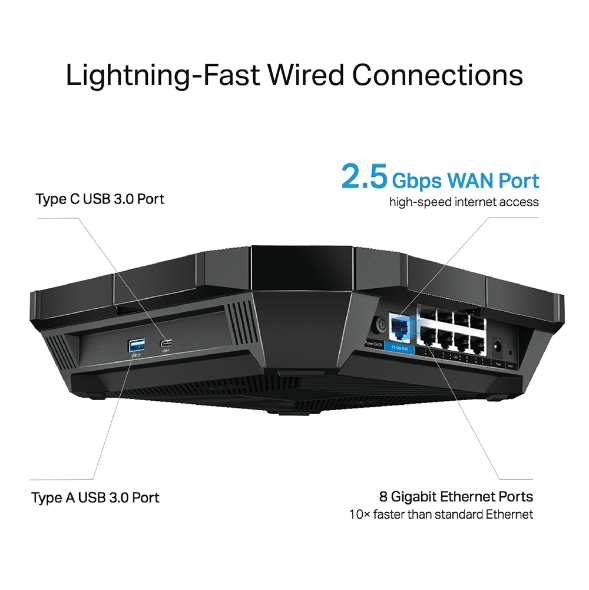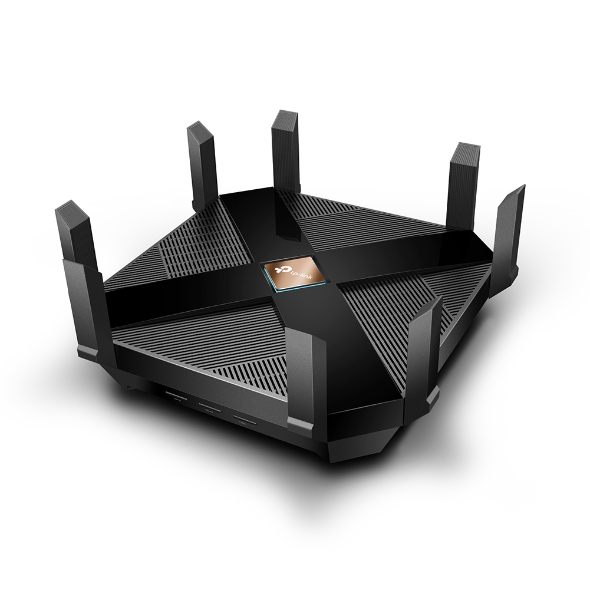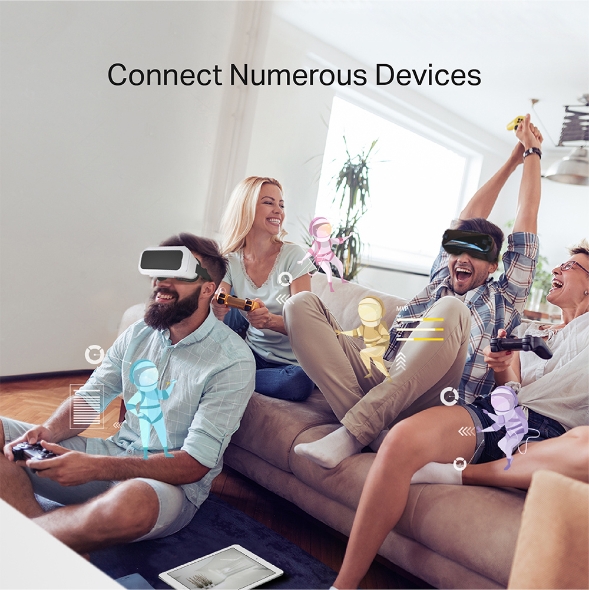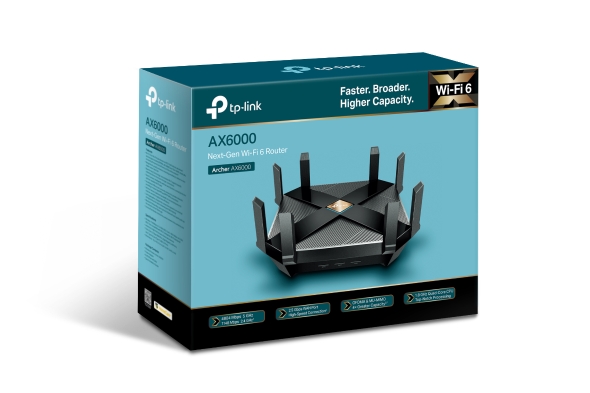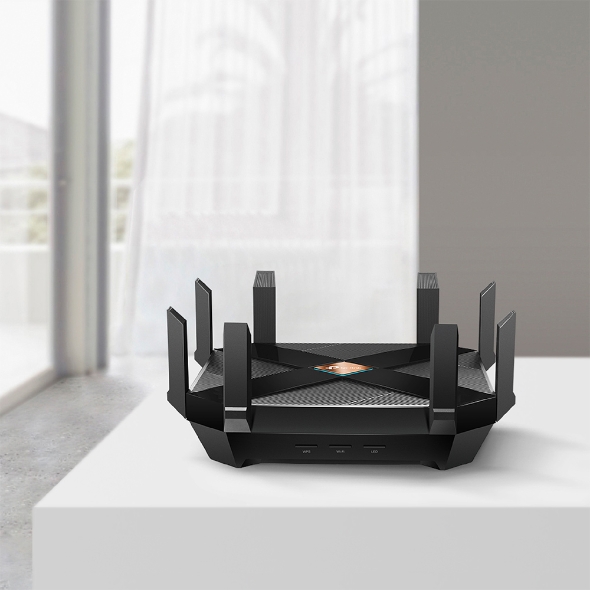 AX6000 Next-Gen Wi-Fi Router
Blazing Speed - AX6000 Dual-Band Wi-Fi speed boosted by 1024QAM deliver astonishing wireless speed up to 5952 Mbps: 4804 Mbps (5 GHz) and 1148 Mbps (2.4 GHz)
Ultra Connectivity - 1 × 2.5Gbps WAN port, 8 × Gigabit LAN ports, and 2 × USB 3.0 in Type A and Type C
Highly Efficient - OFDMA increases average throughput by 4× in high-density scenarios, compared with an 802.11ac standard router. Downlink and uplink MU-MIMO are both supported.
Powerful Processing - 1.8 GHz Quad-Core CPU and 2 co-processors eradicate latency and deliver stable performance
Intelligent Connection - Band Steering directs clients to less congested band and Airtime Fairness optimizes the time usage
Security System Built In - TP-Link HomeCareTM provides whole network with advanced antimalware service powered by Trend MicroTM, delivering Antivirus, Parental Controls and QoS
Easy Setup - Link to your router via Bluetooth and set it up in minutes with the powerful Tether app
Faster. Broader. Higher Capacity.
802.11ax Next-Gen Wi-Fi Router
Archer AX6000
What is 802.11ax Wi-Fi
Fast. High Efficiency.
Gaming, 4K/8K streaming, smart home devices, and AR/VR all compete for network resources, creating lag and crowding your network. To solve this problem,
802.11ax (also known as Wi-Fi 6), a next-gen high-efficiency Wi-Fi standard, was created. Now, you can simultaneously connect more devices and enjoy the optimum speed for each of them.
Next-Gen Wi-Fi — 802.11ax
The Archer AX6000 is TP-Link's first router with next-generation 802.11ax Wi-Fi technology. Take your Wi-Fi to the next level while being backwards compatible with 802.11a/b/g/n/ac Wi-Fi standards.
Learn more about 802.11ax >>
4x Higher Performance

The new Downlink and Uplink MU-MIMO and OFDMA achieve a performance boost 4× that of 802.11ac

4x Larger Capacity

OFDMA greatly increases the number of connected devices by assigning channels to more devices

3x Faster Speed

1024 QAM and Long OFDM Symbol boost overall speeds up to an incredible 6000 Mbps

Boosted Coverage

BSS Color technology ensures smooth and stable connections by eliminating signal interference, while beamforming and Rangeboost deliver stronger and far-reaching network.
Blazing Fast Speed
New technologies that come with 802.11ax, such as 1024QAM and Long OFDM Symbol, allow the router to provide industry-leading speeds of up to 1148 Mbps on a 2.4GHz band and 4804 Mbps on a 5GHz band. With the maximum bandwidth increased to 160MHz, you enjoy blazing-fast speeds without any lag.
Connect Numerous Devices
Non-Stop Entertainment on All Your Devices
With OFDMA and MU-MIMO technology, Archer AX6000 provides up to 4× higher capacity and throughput compared to standard AC routers in dense usage environments, greatly increasing the number of connected devices.
Far-Reaching
Wi-Fi

Coverage

8 high-gain external antennas deliver a strong Wi-Fi signal throughout your home. BSS Color technology ensure smooth and stable connections by eliminate signal interference probably from your neighbors, while beamforming and Rangeboost deliver stronger and far-reaching network.
TP-Link OneMesh™ :
Flexibly Create a Whole-Home Wi-Fi
OneMesh™ is a simple way to form a Mesh network with a single Wi-Fi name for seamless whole-home coverage. Just connect a OneMeshTM range extender to a OneMesh™ router. No more searching around for a stable connection.
Wi-Fi Dead-Zone Killer

Eliminate weak signal areas with Wi-Fi coverage for the whole house

Smart Roaming

Uninterrupted streaming when moving around your home

One Wi-Fi Name

No more switching Wi-Fi network names

Unified Management

Manage the whole-home Wi-Fi by managing the central node via Tether app/Web UI
Traditional Router with Extender

OneMesh™ Router + Range Extender
Lightning-Fast Wired Connections
The Archer AX6000 provides a 2.5Gbps WAN port to make fully use of the over 1Gbps internet access, boost the whole internet throughput. one Type C and one Type A USB 3.0 ports and eight Gigabit Ethernet ports also help to transfer data at blistering speeds for peak performance.
Type A USB 3.0 Port
Type C USB 3.0 Port
2.5 Gbps WAN Port
high-speed internet access
8 Gigabit Ethernet Ports
10× faster than standard Ethernet
Smarter. Faster. Safer.
Top-Notch Processing Architecture
An extremely powerful 1.8GHz 64-bit quad-core processor with two distinct co-processors and 8Gb of RAM powers through multiple complex tasks and demanding applications with ease. Its processing power allows the router to support multiple high-demand applications at the same time.
HomeCare™
TP-Link HomeCare™ ensures every device on your network remains protected, with a threat database updated live by Trend Micro™. Use the powerful parental controls to limit time spent online and block inappropriate content according to unique profiles created for each family member.
Learn More >>
Robust Parental Controls

Block inappropriate content and restrict time spent online

Built-In Antivirus

Protect all connected devices in your home from online threats

Quality of Service

Prioritize devices and applications for faster performance when needed
Setup Just Got a Lot Easier
To set up the Archer AX6000 via Bluetooth, simply download the Tether app,
follow the on-screen instructions, and get your network up and running in minutes.
Connect Archer AX6000 to your cable modem and turn on both devices

Download and launch the Tether app

Link to your router via Bluetooth and follow the in-app instructions to complete the network setup
Ready for Today and Tomorrow's Smart Home
With the growing number of devices in today's home, everyone deserves a smarter and easier way to bring all your products together. Utilize Amazon Alexa to control everything via voice commands to enjoy truly intelligent life.
Alexa,tell TP-Link to prioritize my laptop's Wi-Fi connect !
Inalámbricos
Standards
Wi-Fi 6
IEEE 802.11ax/ac/n/a 5 GHz
IEEE 802.11ax/n/b/g 2.4 GHz
WiFi Speeds
AX6000
5 GHz: 4804 Mbps (802.11ax, HE160)
2.4 GHz: 1148 Mbps (802.11ax)
WiFi Range
Casas de 4 dormitorios

---

8 antenas fijas de alto rendimiento
Varias antenas forman una matriz de refuerzo de señal para cubrir más direcciones y áreas grandes

Beamforming
Concentra la intensidad de la señal inalámbrica hacia los clientes para ampliar el alcance de WiFi

FEM de alta potencia
Mejora la potencia de transmisión para fortalecer la cobertura de la señal.

4T4R
Varias transmisiones en la misma banda fortalecen la tolerancia a fallas en la transmisión
WiFi Capacity
Muy Alta

---

Doble Banda
Asignación dispositivos a diferentes bandas para un rendimiento óptimo

4×4 MU-MIMO
Comunicación simultánea con múltiples clientes MU-MIMO

OFDMA
Comunicación simultánea con múltiples clientes de Wi-Fi 6

Airtime Fairness
Mejora la eficiencia de la red al limitar la ocupación excesiva

DFS
Acceso a una banda adicional para reducir la congestión

8 Hilos
Conecta los dispositivos a más ancho de banda
Working Modes
Modo Router
Modo Punto de Acceso
HARDWARE
Processor
1.8 GHz 64 Bit Quad-Core CPU
Ethernet Ports
1 puerto WAN de 2,5 Gbps
8 puertos LAN Gigabit

Agregación de enlaces estáticos (LAG) disponible con 2 puertos LAN
USB Support
1 × puerto USB-C 3.0
1 × puerto USB-A 3.0

Formatos de partición compatibles:
NTFS, exFAT, HFS +, FAT32

Funciones compatibles:
Máquina del tiempo de Apple
Servidor FTP
Servidor multimedia
Servidor Samba
Buttons
Botón Wi-Fi On/Off
Botón encendido On/Off
Botón LED On/Off
Botón WPS
Botón reset
Power
12 V ⎓ 4 A
SEGURIDAD
WiFi Encryption
WPA
WPA2
WPA3
WPA/WPA2-Enterprise (802.1x)
Network Security
SPI Firewall
Control de Acceso
Unión IP y MAC
Application Layer Gateway

HomeCare™ Antivirus

---

Verificador de sitio malicioso
Prevención de intrusiones por puerto
Aislamiento del dispositivo infectado
Notificación y registro
Guest Network
1× 5 GHz Red de invitados
1× 2.4 GHz Red de invitados
VPN Server
OpenVPN
PPTP
SOFTWARE
Protocols
IPv4
IPv6
Service Kits
HomeCare™
Learn More>
OneMesh™
Compatible con OneMesh ™
Sin reemplazar sus dispositivos existentes o comprar un ecosistema WiFi completamente nuevo, OneMesh ™ lo ayuda a crear una red más flexible que cubre toda su casa con productos TP-Link OneMesh ™.
Más información & gt;
Todos los productos OneMesh & gt;
Parental Controls
HomeCare™ Parental Controls

---

Custom ProfilesContent FilteringApp BlockURL FilteringTime Limit Time Schedule (Bedtime)Log Insight
WAN Types
IP Dinámica
IP Estática
PPPoE
PPTP
L2TP
Quality of Service
QoS by Device

HomeCare™ QoS

---

QoS por dispositivo
Cloud Service
Actualización automática firmware
Actualización firmware OTA
TP-Link ID
DDNS
NAT Forwarding
Reenvío de puertos
Activación de puertos
DMZ
UPnP
IPTV
IGMP Proxy
IGMP Snooping
Bridge
Tag VLAN
DHCP
Reserva de direcciones
Lista cliente DHCP
Servidor
DDNS
TP-Link
NO-IP
DynDNS
Management
Tether App
Webpage
Check Web Emulator>
PHYSICAL
Dimensions (W×D×H)
261.2 × 261.2 × 60.2 mm
(10.3 × 10.3 × 2.4 in)
Package Contents
Wi-Fi Router Archer AX6000
Adaptador de energía
Cable Ethernet RJ45
Guía de Instalación Rápida
OTHER
System Requirements
Internet Explorer 11+, Firefox 12.0+, Chrome 20.0+, Safari 4.0+, o navegadores compatible con JavaScript

Cable o Módem DSL(si necesario)

Suscripción con un proveedor de servicios de internet (para acceso a internet)
Certifications
FCC, CE, RoHS
Environment
Temperatura de funcionamiento: 0℃~40℃ (32℉ ~104℉)
Temperatura de almacenamiento: -40℃~70℃ (-40℉ ~158℉)
Humedad de funcionamiento: 10%~90% sin condensación
Humedad de almacenamiento: 5%~90% sin condensación
TEST DATA
WiFi Transmission Power
CE:
<20dBm(2.4GHz)
<23dBm(5.15GHz~5.35GHz)
<30dBm(5.47GHz~5.725GHz)
FCC:
<30dBm(2.4GHz & 5.15GHz~5.25GHz & 5.725GHz~5.825GHz)
<24dBm(5.25GHz-5.35GHz & 5.47GHz-5.725 GHz)

WiFi Reception Sensitivity
5 GHz:
11a 6Mbps:-97dBm,11a54MBps:-79dBm
11ac VHT20 MCS0:-97dBm,11ac VHT20 MCS11:-67dBm
11ac VHT40 MCS0:-95dBm,11ac VHT40 MCS11:-64dBm
11ac VHT80 MCS0:-92dBm,11ac VHT80 MCS11:-61dBm
11ac VHT160 MCS0:-87dBm,11ac VHT160 MCS11:-55dBm
11ax HE20 MCS0:-95dBm,11ax HE20 MCS11:-64dBm
11ax HE40 MCS0:-93dBm,11ax HE40 MCS11:-61.5dBm
11ax HE80 MCS0:-89dBm,11ax HE80 MCS11:-58.5dBm
11ax HE160 MCS0:-86dBm,11ax HE160 MCS11:-56dBm

2.4 GHz:
11g 6Mbps:-97dBm,11a54MBps:-79dBm
11n HT20 MCS0:-97dBm,11n HT20 MCS7:-78dBm
11n HT40 MCS0:-95dBm,11n HT40 MCS7:-75dBm
11ac VHT20 MCS0:-96dBm,11ac VHT20 MCS11:-67dBm
11ac VHT40 MCS0:-94dBm,11ac VHT40 MCS11:-64dBm
11ax HE20 MCS0:-95dBm,11ax HE20 MCS11:-64dBm
11ax HE40 MCS0:-93dBm,11ax HE40 MCS11:-62dBm
*Maximum wireless signal rates are the physical rates derived from IEEE Standard 802.11 specifications. Actual wireless data throughput, wireless coverage, and quantity of connected devices are not guaranteed and will vary as a result of network conditions, client limitations, and environmental factors, including building materials, obstacles, volume and density of traffic, and client location.
* Use of 802.11ax Wi-Fi standard requires clients to also support the 802.11ax Wi-Fi standard.
* Claims about 802.11ax Wi-Fi technology are based on comparisons of the expected maximum theoretical data rates for one spatial stream using 802.11ax at 160 MHz (1201 Mbps) as opposed to one spatial stream using 802.11ac at 80 MHz (433 Mbps) as documented in IEEE 802.11ax draft 3.0 spec and IEEE 802.11-2016 wireless standard specifications.
*Use of MU-MIMO requires clients to also support MU-MIMO.
*The amendment defines standardized modifications to both the IEEE 802.11 physical layers (PHY) and the IEEE 802.11 Medium Access Control (MAC) layer that enable at least one mode of operation capable of supporting improvement of at least four times the average throughput per station (measured at the MAC data service access point) in a dense deployment scenario.
* Requires client device that supports 160 MHz bandwidth on Wi-Fi.
* This router may not support all the mandatory features as ratified in Draft 3.0 of IEEE 802.11AX specification.
*2.5 Gbps internet speeds require compatible service plans and equipment.
De United States?
Obtener productos, eventos y servicios para su región.