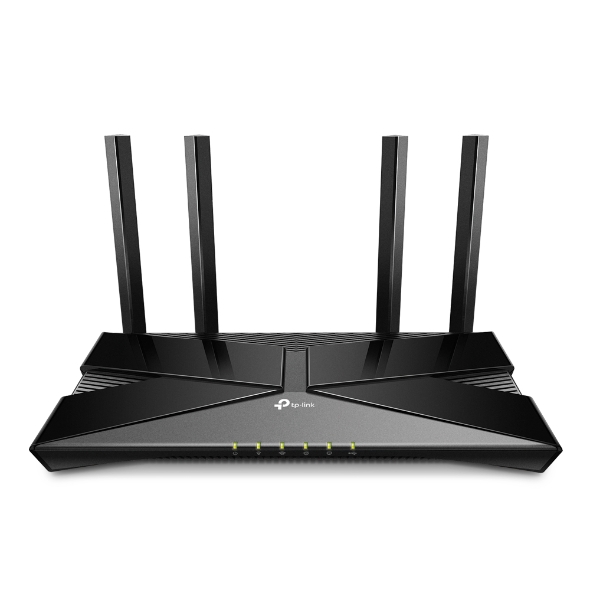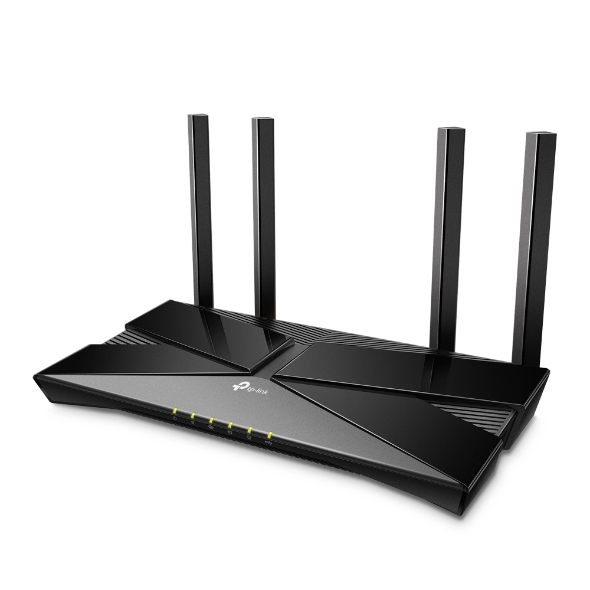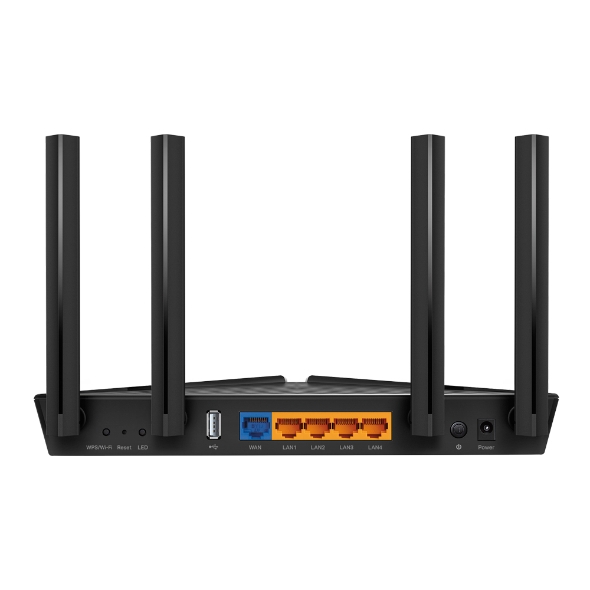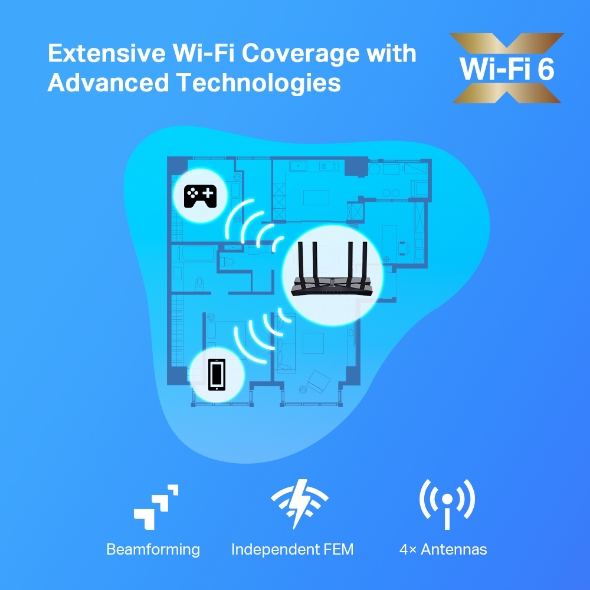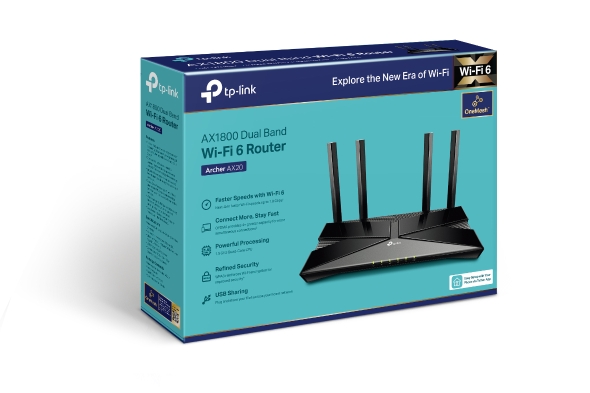 AX1800 Doble Banda Wi-Fi 6 Router
Wi-Fi 6 de doble banda: la tecnología Wi-Fi 6 logra velocidades más rápidas, mayor capacidad y congestión de red reducida en comparación con la generación anterior.
Velocidades de próxima generación de 1.8 Gbps: disfrute de una transmisión, juegos, descargas y más fluidos y más estables con velocidades de WiFi de hasta 1.8 Gbps (1200 Mbps en la banda de 5 GHz y 574 Mbps en la banda de 2.4 GHz) .1
Conecte más dispositivos: la tecnología Wi-Fi 6 comunica más datos a más dispositivos utilizando la revolucionaria tecnología OFDMA y al mismo tiempo reduce el retraso para un entretenimiento ultra sensible.3
Procesador Quad-Core: la potente CPU de cuatro núcleos a 1,5 GHz garantiza que las comunicaciones entre su router y los dispositivos conectados sean fluidas.
Amplia cobertura: logre la cobertura WiFi más sólida y confiable con Archer AX1800, ya que enfoca la intensidad de la señal a sus dispositivos lejanos utilizando la tecnología Beamforming, 4 antenas y un conjunto de chips de módulo frontal (FEM) avanzado.
Mayor duración de la batería para dispositivos: la tecnología Target Wake Time reduce el consumo de energía de sus dispositivos para extender la duración de la batería.
USB Easy Sharing: un puerto USB 2.0 permite compartir archivos fácilmente dentro de su red o crear almacenamiento privado en la nube.
Configuración fácil: configure su Router en minutos con la potente aplicación TP-Link Tether
Compatible con versiones anteriores: Archer AX20 es compatible con todos los estándares 802.11 anteriores y todos los dispositivos WiFi
Explore the
New Era of WiFi
AX1800 Dual-Band
Wi-Fi 6 Router
Archer AX20
Faster Speeds. More Connected Devices.
Powerful Processing.
Dual-Band
Wi-Fi 6

Up to 1.8 Gbps Speeds

Connect More, Stay Fast

Quad-Core CPU

Reduced Power Consumption

Refined Password Security
The Wi-Fi 6 Experience
The latest generation of WiFi technology brings faster speeds, less lag, and higher capacity, enabling more simultaneous connections on your home network.
Dual-Band Wi-Fi 6 Up to 1.8 Gbps
Every application feels more fluid with drastically improved WiFi speeds. Both 2.4 GHz band and 5 GHz band get upgraded to the latest generation—perfect for 4K streaming, online gaming, and fast downloading.1
Wi-Fi 4, 2.4 GHz


40 MHz, 2×2

300 Mbps

Wi-Fi 6, 2.4 GHz


40 MHz, 2×2

574 Mbps

90% Faster

Wi-Fi 5, 5 GHz


80 MHz, 2×2

867 Mbps

Wi-Fi 6, 5 GHz


80 MHz, 2 ×2

1201 Mbps

40% Faster
Extensive WiFi Coverage with Advanced Technologies
Beamforming technology, independent Front-End Module, and four high-gain antennas combine to adapt WiFi coverage to perfectly fit your home and concentrate signal strength towards your devices.
Beamforming

Independent FEM

4× Antennas
Connect More,
Stay Fast
Easily handle dozens of devices streaming and gaming at the same time—OFDMA future-proofs your home networks by providing greater capacity to connect more devices.3
OFDMA
OFDMA separates a single spectrum into multiple units and enables different devices to share one transmission stream, increasing efficiency and reducing latency.
Versatile Connectivity
Easy File Sharing

Share music, movies, and documents easily on every device across your home network.

Full Gigabit Ports

Connect to your devices using a wired network for robust stability.
USB Port
Gigabit WAN Port
4 Gigabit LAN Ports
WPA3—New Level of Cyber Security
The latest WiFi security protocol, WPA3, brings new capabilities to improve cybersecurity in personal networks. More secure encryption in WiFi password safety and enhanced protection against brute-force attacks combine to safeguard your home WiFi.
TP-Link OneMesh™ :
Flexibly Create a Whole-Home Wi-Fi
OneMesh™ is a simple way to form a Mesh network with a single Wi-Fi name for seamless whole-home coverage. Just connect a OneMeshTM range extender to a OneMesh™ router. No more searching around for a stable connection.
Wi-Fi Dead-Zone Killer

Eliminate weak signal areas with Wi-Fi coverage for the whole house

Smart Roaming

Uninterrupted streaming when moving around your home

One Wi-Fi Name

No more switching Wi-Fi network names

Unified Management

Manage the whole-home Wi-Fi by managing the central node via Tether app/Web UI
Traditional Router with Extender

OneMesh™ Router + Range Extender
Enjoy a Mesh Network with Your Existing Router
Want a Mesh network? Hesitate on whether to replace your existing router and buy a Mesh set?
TP-Link OneMesh™ resolves your dilemma.
Easy Setup and Use
Whether you prefer the intuitive Tether App or the powerful web interface, you can set up your Archer AX20 in minutes. The Tether App allows you to manage network settings from any Android or iOS device.
Inalámbricos
Standards
Wi-Fi 6IEEE 802.11ax/ac/n/a 5 GHzIEEE 802.11ax/n/b/g 2.4 GHz
WiFi Speeds
AX18005 GHz: 1201 Mbps (802.11ax)2.4 GHz: 574 Mbps (802.11ax)
WiFi Range
Casas de 3 dormitorios

---

4 antenas fijas de alto rendimiento
Varias antenas forman una matriz de refuerzo de señal para cubrir más direcciones y áreas grandes

Beamforming
Concentra la intensidad de la señal inalámbrica hacia los clientes para ampliar el alcance de WiFi

FEM de alta potencia
Mejora la potencia de transmisión para fortalecer la cobertura de la señal.
WiFi Capacity
Alta

---

Doble banda
Asignar dispositivos a diferentes bandas para un rendimiento óptimo

OFDMA
Se comunica simultáneamente con múltiples clientes Wi-Fi 6

Equidad de tiempo aire
Mejora la eficiencia de la red al limitar la ocupación excesiva

4 corrientes
Conecte sus dispositivos a más ancho de banda
Working Modes
Modo router
Modo punto de acceso
HARDWARE
Processor
CPU de cuatro núcleos a 1,5 GHz
Ethernet Ports
1 puerto WAN Gigabit
4 puertos LAN Gigabit
USB Support
1 × puerto USB 2.0

Formatos de partición admitidos:
NTFS, exFAT, HFS +, FAT32

Funciones compatibles:
Máquina del tiempo de Apple
Servidor FTP
Servidor multimedia
Servidor Samba
Buttons
Botón WPS / Wi-Fi
Botón de encendido / apagado
Botón LED de encendido / apagado
Botón de reinicio
Power
12 V ⎓ 1.5 A
SEGURIDAD
WiFi Encryption
WPAWPA2WPA3WPA/WPA2-Enterprise (802.1x)
Network Security
Cortafuegos SPI
Control de acceso
Enlace IP y MAC
Puerta de enlace de capa de aplicación
Guest Network
Red de invitados de 1 × 5 GHz
1 red de invitados de 2,4 GHz
VPN Server
OpenVPNPPTP
SOFTWARE
Protocols
IPv4IPv6
OneMesh™
Compatible con OneMesh ™
Sin reemplazar sus dispositivos existentes o comprar un ecosistema WiFi completamente nuevo, OneMesh ™ lo ayuda a crear una red más flexible que cubre toda su casa con los productos TP-Link OneMesh ™.
Más información & gt;
Todos los productos OneMesh & gt;
Parental Controls
Filtrado de URL
Controles de tiempo
WAN Types
IP dinámica
IP estática
PPPoE
PPTP
L2TP
Quality of Service
QoS por dispositivo
Cloud Service
Actualización automática de firmware
Actualización de firmware OTA
ID de TP-Link
DDNS
NAT Forwarding
Reenvío de puertos
Activación de puerto
DMZ
UPnP
IPTV
Proxy IGMP
Inspección IGMP
Puente
Etiqueta VLAN
DHCP
Dirección de reservas
Lista de clientes DHCP
Servidor
DDNS
TP-LinkNO-IPDynDNS
Management
Aplicación Tether
Página web
Verifique el emulador web>
PHYSICAL
Dimensions (W×D×H)
10.2 × 5.3 ×1.5 in(260.2 × 135.0 × 38.6 mm)
Package Contents
Enrutador Wi-Fi Archer AX20
Adaptador de corriente
Cable Ethernet RJ45
Guía de Instalación Rápida
OTHER
System Requirements
Internet Explorer 11+, Firefox 12.0+, Chrome 20.0+, Safari 4.0+ u otro navegador habilitado para JavaScript

Módem por cable o DSL (si es necesario)

Suscripción con un proveedor de servicios de Internet (para acceso a Internet)
Certifications
FCC, CE, RoHS
Environment
Temperatura de funcionamiento: 0 ℃ ~ 40 ℃ (32 ℉ ~ 104 ℉)
Temperatura de almacenamiento: -40 ℃ ~ 70 ℃ (-40 ℉ ~ 158 ℉)
Humedad de funcionamiento: 10% ~ 90% sin condensación
Humedad de almacenamiento: 5% ~ 90% sin condensación
TEST DATA
WiFi Transmission Power
CE: <20dBm(2.4 GHz)<23dBm(5.15 GHz~5.25 GHz)FCC:<30dBm(2.4 GHz & 5.15 GHz~5.825 GHz)
WiFi Reception Sensitivity
5 GHz:
11a 6Mbps:-97dBm
11a 54Mbps:-79dBm
11ac VHT20_MCS0:-96dBm
11ac VHT20_MCS11:-66dBm
11ac VHT40_MCS0:-94dBm
11ac VHT40_MCS11:-63dBm
11ac VHT80_MCS0:-91dBm
11ac VHT80_MCS11:-60dBm
11ax HE20_MCS0:-95dBm
11ax HE20_MCS11:-63dBm
11ax HE40_MCS0:-92dBm
11ax HE40_MCS11:-60dBm
11ax HE80_MCS0:-89dBm
11ax HE80_MCS11:-58dBm
2.4 GHz:
11g 6Mbps:-97dBm
11n HT20_MCS0:-97dBm
11n HT20_MCS7:-78dBm
11n HT40_MCS0:-95dBm
11n HT40_MCS7:-75dBm
11ac VHT20_MCS0:-96dBm
11ac VHT20_MCS11:-67dBm
11ac VHT40_MCS0:-94dBm
11ac VHT40_MCS11:-64dBm
11ax HE20_MCS0:-96dBm
11ax HE20_MCS11:-64dBm
11ax HE40_MCS0:-93dBm
11ax HE40_MCS11:-61dBm
Revisiones

TP-Link Archer AX20 met the 3 most important aspects of a good wireless router. The speed is excellent, the coverage is strong and the stability is great. At this price point, there's nothing that perform just as good as this Archer AX20. This will probably be my best budget mid-range router that I will recommend in 2020.
1. Las velocidades máximas de transmisión inalámbrica son las velocidades físicas derivadas de las especificaciones IEEE Standard 802.11. Las especificaciones de alcance y cobertura se basan en los resultados de las pruebas en condiciones normales de uso. La velocidad de transmisión inalámbrica real y la cobertura inalámbrica no están garantizadas, y variarán como resultado de 1) factores ambientales, incluidos materiales de construcción, objetos físicos y obstáculos, 2) condiciones de red, incluidas interferencias locales, volumen y densidad de tráfico, ubicación del producto, complejidad de la red y sobrecarga de la red y 3) limitaciones del cliente, incluido el rendimiento calificado, la ubicación, la calidad de la conexión y la condición del cliente.
2. Las afirmaciones sobre la tecnología Wi-Fi 802.11ax se basan en comparaciones de las velocidades de datos teóricas máximas esperadas para un flujo espacial que usa 802.11ax a 160 MHz (1201 Mbps) en lugar de un flujo espacial que usa 802.11ac a 80 MHz (433 Mbps ) como se documenta en las especificaciones IEEE 802.11ax draft 3.0 y las especificaciones estándar inalámbricas IEEE 802.11-2016, y requieren el uso de enrutadores de red inalámbrica 802.11ax configurados de manera similar.
El uso del estándar 802.11ax Wi-Fi requiere que los clientes también admitan el estándar 802.11ax Wi-Fi.
3. El uso de MU-MIMO, DL / UL OFDMA, TWT y 1024QAM requiere que los clientes también admitan esas funciones.
4. La capacidad se refiere al rendimiento promedio general. Esta enmienda define modificaciones estandarizadas tanto a las capas físicas IEEE 802.11 (PHY) como a la capa de Control de acceso medio (MAC) IEEE 802.11 que permiten al menos un modo de operación capaz de soportar al menos cuatro veces la mejora en el rendimiento promedio por estación (medido en el punto de acceso al servicio de datos MAC) en un escenario de despliegue denso, mientras se mantiene o mejora la eficiencia energética por estación.
5. Ahorrar energía de la batería de los clientes requiere que los clientes también admitan el estándar Wi-Fi 802.11ax. La reducción real de energía puede variar como resultado de las condiciones de la red, las limitaciones del cliente y los factores ambientales.
6. TP-Link HomeCare está disponible de forma gratuita durante los primeros meses después de la suscripción. Visite y verifique: www.tp-link.com/homecare

De United States?
Obtener productos, eventos y servicios para su región.