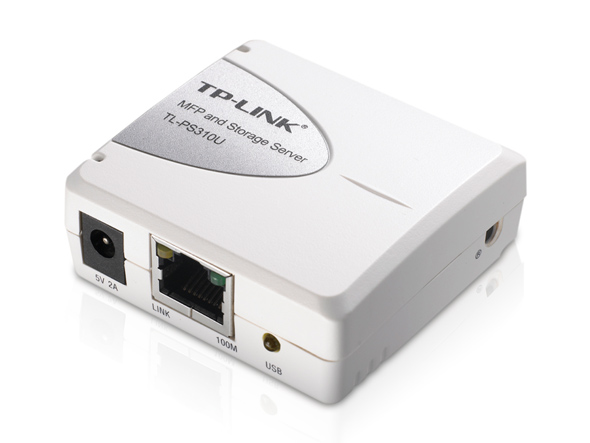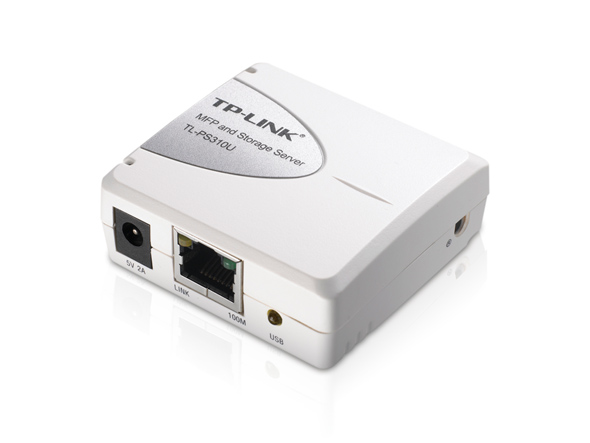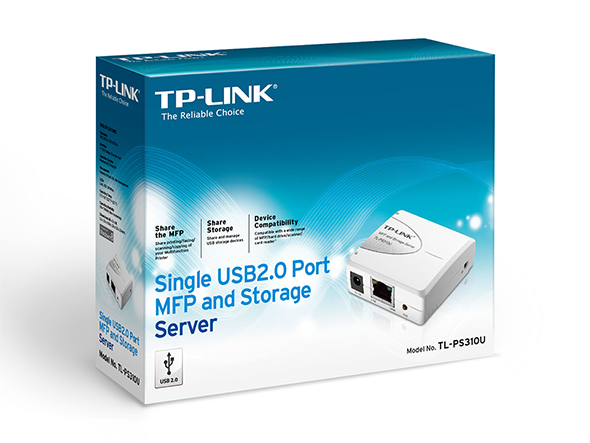 TL-PS310U
Single USB2.0 Port MFP and Storage Server
Great Compatibility: Compatible with the majority of USB devices on the market
Easy to use: Ease setup with Installation Wizard simply by several clicks
Expandable application: Share up to 4 USB devices by connecting to a USB hub
What This Product Does
The TP-LNK MFP and Storage Server TL-PS310U is ideal for sharing USB connected devices across a home or office network. The device is compatible with the majority of printers and multi-function printers on the market and allows for seamless sharing and management of those devices with network connected computers. The device is also capable of operating with up to four USB based devices such as scanners, flash drives, speakers, and webcams with a USB dock connected to the server. These devices may be accessed from across the network and even wirelessly when the Server is connected to a wireless router.
Great Compatibility
The TL-PS310U is compatible with the majority of MFP and otherUSB devices on the market. Tested with over 200 different printer models, our TL-PS310U offers class-leading device compatibility. You will find that the TL-PS310U is an excellent choice for your home or office printing requirements.
Easier Configuration with Higher Efficiency
The totally new interface provides a much easy and intuitive way to operate your print server. You can easily manage and configure our TL-PS310U through the interface even you are a novice user. Turn it on and Leave it alone. With the Auto-Connect function, you can just turn on your Utility and choose the "Connect Automatically for Printing" function and the TL-PS310U will finish the printing job for you. It will automatically connect to your printer and will deal any printing jobs on hand leaving you with time to grab a coffee.
WINDOWS 7 Supported
With the upgrade of the firmware and the new Utility, TL-PS310U now can work perfectly on the WINDOWS 7 operating system. Through the new Utility, you can easily manage the printer and other USB device while working on WINDOWS 7.
CARACTERÍSTICAS DE HARDWARE
Interfaz
Puerto USB 2.0
Puerto RJ-45 Fast Ethernet
Consumo de Potencia
5V DC, 2A
Indicador de LED
10 Mbps, 100 Mbps, USB
Dimensiones
56 x 52 x 23mm
CARACTERÍSTICAS DE SOFTWARE
Gestión
Administración vía web
Protocolos
TCP/IP,(USB virtual remoto),LPR/LPD
Características Avanzadas
Cliente DHCP, POST(Power On Self Test, auto prueba de encendido),
Firmware actualizable, utilidad para Windows
Otros
Contenido del Paquete
Servidor de impresión
Cable Ethernet (RJ45),
CD de utilidades
Guía rápida de instalación
Fuente de Alimentación
Requisitos del sistema
Windows 7/Vista/XP/2000
Factores Ambientales
Temperatura de funcionamiento: 0℃~50℃ (32℉~122℉)
Temperatura de almacenamiento: -5℃~65℃ (23℉~139℉)
Humedad de funcionamiento: 0%~70% sin condensación
Humedad de almacenamiento: 0%~80% sin condensación
Premios

Very Good

TL-PS310U receives Very Good Award from PCgo in DE.

2012, Germany
De United States?
Obtener productos, eventos y servicios para su región.