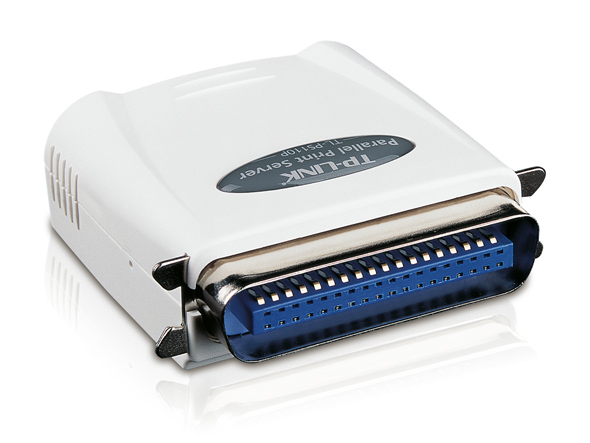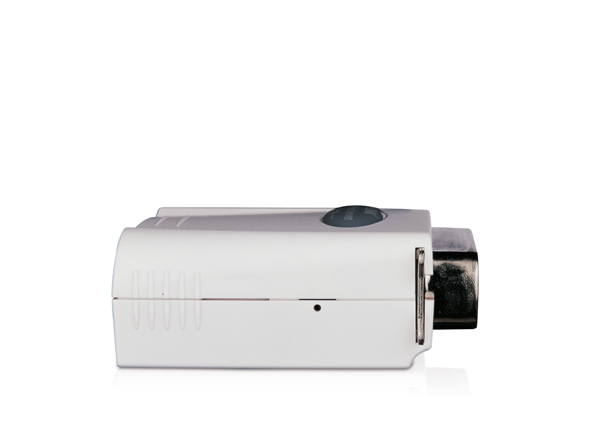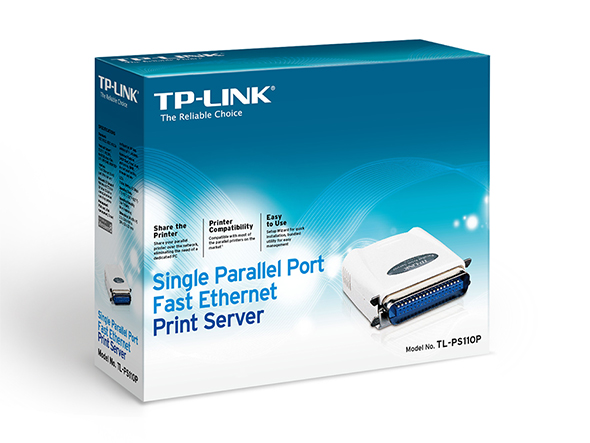 TL-PS110P
Single Parallel Port Fast Ethernet Print Server
Compatible with up to 230 printer models on the market
Supports multi-protocol and multi-OS, easy to set up in almost all network environments
Supports POST (Power On Self Test) and E-mail Alert, to help identify printing problems as soon as possible
Simple setup and management, very easy to operate
Compact and smart design, can be located almost anywhere
What This Product Does
The TP-LINK TL-PS110P print server allows you to take the computer out of the loop while setting up a printing network. All that is needed is to connect the TL-PS110P to a printer via the parallel port, connect the print server to your LAN, and you will be able to access your printer from any computer on the LAN.
Great Compatibility
TP-LINK print servers are compatible with most majorities of printers on the market. At the same time, we also make sure to keep our products up to date with new models of printers.
High-speed Printing
TP-LINK print servers feature high-speed microprocessor and USB 2.0 port to ensure user printing jobs are processed both effectively and rapidly.
Wide Applicability
TP-LINK print servers support a majority of operating systems including Windows, Netware, Unix/Linux, and Mac. Also TP-LINK print servers support a number of network protocols including TCP/IP, IPX/SPX, NetBEUI, Apple Talk, LPR, IPP/SMB, RAW TCP, increasing the width of application.
CARACTERÍSTICAS DE HARDWARE
Interfaz
puerto paralelo
Puerto RJ-45 Fast Ethernet
Consumo de Potencia
3.3V DC, 2A
Indicador de LED
Estado, 10 Mbps, 100 Mbps
Dimensiones
59×52×22mm
CARACTERÍSTICAS DE SOFTWARE
Gestión
Gestión basada en web, configuración vía telnet, utilidad HP Web Jet Admin
Protocolos
TCP/IP,(USB virtual remoto),LPR/LPD
Características Avanzadas
Cliente DHCP, POST(Power On Self Test, auto prueba de encendido),Firmware actualizable, utilidad para Windows
Otros
Contenido del Paquete
Servidor de impresión
Cable Ethernet (RJ45),
CD de utilidades
Guía rápida de instalación
Requisitos del sistema
Windows 9x/ME, Windows NT/2000/XP/Vista/7, Mac OS 8.1 o posterior, UNIX/Linux, Netware 3.12 o posterior
Factores Ambientales
Temperatura de funcionamiento: 0℃ ~ 50℃ (32℉ ~ 122℉)
Temperatura de almacenamiento: -5℃ ~ 65℃ (23℉ ~ 139℉)
Humedad de funcionamiento: 0% ~ 70% sin condensación
Humedad de almacenamiento: 0% ~ 80% sin condensación
De United States?
Obtener productos, eventos y servicios para su región.