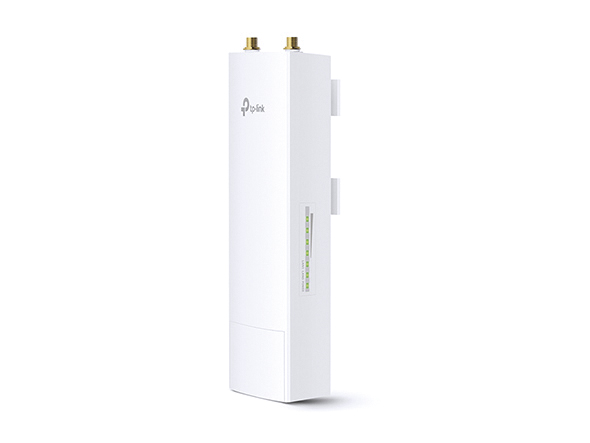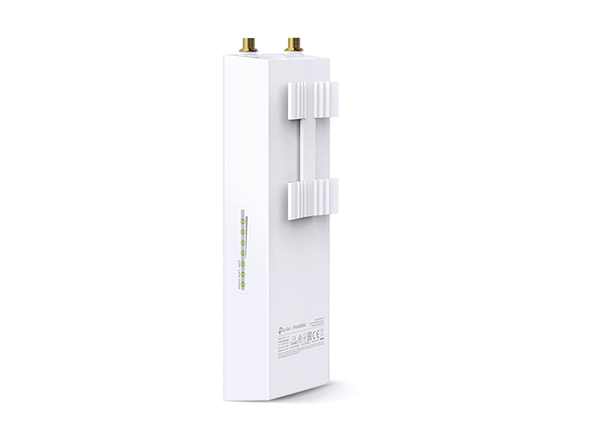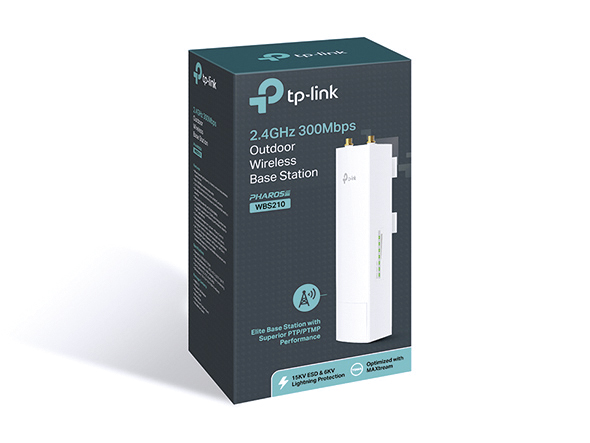 WBS210
2.4GHz 300Mbps Outdoor Wireless Base Station
Broad operating frequency channels ensure less wireless interference
Wireless N speed up to 300Mbps
Selectable bandwidth of 5/10/20/40MHz
Adjustable transmission power from 0 to 27dBm/500mW
2 RP-SMA female connectors for external MIMO antenna
Work with TP-LINK dish antenna for long-distance wireless data transfer up to 30Km+
1 10/100Mbps Ethernet port for passive PoE and 1 10/100Mbps Ethernet port for extended applications
TP-LINK Pharos MAXtream (Time-Division-Multiple-Access) technology improves product throughput, capacity and latency performance, ideal for PtMP applications
Centralized Management System – Pharos Control
Supports AP Router, AP Client Router, AP, AP Client, Multi-Bridge and Repeater Operation modes
Weatherproof enclosure, 15KV ESD and 6KV lightning protection
Access Where You Need It Most
TP-LINK's 2.4GHz 300Mbps Outdoor Wireless Base Station is specifically designed to provide an effective solution for outdoor wireless networking applications. With its centralized management platform and high degree of flexibility, it is the ideal choice for providing point-to-point, point-to-multipoint, and outdoor Wi-Fi coverage. The TP-LINK Outdoor Wireless Base Station pairs professional performance with user-friendly design, making it the perfect solution for both business and home users.
Long-Distance Wireless Data Transmission
Two external RP-SMA female antenna interfaces allow the Outdoor Wireless Base Station to integrate seamlessly with TP-LINK's line of sector and dish antennas. Where long- distance wireless data transmission is necessary, the WBS210 can be paired with a TP-LINK dish antenna, allowing it to transfer data over distances of up to 30 km.
Easy Installation, No Tools Needed
Pharos Base Stations works seamlessly with TP-LINK dish and sector antennas to provide efficient PtP and PtMP data transmission. Pharos Base Stations also feature a built-in mount, meaning that no tools are required for installation.
Enterprise Level Hardware Design
To maximize performance and stabilize long distance wireless transmission, the Pharos Series is built with Qualcomm Atheros enterprise level chipsets, high gain-antennas, and high-power amplifiers. In addition to excellent internal components, Pharos Series Base Stations also feature specially designed, weatherproof enclosures and PoE capability. This industry-leading hardware ensures that Pharos Series Base Stations can be deployed in a wide variety of environments, withstanding broad ranges of humidity and temperature (-40°C~70°C) (-40°F~158°F).
Qualcomm Atheros Enterprise Level Chipset
300Mbps Wireless N
Weatherproof Enclosure
Passive PoE Adapter
6KV Lightning Protection
15KV ESD Protection
MAXtream TDMA Technology – Guaranteed Throughput
As networks grow in scale, base stations and other devices often compete for access to a single data connection, resulting in diminished throughput and a poorer experience for the end-user. Pharos Base Stations utilize MAXtream TDMA Technology to counteract this competition and ensure that data transfer rates remain high, even as demand increases.
Pharos Control - Centralized Management System
Pharos Base Stations are equipped with Pharos Control, a centralized management software that helps users easily manage all network devices from a single PC. Pharos Control provides ultimate convenience for users who wish to control device discovery, monitor network status, upgrade device firmware, or perform other network maintenance tasks.
PharOS
PharOS is a user-friendly, web-based management system that allows advanced users and network professionals to perform fine-tune calibration and access more advanced configuration options.
TP-LINK Pharos Provides High Performance Solutions
TP-LINK Pharos series products are dedicated to provide high performance solutions for outdoor wireless networking applications. Nowadays Pharos includes a variety of CPE and Base station devices, carrier class antennas, and a centralized management application.
WBS510
WBS210

Wireless Performance

Compatibility

802.11 a/n

802.11 b/g/n

Wireless Speed

300Mbps

300Mbps

Transmit Power

27dBm

27dBm

Maximum Transfer distance

50km+

30km+

MIMO

√

√

Hardware

External Antenna Interface

2 RP-SMA female connectors for MIMO antenna

Weatherproof Enclosure

√(IP65)

√(IP65)

ESD Protection

15kV

15kV

Lightning Protection

6kV

6kV

Software

Operation Modes

AP / Client / Bridge / Repeater / AP Client Router (WISP Client) / AP Router Mode

MAXtream TDMA Mode

√

√

Channel Bandwidth

5/10/20/40MHz

5/10/20/40MHz

Pharos Control Supported

√

√
Más >
Soluciones relacionadas
Wireless Networking for Elevators

TP-Link Omada offers a wireless solution for elevators: a wireless point-to-point link delivering a throughput of up to 867 Mbps. Wireless coverage extends to the entire shaft to connect surveillance cameras or digital signage directly to your network. Record real-time video to an NVR with virtually no hard wiring required—so there are no cables to wear out.

Easy Installation and Auto-Paring
Stable Connections at High-Speeds
Ideal for Elevator Camera
No Complex Cabling
Multi-Customer and Multi-Site Management
Peru WISP

TP-Link Helps WISP to Provide Reliable Wireless Connectivity in Peru

Peru WISP

TP-Link Helps WISP to Provide Reliable Wireless Connectivity in Peru

"The performance of CPE was better than expected, working stable even with -85 dBm of received power." —David Grillo, Engineer, Kroton

ADINET WISP in Indonesia

TP-Link Helps Local WISP Provide Long Distance Wireless Connectivity in Indonesia

ADINET WISP in Indonesia

TP-Link Helps Local WISP Provide Long Distance Wireless Connectivity in Indonesia

"Amazing! The performance of the Pharos Wireless Broadband Solution has exceeded even our wildest expectations." —Bagus Prakoso, Owner of ADINET
CARACTERÍSTICAS DE HARDWARE
Procesador
Qualcomm Atheros Enterprise AR9350B 560MHz CPU, MIPS 74Kc
Memoria
64MB DDR2 RAM, 8MB Flash
Interfaz
1 Puerto Ethernet Blindado 10/100Mbps (LAN0/POE)
1 Puerto Ethernet Blindado 10/100Mbps (LAN1)
2 RP-SMA Hembra
1 Terminal de Masa
1 Botón Reset

Fuente de Alimentación
Alimentación Pasiva sobre Ethernet vía LAN0 (+4,5pins; -7,8pins) Rango de voltaje: 16-27VDC
Dimensiones
198 x 74 x 40 mm
Protección
Protección ESD de 15KV Protección contra Rayos de 6000V
Carcasa
Material de Plástico Estabilizado ASA de Exterior Certificación IP65 a prueba de polvo y agua
CARACTERÍSTICAS INALÁMBRICAS
Estándares Inalámbricos
IEEE 802.11b/g/n
Protocolo Propietario
Modo TDMA (con Pharos MAXtream habilitado)
Velocidad Inalámbrica
Hasta 300Mbps (40MHz, Dinámico) Hasta 144.4Mbps (20MHz, Dinámico) Hasta 72.2Mbps (10MHz, Dinámico) Hasta 36.1Mbps (5MHz, Dinámico)
Frecuencia
2.4~2.483GHz Nota: La frecuencia de operación disponible puede variar dependiendo de la limitación de los países o regiones en los que se utiliza el dispositivo.
Potencia de Transmisión
27dBm/500mW (Potencia ajustable por 1dBm) Nota: La potencia de transmisión máxima puede variar según los canales dependiendo de las limitaciones de los países o regiones en las que se utiliza el dispositivo.
CARACTERÍSTICAS DE SOFTWARE
Modo de Funcionamiento
AP / Cliente / Bridge / Repetidor Modo Router AP / Modo Router Cliente AP(Cliente WISP)
Configuración de Red
WAN: Estática/Dinámica/PPPoE/L2TP/PPTP LAN Estática/Dinámica/DHCP Reenvío: DMZ/ALG/UPnP/Servidor Virtual/Port Triggering Seguridad: Firewall SPI /Prohibición de Ping/VPN/Protección DOS Control de Acceso Rutas Estáticas Control de Ancho de Banda Vinculación IP y MAC
Configuraciones Inalámbricas
Tecnología TDMA Pharos MAXtream Modos 802.11a/n Ancho de Canal Seleccionable: 5/10/20/40MHz Selección Automática de Canal Control de Potencia de Transmisión Selección de Frecuencia Dinámica (DFS) WDS Habilitado/Deshabilitado Seguridad: Encriptación WPA/WPA2, WPA-PSK/WPA2-PSK (AES/TKIP), Encriptación WEP 64/128/152-bit SSID Broadcast Activado/Desactivado Multi-SSID con etiquetado VLAN (solo en modo AP) Configuración de Distancia/Timeout ACK Filtrado de Direcciones MAC Inalámbricas Wi-Fi Avanzado: > Intervalo Beacon /Umbral RTS/Umbral de Fragmentación/Intervalo DTIM/Aislamiento de AP/Short GI/Wi-Fi Multimedia
Gestión
Detección y Gestión Remota vía aplicación Pharos Control Gestión basada en web HTTP/HTTPS Registro del Sistema Agente SNMP (v2c) Ping Watch Dog DDNS Dinámico Servidor SSH
Herramientas Del Sistema
Indicadores de Calidad de Señal Inalámbrica: Intensidad de Señal/Ruido/CCQ Transmitido/CPU/Memoria Monitores: Rendimiento/Estaciones/Interfaces/ARP/Rutas/WAN/DHCP Analizador de Espectros Test de Velocidad Ping Traceroute
Optimizaciones Nivel de Sistema
Tecnología beamforming de Tx 802.11a/n Aplicaciones multicast para Proxy/IGMP Snooping optmizado Hardware watch dog
Otros
Certificaciones
CE, FCC, RoHS, IP65
Contenido del Paquete
Estación Base Inalámbrica de Exterior
Adaptador PoE Pasivo de 24V 0.6A
Kit de Montaje en Mástil
Cable de Alimentación AC
Guía de Instalación Rápida

Requisitos del sistema
Microsoft Windows 98SE, NT, 2000, XP, Vista™ o Windows 10, Windows 8, Windows 7, MAC OS, NetWare, UNIX o Linux. Nota: Recomendamos utilizar uno de los siguientes Navegadores Web para una mejor experiencia de usuario: Google Chrome, Safari, y Firefox. No se recomiendan navegadores IE.
Factores Ambientales
Temperatura de Funcionamiento: -30°C~70°C (-22℉~158℉) Temperatura de Almacenamiento: -40℃~70℃ (-40℉~158℉) Humedad de Funcionamiento: 10%~90% sin condensación Humedad de Almacenamiento: 5%~95% sin condensación
De United States?
Obtener productos, eventos y servicios para su región.