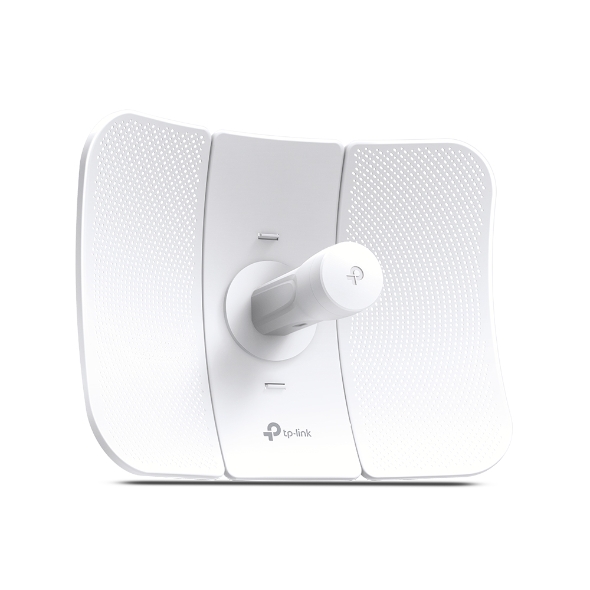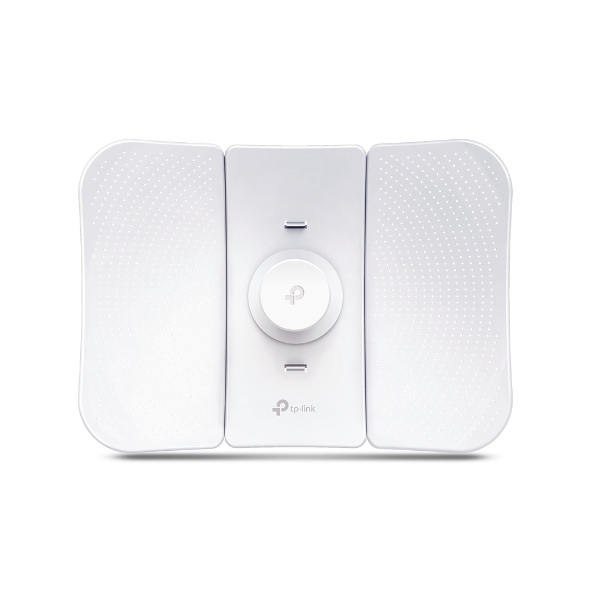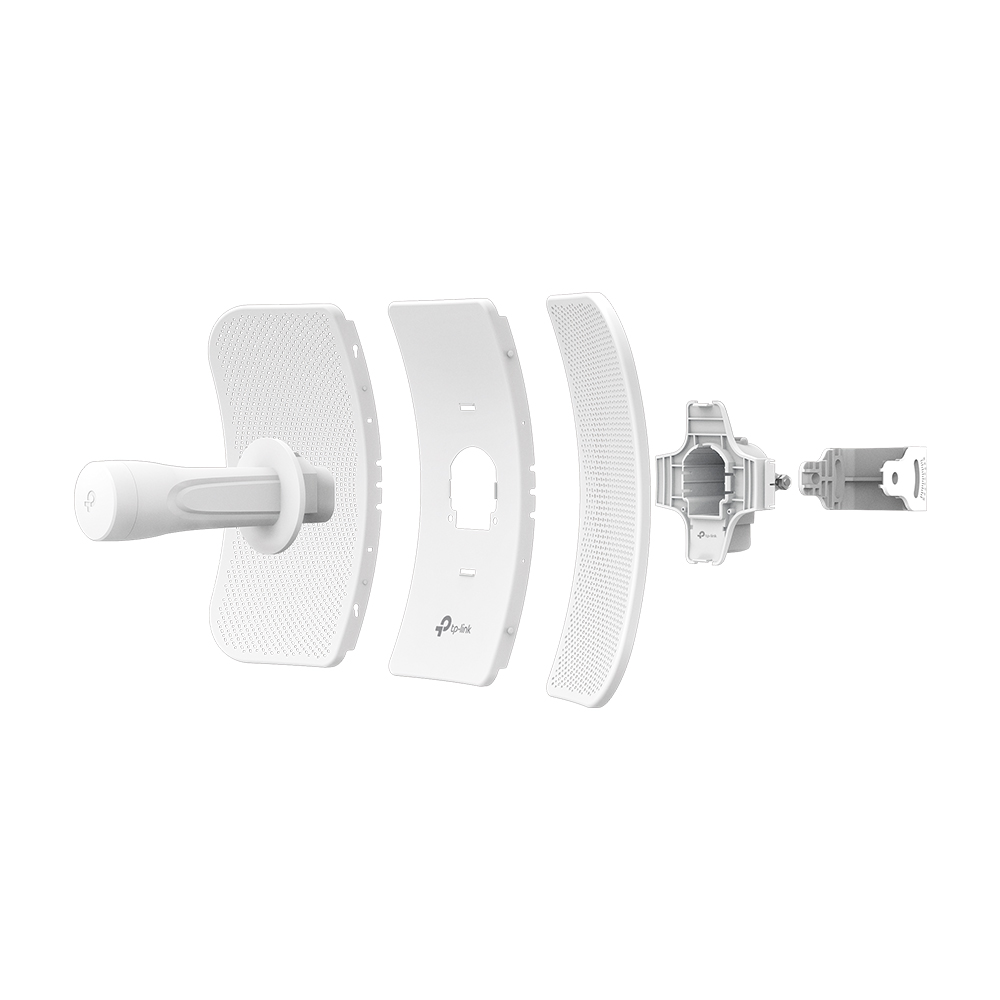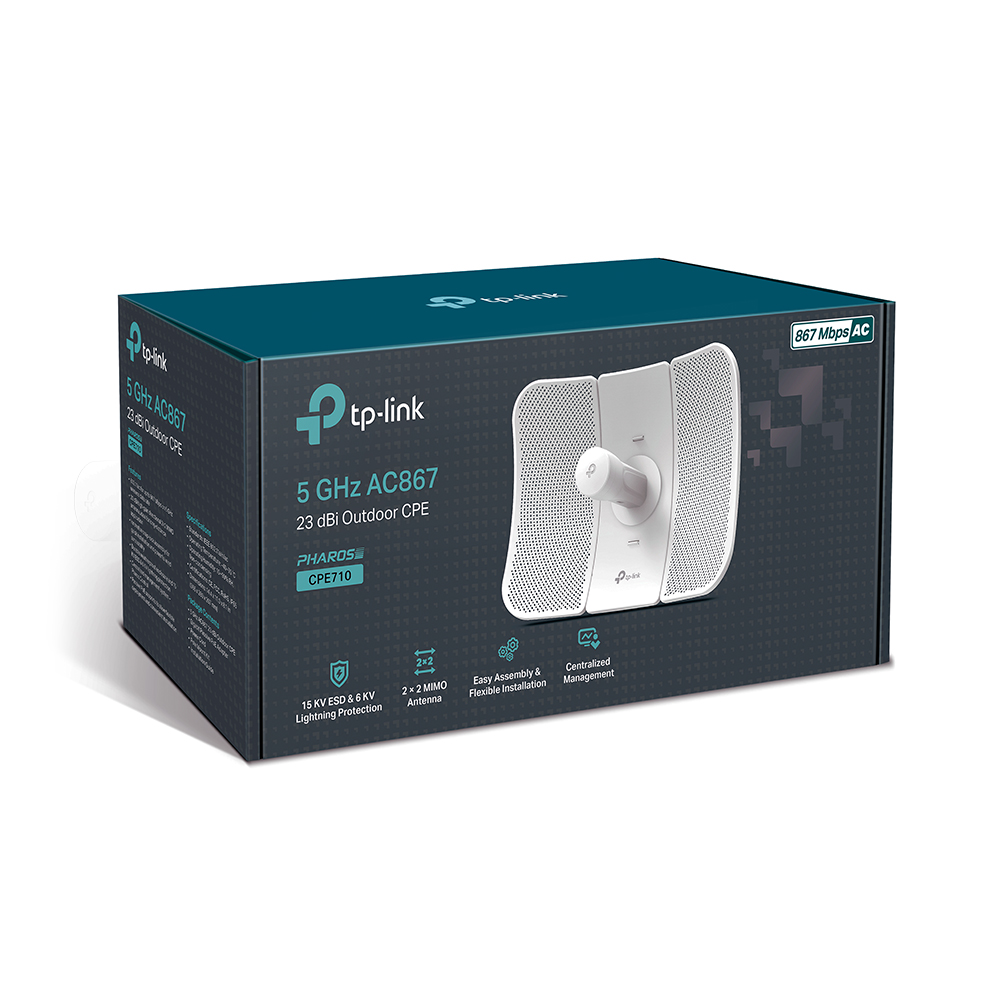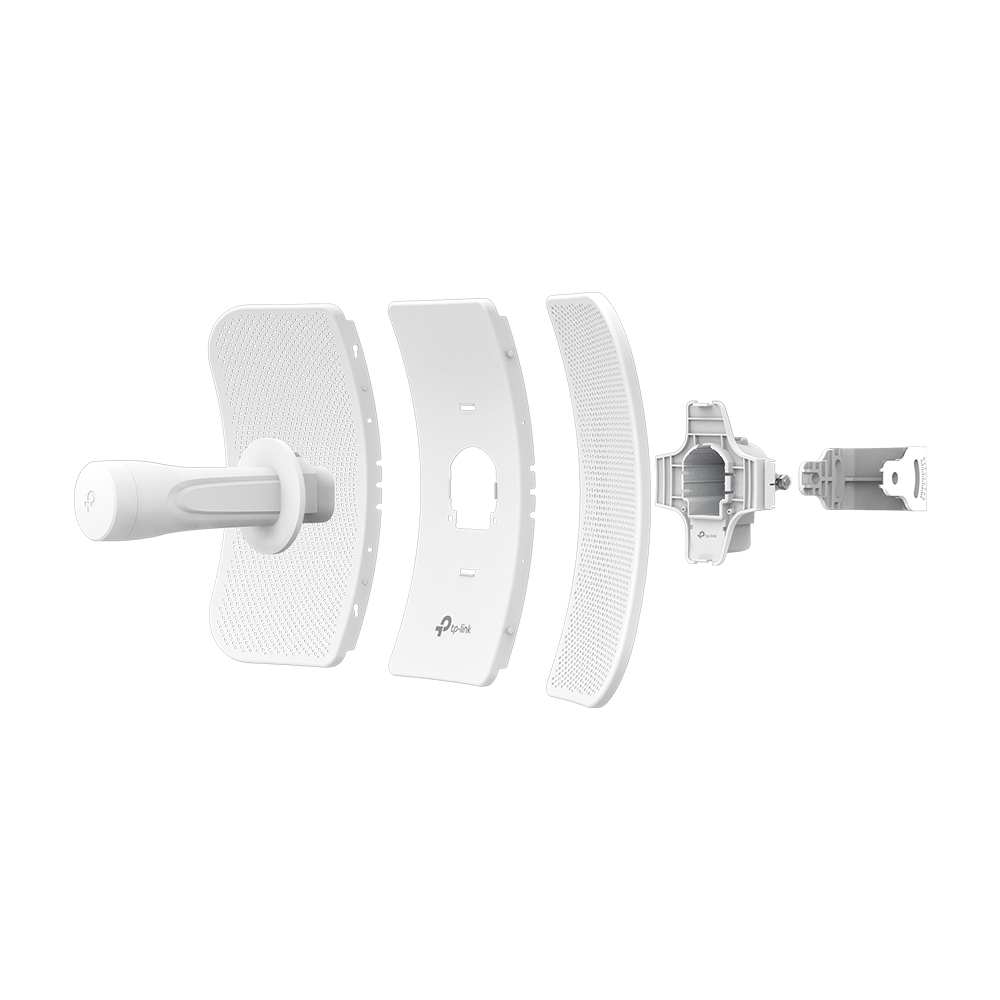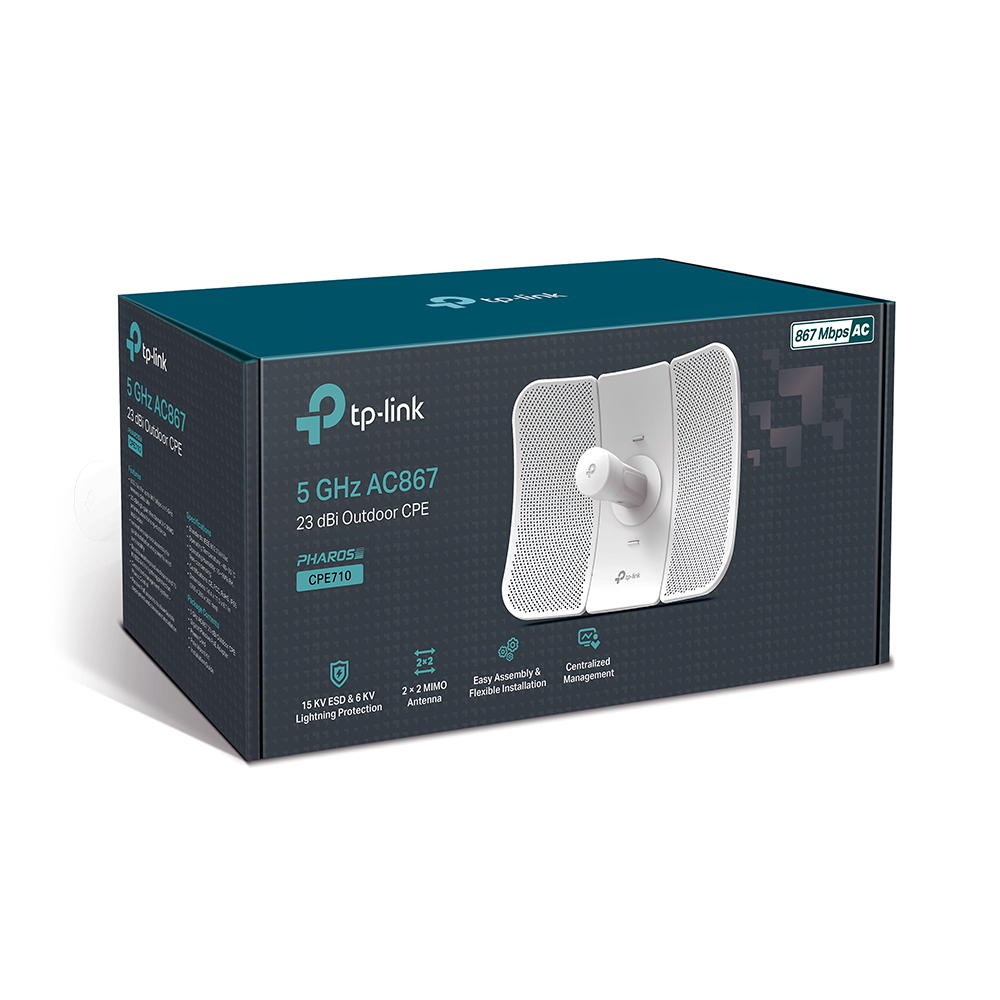 5GHz AC 867Mbps 23dBi CPE Outdoor
•
802.11ac para hasta 867 Mbps con velocidad de datos inalámbrica de 5 GHz
•
23dBi direccional de alta ganancia MIMO 2 × 2, ideal para aplicaciones de larga distancia
•
Excelente directividad del haz, latencia mejorada y cancelación de ruido
•
Las innovadoras piezas snap-lock permiten un ensamblaje rápido y resistente manteniendo estable el CPE 710 incluso con vientos fuertes
•
Estructura resistente a la intemperie IP65 junto con ESD de 15kV y protección contra rayos de 6kV garantiza la idoneidad para todo clima
•
Pharos Control ofrece a los administradores un sistema de gestión centralizado gratuito
•
Soporte pasivo de PoE para permitir una implementación flexible y una instalación conveniente


Wi-Fi estable Outdoor
para transmisión de larga distancia
Antena MIMO direccional
de 23 dBi 2 × 2

15 KV ESD y 6 KV
Protección contra rayos

Montaje fácil e
instalación flexible

Gestión
centralizada

Construcción resistente
al viento

Caja resistente a la
intemperie IP65
Velocidad increíble sin esperar
256 QAM y un ancho de banda de 80 MHz aumentan las velocidades generales de hasta 867 Mbps, 3 veces más rápido que el Wi-Fi 802.11n.
5 GHz
2 × 2 MIMO 802.11n
300 Mbps
2 × 2 MIMO 802.11ac
867 Mbps
3X
Antena direccional profesional de 23 dBi
para transmisión inalámbrica de largo alcance
Con una antena direccional Cassegrain de alta ganancia de 23 dBi y un reflector de metal dedicado, el CPE710 proporciona una excelente directividad del haz, latencia mejorada e inmunidad al ruido. El rendimiento profesional, junto con un diseño fácil de usar, hace que el CPE710 para exteriores de 5 GHz y 867 Mbps y 23 dBi sea una opción ideal y una solución rentable para aplicaciones de redes inalámbricas de larga distancia en exteriores.
Diseño estructural estable e instalación flexible
Antena de
alimentación
Panel reflector
lateral
Panel reflector
central
Panel reflector
lateral
Montaje en poste
Receptor de alimentación
Las piezas snap-lock hacen que el ensamblaje sea simple y conveniente
Los kits de montaje en poste y la libertad de alineación de tres ejes facilitan una instalación flexible
El diseño resistente garantiza la estabilidad en condiciones de viento
Embalaje Compacto
y Ligero
Las cajas pequeñas y livianas
benefician el envío, la logística y el comercio minorista.
15.5 cm
0cm
0cm
32.6 cm
0cm
32.5 cm
0cm
14.2 cm
Pharos Control - Sistema de gestión centralizado
CPE710 viene equipado con el software de administración centralizada Pharos Control, que ayuda a los usuarios a administrar fácilmente todos los dispositivos en su red desde una sola PC. Las funciones incluyen descubrimiento de dispositivos, monitoreo de estado, actualización de firmware y mantenimiento de la red. Una interfaz intuitiva basada en la web, PharOS, proporciona un método de gestión alternativo y permite a los profesionales acceder a configuraciones más detalladas.
Productos relacionados
Modelo

CPE710

CPE610

CPE605

Rendimiento inalámbrico
Velocidad inalámbrica

5GHz 867Mbps

5GHz 300Mbps

5GHz 150Mbps

Poder de transmisión

27dBm

25dBm

23dBm

MIMO

2 x 2

2 x 2

-

Hardware
Compatibilidad

802.11a/n/ac

802.11a/n

802.11a/n

Ganancia de la antena

23dBi

23dBi

23dBi

Weatherproof

IP65

IP65

IP65

Protección contra rayos

6kV

6kV

6kV

Fuente de alimentación

24V Passive PoE Adapter

24V Passive PoE Adapter

24V Passive PoE Adapter

Software
Modos de operación

AP / Client / AP Client Router (WISP Client) / AP Router Mode

Ancho de canal

20/40/80MHz

5/10/20/40MHz

5/10/20/40MHz

Control de potencia de transmisión

Stepping 1dBm

Stepping 1dBm

Stepping 1dBm

Modo MAXtream TDMA

-

√

√

Monitores de rendimiento

√

√

√

Analizador de espectro

√

√

√

Herramienta Iperf Speed Test

√

√

√

Compatible con Pharos Control

√

√

√
Más >
Soluciones relacionadas
Wireless Networking for Elevators

TP-Link Omada offers a wireless solution for elevators: a wireless point-to-point link delivering a throughput of up to 867 Mbps. Wireless coverage extends to the entire shaft to connect surveillance cameras or digital signage directly to your network. Record real-time video to an NVR with virtually no hard wiring required—so there are no cables to wear out.

Easy Installation and Auto-Paring
Stable Connections at High-Speeds
Ideal for Elevator Camera
No Complex Cabling
Multi-Customer and Multi-Site Management
Peru WISP

TP-Link Helps WISP to Provide Reliable Wireless Connectivity in Peru

Peru WISP

TP-Link Helps WISP to Provide Reliable Wireless Connectivity in Peru

"The performance of CPE was better than expected, working stable even with -85 dBm of received power." —David Grillo, Engineer, Kroton

ADINET WISP in Indonesia

TP-Link Helps Local WISP Provide Long Distance Wireless Connectivity in Indonesia

ADINET WISP in Indonesia

TP-Link Helps Local WISP Provide Long Distance Wireless Connectivity in Indonesia

"Amazing! The performance of the Pharos Wireless Broadband Solution has exceeded even our wildest expectations." —Bagus Prakoso, Owner of ADINET
CARACTERÍSTICAS DE HARDWARE
Procesador
Qualcomm 750MHz CPU, MIPS 74Kc
Memoria
128 MB DDR2 RAM, 16 MB Flash
Interfaz
1 10/100/1000 Mbps Shielded Ethernet Port (LAN/POE)1 Reset Button
Fuente de Alimentación
Passive Power over Ethernet via LAN (+4,5pins; -7,8pins)Voltage range: 16-27V DC
Dimensiones
366 x 280 x 207 mm (14.4 x 11.0 x 8.1 in.)
Ganancia de Antena
23 dBi
Ancho de Haz de la Antena
9° (Azimuth)/7° (Elevation)
Protección
15 KV ESD Protection6 KV Lightning Protection
Carcasa
Material: Outdoor PC stabilized plasticWeatherproof: IP65 water and dust proof design
CARACTERÍSTICAS INALÁMBRICAS
Estándares Inalámbricos
IEEE 802.11a/n/ac
Velocidad Inalámbrica
Up to 867 Mbps (80 MHz, Dynamic)Up to 400 Mbps (40 MHz, Dynamic)Up to 173.4 Mbps (20 MHz, Dynamic)
Frecuencia
5.15–5.85 GHz
Potencia de Transmisión
Max. 27 dBm (Adjustable power by 1dBm)
CARACTERÍSTICAS DE SOFTWARE
Configuración de Red
WAN: Static/ Dynamic/ PPPoELAN: Static/ Dynamic/ DHCPForwarding: ALG/ UPnP/ Virtual Server/ Port TriggerSecurity: SPI Firewall/ Ping Forbidden/ DoS ProtectionAccess ControlStatic RoutingBandwidth ControlIP & MAC Binding
Configuraciones Inalámbricas
Selectable Channel Width: 20/40/80MHzAuto Channel SelectionTransmit Power ControlDynamic Frequency Selection(DFS)WDS Enable/ DisableSecurity: WPA/WPA2, WPA-PSK/WPA2-PSK (AES/TKIP) Encryption,SSID Broadcast Enable/ DisableMulti-SSID with VLAN Tagging(AP Mode only)Distance/ ACK Timeout SettingWireless MAC Address FilterWireless Advanced:Beacon Interval/ RTS Threshold/ Fragmentation Threshold/ DTIM Interval/ AP Isolation/ Short GI/ Wi-Fi MultimediaLong Range PtP
Gestión
Discovery and Remote Management via Pharos Control applicationHTTP/ HTTPS Web-based managementSystem logSNMP Agent(v2c)Ping Watch DogDynamic DDNSSSH Server
Herramientas Del Sistema
Indicators:Signal Strength/ Noise/ Transmit CCQ/ CPU/ MemoryMonitors: Throughput/ Stations/ Interfaces/ ARP/ Routes/ WAN/ DHCPSpectrum AnalyzerSpeed TestPingTraceroute Antenna Alignment
Optimizaciones Nivel de Sistema
Optimized IGMP Snooping / Proxy for multicast applications
CARACTERÍSTICAS ADAPTADOR POE
Dimensiones(W*D*H)
85.8×43.9×29.7 mm
Interfaces
1 AC Jack with Earth Ground1× 10/100/1000 Mbps Shielded Ethernet Port (Power + Data)1× 10/100/1000 Mbps Shielded Ethernet Port (Data)
Botón
Remote Reset Button
LEDs de Estado Power
Green
Entrada
100-240VAC, 50/60Hz
Salida
24VDC, 0.5A Max+4, 5pins; -7, 8pins. (Support up to 60m Power over Ethernet)
Eficiencia
>84.29%
Certificaciones
CE/FCC/UL/IC/GS/PSB/C-tick/SAA/S-Mark/KC-mark
Otros
Certificaciones
CE, FCC, RoHS, IP65, IC
Contenido del Paquete
Outdoor Wireless CPE24V 0.5A Passive PoE AdapterPole Mounting KitsAC Power CordInstallation Guide
Requisitos del sistema
Microsoft Windows 98SE, NT, 2000, XP, Vista™ or Windows 10, Windows 8, Windows 7, MAC OS, NetWare, UNIX or Linux.Note: We recommend you to use one of following Web browsers for an improved user experience: Google Chrome, Safari, and Firefox. IE browsers are not recommended.
Factores Ambientales
Operating Temperature: -40℃~70℃ (-40℉~158℉)Storage Temperature: -40℃~70℃ (-40℉~158℉)Operating Humidity: 10%~90% non-condensingStorage Humidity: 5%~95% non-condensing
* Las velocidades máximas de transmisión inalámbrica son las velocidades físicas derivadas de las especificaciones IEEE Standard 802.11. Las especificaciones de alcance y cobertura junto con el número de dispositivos conectados se definieron de acuerdo con los resultados de las pruebas en condiciones normales de uso. La velocidad de transmisión inalámbrica real, la cobertura inalámbrica y el número de dispositivos conectados no están garantizados, y variarán como resultado de 1) factores ambientales, incluidos materiales de construcción, objetos físicos y obstáculos, 2) condiciones de red, incluidas interferencias locales, volumen y densidad del tráfico, la ubicación del producto, la complejidad de la red y la sobrecarga de la red y 3) las limitaciones del cliente, incluido el rendimiento, la ubicación, la calidad de la conexión y la condición del cliente.
* La protección contra rayos y descargas electrostáticas se puede lograr mediante la configuración adecuada del producto, la conexión a tierra y el blindaje del cable. Consulte el manual de instrucciones y consulte a un profesional de TI para que lo ayude a configurar este producto.
* Las distancias de la fuente de alimentación se basan en los resultados de las pruebas en condiciones normales de uso. La distancia real de la fuente de alimentación variará como resultado de 1) el estado del AP, incluida la potencia de transmisión, los dispositivos conectados y el tráfico de red, 2) las propiedades del cable, incluido el tipo y la textura, y 3) los factores ambientales, que incluyen la temperatura y la humedad.
De United States?
Obtener productos, eventos y servicios para su región.