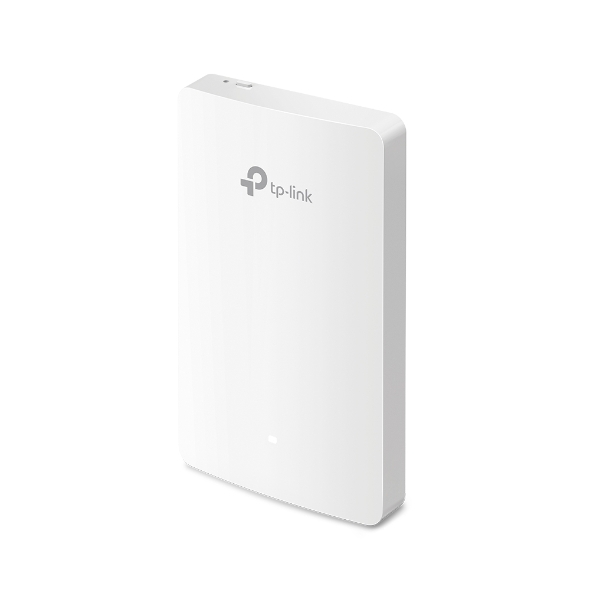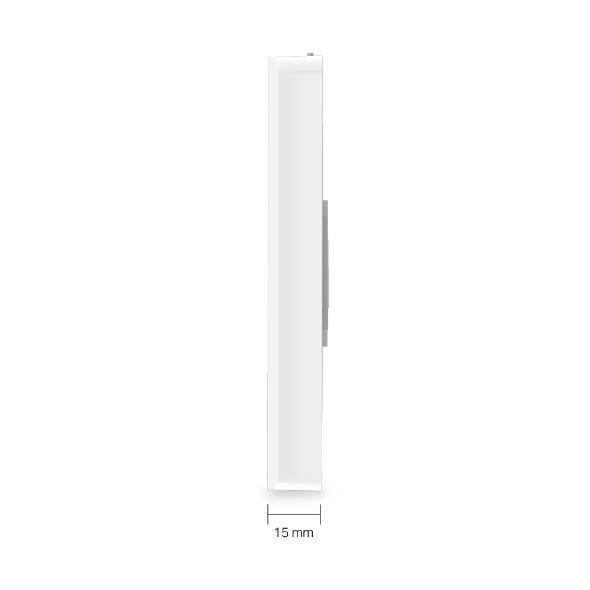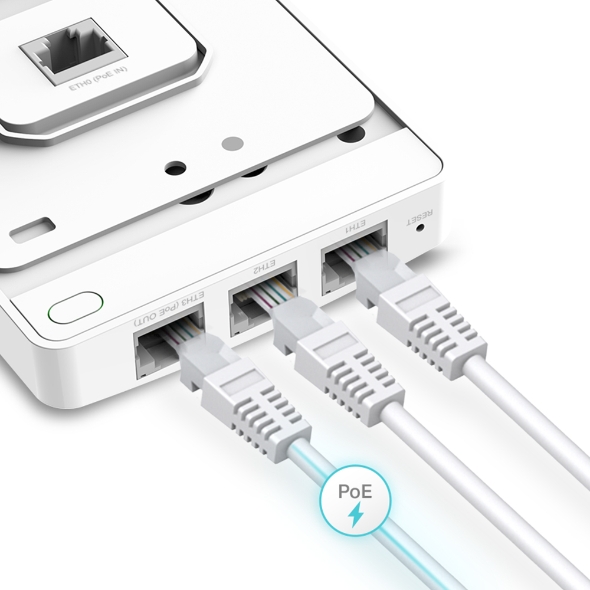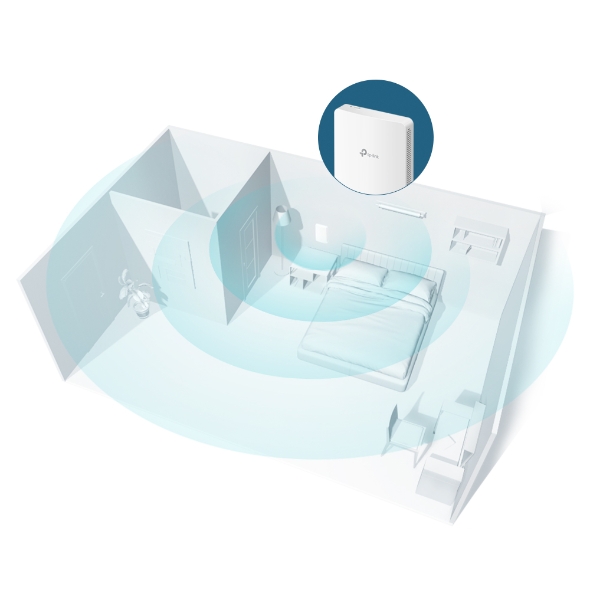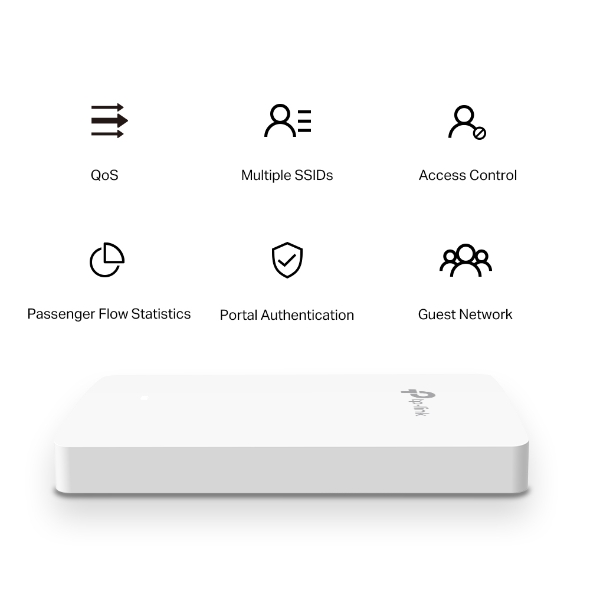 Omada AC1200 Wireless MU-MIMO Gigabit Wall Plate Access Point
Gyors kétsávos Wi-Fi: Egyidejűleg 300 Mbps 2,4 GHz-en és 867 Mbps 5 GHz-en összesen 1 167 Mbps Wi-Fi sebesség MU-MIMO-val.†
Négy gigabites port: 4 gigabites Ethernet port (1 × uplink + 3 × downlink), egy downlink port támogatja a PoE-átvitelt, hogy energiát szolgáltasson a vezetékes eszközök számára.
Integrálva az Omada SDN-be: Zero-Touch Provisioning (ZTP) ‡, Centralizált felhőkezelés és Intelligens figyelés.
Centralizált felügyelet: Felhőalapú hozzáférés és Omada alkalmazás a rendkívül kényelmes és egyszerű kezelés érdekében.
Elegáns megjelenés: A vékonyabb és szembetűnő kialakítás jól illik a szállodai szobákba, kórházakba, irodákba, és bármilyen más környezetbe.
Könnyű telepítés és PoE támogatás: Könnyen szerelhető szerkezet, kompatibilis a 86 mm-es, az EU és az USA szabványos csatlakozódobozával, valamint a 802.3af / PoE támogatással.
Biztonságos vendéghálózat: Több hitelesítési lehetőséggel (SMS / Facebook Wi-Fi / Voucher stb.)
Advanced Wi-Fi: Optimalizálja a hálózati teljesítményt a MU-MIMO, a Band Steering és a Beamforming technológiákkal.
11ac Wi-Fi a legjobb szobánkénti kapcsolatért

EAP235-Wall
Dedikált komplett, privát Wi-Fi hálózat minden szobában
Az egyes szobákban található EAP lehetővé teszi a vendégek számára, hogy élvezhessék saját, gyors, erős jelet közvetítő és a sarkok közötti lefedettséget biztosító privát Wi-Fi-hálózatukat.
MU-MIMO + kétsávos: Csatlakozzon gyorsabban és még több eszközzel
A 802.11ac wave 2 MU-MIMO technológia lehetővé teszi, hogy több felhasználó egyidejűleg hozzáférjen az internethez, ami nagymértékben megnöveli a hálózati sebességet akár 1200 Mbps-ig. A 2,4 GHz-es és az 5 GHz-es vezeték nélküli sávban is képes átvitelre, nagyobb kompatibilitást biztosít különféle eszközök csatlakoztatásához.†
5 GHz

867 Mbps

2.4 GHz

300 Mbps
MU-MIMO-val
MU-MIMO nélkül
Abszolút vékony, feltűnő dizájn
Az elérhető legvékonyabb AP – mindössze 15 mm – elegáns, minimalista megjelenéssel. Úgy tervezték, hogy beleolvadjon a szállodai szobák, kórházak, irodák és iskolai termek dekorációjába, és hatékony Wi-Fi-t biztosítson anélkül, hogy ütközne a szobával.
Zökkenőmentes üzembe helyezés PoE támogatással
A 802.3af/802.3at Power over Ethernet támogatásával nincs szükség további vezetékek telepítésére az épületben. Egyszerűen csatlakoztassa a meglévő Ethernet-kábeleket, és máris indulhat.
TP-Link PoE Switch
Ethernet
Kábel
Gyors, egyszerű telepítés
Az EAP235-Wall könnyen felszerelhető, így teljesen felesleges a többletköltség, az idő vagy a szakmai tudás.
* Háromféle fali csatlakozáshoz használható
86 mm-es fali csatlakozódoboz

Szabványos EU fali csatlakozódoboz

Szabványos amerikai fali csatlakozódoboz
Teljes Gigabites portok a Bridge hálózathoz
Négy gigabites adatporttal (1*uplink + 3*downlink), egy downlink port PoE áteresztőképességgel felszerelve, több eszköz csatlakoztatásához a gigabites hálózathoz. A vezetékes eszközök, például a VoIP telefonok további elektromos kábelek nélkül is táplálhatók.
Omada SDN—

Intelligens felhőalapú megoldás üzleti hálózatokhoz
Az Omada Software Defined Networking (SDN) platform integrálja a hálózati eszközöket, beleértve a hozzáférési pontokat, switch-eket és gateway-eket, garantálva az erőteljes üzleti hálózatot nagyobb hatékonysággal, nagyobb biztonsággal és nagyobb megbízhatósággal.
Wi-Fi 6 AP nagy sűrűségű környezetekhez
Wall-Plate AP EAP235-Wall
JetStream PoE Switches
SafeStream Security Gateway
Cloud Access
Omada
Cloud-Based
Controller
Problémamentes központi felhőkezelés:
A teljes hálózat 100%-ban központosított felhőkezelése különböző helyekről – mindez egyetlen interfészről vezérelhető bárhol, bármikor.
Hospitality

TP-Link Omada allows hotels to build reliable WiFi networks. Hotel WiFi network solutions including network topology, design, features, installation, and products are introduced.

Full WiFi coverage and wired connections
Flexible guest control
Seamless roaming
Easy Management

Education

Due to its reliable, scalable, and secure network solution, TP-Link has been widely acknowledged by global customers in the Education market ranging from infant schools with a few APs up to colleges and universities with hundreds of APs.

Easy management
High-density WiFi
Full WiFi coverage and wired connections
VPN and security

WiFi Marketing

Here you will have the opportunity to show them your products, services, offers, promotions, or simply information related to your business. With TP-Link captive portal functions, boost your online business through guest Wi-Fi with Vouchers and other flexible authentication options.

Boost Business with a Customized Page
Secure Guest Network
Easy Configuration
Supported by all Omada APs
Hardver jellemzők
Csatlakozások
• Uplink: 1× 10/100/1000 Mbps Ethernet Port• Downlink: 3× 10/100/1000 Mbps Ethernet Ports (One port supports PoE OUT. The PoE OUT feature requires 802.3at PoE+ input and the maximum output is 13 W.)
Fizikai biztonsági zár
Yes
Gomb
Reset
Hálózati tápegység
802.3af/802.3at PoE
Energiafelvétel
9.8 watts /24.4 watts (PoE Out Included)
Dimensions
143 × 86 × 20 mm (5.6 × 3.4 × 0.8 in)
Antenna
2 Dual-Band Antennas• 2.4 GHz: 2× 4 dBi• 5 GHz: 2× 4 dBi
Felszerelés
Wall Plate Mounting
Vezeték nélküli jellemzők
Wi-Fi sztenderd
IEEE 802.11a/b/g/n/ac
Frekvencia
2.4 GHz and 5 GHz
Adatátvitel
• 5 GHz: Up to 867 Mbps• 2.4 GHz: Up to 300 Mbps
Vezeték nélküli funkciók
• 16 SSIDs (Up to 8 SSIDs on each band)• Enable/Disable Wireless Radio• Automatic Channel Assignment• Transmit Power Control (Adjust Transmit Power on dBm)• QoS(WMM)• MU-MIMO• Band Steering• Beamforming• Load Balance• Rate Limit• Reboot Schedule• Wireless Schedule• Wireless Statistics based on SSID/AP/Client
Vezeték nélküli biztonság
• Captive Portal Authentication• Access Control• Wireless Mac Address Filtering• Wireless Isolation Between Clients• SSID to VLAN Mapping• Local LAN port based VLAN• Rogue AP Detection• 802.1X Support• 64/128/152-bit WEP, WPA/WPA2-PSK, WPA/WPA2-Enterprise
Átviteli teljesítmény
• CE:≤20 dBm (2.4 GHz, EIRP)≤23 dBm (5 GHz, EIRP)• FCC:≤21 dBm (2.4 GHz)≤21 dBm (5 GHz)
Vezérlés
Omada App
Yes
Centralized Management
• Omada Cloud-Based Controller• Omada Hardware Controller (OC300)• Omada Hardware Controller (OC200)• Omada Software Controller
Cloud Access
Yes (Through OC300, OC200, Omada Cloud-Based Controller, or Omada Software Controller)
Riasztás e-mailben
Yes
LED ki/bekapcsolás
Yes
Mac-cím alapú vezérlés
Yes
SNMP
v1,v2c
Syslog helyi/távoli
Local/Remote Syslog
SSH
Yes
Webes felelületű vezérlés
HTTP/HTTPS
L3 Management
Yes
Multi-site vezérlés
Yes
Management VLAN
Yes
Egyéb jellemzők
Tanúsítványok
CE, FCC, RoHS
Csomagolás tartalma
• Omada AC1200 Wireless MU-MIMO Gigabit Wall Plate Access Point EAP235-Wall• Installation Guide• Mounting Screw
Rendszerkövetelmény
Microsoft Windows XP, Vista, Windows 7, Windows 8, Windows10
Környezet
• Operating Temperature: 0–40 ℃ (32–104 ℉)• Storage Temperature: -40–70 ℃ (-40–158 ℉)• Operating Humidity: 10–90% RH non-condensing• Storage Humidity: 5–90% RH non-condensing
†A vezeték nélküli jel maximális sebessége az IEEE 802.11 szabvány előírásaiból származó fizikai sebesség. A tényleges vezeték nélküli adatátviteli sebesség és a vezeték nélküli lefedettség nem garantált, és a következőktől függ: 1) környezeti tényezők, beleértve az építőanyagokat, fizikai tárgyakat és akadályokat, 2) a hálózati feltételek, beleértve a helyi interferenciát, a forgalom nagysága és sűrűsége, a termék elhelyezkedése, a hálózat összetettsége és a hálózati többletterhelés, valamint 3) az ügyfél korlátozásai, beleértve a névleges teljesítményt, helyet, kapcsolatot, minőséget és az ügyfél állapotát.
‡ A Zero-Touch Provisioning az Omada felhőalapú vezérlő használatát igényli.
From United States?
Get products, events and services for your region.