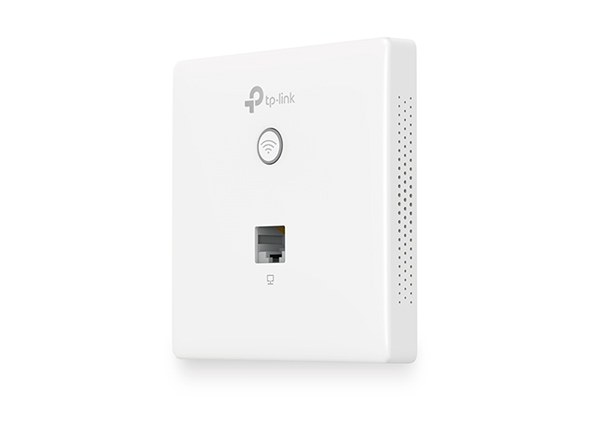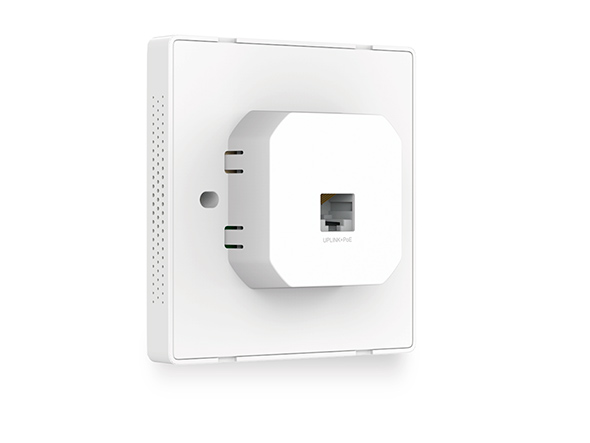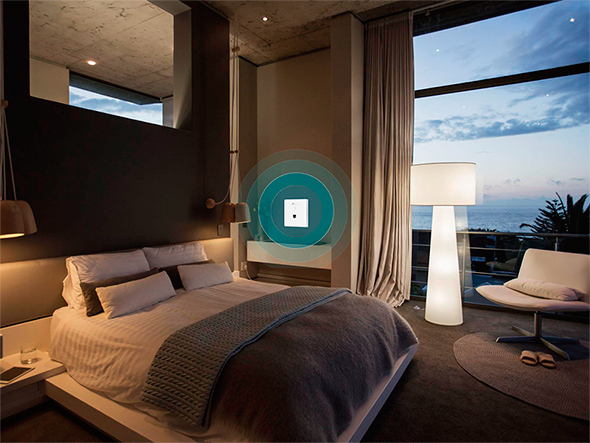 EAP115-Wall
300 Mb/s vezeték nélküli N-es fali Access Point
A könnyen felszerelhető felépítés egyszerű telepítést tesz lehetővé bármilyen szabványos EU-típusú fali kötődobozhoz
Egyszerű kinézete és mérete minden belső kialakításhoz illik
Az ingyenes Omada Vezérlő Programmal több száz EAP készüléket vezérelhetnek az adminisztrátorok
Támogatja a Power over Ethernet (802.3af) szabványt a kényelmes és olcsó elhelyezhetőséghez
Vállalati szintű Wi-Fi védelem segíti csökkenteni a hálózatot érintő veszélyek ellen
Vendég beléptető és engedélyező oldal kényelmes módot nyújt a vendéghitelesítéshez
VLAN vezérlés támogatása a jobb hálózat felügyeletért
Kifinomult fali tervezés,
kitűnő Wi-Fi hozzáférés
EAP115-Wall
Az elhelyezés egyszerű
Távolítsa el a kötődoboz* fedelét egy csavarhúzóval.
Távolítsa el az EAP fedelét.
Egy fali Ethernet kábelt csatlakoztasson az UPLINK+PoE csatlakozóba.
Rögzítse az Access Pointot falra a mellékelt csavarokkal.
Nyomja vissza az EAP fedőlapját a helyére.
*Kétféle fali kötődobozzal használható
86 mm-es fali kötődoboz

Szabványos EU fali kötődoboz
Tökéletesen megformálva
A EAP115-Wall tökéletesen illeszkedik minden üzleti környezetbe, kifinomult, minimalista megjelenésével. A karcsú kialakításnak köszönhetően a ház csak 11 mm vastagságú.
11 mm
Elhelyezés megerőltetés nélkül
A 802.3af Power over Ethernet támogatás révén nincs szükség további vezetékezésre. Egyszerűen csatlakoztassa a meglévő Ethernet kábelt, és már kész is.
Azonnali elhelyezés

PoE 802.3af
Teljes vezeték nélküli lefedettség
Az EAP minden helyiségben garantálja az erős vezeték nélküli jelet, és lehetővé teszi a vendégek számára, hogy élvezhessék saját Wi-Fi hálózatukat.
Vezérlőprogram
Központi vezérlés
Egyszerűen kezelheti és felügyelheti a rendszert, több száz EAP-t egy helyről. A TP-Link ingyenes Auranet Vezérlőprogramja intuitív kezelőfelülettel rendelkezik, amelyhez nincs szükség speciális képzésre. A Wi-Fi felügyelet soha nem volt még ilyen egyszerű vagy költséghatékony.
Testreszabható vendégbeléptetés
A beléptető oldal egy kényelmes módja annak, hogy a Wi-Fi vendéget azonosítsa és hitelesítse a hálózatra belépés előtt. Válasszon a hítelesítési lehetőségek közül, és alakítson ki a cég megjelenésének megfelelően egy oldalt.
Hospitality

TP-Link Omada allows hotels to build reliable WiFi networks. Hotel WiFi network solutions including network topology, design, features, installation, and products are introduced.

Full WiFi coverage and wired connections
Flexible guest control
Seamless roaming
Easy Management

Education

Due to its reliable, scalable, and secure network solution, TP-Link has been widely acknowledged by global customers in the Education market ranging from infant schools with a few APs up to colleges and universities with hundreds of APs.

Easy management
High-density WiFi
Full WiFi coverage and wired connections
VPN and security

WiFi Marketing

Here you will have the opportunity to show them your products, services, offers, promotions, or simply information related to your business. With TP-Link captive portal functions, boost your online business through guest Wi-Fi with Vouchers and other flexible authentication options.

Boost Business with a Customized Page
Secure Guest Network
Easy Configuration
Supported by all Omada APs
Hardver jellemzők
Csatlakozások
2 db 10/100 Mb/s Ethernet (RJ-45) port
Fizikai biztonsági zár
Nincs
Gomb
LED/Wi-Fi gomb, Reset gomb
Hálózati tápegység
PoE (IEEE 802.3af)
Energiafelvétel
2.8 W
Méretek (Sz x Mé x Ma)
86,8 x 86,8 x 30,2 mm (3.4 x 3.4 x 1.2 in.)
Antenna típusa
2db belső 1,8 dBi omni antenna
Felszerelés
Fali
Watch Dog
Van
Hardware Watch Dog
Yes
Vezeték nélküli jellemzők
Wi-Fi sztenderd
IEEE 802.11n/g/b
Frekvencia
2,4 GHz
Adatátvitel
11n: max. 300 Mb/s (Dinamikus)
11g: max. 54 Mb/s (Dinamikus)
11b: max. 11 Mb/s (Dinamikus)
Sugárzási teljesítmény
CE:
<15dBm (2,4 GHz)
Vezeték nélküli funkciók
Többszörös SSID (max. 8 SSID)
Ki/Bekapcsolható Wi-Fi sugárzás
Automatikus csatornakijelölés
Sugárzás erősségének vezérlése (sugárzás igazítása dBm alapon)
QoS(WMM)
Load Balance
Sebességkorlát
Újraindítás ütemezése
Vezeték nélküli ütemezés
Vezeték nélküli statisztika SSID/AP/Kliens alapján
Vezeték nélküli biztonság
Hálózatra kilépést engedélyező oldal
Hozzáférés vezérlése
Vezeték nélküli Mac-cím szűrés
Vezeték nélküli izoláció kliensek között
SSID-VLAN Mapping
Idegen behatolás megfigyelés
802.1X támogatott
64/128/152 bites WEP / WPA / WPA2-Enterprise,WPA-PSK /
WPA2-PSK
Vezérlés
Omada App
Yes
Centralized Management
• Omada Hardware Controller (OC300)• Omada Hardware Controller (OC200)• Omada Software Controller
Cloud Access
Yes (Through OC300, OC200, or Omada Software Controller)
EAP vezérlő szoftver
Van
Riasztás e-mailben
Van
LED ki/bekapcsolás
Van
Mac-cím alapú vezérlés
Van
SNMP
v1,v2c
Syslog helyi/távoli
Helyi/Távoli rendszernapló
Telnet
Van
SSH
Yes
Webes felelületű vezérlés
HTTP/HTTPS
L3 Management
Van
Multi-site vezérlés
Van
Management VLAN
Van
Egyéb jellemzők
Tanúsítványok
CE, RoHS
Csomagolás tartalma
300 Mb/s vezeték nélküli N-es fali Access Point EAP115-Wall
Beüzemelési útmutató
Csavar
Rendszerkövetelmény
Microsoft Windows XP, Vista, Windows 7, Windows 8, Windows10
Környezet
Működési hőmérséklet: -0℃~40℃ (-32℉~104℉)
Tárolási hőmérséklet: -40℃~70℃ (-40℉~158℉)
Működési Páratartalom: 10%~90% változatlan halmazállapot
Tárolási Páratartalom: 5%~90% változatlan halmazállapot
From United States?
Get products, events and services for your region.