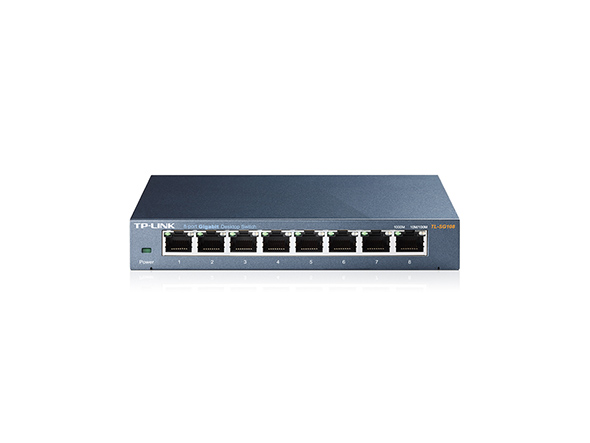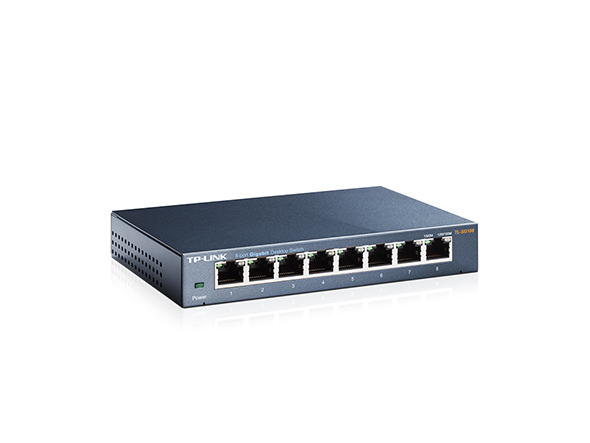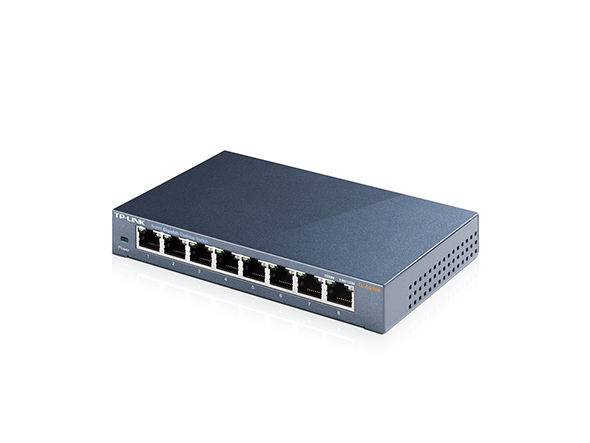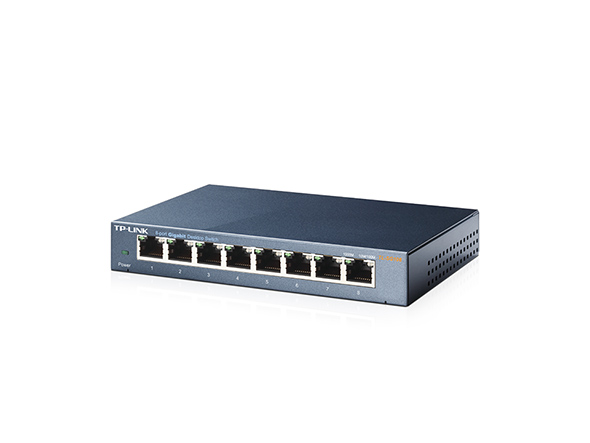 TL-SG108
8 portos, 10/100/1000Mbps asztali switch
8 db 10/100/1000Mbps, Auto-Negotiation RJ45 port, támogatott az Auto MDI / MDIX
IEEE 802.3x folyamfelügyelet megbízható adattovábbítást biztosít
Acél borítás, asztalra vagy falra helyezhető
Támogatott a

QoS

(IEEE 802.1p) funkció
Plug & Play, nem kell konfigurálni
Hogyan működik?
A TP-LINK 8 portos, egyenként 10/100/1000 Mbps asztali switch eszköze, a TL-SG108, könnyedén átalakíthatja hálózatát gigabites Ethernet csatlakozássá. Ezzel megnövelheti a sebességet a hálózati szerver és a hozzá kapcsolódó kiszolgálok között, vagy régi hálózatát 1000 Mbps-ra gyorsíthatja fel. Ezen túlmenően, a TL-SG108 kevesebb energiafelvételt igényel. Innovatív energiafelhasználási technológia révén a TL-SG108 akár 82%-os árammegtakarítás is elérhet, így igazán környezetbarát megoldás otthonának vagy irodai hálózatának.
Gigabites switch
Az 8 db 10/100/1000Mbps portokkal rendelkező TL-SG108 nagyban megnöveli hálózatának kapacitását, módot adva a nagy méretű fájlok azonnali továbbítására. Így a legerősebb felhasználók az otthoni, irodai, munkacsoportbeli vagy kreatív feladatok végző csoportban gyorsabban továbbíthatják nagy méretű, sávszélesség-igényes fájljaikat. Ez a sebesség biztosítja, hogy a grafikus, CGI, CAD vagy multimédia fájlok szinte azonnal eljussanak a hálózaton keresztül bárhová.
Váltson Zöldre Ethernettel
Önnél a lehetőség, hogy Zöldre és Gigabitre váltson egyszerre! Ezt az új generációs TL-SG108 a legfrissebb fejlesztésű energiahatékony technológiák jellemzik, amivel nagyban megnövelheti hálózati kapacitását kevesebb energiafelhasználással. Automatikusan beállítja az áramfelvételt a kapcsolati állapotoknak, illetve a kábelhosszának megfelelően annak alapján, ami a szénlábnyom értéke az adott hálózaton.
Tétlen portok lekapcsolása
Amikor egy számítógép vagy hálózati berendezés ki van kapcsolva, a kapcsolódó port továbbra is jelentős mennyiségű energiát fogyaszt egy hagyományos switch esetében. A TL-SG108 automatikusan felismeri a kapcsolatot, egyes portok állapotát és csökkenti az energiafogyasztást tétlen portok irányába, így az energiafelhasználás akár 82%-kal is csökkenthet.
Energiamegtakarítás a kábel hosszától függően
Ideális esetben a rövidebb kábel kevesebb energiát használ, mert kevesebb energia vész el hosszuk következtében; nem ez a helyzet a legtöbb eszköz esetében, ugyanis ugyanazt a mennyiségű energiát használja a kábel a hosszától függetlenül.
Forgalom optimalizálása
A 802.1p és a DSCP QoS lehetővé teszi a folymatos, akadozásmentes adatforgalmat, mint videó és hang, az IGMP Snooping pedig optimalizálja a multicast adatfolyamot.
Könnyű használni
Az önbeállító jellemzői ennek gigabites switchnek egyszerűvé és problémamentessé teszi a beüzemelését. Nem kell konfigurálni, meglévő Auto-MDI/MDIX kábelészlelés funkció révén nincs szükség fordított bekötésű kábelre. Az Auto-negotiation minden porton érzékeli a kapcsolat sebességét (akár 10, 100 vagy 1000 Mbps) és intelligensen beállítja a kompatibilitást és az optimális teljesítményt.
Hardver jellemzők
Szabványok és protokollok
IEEE 802.3/802.3u/802.3ab/802.3x

Csatlakozások
8 db 10/100/1000 Mbps csatlakozó, Auto-Negotiation, Auto-MDI/MDIX
Ventilátorok száma
Ventilátor nélküli
Energiafelvétel
Maximum: 3,97 W (220V/50Hz)
Külső tápellátás
Külső tápegység (Kimenet: 9VDC / 0,6A)
Puffer méret
1,5 Mb
LED jelzőfény
Rendszer táp
Kapcsolat, sebesség és aktivitás jelző minden RJ45-ös csatlakozáson
Méretek (Sz x Mé x Ma)
158 x 101 x 25 mm (6.2 x 4.0 x 1.0 in.)
Max. áramfelvétel
2.77 W(220V/50Hz)
Max Heat Dissipation
9.45 BTU/h
Működési jellemzők
Csomagtovábbítási sebesség
11.9 Mpps
Fizikai (MAC) cím tábla
4K
Csomag puffer memória
1.5 Mb
Jumbo Frame
16 KB
Szoftver jellemzők
További jellemzők
Zöld technológia, enetgiamegtakarítás akár 72%-kal
802.3X (folyamfelügyelet) Flow Control
Támogatott a QoS (IEEE802.1P)
Továbbítás módja
Tárolás és továbbítás
Egyéb jellemzők
Tanúsítványok
CE, FCC ,RoHS
Csomagolás tartalma
8 portos 10/100/1000Mbps asztali Switch TL-SG108
Tápegység
Felhasználói útmutató
Környezet
Működési hőmérséklet: 0℃~40 ℃ (32 ℉~104℉)
Tárolási hőmérséklet: -40℃~70 ℃ (-40 ℉~158℉)
Működési Páratartalom: 10%~90% változatlan halmazállapot
Tárolási Páratartalom: 5%~90% változatlan halmazállapot
1. For V2 and later version.
From United States?
Get products, events and services for your region.